There's a common phenomenon that occurs in the mind of one that travels. Though I have discussed it at length with many a colleague, fellow traveller, and group member over the years, we have yet to decide upon a suitable name for this phenomenon, for the purpose of this explanation let's just call it 'The Travel Memory Paradox' (if you know of an actual real name that exists already for this then please let us know!).
Basically, what I'm on about is the strange, contradictory feeling that many people get towards the end of a cool holiday/trip when you feel like the trip has flown by in the blink of an eye. But, at the same time, when you look back on your travels and think of what you first did when you arrived or even what you were doing a week or a few days ago, it feels like it's been aaaaages because you have done so much awesome stuff in between.
Anyway, I'm sure people far more intelligent could probably explain the phenomenon much better and may even have an answer as to why it occurs (We have come up with a few theories ourselves when discussing over a few cold beers but I don't think they are quite worthy of publication just yet)… All I know, is that my life and that of the rest of the Tru Fam is in almost a constant state of it, and this year was certainly no different. To think that Xmas 2014 is now a whole year away is mind blowing as the last 12 months seem to have passed us by so quickly, but as we look back on the year and think of all that we have done, the people we have met and all the adventures had, it is hard to believe we crammed this all into just 12 months – a classic case of the Travel Memory Paradox at work.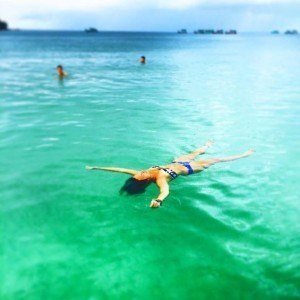 Before I get into my quick overview of what we have been up to in 2015 I first want to thank everyone who has made the year so much fun and helped us to progress to the stage we at. There are of course faaaar too many people to list individuals but every single TruTraveller (group member), member of the TruFam (team), business partner, supplier and agent who we travelled or worked with as well of many of our actual family and friends made the awesomeness that was 2015 possible, and for that you have my eternal gratitude. Much love to you all and may you all have an even better 2016!
SO without further ado, here's our Tru-2015 in a nutshell.
By January our 18 day tour that we launched the previous year was in full swing and the year got off to a record breaking start with booking numbers soaring and Luke and Ryan smashing it out of the park and running almost every group until March when the popularity of the 18 day proved too strong and we enlisted our second Macclesfield lad, the very hairy Harry to join our little gang (who is now in the running to win Tour Guide of The Year!) So please go to www.tourradar.com/trutravels to vote for him and help him win if he showed you a good time on tour!). Sadly we said goodbye to Ola & Felix who were with us from October and designed us some really cool materials and a shiny new website but we did add our superstar videographer Matt to the team to help us try and show the world how awesome our tours are via the medium of video! Check out his amazing videos at www.youtube.com/user/trutravels – and we picked up our THIRD Potters Bar boy and new Accountant/Group leader Dave to help keep the ever increasingly complex numbers under control. Tanya, Jacky and myself made an occasional guest appearance to run a trip and we met many more that were run by the others, and to my delight, all appeared to be having an amazing time as we have now come to expect on our trips.
We opened our office and travel shop on our Home Island of Koh Phangan at the start of the Thai new year in April and recruited our favorite Thai travel agent P'Som to run the Thai side of the travel business which sort of seemed like fate as she was the first ever travel agent who looked after us when we arrived on the island as virgin backpackers many years ago. The shop happens to be in a prime location in Thong Sala and also doubles up as our office and living quarters for a few of the TruFam so if you're around on the island just look for our logo and pop in and say hi!
As well as continuing to show travellers the best time imaginable on our existing Thailand routes, we started offering a new 13 day Full Moon Package, added an 8 day Bali tour and a 16 day Thailand-Cambodia route to our network and launched our first trip in May which was only open to Friends, ex group members and other Tru Fam as a sort of test run. Well… what a trip that turned out to be – some of the most fun filled 16 days I've had in a while. I won't go into detail but I'm glad all the people on the trip were my friends and colleagues… The trip was indeed a success however, and we have been running one of these tours per month ever since.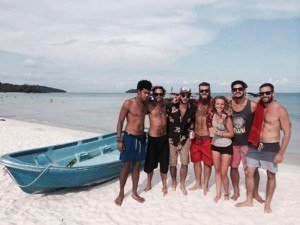 CAMBODIA – THE WILD WEST OF SOUTH EAST ASIA
June and July were again record breaking months for our Thai tours in terms of numbers of groups and TruTravellers, and thankfully we had recruited yet another superstar group leader in Amy after she joined us on the original Cambodia tour in May as an ex TruTraveller because we certainly needed her help to facilitate and manage the epic-ness of the tours to come in these months. With the addition of Amy the core TruFam was up to around 10 in total which is a long way on from the two of us that ran things for the first year and the 4 of us that did it the year after that Mark, Luke, Holly and myself).
TRUDY THE TRU-MOBILE POSING DOWN AT SOUTHBANK
In August Mark, Luke and myself took an epic road trip around Europe to promote our trips, meet agents and of course, have much fun. (You can in fact find some videos from our Euro trip – Cambodia coming soon – on our YouTube channel if you are interested enough to have a look). During the trip we covered over 2000 km in the trusty Tru Mobile "Trudy", (and probably drank almost as many beers), met about 100 travel agents, visited 6 countries, (England, France, Holland, Germany, Switzerland, France again and Spain – Barcelona for my birthday:) gave out about 5000 brochures/flyers, stayed in hostels, hotels and apartments, & had many laughs along the way.
Throughout the summer we continued running more and more awesome trips all over Thailand and Cambodia, of course we encountered some real characters and obtained a whole array of unbelievable stories (we'll save some of those for another blog). In October we found ourselves in the rare position where all of us (almost) were in the same place at the same time so we took the opportunity to arrange a group induction/training/party session back on Koh Phangan for all the TruFam which ended up being highly productive, fun & inspirational as well as allowing us to review the past 12 months, plan the next 12 and make sure that the Tru culture, spirit and ethos were fully ingrained in all of the crew and we were fully pumped and ready to see out the year in style and plough on into an incredibly exciting 2016.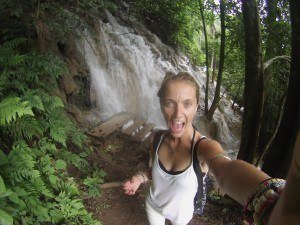 HOLLY HITTING UP LAOS
As well as venturing into Bali and Cambodia, we also worked on forming partnerships in Laos and Vietnam which will hopefully allow us to expand our South East Asia Backpacker route and complete our long awaited 'full loop' by early next year. This of course also involved a series of highly entertaining and productive cross border trips with Holly heading up to Laos, and Ryan, Matt and myself hopping over to Vietnam (which you may also get to see in video if you're really lucky…) for a crazy two weeks of meetings, golf days, tours, bike rides, hikes, caves, boats, parties, pub crawls and the Halong Bay Castaway Island trip. Needless to say we required at least a few days of R&R to recover from this, luckily for Ryan he had a group starting almost straight away in Bangkok when we got back… Since returning to the island we have also been working on a few partnerships closer to home which could well see some really really cool shit coming to our home island of Koh Phangan soon. Keep yo eyes on this space!
Currently we are just finishing our last tours of the year but instead of winding down for a much needed rest, we are preparing for our very first Christmas and New Year package which we are running for 10 very lucky festive TruTravellers. Previously we had steered clear of running tours in Koh Phangan and taken a break over Christmas and New Year mainly due to the fact that the accommodation on the island usually fills up months in advance and the prices triple or more and we didn't really fancy having to negotiate this logistical nightmare or put the prices of our trips up too much. This year however we were contacted by our good friend Heidi from Same Same Backpackers hostel in Haad Rin who kindly offered to reserve us a limited number of beds over the busiest period of the year. So, we decided to take her up on it, nabbed a few beds and created the ultimate Koh Phangan Christmas and New Year backpacker bonanza jam packed with activities like wipeout, slip n fly and boat parties, and all staying right in the heart of the biggest party of the year. We still have a couple of spots left at the time of writing so click here if you're interested and get in quick to secure your place.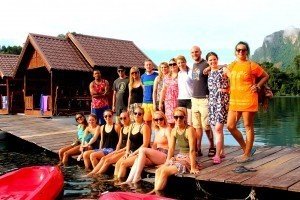 THANK YOU TO ALL THE GROUPS THAT HAVE TRAVELLED WITH US IN 2015!
Our social media channels have also really grown over the course of the year and Holly now really does have her hands full managing these with the help of Amy and the rest of the crew. Just join us on Facebook, Twitter, Instagram, Youtube, Snapchat, Pinterst or Google+ to see how fun we are!
All joking aside, our online efforts combined the good name we are getting with travel agents in our market and the excellent reputation/word of mouth we are getting with our customers puts us in a pretty nice position to start 2016. None of this could have been possible without our number one competitive advantage and undoubtedly our best asset, our people. I am indescribably proud of each and every one of our little family for the absolutely sterling jobs they have done this year, with countless customer reviews to back me up I can tell you that our team is by far the coolest collection of people you're likely to meet and without their help building this company and shaping its personality, character and style of operation we would not be the company we are today. All of our amazing Group Leaders have gone way above and beyond all year and whilst their job is probably one of the best in the world, it is not always as easy as they make it look. They do an amazing job week in week out helping people to have the best experiences of their lives (one of the many things that makes our job so special) as do the rest of the team who help to create the customer experience both directly and indirectly. Thanks to Matty's awesome camera skills and creative cutting, our tour videos are now better than even the biggest players in the industry which is exactly what we wanted because they are supposed showcase our trips which are also far better than anything else the industry has to offer (especially the bigger players, many of whom have long since lost touch with their customers)… Our tour videos on Facebook and Youtube are really something special and we even started doing our own series of informative/funny vlogs on various Thailand/Travel topics to go with our blog and show the public what we are like and what we get up to in between tours. Again, you can check some of them out here if you feel that way inclined.
All in all a jam packed, fun filled year in which we can also happily report that we nearly doubled both the total number of bookings received, and the number of TruTravellers who joined us on tour.
We also had at least 3 engagements:
Mike & Eliza,
Dan & Tadi,
Chris and Myke!
Our first (of many) group members got a TruTravels logo tattoo, our first (and probably only) ever group member got a tattoo of Harry's NAME ON HIM, and Mark and his Mrs got a dog! (does this mean the first TruFam Wedding may be on the horizon?)
So maybe now you can see why we are all having such a hard time believing that all of this stuff happened the very short amount of time that just passed which was apparently the whole of 2015 but felt like about a month… Until now. As I sit and write this account of the past 12 months it suddenly feels like half a lifetime ago that I was drinking steins in Munich with Mark, Luke & Gunther and a several lifetimes ago when Matt first arrived and Kish crashed the drone into a tree – and there's that paradox again…
Anyway, I'm done trying to explain it. Maybe it really is just as simple as time flies when you're having fun, in which case I'm eternally thankful that we have jobs here that we love doing and enjoy every day. I'd so much rather be sitting here looking back remembering all of the cool stuff we have done over the years and how much fun it's been, then sitting where I have been many times before, wishing my life away so the next weekend or holiday would come around quicker. I really believe that our journey so far demonstrates that anybody really can turn their lives into whatever they want them to be so long as they passionately believe in what they are doing and work consistently at it – the first and hardest step is always making the decision and then having the belief to follow it through. Now, instead of counting down the hours till home time or the days until the weekend, or the weeks till my next holiday, most of the time I find myself wishing life would slow down so I can fit more stuff in, get more done, and work and play (which is often the same thing at Tru) for longer.
That's really at the core of our model for TruTravels, not only do we want to show our group members the best possible time imaginable when they travel with us, but we also want to show them that life can be more than just a few short trips dotted throughout an otherwise dull existence. Every single one of the core members of the TruFam are living proof of this as we all now live in paradise doing what we love doing on a daily basis, and if we truly love what we are doing then surely our customers will have a great time doing it with us? In fact, something we are very proud of as a company and something which we hope proves that we are indeed doing what we aim to do, is the high number of TruTravellers who do the same trip more than once (some up to 4 times!) and come back to stay with us in Koh Phangan and even end up living in Thailand for extended periods of time, often thanks (they say) to the amazing time we showed them and how well they got along with the TruFam!
So there's a quick round up of our 2015. To all of you who joined us on tour, the partners and suppliers we have worked with, the agents who have sent us TruTravellers and everyone else who has helped make this year so special, another huge thanks from myself and the whole of the team. Good vibes and Christmas wishes are currently being beamed to you from all of us and we wish you all the best and infinite happiness in 2016! To all of you who we will be working, travelling, drinking, laughing and cutting shapes with in the coming years, we very much look forward to meeting you and all of the good times ahead.
Until next year, see you on the beach! X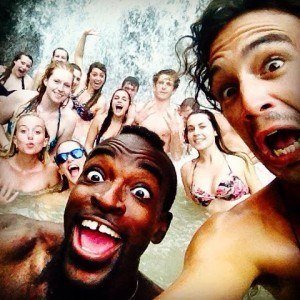 HAPPY NEW YEAR!!
LOVE THE TRUCREW