There's nothing better than starting the New Year having something to look forward to, especially when the festive blues start to kick in. With 2020 looking like even more of a hot n' trendy year to travel than ever before, it's often difficult working out where to head first. To help you out, we've put together not just the trending destinations to travel to in 2020, but destinations that you absolutely cannot miss out on travelling to, just because they are totally out of this world!
All our trips have a complete mixture of culture, adventure, and nightlife to ensure you'll maximise your experience in each destination. The perfect type of tours if you have a busy lifestyle but just want to set off on an adventure to fit in as much as possible, while not have to worry about the stress of travelling! Sounds too good to be true, but, it's time to turn your dreams into reality.
No.1 INDIA
A country like no other and a serious hotspot for each and every traveller. An energetic and culture-filled destination, completely different from any other country you have visited before. Some of the highlights in India include taking on the famous 'Golden Triangle', made up of three of the most (and best) visited places in India; Dehli, Agra (where you'll find the Taj Mahal), and Jaipur, also known as the 'Pink City'.
Although most think of India to be hectic and full of crowded cities, don't forget about the stunning coastline and national parks this country is filled with. Head down to Kerala on India's tropical Malabar coast which is arguably the most beautiful state in India - make sure you take a houseboat along the river to get the best experience!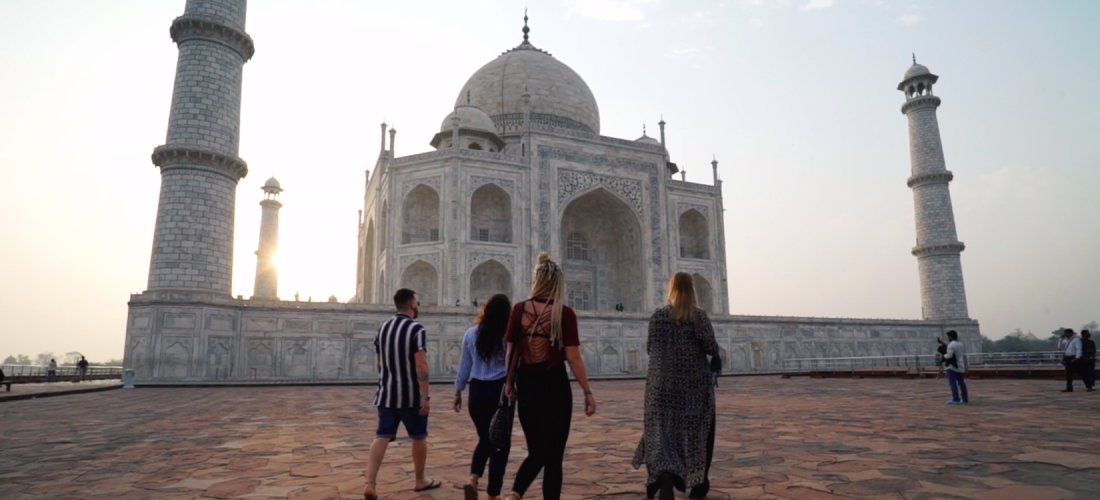 10 Day India Uncovered
Complete the famous Golden Circle & take a boat trip along Kerala's backwaters. The perfect trip to hit India's hotspots.
Learn More
No.2 BORNEO
If you're a wildlife fanatic and love to get off the beaten track, look no further. Borneo is the place for you on your 2020 travels. For those who have seen David Attenborough's latest programme, 'Seven Worlds, One Planet' you would have seen how incredible Borneo is. Not only is it one of the only places you can get up close and personal to orangutans in their natural habitat, but it's also one of the best places to snorkel and dive in Asia! A much more untouched destination to travel, making it perfect if you're looking for a truly unique experience.
No.3 THAILAND
When you think of backpacking in Asia, the top country that comes to your head is most likely Thailand. It's not a surprise it's one of the most popular places to travel thanks to its buzzing cities, awe-inspiring temples, breath-taking islands, and unreal countryside that makes up this epic country. The highlights in Thailand you cannot miss are, caring for elephants in a sanctuary in Chiang Mai, test your circus skills in the funky town of Pai, party the night away at the famous Full Moon Party in Koh Phangan, and island-hop around the beautiful west coast islands. Thailand really does have something for everyone!
No.4 LAOS
Laos retains its traditions and culture more than most countries in South East Asia. Its culturally rich personality and glowing green jungles makes this country a truly special place to visit. There's no surprise it's looking to be one of the best holiday destinations to visit in 2020, especially for all you adventure-seeking travellers! From tubing along the river, zip-lining around spectacular waterfalls, and losing your self on a trek through the jungle, Laos is the place for you in 2020.
No.5 SRI LANKA
Sri Lanka is full of nothing but herds of wild elephants, lush green jungles, mouth-watering food, and out of this world train journeys. It's not surprising it's been increasingly popular with travellers in the past couple of years and is seen to be a HAWT hot destination to go to in 2020. It's even been voted the world's No.1 island to travel to this year - that says it all, hey.
The top things to do in Sri Lanka on your 2020 travels include going on a safari to spot herds of wild elephants, check out the famous Sigiriya Rock, hop on a train through the countryside of Nuwara Eliya, and testing your surf skills ridin' the waves on Unawatuna beach.
CENTRAL AMERICA TRAVEL
No.6 COSTA RICA
Not only is Costa Rica one of the most biologically diverse places on earth, but it's also said that Costa Ricans live long, healthy lifestyles, which is why you will commonly hear the term Pura Vida (pure life). It's the most common phrase used in all kinds of context, so make sure you remember it before you go.
Prepare for your heart to melt from the wildlife that fills Costa Rica; from sloths to monkeys, ocelots to tapirs, you won't be short on getting your animal snaps here. Fuel your adrenaline on a zip line through the canopy cloud rainforest, take on white water rafting in the adventure capital of La Fortuna and take a boat trip to witness the most unreal volcanic backdrop. 2020 is hands down, your year to travel Cost Rica.
SOUTH AMERICA TRAVEL
No.7 COLOMBIA
Not only one of the most Insta worthy places on earth, Colombia is looking to be a hot destination to travel to in 2020! Apart from becoming increasingly more safe to travel, the fascinating street art culture and history as well as the jungle and coastlines, really do make this country an unforgettable place to visit. The things you don't want to miss out on, on your travels in Colombia is taking a walking tour around Medellin's historic streets, heading deep into the Minca jungle to surround yourself with nothing but captivating views, and setting off on a private island getaway just off of Cartagena. If you've ever thought about travelling to Colombia, now's your time to go!
There you have the complete list of our top destinations to visit in 2020. There's never been a better time to kick start planning that adventure you've been dreaming of your whole life. Come and have a chat to us on our live website chat if you have any questions or just fancy showing us your epic 2020 bucket list. Big Love and see you in paradise.