As you may have guessed, we do get some real characters on our tours who do provide a lot of entertainment for the time they are with us, be it on the eight day TruTravels Thailand Experience or our 18 Day TruTravels Island Hopper, there's plenty of time for our TruTravellers to have some funny moments which are ridiculously hilarious, adorable or downright embarrassing.
So here's a few of our favourite funny moments from 2014 – sorry to embarrass anyone, but we only do it because you're truly what made 2014 so awesome for us here at TruTravels, enjoy. The names of everyone involved have been changed to prevent life-long embarrassment
Funny Moments 2014
'Percival', the bush…..and the Lady boy cabaret
Late 2014 brought us a couple of Kiwi lads (Percival & Paddington) of pure class, not only were they the best of friends, but they tru-ly were an awesome pair, providing endless entertainment throughout the 18 days they were with us.
One night in particular on the southern island of Koh Tao, the group ventured to the local 'Ladyboy Cabaret', which is a short show involving various drag acts miming classic disco tunes (it's a must see). At the end of the show they 'dragged' up the one and only Percival along with (yours truly) to dress up in all female attire and flaunt their stuff on the dance floor. Whilst changing back stage, Perci was the center of attention (much to his embarrassment) and had ladyboys flirting with him left right and centre...Never in my life have I seen anyone look so painfully uncomfortable – a funny moment that was pure gold.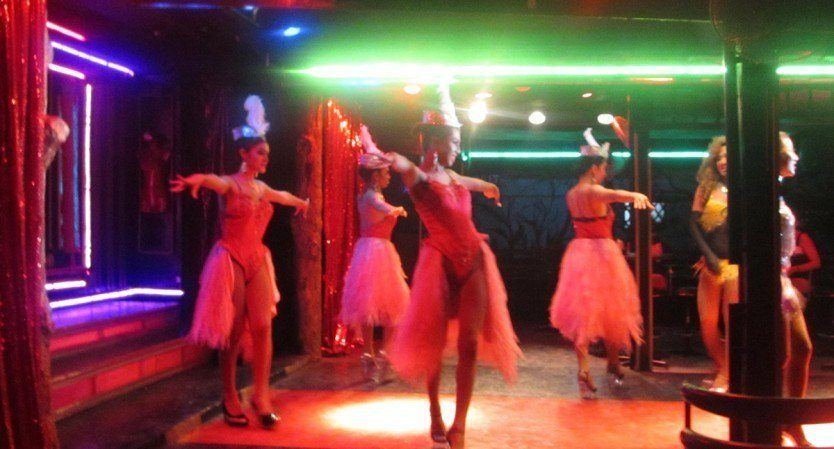 This however was just the beginning; following the intense flirting, Percival obviously felt he needed to let off some steam and so off he went on a path of whiskey bucket fuelled destruction.
The next morning the group woke up with sore heads and the feeling that something was missing...and that was of course Percival. After a worried few minutes, we heard footsteps on the tiled stairs and in he walked, looking like he'd had an evening of wild passion with a werewolf, and with a distinct look of sadness across his face. "I f*****g' woke up in a bush eh…didn't know where I was, eventually found the room and couldn't get in", he muttered in shame. Perci was literally covered from head to toe in scratches after spending an evening rolling around in some sharp shrubbery, also with his wallet containing his cash and bank cards were nowhere to be seen.
We should all of course learn a lesson from this and remember to take your guide's advice and "not get too drunk, and stick together"...But Perci, a sincere thank you for the memories, you're tru-ly one of a kind.
'Dorothy' and her bathroom prison
The first night in Bangkok...Ohh the first night in Bangkok. Almost always a crazy, crazy night for everyone who comes. Each have their different levels of madness, different stories with different outcomes, but for so many travellers to Thailand that first night on Khao San road is one that they will not forget in a hurry. For some, the hedonistic party street and it's buckets of whiskey proves to be a bit too much and cause mild/extreme embarrassment. One of these was a legendary TruTraveller, a Northern lass by the name of Dorothy, who after arriving back at the room made her way into the toilet without turning the light on and locked the door behind her. Having got thus far she paused for a sit down and of course fell asleep.
Nothing unusual there you might say. And you'd be right. What happened next was the funny part...On awaking from her slumber Dorothy completely forgot where she was and with the room being pitch black fumbled around, feeling for a light switch or door handle (on the completely wrong wall) for a while before giving up, curling up on the floor and falling asleep again until morning (when it was light and she was slightly less drunk) when thankfully she managed to find her way out of the bathroom and into bed to sleep off the hangover. Thank you Dorothy for being such gold!
Dre's general idiocy
There has to be one in here about him ,so I'll get it out the way. Our one and only TruTravels mascot: Andre. Those who have met him will know that he tru-ly is one of a kind (and a complete catastrophe). Anyway, last year we sent him on an all-inclusive free trip to the beautiful country of Nepal in the name of research. There were a few grumbles from other members of the Tru-fam who would have liked to have done the trip and thought themselves perhaps slightly more capable of embarking on a research trip to another part of the continent...But we had trust in Dre, so we decided to let him go – after all, how could he possibly screw up?! All he had to do was book flights and get himself on the plane and he'd be picked up from the airport and taken on the trip we had arranged. A task that today could surely be accomplished by a small child.
Easy. He was due to start on 1st July, so we told him to fly out a day early. "Done it!" He exclaimed as he walked out of his room an hour or two later, "I'm goin' to Nepal bitches!".
A few months go by and Dre was starting to get excited for his adventure when a few days before he leaves Joe asks him again about his plans. This is roughly how the conversation went:
Joe: "Andre, you sure everything's sorted for Nepal?
Dre: "Don't worry bro, I got this" "I fly out on June 31st so I'm definitely gonna be there for the start of the trip. I told you man, I'm a professional."
Joe: "Did you say you fly on the 31st of June?"
Dre: "Yeah man, 10pm on the 31st"
Joe: "There is no 31st of June...Please don't tell me you have messed up the one simple little thing you had to do for this."
Dre: "What?! No way. Of course there's a June 31st. Sure there is (sounding a bit less sure). It says it on my t...oh s**t. DO you think that means I've booked it for the wrong month??? No, noooo. No way would I have done that…
Joe: *No words*
Yes. That's right, he actually booked the flight for July 31st when he was supposed to be there before July 1st. One of his funny moments for sure, but a stupid move even for Dre and a prime reason why these days we don't even let him make the tea without adult supervision.
Hilary and Katrin's awkward wake ups
One of our favourite nationalities of TruTravellers has to be the Irish. No matter what the situation, you can always rely on them for some good 'craic' and to eventually do something absolutely hilarious, which will ensure the echo of "do you remember when the Irish girls/guys (place story here)" through the centuries. In one group, the Irish contingency consisted of cousins, 'Hilary and Katrin', two lovely girls who very much continued the tradition of the Irish giving us lots of funny moments.
One morning, Hilary found herself waking up in the corridor of our guesthouse in Bangkok just inches away from the door. Good effort H, if you had just made it over those extra 2 metres!
Katrin on the other hand, did make it into the room (which she was sharing with some of the other TruTravellers on the group at the time) and whilst she had for a moment done better than Hilary, she very sensibly decided to use the lav before hitting the hay. But, after being on the home straight and having created this last hurdle for herself, she catastrophically (and metaphorically) ran straight into it and well and truly took herself out of the race. She actually failed to close the door and fell asleep on the toilet...With the rest of the group arriving back to the room shortly after, hysteria duly ensued.
APRIL
The month of April 2014 was an exciting month for us here at TruTravels, not only is it our favourite month of the year due to SongKran (Thai new year) which is ultimately a three day long water fight across the country, but it was also our very first 18 day TruTravels Island Hopper tour (and the month in which Dre came back to Thailand to play). We can honestly say that April 2014 will live on in our memories forever as one of the greatest months ever!
It started brilliantly with a fantastic eight day tour followed by an insane amount of partying for full moon and Songkran in both Phangan and Bangkok. On returning to Bangkok for the start of the Songkran special and first 18 dayer we met the crew for both the eight and 18 day tour, grabbed our super soakers and headed straight for Khao San Road to join the bucket fuelled water fight party. From then on ensued two more weeks of parties, boat trips, awesome people and amazing places that we will never forget.
This is basically a massive shout out to all the people who came out in April and made the month go down in history as TRU-ly awesome! Y'all know who you are and we look forward to seeing you all again when you return to the land of smiles! Here's a little amateur compilation of the 18 day tour from this month with plenty of our funny moments.
Barry's ketchup conversation
We completely understand that when you're in Thailand you wanna kick back, relax and even take the odd nap in the sun. As far as sleeping goes, Barry takes the absolute biscuit. Never have any of us ever known such a deep sleeper with such a bellowing snore and odd sleeping habits.
After a hot day touring the temples of Bangkok the TruTravellers all returned to the guesthouse to have some down time. When the group leader (yours truly) came back downstairs to the restaurant a previous TruTraveller pulled him aside and explained that she was worried about Barry, as he appeared to have lost his mind and was sat at the front of the restaurant of talking to a ketchup bottle!
Wandering over to have a word with Barry, I could see that he was sat there amongst about 40 other backpackers head lent back and mouth agape, snoring louder than the music was playing. I gave him a nudge and tried to rouse him, "Barry, you alright mate?", coming too slightly, he looked around before loudly asking in his unmistakeable Brummie drool "Where oore way?" "Oore way in England?"... a deep sleep doesn't even come close.
Paul's bush nap
Our first night on Koh Phangan brings all the TruTravellers to the beautiful Bottle Beach, one of the most secluded spots on the island with white sandy beaches and a rolling turquoise ocean. This taste of the beach bum life though seems to really resonate with some people who almost seem to become one with the beach itself…
Late one evening a couple of TruTravellers were walking down the beach towards their bungalow when they heard a rustle in the bushes near the jungle. Terrified at the thought of it being a snake or some kind of poisonous creature and because they are a pair of absolute pansies (Dre and Rory) they proceeded with caution….only to find Paul fast asleep in the thick long grass rolling around like some wild creature.
Gary's urinal dilemma
To top off the year, a good friend of ours joined us for an after party the day after a full moon at the one and only 'Back Yard Pub' for what is usually an awesome gathering of revellers partying through the morning in the blistering sun, set with an ocean view backdrop – absolute bliss.
For those who haven't seen the wonders of the Back Yard party before, it brings together a fantastic array of weird and wonderful people, some of who are completely away with the fairies and happy to compliment you in, how can I say it… Unusual ways?
In this case, Gary was standing at the urinal doing his 'business' when a gentleman standing next to him felt the need to compliment Gary on the size of his member. He showed his appreciation by reaching out, touching Gary's extremely surprised old boy, looking him in the eyes and saying, "You have a big d**k". With this established and the beautiful words uttered he exited the urinal leaving poor Gary gobsmacked and wondering if this had just really happened. When Gary regained composure he sheepishly re-joined the party and told me the story of his lavatory adventure, specifically instructing me to never tell anybody of this incident…but of all funny moments that one I just couldn't help but share...sorry Gary!
And finally we'll leave you with this….
Holly's faceplant
We always have fun on Bottle Beach, and here's one of our favourite funny moments (unfortunately we didn't catch Mark getting clothes lined by the volley ball net on camera)…Watch the whole vid or skip to 2.40 for a chuckle (note Dre's reaction shortly after too..)
All in all a fantastic year, and it wouldn't have been what it was without every single one of you. We are proud to genuinely now be able to call so many of you friends and we hope to see some of you again at some stage during the next leg of our Tru-adventure! TruTravellers, and your epically funny moments, we salute you!
*As mentioned, some of the names of group members have been changed to protect their anonymity, pride, possibly relationships and perhaps jobs (apart from Dre and Holly cos we don't care about embarrassing them).