The tropical island of Koh Tao is famous around the globe for it's fantastic diving and the cheap price it comes at, with more than 20 exceptional dive sites and more dive shops then you can shake a stick at, this island is a haven for ocean lover. Though people forget (much like Koh Phangan and the full moon party) there's a lot more to this island than just scuba diving. One of the things for people who prefer heights to depths is the Koh Tao High Flying Trapeze.
Here at TruTravels we stop off in Koh Tao on our 18 Day Island Hopper and 23 day Full Moon Island Hopper tours for 3 nights, and one of the questions we are often asked by those who are not budding scuba divers is: "What is there to do in Koh Tao apart from scuba diving?". Well, the answer to this is "loads of stuff".
One of our personal favorites is to pay a visit to the lovely Gemma at Koh Tao High Flying Trapeze, probably the most alternative and certainly one of the most AWESOME activites on the island. Honestly, who can say they've flown weightless alongside the tips of palm trees? (Apart from a load of our Trutravellers of course.)
Around half way down the most popular beach of Sairee, set back a couple of hundred meters from the beach is Koh Tao's first and foremost High Flying Trapeze. Ever thought of running away to the circus? Well now you can make that dream a reality and fly with the rest of the acrobats!
Gemma and her team, spend most of their days watching people soar through the air on wires whilst helping them achieve something they most probably wouldn't have thought they ever could!
We know what you're thinking, how on earth could this be safe and how on earth can they expect me to learn to trapeze in a day? Well we can tell that it is completely safe. Gemma is a fully trained instructor and safety is their number one priority. Surprisingly around 70% of every group 'catch' (catching the hands of the other 'Trapeze-er') on their first lesson.
The first time we gave the High Flying Trapeze a go we were all a little nervous of course. Nothing quite goes against all primal instincts like 'hold onto this bar and push your waist out over this ledge 32 feet above ground, with nothing but a harness round your waist and two wires attached to you'.
With that said, everyone does the same thing on their first try. When you're all harnessed up, holding the bar ready to fly, Gemma gives her cue to jump and says 'HUP'. At which point most people (myself and all the others in my group included), end up just doing is a little terrified hop and not even leaving the platform!
Though once you have conquered the initial fear of actually jumping off of the ledge with the bar in hand, you actually find yourself flying through the air with ease, then following this you're wrapping your legs around the bar and flying upside down!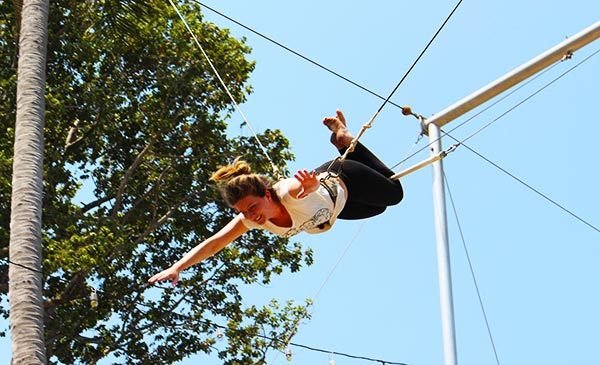 The structure itself is made from a strong aluminium frame imported from America, which Gemma had to slowly bring onto the island in parts. Supported by metal wire which is cemented into the ground the whole thing towers above you alongside the palm trees!
The lesson goes on for around 2 and half hours, with no more than 6 people, trust us, this is more than enough time to try your hand at the trapeze, at the end of it you will be aching!
Through the lesson you learn the basics of the initial swing and catch which everyone is most familiar with. The most fun part of course (and scary) is that moment you release your legs at the highest point of the jump and achieve weightlessness for a split second to feel like you're flying! Check out this video to see how it goes down (or up…).
Don't get us wrong, the High Flying Trapeze isn't the easiest thing to tackle and does take some amount of upper body strength, but even so, if you listen to Gemma's directions to the T then you will no doubt be flying in no time at all!
So if you find yourself on Koh Tao wondering what to do, or maybe diving isn't your thing, well then we would definitely suggest checking out Koh Tao High Flying Trapeze, or even join us as we take it on as a group on our TruTravels 18 and 23 Day Island Hopper Tours, if you like the look of the video above then you'll love the actual experience fo' sho'! Don't just take our word for it, check out this blog from Alex in Wanderland about her experience.
See you on the beach x