Lost in Translation 3 - Amusing Mistranslations of Asia
Time for another installment of bewildering and bizarre and amusing mistranslations on signs, menus, buses and billboards. If you haven't seen either of the other two posts in the series, we have been snapping strange and amusing signs we come across so that we can share them with you on our blog. Here are a few from the last month that made us chuckle…
Bus Advertisement - 'Show You're Jockey'

Eh?? What to say about this? This message is clearly important enough to plaster over the back of a bus, but what on earth does it mean?
Show – you – are – jockey :/
It's not "show you are a jockey" which would be grammatically correct but still not make sense unless you do indeed race horses for a living (or are a branded piece of underwear) and they are trying to encourage you to show the world.
It's not 'show your jockey' which I guess would be like showing everyone the rider of your entry to Royal Ascot (or your underwear if you wear that brand), but still would be grammatically correct.
This is such a baffling advertising slogan that we have not even the slightest clue what they are getting at. In fact, if anyone else can shed any light on it the feel free to get in touch or leave a comment below.
Ticket to Wat Arun (a temple in Bangkok)
'Do not dangle any doll.' Sorry?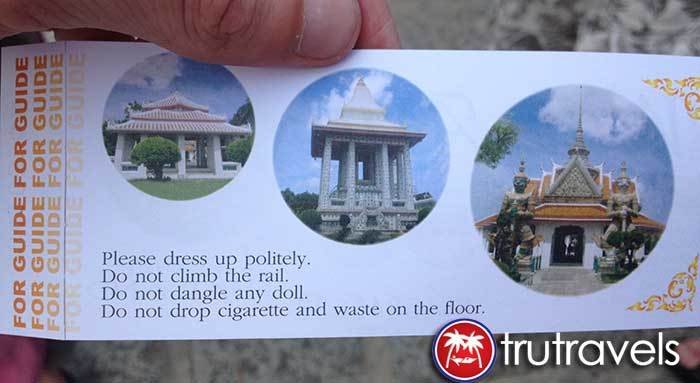 Rule #1 – Fine, get it. Show some respect and cover up in the temple.
Rule #2 – No problem! I've seen the how high the rails are.
Rule #3 – Come again? Do not dangle any doll. I can not think of any scenario in which any translation of this would make sense. Or any scenario in which anyone would want to dangle a doll over the side of a temple. Hmm.
Rule #4 – Check.
French Fried "McDonald's Comparable"
We thought this was hilarious. The 'French fried' bit is pretty standard. You would be hard pushed to find a menu in Thailand which describes a portion of chips/fries in the plural. The fact that they are saying that they are like McDonald's chips as if this is something they should win an award for is excellent! You gotta love Thailand.

"Bared sell is…"
Hahahahaha – Proper Thai translation this one. Ba-red is exactly how a Thai person would pronounce bread. Which is funny. Then there's the sentence in itself, "Bared sell is 1 piece 20 baht take" Brilliant! What they obviously mean is 'Bread for sale! 20 Baht for one loaf.' But their version is much more fun. Bravo!
Spoon
Excellent! No explanation needed.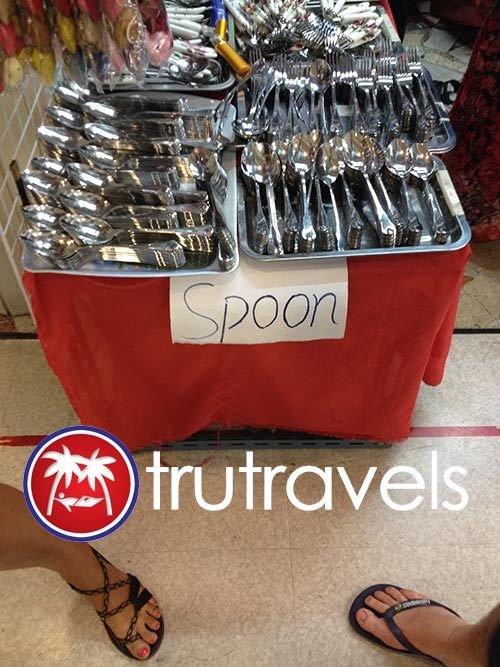 "Best quality TATTOO … forever of your life."

Awesome ad for a tattoo parlor. "WE WILL NEVER MAKE YOU DISSAPOINT" Unless of course you ask them to translate something into English and ink it "on your body forever of your life."
And you will certainly never be dissapoint with our next blog!
Until next time, peace, love & harmony, the TruFam x
Check our Lost in Translation part 1 and Lost in Translation part 2 here. And to see some of these extremely amusing mistranslations for yourself join us on a tour of Thailand or Cambodia here...