In this edition of the Tru Blog we report on the 2015 Thai (Buddhist) New Year festival of Songkran. As we had members of the Tru-Fam all over the place this year, we decided to put together a three part blog and a little video to give you an idea of what went down in Koh Phangan, Bangkok and Chiang Mai. Brought to you in HD by the Tru-Fam. Enjoy.
Part I – Soaked during Songkran in Koh Phangan. By Luke
It was that time of year again and with members of the TruTravels Family scattered across Thailand, (Dave, Tanya, Jackie in Chiang Mai with Josh, Simon and a group of pals, Harry and Ryan in Bangkok with the new Songkran group) it was left to Just myself, Holly, Joe, Matt, Purcy, Dre and a few other close island pals down to get down & drenched on the beautiful island of Koh Phangan, and that was assured this year for ourselves on the island, thanks to the weather! Whilst the rest of the team had fantastic sunshine in Bangkok and Chiang Mai, sadly the clouds gathered around lunch time and the rain began, though of course no amount of rain is going to stop the celebrations! We were gonna get wet anyway right?
What you should expect during Songkran are 4 things, Water, Talcum powder, Music and Alcohol. Being a water festival n'all, you're guaranteed to get wet so be prepared, you will see lots of vendors taking advantage of the event and selling water guns, waterproof ponchos and little water tight bags for phones and other stuff you wanna keep dry (you should either get one of these or leave your phone at home if you want it to make it through the festivities). The talcum powder is mixed with the water and usually smeared all over your face, leaving you looking like casper, this is meant as a gesture of good will and so is very hard to be annoyed about, especially when it's accompanied with a 'SawatDee Pimai' (Happy New Year in Thai) and a big Thai smile. Last but not least of course, Music & Alcohol, the Thai people love nothing more than an excuse to socialise, eat, drink, dance and be merry, and what better excuse than New Years day!
Waking up at the Tru-Village we all armed ourselves with water guns and hopped on our motorbikes to head down to the Tru-HQ where we had our beer supplies pre chilled and waiting for us. Our team of 6 spent the beginning of the afternoon soaking passers by and partying in the street. With weapons readied and us nicely lubricated by a few cases of Leo we were ready to head into the main square of Thong Sala where the food market usually is. 2 seconds after leaving the TruHQ we were already being bombarded from all angles with sprays from water guns and splashes of cold water! We returned fire of course but this had little effect on our attackers due to all of us probably getting more soaked by the rain than each other!
Having made it to the market alive but completely soaked through, there was only one thing for it, and that was grab and beer, take to the street and unleash some aquatic carnage on anyone that moved! Upon arriving at the party we got directly involved amongst the few hundred people throwing buckets of ice cold water over each other.
When it comes to choosing your weapon of choice during Songkran in Thailand, your options are pretty much endless, Super Soakers, guns connected to backpacks filled with water, hand cannons, water balloons or even just the old classic massive bucket of water that you'll fill up for 5 minutes just to unleash upon a random by stander! Though of course the ultimate water gun during the New Year belongs to the locals (or the government)… the water truck, complete with a high pressure cannon! Such a big event is Songkran in Thailand that even the government get involved – whilst the party was going on in the main market square, a massive tanker drives into the crowd and opens the valves, unleashing 100's of gallons of water onto the already drenched and extremely excited ravers!
Though the rain continued for the rest of the afternoon, the party didn't stop, there really is something quite ironic about it raining during Songkran (especially as it hadn't rained for about 2 months prior on the island…) and of course a little rain will never stop the Thai people (or the tourists) from having an awesome party. So the party continued Koh Phangan wide, and whilst the ice water did seem that little bit colder cos of the rain, everyone on the island had a smile on their face and were welcoming in the New Year in true Thai style!
The party in Phangan only usually goes on for one day so the following day it was almost back to normal with only a few people still armed and dangerous and everyone else back to work/holidaying. I'll hand over to Ryan and Dave now who are reporting from Bangkok and Chiang Mai respectively. Peace out.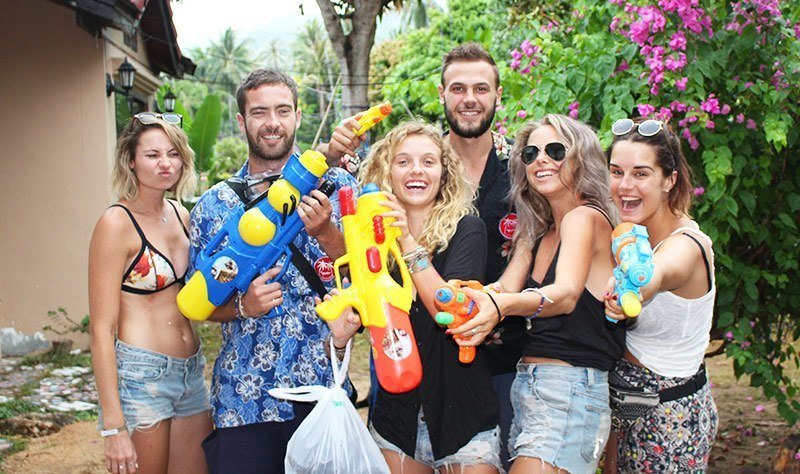 Part II – Bit of Bangkok for Thai New Year. By R. J. Barlow esq.
Imagine the best and biggest party you have ever been to. Now, throw in super soakers (water guns), buckets of freezing water, cheap booze by the truckload, live DJs and a whole nation erupting into a massive, several day long party. No matter what your imagination has conjured up, it simply cannot compare with the complete craziness and carnage that is the Songkran Festival held each year in Thailand.
If the Songkran Festival is a new and exciting concept for you, know that it is the Thai New Year and the whole country is essentially put on pause for a few days. Many businesses shut down and the whole nation celebrates in unity. On top of being a wicked excuse for a party and to throw water on strangers without any repercussions, Songkran – to the very religious Thai people – is the occasion for family reunions, temple visits and annual house cleaning. Many Thai people will spend time with their family and friends, and traditionally younger people will pour fragrant water into elder's palms as a gesture of humility and will ask for their blessings. Water is also thrown amongst the crowds as a symbol of washing away the bad fortune from the previous year. Tourists who are lucky enough to be in Thailand during this week in April are more than welcome to join in and celebrate – and we most certainly took advantage of this invitation.
As if a single country-wide party isn't enough of a wild ride, try and picture this celebration beginning in the early morning and stretching all the way into the wee hours… for a whole week! This phenomenon is Thai (or Buddhist) New Year or Songkran and they really do go all out for it!
On April 13th 2015, myself – Ryan "the north" Barlow, Harry "the mad man" Bradbury, and a dozen TruTravelers on tour, hit the streets of Bangkok to take on the, the chaotic hub of Thailand and its most chaotic time of year.
The morning of the festival, we woke at the crack of dawn (ahem, 11:30am) and equipped ourselves with an arsenal of 300baht ($10) super soakers from the lovely street vendors in Bangkok. Embarking on our mission to Khao San Road (the main backpacker destination in BKK) we had an army 14 strong and we were armed to the teeth with a watery arsenal of goodies. Nothing was going to get in our way, and with Harry leading the rebel clan, Truly nothing was going to stop us… Getting soaking wet that is! It was apparent from the second we stepped out of the guest house that everyone and everything was in for a soaking for the next few days. Even the 7/11's and street vendors had made their shops/stalls as waterproof as possible, covering electronics with plastic bags and tape and the entrances to their stores with big plastic sheets. It's like a strange variation of a scene from a Wild West film where everyone is covering their windows and doors cos Billy the Kid or some other baddy is riding their way. But in this case they are doing it with a smile and a sabaidee pbii mai!
The journey to Khao San Road is usually only a two minute walk from our guesthouse, but the sheer volume of people was unbelievable and the two minute walk took over thirty minutes (due to a few obvious beer stops and reloading of our weapons). This area of the city was absolutely packed with people who were all water fighting, smiling, laughing, dancing, and having a great time in the Bangkok sun. That being said, this wasn't like a hot summer afternoon when you were a small child, playing with water guns and running around in your backyard. This was serious business. Think: a scene from Rambo 4 – judo rolling around the floor and sniper-ing people in the face with ice cold water.
When we finally got to Khao san we reloaded stomachs and weapons once more and partied our way down the road creating our path through the massive crowds and returning fire to groups of friendly assailants of all nations, ages and backgrounds. The day continued pretty much like this with lots of beer, water fun and partying through till the night. I have honestly never seen Khao San road (or any road for that matter) with so many people having so much fun in such an unusual way (to my Western eyes).
Several huge DJ stands were set up with music blaring into the street, and scantily clad women performed dance routines all around. Huge fire brigade type hoses were blasting out gallons of water onto the crowd – as if the city itself was an inferno! Standing above the madness in one of the bars, all that could be seen was a sea of ecstatic tourists and locals – everyone united in the pandemonium and celebration. Along with the other thousands of people, we danced and partied like our lives depended on it, all the way into the late evening when. Our stomachs were full, and our weapons emptied of liquid ammo.
I honestly can not get across to you just how mental it is in Bangkok over this period in April, you can see some scenes in the video from Bangkok and Khao San which will give you some idea but if you ever want to really understand then you have to experience it for yourself! If there's a few parties/festivals you have to visit in your lifetime, the Songkran Festival must surely be up there…. and if you wanna do it in Tru-style! Be sure to check out our April 2016 start dates for our Thailand trips at www.trutravels.com!
That's it from me for now, I'll hand over to Dave who will tell you what went down up in Chiang Mai… Chock Dee Kaaaaap! (Good luck!)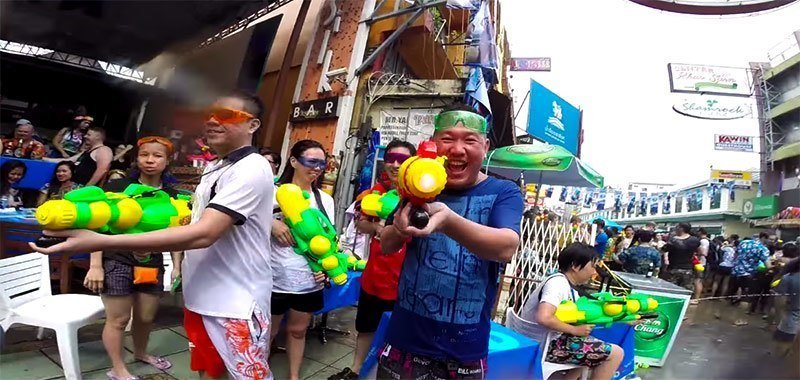 Part III – Cheery in Chiang Mai for Songkran. By Dave
So, let me start by giving you guys some information on the Thai celebration which is Songkran (Buddhist New Year). The direct translation literally means "astrological passage" and is celebrated all over Thailand and other neighbouring countries such as Cambodia and Laos. The festival in keeping with the Buddhist/Hindu solar calendar and occurs from the 13th to the 15th April. It is celebrated for various lengths of time in different parts of the country but can last as long as 7 days in Bangkok and some other places.
Now… to share my Chiang Mai experience with you all.
For a bit of background, I had only been back in Thailand for less than a month and next to Harry was the newest member of the TruTravels Family. I had met Tanya and Jack just a few days before and somehow they convinced me to join them in Chiang Mai. God knows why I decided to go all the way up there, Tanya had been asked by Leo to present on one of their stages at the main event and Jack and a few of their pals were going with. It's safe to say I had absolutely no idea what I was getting myself into, but something about it just sounded too good to be missed. I had only heard stories about the craziness that is Thai New Year but was ready for anything and I can tell you fo' sure that it did not disappoint!!
Day 1 in Chiang Mai
I was lucky to be accompanied by a great group of people who had partied at many previous Songkran celebrations before and as Jack and Tanya both grew up in Thailand I knew I was in safe hands and with people who did know what to expect. None of us however had experienced the notorious Chang Mai Songkran festivities so excitement was certainly high among the crew as no one knew exactly what would happen over the next couple of days.
Waking up in my hotel room, I could already hear a high level of commotion happening just outside the hotel complex. I expected loads and loads of water and basically a massive city wide water fight but not on this level! As soon as I walked outside I instantly regretted being unarmed and unprepared for what was to come…. Bam! An ice cold bucket of water to the side of the face and now running rapidly down my neck and body. Shit that was cold, who did that? Was my immediate thought, however as I turned round to see a smiling child no older than about 10 I couldn't help my self laughing, that is until he went for another shot, at which point I turned and fled from my better armed adversary who was luckily prevented from chasing me down by his nearby grandparents who were enjoying a bottle of whisky with their friends and family in a little shack/shop by the hotel.
Once I was safely out of harms way, I composed myself as best I could and started looking for the 'MAYA shopping complex' where I had agreed to meet the crew. As soon as I got to the nearby dual-carriage way, I was in shock for the second time in as many minutes. The busy main road contained a number of pick-up trucks with an average of about 6 people on the back of each of them, all equipped with water pistols, buckets and a number of huuuuuuge barrels filled with water! What the hell was this, it was like a fun, wet Armageddon. I knew it was a water fight but the last thing I expected was mass drive-by soakings from almost every passing car. Conveniently I had to walk along side this dual carriage way to meet the others who were already waiting for me, so as you can imagine, I was a sitting duck! Drenched is not the word. I literally felt like I was walking under a waterfall the whole time, and things got worse once the traffic light turned red and I had to carry out the simple task of crossing the road.
My excitement increased as I approached the meeting point and the loud music and various levels of screaming got even louder. I finally arrived at the complex to meet the others who we're smart enough to have purchased water pistols beforehand, of course they saw I was unarmed and immediately taught me a lesson for my lack of preparation.
The sight of the complex was truly amazing, they had a stage built in the square to the left of the centre entrance where various live bands were playing throughout the day. People dancing while being pummelled by high pressure water guns on towers on each corner of the stage and dance area. Already this was a party the likes of which I had never experienced before. I entered the festival to find a few stalls selling water pistols of all sizes and without any hesitation I grabbed a 'Super Soaker 5000' (was the highest number I could find), quickly loaded it in a nearby barrel of ice cold water and joined in the New Year celebrations.
The rest of the day consisted of spraying anyone in sight while drinking copious amounts of alcohol and partying hard both on stage with Tanya and on the street with the crowds. This was honestly the most fun I have had in years, and knowing there was another 2 days of this had permanently carved a beaming smile across my face. If this seems a bit of an over reaction to anyone you must bear in mind that until a few weeks ago I had an office job as an accountant in England and I thought I would only ever be able to experience parties and fun on the weekends and holidays for the foreseeable future. Then I landed a job with TruTravels as Accountant/Group Leader and everything changed. I realised at this point that I probably have one of the best jobs in the world and definitely the best accountant job that has ever existed.
The evening seemed like recovery for the whole area, people had dried off and had abandoned their weaponry at their hotel rooms. This is when the team started discussing the plans for day 2 and 3. I didn't think day one could be topped, but oh how wrong I was! This is when Tanya informed us of her plan… She had purchased bright coloured, patterned dresses for all of us to wear for the duration of the celebration – just so we were silly even bigger targets. *Note, during Songkran it is common for people to wear bright coloured clothes with flowers and other loud patterns on them so the only thing unusual about this is that all of us had to wear the dresses, even the guys…
Day 2 in Chiang Mai
The morning of day 2 was a repeat of day 1, only this time I attracted a touch more attention being in my blue dress. This time however, despite looking ridiculous (there ain't many 6ft 1 black guys with afros in Chiang Mai and there certainly aren't any in bright blue dresses), at least I could retaliate and return fire on my way to the complex. We partied for a couple of hours at the stage and then decided to head up the road and find new areas to attack. The exploration was going well but we made one nearly fatal error. We didn't reload before leaving the stage area, big mistake! Anyone would have spotted our group from a mile away, the number of above average height foreign males in dresses combined with the amount of noise we were making would have alerted anyone and everyone – which it did.
The shops and restaurants we were walking towards had their staff waiting outside and we could smell trouble. We realised what was in store for us just too late and the ambush ensued!! Buckets of ice water poured all over us caused us to retreat in a panic, a massive shock to the system as we were just about drying off. We jogged for a couple of minutes, before we were all stopped by what seemed to be a street party! DJ on set, a large water hose on top of what looked like a stair case made for giants flooding the street below, we just had to join in… After this, many hours went by in what seemed to be minutes, the level of fun had tripled from the previous day.
Evening was fast approaching but the fun was not over yet, a few of the team had heard of a massive festival happening in a neighbouring borough, 'Central festival' was the name, coincidentally situated next to an even bigger shopping complex! This was a more organised event compared to the street party and there was a fee to get in. It had three stages, a main one at the front which had various famous bands/musicians from all over Thailand and South East Asia with background dancers all equipped with Super Soakers, the other two stages were to the left and right of the main stage fully armed with built in water cannons with staff manning these at all times. The crowd were partying in the middle with the entrance directly south of the main stage which had police guards equipped with real guns…. maybe that was the reason why they seemed relatively dry. We certainly didn't want an exchange of fire with these guys.
The acts/performances carried on from 6pm to midnight, which was more than enough as at this point as we had been battling/drinking/dancing for 12 hours straight! This gave us time to refresh back at the hotels and then commence to experience the nightlife that Chiang Mai has to offer – no high pressure water this time, just loads of cocktails and discussions of the craziness which is Songkran!
Day 3 in Chiang Mai
The night before resulted in all of us going back to one of our hotels and continuing the party there, soon after that we all crashed. Good thing is, we were all together for the beginning of the end.
The final day was a fusion of the previous 2 days with a massive finale at the central festival. Whilst we were all exhausted we gave it one last group effort and partied through the day in Tru style. I'll leave it there for now but be sure to watch the video if you want to see some of what went down.
Finally to conclude my experience.
This was truly a life changing few days, I felt like a really big kid with a city as my playground. The locals and the tourists all had the same intention – to bring in the New Year in Thai style, lots of smiles, lots of whiskey and whole load of water! I can safely say I'm looking forward to experiencing this all over again next year. Maybe Bangkok or one of the southern islands next time, but I'm finding it hard to imagine them being anywhere near as crazy as the amazing city of Chiang Mai.