Regular readers of the Tru-Blog will be aware that late last year myself (Luke), Joe and our TruTravels mascot Dre embarked on a Cambodian adventure to set the ground work for the brand new, earth tremblingly awesome, Thai-Khmer Explorer tour! We literately put our livers and sanity on the line to plan this epic road trip spanning 2 countries and 8 destinations which takes TruTravellers on a quest through some lesser known spots in Thailand then all the way through Cambodia, where we visit ancient temples, beaches & islands, go tubing in rivers, party on boats, beaches & bars, snorkel, Kayak, ride tuk tuks, take part in a variety of water sports and much more! (click here for the recky blog!)
Anyway, the reconnaissance had been done, the contacts made, activities, bars, guesthouses and hotels researched and prices discovered. All that was left to do was decide on a route, accommodation, activities, transport, evening activities, plan the length, costs, dates and the finer details and then we were good to go (so not much at all really). Here is the second part of the Cambodia story, about when we went back in force in May 2015 for the first ever run. Here's a short video showing you some of what went down and a tiny little bit of the fun we had!
Koh Phangan
After returning from our adventure back in September we headed straight to the Tru HQ in Koh Phangan full of ideas and information and eager to put them down on paper and turn them into the most awesome experience imaginable. Fast forward 4 months to January 2015 and we were ready to set dates and start advertising fo' real. We decided to set the first date for May 1st and that we would only open the trip to members of the Tru Fam, friends and ex TruTravellers who had experienced one of our tours before. This way we could do a sort of live run without risking any bad reviews or negative vibes if anything unexpected occurred – as everyone travelling with us would be our pals. Lovely.
The next one of these trips is the 18th June 2015 (9 days from the release of this article) for anyone who is wondering, and you can find out how to get a discount or even win a free spot on it at the bottom of this blog.
So, come the 1st of May, I was personally still down on our island home of Phangan finishing up a Full Moon Party tour with some awesome characters. Once the heavy heads from the beach party had subsided and everyone was on their merry way I jumped on a bus to catch the rest of the crew with Daisy (a member of my FMP group who had such a great time she wanted to continue with us and join the fun in Cambodia) and off we went to Koh Chang.
Bangkok
Meanwhile in Bangkok, the group and the rest of the Tru Crew readied themselves for 16 days of fun in Bangkok and met at our guest house near Khao San road. They started the tour in Tru-style and hit one of the largest open air markets in the world 'Chatuchak (or JJ) Weekend Market' (check out our JJ video & blog here), which is home to over 15000 stalls of shopping galore, you can pretty much buy anything in this labyrinth of stalls and are pretty much destined to head home with a heavy bag of shopping! No doubt they also hit our fave bar Viva 8 for a few cheeky cocktails before heading to Khao San road to a few of our favourite live music bars and bucket stalls which line the area.
Laem Mae Pim, Rayong
Next stop on tour was Laem Mae Pim in Rayong which is very much off the beaten track and rarely visited by backpackers, just 3 hours south-east of Bangkok, it attracts more Thai tourists due to it being easily accessible from Bangkok and that it's quieter and equally as beautiful as many other holiday locations in Thailand (strangely it also gets a few Swedish tourists too). Tanya and Jackie (members of the Tru Fam) happen to have a family run resort in Laem Mae Pim so are extremely well placed to show our groups an awesome time when we stop there.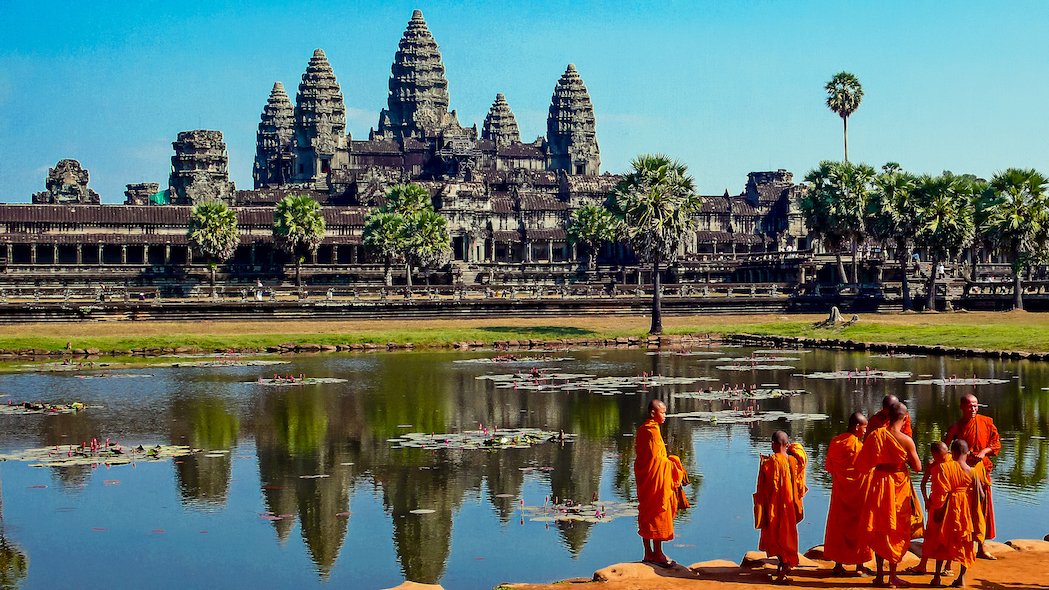 Upon arrival our TruTravellers dropped their bags and settled in before heading for a boat trip to the turtle sanctuary located up the coast….. It happened to be the Mayweather v Pacquiao fight on the day they arrived so a group decision was made to delay the boat trip slightly and watch the fight at the resort. Following a disappointing result they jumped on the Undiscovered Thailand boat and headed out to do some snorkelling, see some turtles at a nearby sanctuary and lounge on the boat. Upon return to the mainland, the crew turned things up notch and headed out to do some fly boarding on a secret lake the Jack and Tanya only discovered the other day (after living here for 26 years!!).
For those unfamiliar with Fly Boarding, it can only be described as a water powered hover board. A skateboard sized board is attached to a jet ski via powerful water jets, these jets are placed beneath the board and are controllable by the 'boarder' themselves, from here it's all about balance and your tolerance of heights as the jets can propel you more than 20ft in the air! Some fly boarders are taking it to extreme levels today with some really impressive moves, ourselves at TruTravels aren't the most experienced but we gave it a go and couldn't recommend it enough, check out the video below!
The next day the group jumped onto the minibus to head a few hours along the coast to Koh Chang, another awesome beach destination accessible easily from Bangkok in about 4 hours. When the group were checking into their beach bungalows, myself and Daisy were boarding our overnight bus to meet them the following afternoon.
We arrived the next day at around 4pm to find that the group were well and tru-ly destroyed. Upon their arrival in their newest beachside accommodation the group thought they'd celebrate in Thai style with few buckets in town… Anyway, all the evidence pointed to a messy night and a few too many as they all looked like a sad state of affairs, the stories we then heard were not suitable for publication in this blog (you'll have to join us on tour to find out what goes down J)
Koh Chang
Koh Chang is a more well known spot for backpackers than Laem Mae Pim and as the island is the second largest in Thailand (behind Phuket) it can take some time to explore without a motorbike. It's also visited by a lot of Thai and foreign holiday makers but at TruTravels we're always able find a cool spot that caters to backpackers and Koh Chang is no different. We stay in awesome beach front bungalows with very cool roof terraces, and on our second of two nights on Koh Chang we all sipped cocktails and watched the sun go down in an orange glow over the Gulf of Thailand, spectacular!
Now the crew were almost fully united, (only Joe was yet to join the group and would meet us later today on the other side of the border) the day had come to bid farewell to Thailand, we loaded our bags into our private minibus and headed back to the mainland where it was then onto the Cambodian border. The border we head to is fairly stress free, unlike the more visited border crossings that travel agents send most backpackers through from Bangkok and after about a 40 minute wait we jumped into our second private minibus to head onto our first stop in Cambodia, the coastal town of Sihanoukville.
Sihanoukville
Sihanoukville covers a large area of the southern coast of Cambodia and is one of the most popular tourist spots in the country, the two main beaches 'Serendipity' & 'Otres' are highly sought after locations to visit among travellers and you are guaranteed to meet a few 'interesting' people there! Once we were settled into our poolside rooms, we caught up with Joe who had been waiting for us in Cambodia whilst sorting some super top secret business doings that were sooo top secret even he was unsure what they were…. or maybe he'd had a few too many cocktails by the time we arrived, either way, after settling in and having a few beers with dinner down the beach we had a fairly tame evening as the next was one of everyone's favorite past times, BOOZE CRUISE!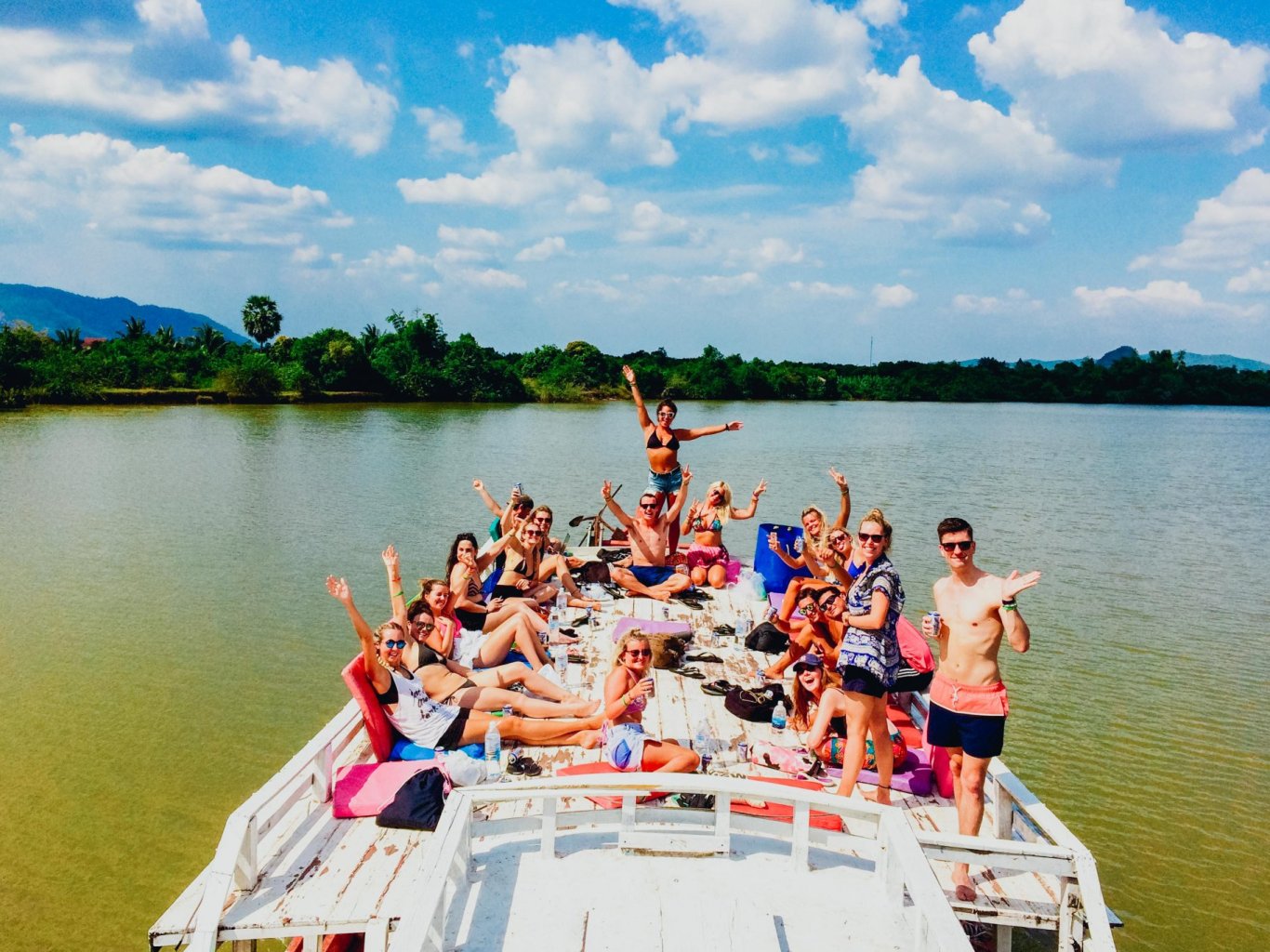 The Booze Cruise in Sihanoukville was unanimously voted by the group as one of the most 'epically f**king awesome boats trips that has ever gone down in the history of the universe', one could compare it to story of creation, or maybe even the aurora borealis, but no matter what I write about the day it'll never give it justice, that's why we put soo much of it in the video!
Koh Rong
Following the 'best boat trip known to man' we all hit serendipity beach and continued the party to the early hours or the morning, some of the TruCrew not even turning up till the morning, a couple of hours before our boat left to the island of Koh Rong. They had somehow ended up at a jungle party called Kerfuffle which sounded, well, like a bit of a kerfuffle.
Once the group had all collected themselves, we jumped on the boat and cruised across the ocean to the tropical island paradise of Koh Rong. Located about an hour off of the coast of Sihanoukville, Koh Rong is home to rolling crystal clear waters, white sand that squeaks beneath your feet and a night life that kicks off each and every night, a backpacker's paradise.
The two nights we spent on Koh Rong, we soaked up the rays, ate at many of the various restaurants and bars up and down the long white beach and even spent an afternoon zip lining above the jungle canopy at the awesome 'High Point' zip lining experience, though everything with our Russian guide was a little lost in translation, everyone survived the multiple tree top zip lines and balancing acts. After two days & nights on Koh Rong, our time had come to an end, and to make it even more upsetting we had to say goodbye to our video master and adopted little brother Matt. Teary goodbyes said, we hopped on our boat back to Sihanoukville where our minibus picked us up to continue our journey to one of our favorite spots in Cambodia, Kampot.
Kampot is at the moment still one of the lesser known spots in Cambodia, however it is fast becoming a more popular backpacker spot due to its chilled vibe and cool river and outdoor activities. Once an old stronghold for the Khmer Rouge (who tore the country apart during the 1970s), Kampot is now a quiet riverside town that perfect to kick-back and enjoy the beautiful jungle backdrop whilst floating down the river. It is where we stay though that truly makes Kampot what it is, the perfect riverside backpacker retreat and the kind of place that you truly don't need to leave unless you really want to. The top secret resort supplies all their residents with tubes to float down the river on, kayaks, an epic rope swing, a perfect floating pontoon to sink some beers on or jump off the massive tower and a river view that is completely unrivaled! We will always look forward to the two night stop in Kampot.
Following a few days by the river we jump back in our mini bus for the 3-4 hour ride to the countries capital, Phnom Penh. Here we stay in a cool city center backpackers with an awesome roof top bar and friendly staff who are always up for joining us for a drink and a game of beer pong. On the first night we had a reasonably quiet one with some of the crew heading off to explore the local markets and shops whilst the others took advantage of the hotel bar ad chilled for a few drinks, some dinner, and a few games of pool.
The next day it was time to get deep and learn about some of Cambodia's shocking recent history with a visit to the Killing Fields and S21. For anyone who has not heard of these places, you can learn a bit about them by watching the film "The Killing Fields" or by reading one of the many books on the Khmer Rouge/Pol Pot era in Cambodia. We wont go into detail now as it would take some time and this blog is already getting pretty long but take it from us, it's sad and most people would struggle to read through any of the more detailed accounts without shedding a tear. Non the less it is a fascinating which has been shamelessly overlooked by international media and historical education.
After touring both of these saddening but interesting reminders of the past, we needed to lighten the mood so asked our tuk tuk drivers to drop us back near the hotel so we could cool off and grab a couple of beers in the bar.
In the evening we arranged a special dining experience at a concept restaurant run by a good friend of ours (Jay). The place is called Dine in the Dark and the idea is that you receive a choice of three set menus whilst seated around a table in complete darkness. This heightens your other senses and really makes you think about your food whilst at the same time making you realise what it would be like to not be lucky enough to have the use of your eyes. The lovely guides who lead you through the restaurant and bring you your food and drinks are all local Khmers who are visually impaired and who will not find it easy to find work elsewhere. We went in with open minds, (though a few in the group were a bit skeptical about eating a mystery menu in complete darkness) and it soon paid off as the apprehension evaporated and everyone began to enjoy themselves and the novel experience. Harry found it extremely amusing to be able to move his neighbors beer a few feet across the table and have him feeling around in the dark for it for 5 minutes cursing the person who had stolen it! We highly recommend trying Dine in the Dark out for yourself if you are ever in Phnom Penh of an evening, and if you come on tour with us then we'll arrange it for you.
After a day of incredibly varying emotions and experiences we thought it only right to hit the town, so we jumped in a tuk tuk to a nearby night club. The rest of the night gets a bit hazy after this but we can tell you with confidence that it was a fun night full consisting mainly of cutting shapes on the dance floor and vodka OJ's (which was fast becoming the drink of the trip).
We got off to a shaky start in the morning and had a few late arrivals but we eventually managed to get on the road to Siem Reap and what a mini bus ride it turned out to be… With everyone's energy levels pretty low we figured it would be a case of a 5 hour sleep in the bus then arriving in Siem Ream. This is not what happened. Because everyone's blood alcohol content was still pretty high from the night before and there were a few severe hag overs developing, someone decided to break out a bottle of Jack Daniels. Needless to say it was downhill from here and we arrived in Siem Reap sufficiently intoxicated and having experienced a mini bus ride like no other!
When we arrived in Siem Reap we checked straight in to our guest house and headed to the pool for a few sun downers. In the evening we took it easy, had dinner at the hotel and arranged our tuk tuks for 5am the next morning to go and see the magnificent Angkor Wat (one of the largest religious monuments in the world if not the largest) at sunrise. An experience that not many people would forget in a hurry. Come 4.30am and with phone alarms ringing out from all of our rooms we managed to stir ourselves and met our drivers for the day in reception. After the short ride in the dark to the temple complex in which Angkor Wat (and the other impressive temples – Facebook album here!) we hopped out, bought our tickets and proceeded to the main temple to watch the sun come up and over the well known towers of the ancient temple ruins.
After we had soaked in the amazing sights at the main temple we had some breakfast and continued our tour to two of the other awe inspiring ruins of Angkor Thom and Beng Malea. If you are familiar with the Tomb Raider or Mortal Kombat films then you may have already seen bits of these ruins on screen. They are the ones with the maaaad faces carved into the towers of the temples and the ones with the huge trees growing out of the stones of the temple and surrounding walls. Trust us, its cool shit! Keep your eyes peeled for our Angkor Wat (special ancient aliens edition) TruTV episode and blog coming soon – in it we will investigate the claim made by some that the temples of Angkor are too vast and complex to have been made by the hand of man and were in fact put there by aliens many hundreds of years ago!! (Half joking…)
After a highly memorable day of historic temple runs, sunrises and debates about aliens and the fundamentals of ancient building techniques (and of course playing Mortal Kombat), we went back to recharge our batteries by the pool and get ready for our last night all together. What better way to end an amazing trip then with a pub crawl on aptly named "Pub Street" – a popular night spot with the many backpackers who pass through Siem Reap every week on their own travelling and tomb raiding adventures.
Needless to say, and as you can clearly see from the album and the videos, we had an awesome time running our first ever Thai Khmer Explorer Tour but we'll stop going on about how awesome a time we had now and tell you how you can join us on the next trip and all future ones. We dearly want to share these experiences with you so we have made a little competition and are offering a big discount to help you join us!
How you can Join us!
So, as mentioned above, in honor of our Epic first ever Thai-Khmer Explorer trip we are not only offering a HUGE discount on our next trip which starts in Bangkok on 18th July (£200 off!! So you get everything for just £550). We are also offering you the chance to win a free spot on the trip just by liking, sharing and commenting on this post on our Facebook page.
To be in with a chance of winning, just go to our Facebook page, find the post pinned to the top, then like it, comment on it (or actually on this blog below) and share it. You will then be entered into the draw to win a place on this trip for free. If you are not heading to Bangkok or Cambodia soon you can even give the prize to a friend who is, so enter anyway! The winner will be the person who leaves our favourite comment (be it funny, insightful or damn right informative) and we will announce the winner on Sunday the 14th so you have until Saturday the 13th (4 days) to enter. The lucky winner will have around 4 days to get to Bangkok for the start of the trip on the 18th!
Please remember to like and share the original post (on our Facebook wall) and comment on this or the blog itself and not on other peoples shares because we have no way of tracking likes, comments or shares of these. It must be on the original one on our page!
So just to clarify. In order to enter, you need to:
Go here, https://www.facebook.com/TruTravels
Like & comment on the top post, share it to your timeline before the 13th June
Wait till 14th for the announcement! Easy as pie.
If you can't wait until the 16th to secure your spot on this trip or you don't want to risk not winning and missing out on the tour, you can still take advantage of our massive discount and book your place now. If you are the winner we will simply refund the amount you have paid for the trip. If you are not the lucky winner then we at least you will have a confirmed spot on the trip and you will have received a £200 discount on this epic adventure. You seriously cant lose!
To secure the discount a book a place on the next trip just click here – and if you have any questions about the tour, the competition or how to book then feel free to get in touch with us here or on info@trutravels.com.
Here's the album again from this trip for anyone who hasn't yet seen it.