Tru-TV Ep 1 – Our trip to BB and the first Tru-proposal!!
Hello & welcome to Tru-TV!!
You may or may not have seen the first few Tru-Reviews episodes and/or read the blogs in which we go to cool places in and around Thailand/Koh phangan and basically film us having a good time, write about it and release the blogs and videos for your viewing/reading pleasure ? These are fun for us to shoot and hopefully fun for you to watch/read, but they are meant to be a resource and are mainly for info purposes and to show people some of the cool stuff we do on tour and some of the cool activities/resorts/restaurants around (also to help spread the word about some of our awesome partners). So…. We decided to start another series (this one) to show you some of what we get up to day to day and so we have somewhere we put the videos we make for fun.
In the first episode of Tru-TV: Matt, Mark and Joe head up to Bottle Beach to meet Luke, Harry and Holly who are on their way over from Khao Sok with the current group of Trutravellers.
For a bit of background:
Luke is our longest standing Group Leader or 'Master of Awesomeness' as is his official job title – he was ranked #10 tour guide in the world last year in a TourRadar comp based on reviews from ex Trutravellers and was the only tour guide included in the top ten who wasn't from a massive tour company with 100's of people passing through each month. Pound for pound. He da best. No doubt. (He looks a bit like Russel Brand)
Holly is Luke's other half and our super star administrator and organiser of all things Tru, to be official once more and use her proper title "Chief Babe" (I think she gave herself that one) – she is most likely who will talk to any future trutravellers before their trip, answer any questions, and generally ease their minds in her charming, humorous yet professional manner. She also looks after us boys (and the puppies), keeps us in check and ensures everything runs smoothly from day to day. At the time of filming and writing she has just returned from a few weeks back in the UK to see family so it's her first time back on the island for a while. (She's the one sitting on Luke's lap in the video…)
Harry is the newest addition to the Tru-Fam and, after passing the rigorous entry examinations and tough ass training course (it has been likened to the 'Sandhurst' for the coolest of cool people, real leaders and bringers of peace and joy) is now one of our highly entertaining and awesome Group Leaders. Harry hails from the North and is a natural entertainer so prepare to have stupid amounts of fun if you are lucky enough to join us on tour and get him as a guide (just check out TruTravels on instagram or youtube and have a look at some of his #jokeoftheday's if you don't believe me.. – he's the one with the Northern accent and a big beard).
Matt is the man behind the camera and the guy who has cut all of our awesome new videos. He's the youngest member of the TruFam and hails from Victoria, CA. He has been with us for only a few short months and has already proved worthy of the team with his awesome videography skills and all round general charming personality. (He's the one with the fresh face and Canadian accent).
Mark and Joe are the founders of TruTravels, Joe runs the show in Thailand and Mark does the same back in the UK. In this episode Mark is over visiting from London so wedecide to go and catch up with the rest of the crew at Bottle Beach as we don't often find ourselves in the same place and able to party together so when we do, we feel we should make the most of it. And this time, we decided to take you along for the ride… (Mark and Joe are the ones holding the puppies at the start of the video).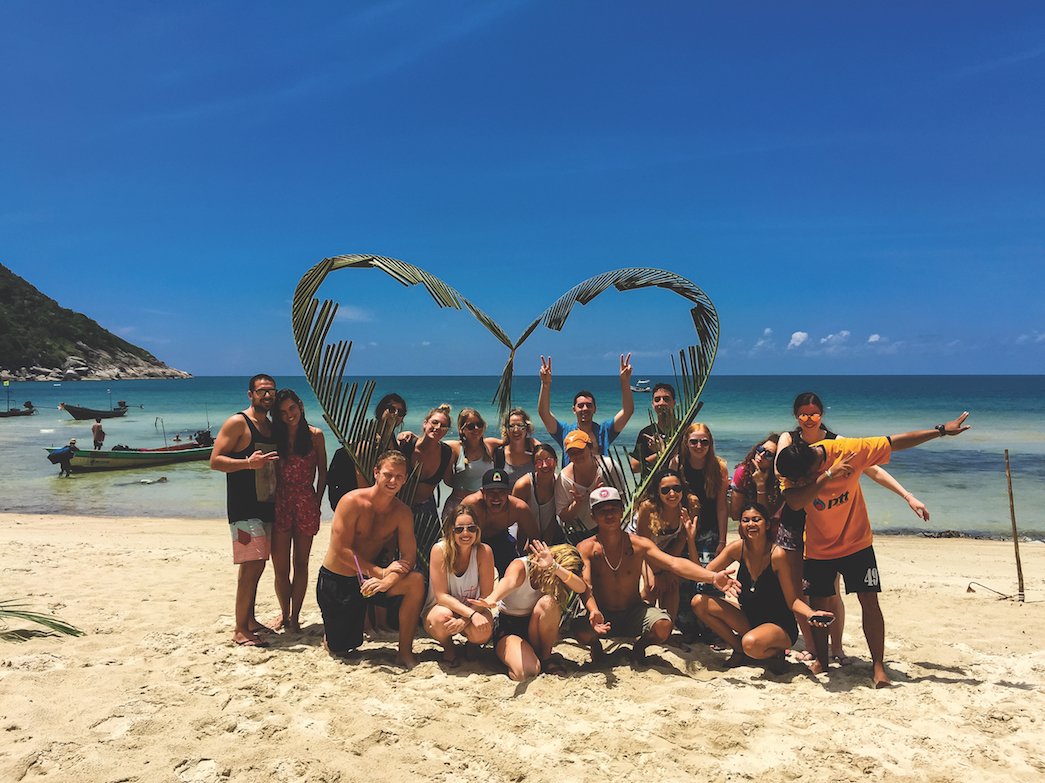 Bottle Beach (Haad Khuad in Thai) is one of our favourite spots in Thailand and is where we take our tour groups when we arrive in Koh Phangan on our 8, 13 and 18 day Thailand Tours. It is located on the North coast of Koh Phangan and is so small it only has 4 small, bungalow style resorts on it and it is so secluded, the easiest way to get to it is by boat from the neighbouring villages (the other ways are driving through the jungle in a 4×4 or attempting the very sweaty jungle hike)… As a result it really does feel like backpacking in Thailand did 10 years or so ago and we often find we are the only people there and so have our own private paradise beach during the day which we usually turn into a party with camp fire, bbq and fire shows in the evening!
Bottle Beach (Haad Khuad)
It is named Haad Khuad (or Bottle Beach) because locals originally thought it looked sort of bottle shaped from above (though we prefer the story our old Thai friend "Pan" tells his groups – that it's called bottle beach because pirates used to live here and so there was lots of empty rum bottles floating around. Less realistic and environmentally friendly but more fun.)
In the video below, we start out at our place in Baan Kai with Mark and Joe prepping the puppies for the trip across the island, and load our stuff and the puppies into the taxi for the ride up to Chaloklum in the north of the island. The Tru-Pups are 3 of a litter which were abandoned by the side of the road and extremely luckily for them, adopted by us. At the time of filming we were also looking after little Razor, who belongs to Elle, our Aussie housemate who works at the Island animal care place PAC. A big shout out to the little man who very unfortunately got hit by a car and passed away a week after filming – rest in peace little dude. Travelling with the pups is always interesting and even more so since they have gotten a little bigger and more adventurous but fortunately the taxi ride was an uneventful one and we arrived in Chaloklum where we jumped on a long tail boat round to Bottle Beach. Again the ride was uneventful and we soon arrived at the familiar but always breathtakingly beautiful Bottle Beach.
Luke, Holly and Harry who arrived on phangan from the mainland today (as it's day 4 of their Full Moon Experience tour) were at the beach waiting for us and the puppies who they hadn't seen for a while. Luckily for us and Tru-TV's 1st episode, the group of TruTravelers they brought down with them were nothing short of spectacular. They were a super fun, friendly and hilarious bunch from all over the place (mainly UK and Canada) who made the tour and our trip to Bottle Beach a memorable one.
So… Once we had greeted the crew and people had some grub we proceeded to have a few beers, play some pool, have a few games of cards, play with the puppies, practise some fire spinning, fly the drone around to get some awesome footage, before having a few more beers! The group are free to do what they like while at Bottle Beach and can play volley ball, chill on the beach, build sandcastles, hike to the viewpoint, lie in a hammock, play Frisbee and many other lovely beach activities.
Our first Tru-Proposal
After a day spent relaxing and playing on the beach, we gather at the restaurant for some grub and cocktails and then the party gets going. We had a fire show and a bonfire and then probably one of the highlights of the week came about… Our first Tru-Proposal!! Mikey the Canadian had told us earlier in secret that he planned to pop the question to his better half Eliza whilst on Bottle Beach. So in Tru style we arranged some bubbly, fireworks, a fire and some Chinese lanterns to set the scene. Whilst the group were decorating the beach with various pyrotechnics, Matt was busy setting up his camera and drone to capture the moment. As we had already had a fair few beers, it wasn't as easy as we thought it would be to arrange the shot and just as Mikey drops the knee to pop the question, Matt, being Matt and getting distracted, completely takes one of the lanterns out with the drone which instantly goes up in flames and plummets into the ocean below. Way to keep it interesting.. Fortunately no one really noticed this as everyone was focused on Eliza who in her awe, had forgotten to actually answer the question and left poor old Mikey hanging for what must have seemed like the longest 30 seconds or so of his life. After the brief pause, she finally remembered to answer the question and all was well. This dramatic, life changing event done and dusted, we continued partying until the early hours of the morning… Congrats Mike and Eliza, you guys are really a great couple and we wish you all the best for the future!
The following day people woke at various times, got breakfast then went to soak up some rays on the beach and float around in the crystal clear water (and keep the puppies entertained.. They had an incident the previous day when they were a bit too cheeky and wound up one of the local BB dogs who happens to be much bigger and harder than them who broke off his restraints and gave Chang a bit of a hiding, so we were eager to keep them away from the other dog and a repeat of the drama).
After everyone was up and about we had a few (slightly more relaxed than last night's) games of pool then played volley ball for a bit and went for another swim – tough day at the office… We were to be leaving at 2pm so at about 1.30 everyone started to pack up their stuff and settle the bar tabs in prep for the log tail ride round to Chaloklum where we were meeting the taxi waiting to whisk us to our next location.
Our long standing boat driver who we call 'Louung' (uncle in thai) was there to pick us up on time as always. Kun Louung happens also to be known as 'the oldest boat driver in Thailand', on account of him looking about 450 years of age. Although in his later years, it doesn't stop him from also being a Thai version of Popeye the sailor, the dude it absolutely ripped!
So as our elderly body builder boat man drives us all away from Bottle beach we all wave goodbye to Babu and the awesome guys who run the resort and we head onwards to our final destination before the Full Moon Party insanity to come! Watch the video here and SUBSCRIBE to our Youtube channel for more!
If you like this vlog make sure you subscribe to our mailing list to get new TRU-TV and TruReviews episodes straight to your inbox! If you like the look of what we do and want to join us in Thailand for a travelling experience you will never forget then take a look at our TruTours here!
Also, if you would be an absolute gem and like and share this blog we would be eternally greatful. Of course if you want more doses of awesomeness, you can also to subscribe to our youtube channel and follow us on Facebook, Twitter, Instagram and Google+.
Until next time, peace out and much love from the Tru-Fam x
Credits:
TruFam: Matt, Luke, Holly, Harry, Mark, Joe, Tiger, Chang & Razor
BB Hosts: Babu and BB2 resort crew
Video by: Matt (Caveman.Productions)