BEST PLACES TO TRAVEL TO THIS SUMMER PT. 3
August is at the height of summer and it's the perfect month to escape to somewhere abroad. So many incredible destinations have blue skies, the sun is shining and the seas are refreshing and inviting. Why wouldn't you wanna go on holiday in August!? We've pulled together the best places to visit in August so you don't have to do any thinking, we have done it all for you! Whether you want a getaway on the seas in Europe, or have an Asian Adventure, we've got you covered... Check out the top destinations to vacation in August below and get ready for the summer. of. your. life!!!
We have created the ultimate guide for the best places to visit month-by-month. Everyone's avaliability for the year is different, so whether you'll be seeking sun in September or making plans for March we have your back and we'll show you the top places you should consider visiting! The world is wide and the destinations are endless but there's no need to be overwhelmed, trust us and we will show how to get the best out of your holiday - no matter when you travel! Check out the other parts of the summer travel series with our Part 1 and Part 2 blogs too!
CROATIA


Croatia should be on everyone's summer 2023 bucket list, that's for sure... hot hot sun, crystal clear waters and allll the good vibes. Nothing beats sailing the beautiful blue Adriatic Sea, a Ožujsko in hand (that's the local Croatian beer btw) and island hopping to all the HOTTEST spots that Croatia can offer. Explore the land of dragons... you know what I'm talking about... Dubrovnik, famously one of the sets for Game of Thrones (have we got any fans here?), discovers Croatia's lush beauty while kayaking and cycling around Mljet National Park. We learn about Croatian history and hit up the funkiest bars in Split and at sea, spend your days getting merry at our very own TruFloatilla party and snorkelling in Croatia's crystal clear waters, where you can marvel at the rich vibrant underwater world. We're heading to Croatia this summer and with some incredible discounts on selected August dates, there's no excuse for you not to be there too!
GREECE


Is it just us or does Greece in August give major Mamma Mia vibes? With blue skies, calm turquoise waters and the HOT HOT sun shining all throughout August, you can live out your Mamma Mia fantasy as we take you to all of the hottest Greek islands there are! On our 9 day Greece Island Hopper, we start in Athens, discovering its history and visiting the iconic acropolis before going to Mykonos, making sure you get your fill of daquaris at the best beach clubs on the island. After Mykonos we hit up Ios, one of the best islands to visit in Greece for its clear blue waters and fun bar crawls before ending the tour in the drool-worthy island of Santorini, where we go wine-tasting and watch the sun go down with one (or three) sundowners from the famous sunset spot, Oia. At the moment we have some fabulous discounts on certain dates in August so it's a great time to book! Join us in Greece this summer and we'll make sure you have a summer you'll never forget!
KOMODO ISLANDS


You can go to the Komodo marine reserve all year round but the best time to visit is definitely the dry season, which runs from April to December, when the temp is still nice and warm - not too hot and very little to no rain. The Komodo National Park is a MUST do in Indonesia, there is literally no place like it. From pink beaches, to unreal view points like Padar Island and of course Komodo Island itself where you can spot the closest thing we have to dragons on this earth - the famous Komodo dragons! We'd suggest going in August though because although you can spot the Komodo dragon all year round, the mating season runs from July to August so you could get an interesting show... If you're going to Indonesia, you NEED to do our Komodo Island Hopper, which takes you from Kuta in Lombok, the perfect spot to learn to surf and discover the culture of the lesser visited Indo island, to Moyo Island, a gorgeous, untouched and unique spot that is really off the beaten track with only 50 visitors allowed a day. Then hop aboard our private live aboard boat, take in the views of sunset and the gorgeous blues of the sea, as we hit all the top hotspots like the pink beach, hiking up to the amazing viewpoint on Padar Island and Gili Lawa, Manta point and then hunting out our firey friends. Book our Komodo Island Hopper for the most adventure-packed, life-changing 9 days of your life and have a summer to remember, or take your summer to the next level, and explore Bali and Komodo on our Bali & Beyond tour! There are some incredible last minute deals on our website now so if your considering a trip to Komodo, now's the best time!
BALI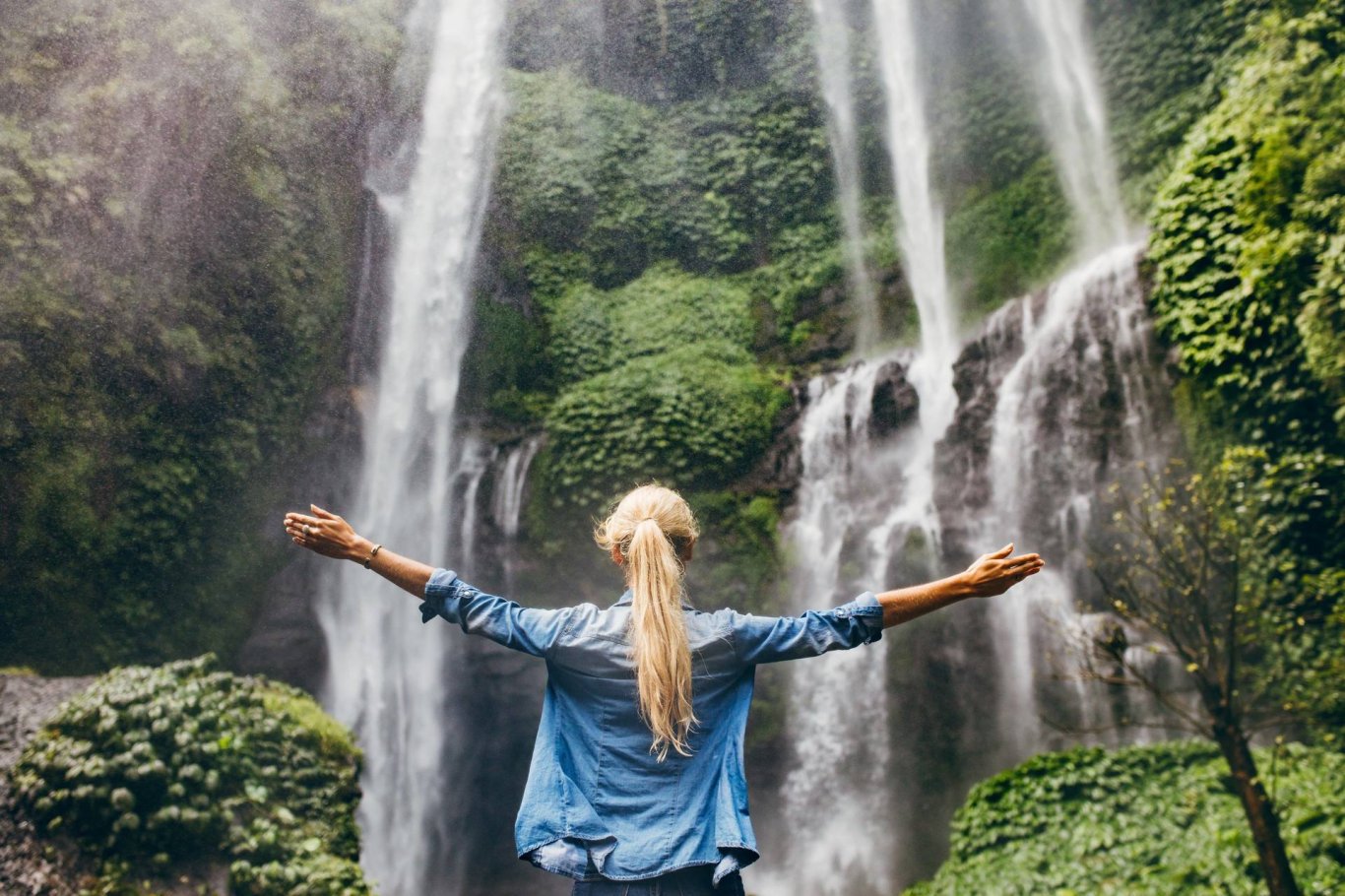 Why hellooo there Indo! So while most of Asia is going through its rainy season, Indonesia is the odd one out and don't we love it. Indonesia's dry season is April to October and in August, the temperature is hot fire flames and most of the islands have sunny weather, warm water, and blue skies. Just picture yourself on a beach in Canggu, sipping on a coconut, letting the hours pass you by watching the cool surfers... life. is. good. Then go inland, where it looks like you've just swapped to a whole new country. The endless greenery from the rice terraces, the Balinese jungle, the sacred monkey forest where you can make even more new cheeky (pri)mates (after your new TruTraveller buds)! Didn't get enough of the Bali beaches the first time around? Well, lucky you, cos then we head to car-free, tourist heaven Gili T! White-sand beaches, clear turquoise waters that are perfect to snorkel in (there's even a snorkelling spot called Turtle Point where turtles swarm most of day!), stunning sunsets and joss shots by the dozen (if you know, you know). Bali.... in August, it would be rude not to, especially with the great last minute deals on trips!
There ya go! Those are the best places to travel in August 2023! Now you know what to do. Book that place ticket, reserve that space on tour and get excited for the summer of your dreams!
Always keep an eye out for our last minute deals, these discounts make spontaeous trips even more exciting! Have a browse because you might just find your dream tour at an even dreamier price!
If you need any more travel inspo, feel free to send us an email on info@trutravels.com or check out our socials!
Still got the travel bug? Read the rest of our best places to travel series here:
Best Places To Travel In January
Best Places To Travel In February