5 Islands you can't miss in Greece
Greece is at the top of everyone's summer bucket list and it's unsurprising! Famous for its stunning beaches with white pebbles and unmatched turquoise waters, the fun nightlife, the tasty food and impressive history, why wouldn't you want to visit Greece this summer? As soon as the summer season starts, you'll know where to find us... the answer? GREECE. However, with over 2000 islands, it's hard to know where to start. There are some obvious contenders but there are a few lesser-known islands that are MUST DOs. This is why we've put together this list of 5 islands that you MUST go to when you're visiting on a trip to Greece. Whether you prefer to get off the beaten path to some of Greece's best-kept secrets or you prefer hitting up tourist favourites, we've got you covered!

1. Santorini
Santorini is known as one of the most romantic islands in the world, and it is! So it's the perfect place to visit if you're a couple HOWEVER it shouldn't be skipped over if you're solo (haven't you heard of self-love, helloooo) or with friends, as the romantic side of Santorini is just one side of it. If you head to the cute little zen beach town of Kamari (where we stay on our Greece Island Hopper), then you'll get a completely different side of Santorini - the one with all the backpacker vibes! Kamari is full of fun beach bars, quaint restaurants and funky shops AND it's not as expensive so can be done by those on a budget! No need for pricey dinners in Oia when there are €3 Gyros on offer. Having said that, on a trip to Santorini, you should act the boujie queen or king that you are and treat yourself to a delicious (and maybe a little bit spenny) meal. Another reason why Santorini is at the top of everyone's Greece bucket list is that it is famous for having one of the best sunsets in the WORLD. Travellers flock from all over the world (literally) to visit Santorini to experience the unbelievable natural phenomenon. The best sunset spot is in Oia, which is found on top of a cliff. After weaving around the cute, narrow cobbled streets and picturesque alleyways with white and blue buildings, you'll settle in a spot where you can watch the sun go down over the horizon with boats sailing on the sea alongside the famous Caldera! Akrotiri and Pyrgos offer equally splendid sunset views while being less crowded and quieter. When you're in Santorini, make sure you go wine tasting and see the black volcanic beaches too!
Check out our Greece Island Hopper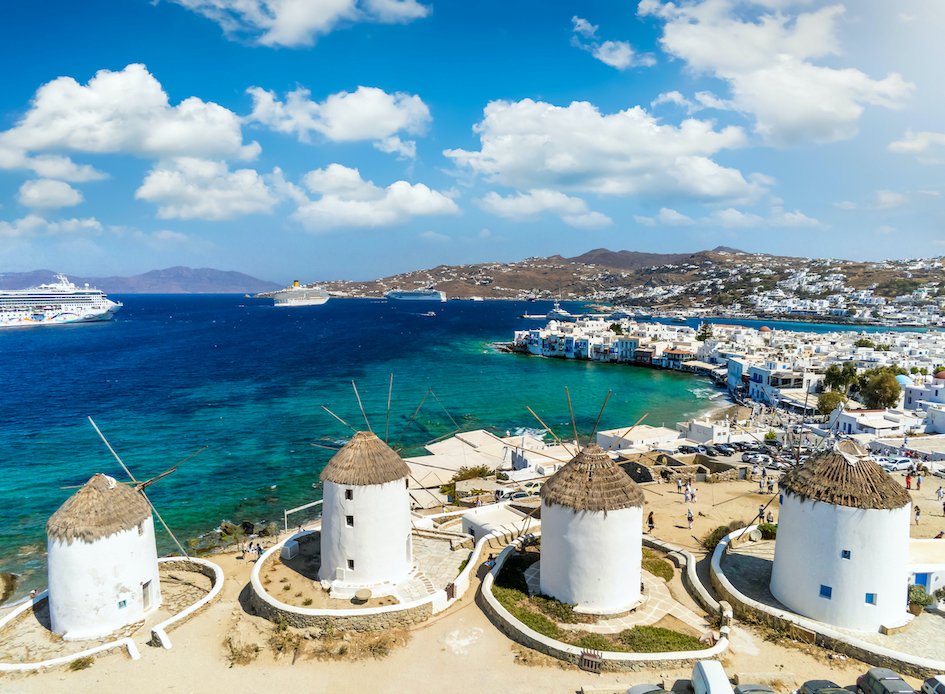 2. Mykonos
Mykonos is famous for being THE party island in Greece and considering the number of fun party islands in Greece, this is a pretty impressive title to hold. Not to brag but on our Greece Island Hopper, we actually stay at a hotel voted the 14th best club in the world!!! Talk about having a good time... Mykonos is the perfect place to party, whether it is during the day or night. There are so many beach clubs where you can have a bit of a day session and then as day turns to night, and the cocktails come out (ok... the cocktails keep flowing) then you can dance well into the night, until the sun comes back up! Yep, Mykonos is a bloody good time. Spend your days nursing your hangover on the stunning beaches and going for a refreshing dip in the shimmering turquoise waters or exploring the old town with its cute cobbled streets and iconic windmills. This is an insta favourite so make sure you get that shot to make all your friends jealous! No trip to Greece would be complete without a trip to this party island so make sure it's on your Greece bucket list!
Check out our Greece Island Hopper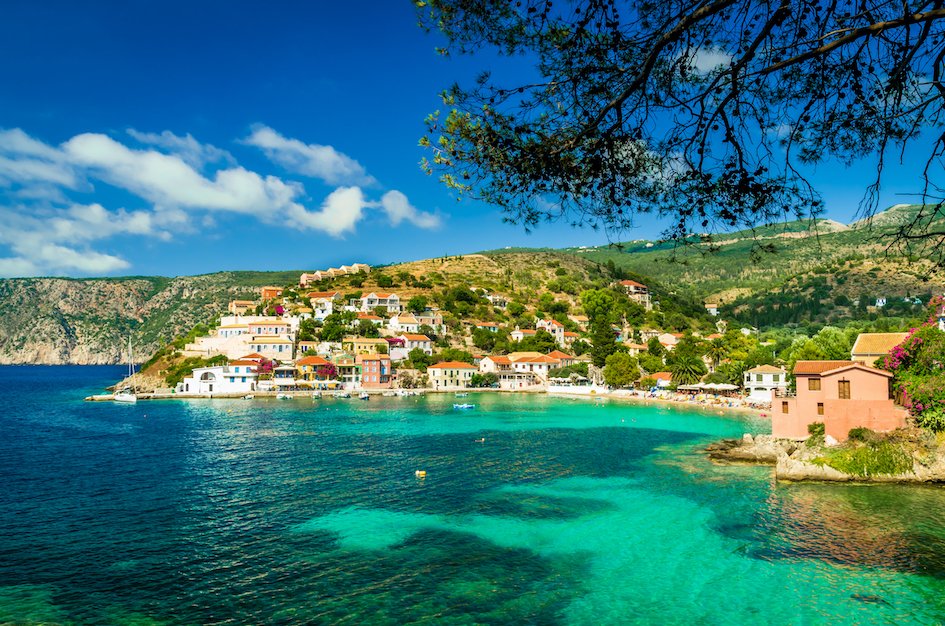 3. Paxos
We've all heard that "size doesn't matter" but with Paxos, it really doesn't!! For the smallest of all the Ionian islands, Paxos really packs a punch. Paxos is such a stunning, natural beauty with its dramatic coastlines, its impressive blue caves and its endless olive groves and that's BEFORE we've even started talking about the gorgeous beaches. From big, organised beaches with sunbeds galore, to little hidden gems, Paxos has so many gorgeous beaches that travellers will never get bored! The sea in Paxos is something else, with deep blues, turquoise and light green hues, you can relax there all day. In the towns, such as Gaois, you can walk along the charming port, sample excellent local wines and stuff yourself full of incredible seafood.
Check out our Greece Sailing Adventure here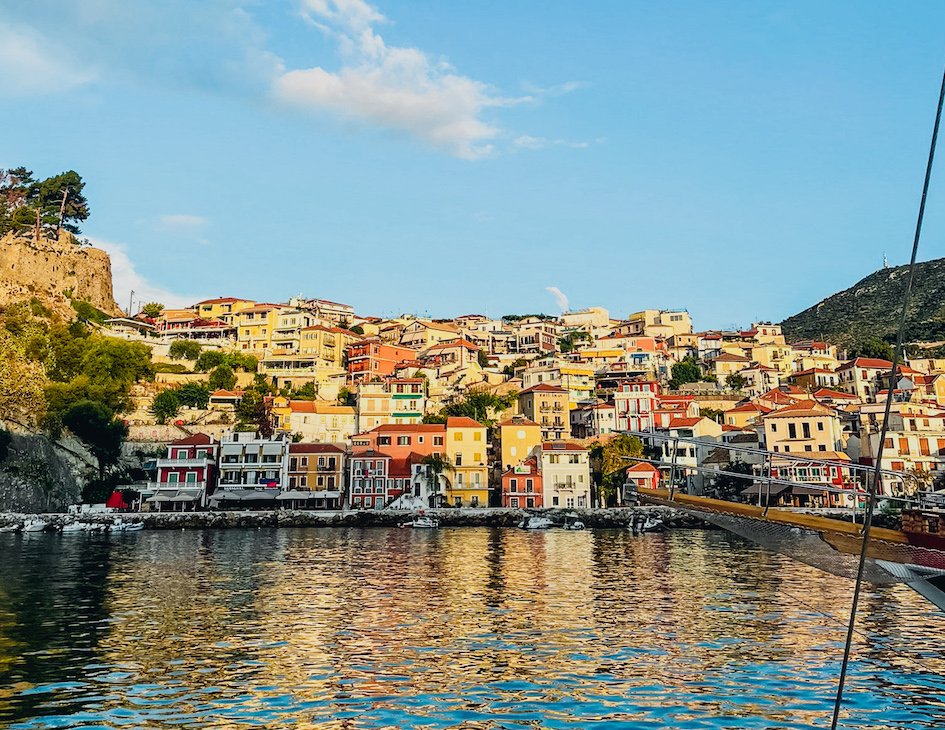 4. Corfu
Corfu, unlike Paxos is the second largest island in Greece, has so much to offer. It is covered in lush greenery, has stunning pine-lined white-sand beaches and has quaint old towns with stunning architecture and interesting historic landmarks... Corfu has everything a traveller could want from an island. Walk along the streets of Corfu's Old Town and explore the lively spot of Spianada before discovering the Spanish Fortress. In the evenings, take your pick of amazing restaurants. Corfu is well-known for its incredible food and so travellers should definitely head to one of the traditional tavernas to taste typical Corfiot dishes prepared from homely recipes and old cooking methods (definitely try the pastitsada if you like the sound of meat braised in red wine, garlic and onion... brb just drooling over the idea of this deliciousness). If maxing relaxing is more your thannnng, then head to the stunning coastal town of Kassiopi which is home to 3 idyllic beaches... honestly when you're in Kassiopi, it's as close to paradise as you'll ever get. Paralia Mpataria is our favourite beach - white pebbles, turquoise blue waters, Albanian mountains as a backdrop... can you think of anything better? No, we can't either!
Check out our Greece Sailing Adventure here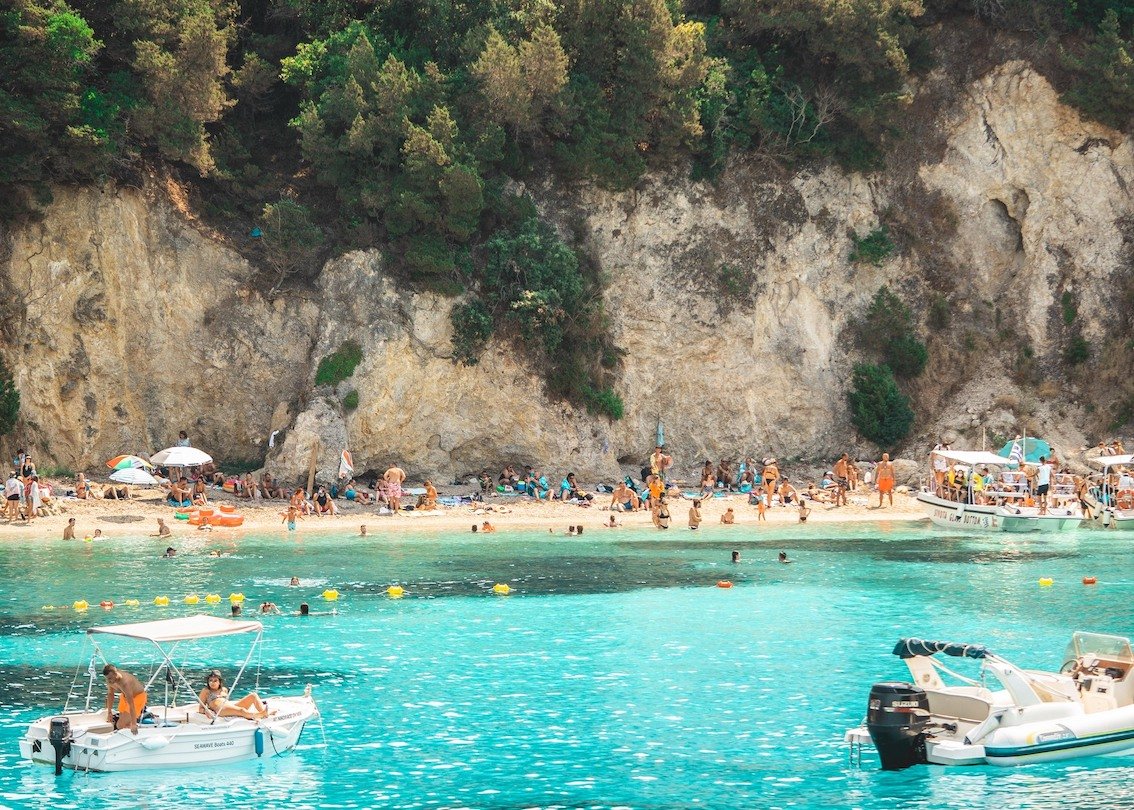 5. Ios
Ios is one of the best party islands in Greece and it's a hot spot for younger travellers that wanna get their drink on and have a good time. On our tours, we definitely have a good time. We go on an epic pub crawl (we'd say unforgettable... but some people have hazy memories of the crazy night!!) The best thing about this island is that its beaches are completely underrated... they're not seen as the main focus of this island, not because they are not idyllic and beautiful but because people are usually too hungover to drag themselves to the beach the morning after a big'un (and every night on Ios seems to be a big one!) But trust us, it's worth it. Instead of staying inside all day, get yourself up, splash yourself with water, do whatever it takes to get to that beach... we promise it'll be worth it. Take a bit of R&R time and then get back on it for round 2 (if you can handle it!) The nearby islands are also BEAUT so if you can, do an island hopping tour, go snorkelling (hint hint: on our Greece Island Hopper, we even go on our own private island and have a prosecco picnic. Don't say we don't treat ya!)
Check out our Greece Island Hopper
So there you have it!! The top 5 islands that you CAN'T miss when you travel to Greece... we know that it might be a struggle to go to all of these incredible places if you've got a 1-week trip. So, our suggestion would be to quit real life and to go forever! But that's just us! If you wanna hit a few of these places though, check out our tours to Greece... whether you wanna island-hop or sail the Ionian sea, we've got the tour for you!
Don't quit your daydream,