We can all agree that Christmas is a time for giving, spending time with family and spreading lots of love. We tend to get spoilt and showered with presents, feasts fit for a king and endless boozy beverages and usually left sat like coach potatoes by about 4pm watching movies. This is all good and well, but do you ever take some time out to think about those that aren't so fortunate?
LET'S GIVE BACK THIS YEAR...
This year, we at TruTravels have decided to spend our xmas event volunteering at a junior school in a very remote and low income part of Thailand.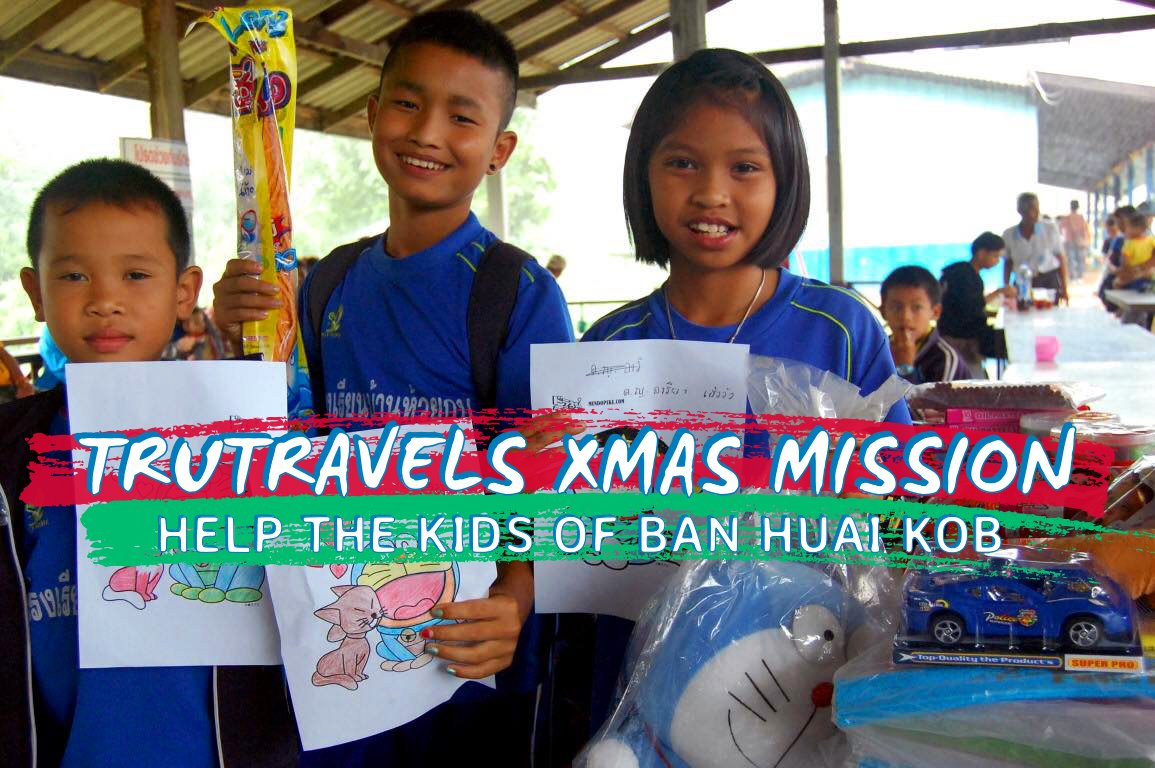 At TruTravels we believe that the travel industry has the potential to change the world for the better. Our vision is to unite people, companies and charities from all over the world, with the common goal of reducing the current global equality divide, whilst showing our travellers the most amazing, life-changing experiences during their time with us.
So with that in mind, our main event this year will be spent spreading some good karma and festive cheer in a very remote and poor area of Thailand, Ban Prarai Nok, a small village a couple of hours from Sangklaburi in Kanchanaburi province. The area is very low income with most people farming or labouring for around 5000 THB a month (about 120 pounds) or less. Being near the border, the village is a mix of several ethnic groups: Thai, Mon, Karen, Burmese and Laotian.
Ban Huai Kob School is the main school in the village and is currently providing an education to 240 children between the ages of 4 and 12 with only 9 teachers and very little funding from the government. Ban Prarai Nok (where we are going) is a smaller branch of the school with just 60 kids and 5 teachers and as such receives only a fraction of the government funding available which is nowhere near enough.

Although the school is also in some ways at the center of the community, the locals of the area can not afford to pay tuition fees or fund the school and as a result it is severely lacking basic educational equipment, falling into disrepair, and in desperate need of funding, maintenance and equipment. The school is not even connected to mains electricity, it uses a solar cell which is no longer working.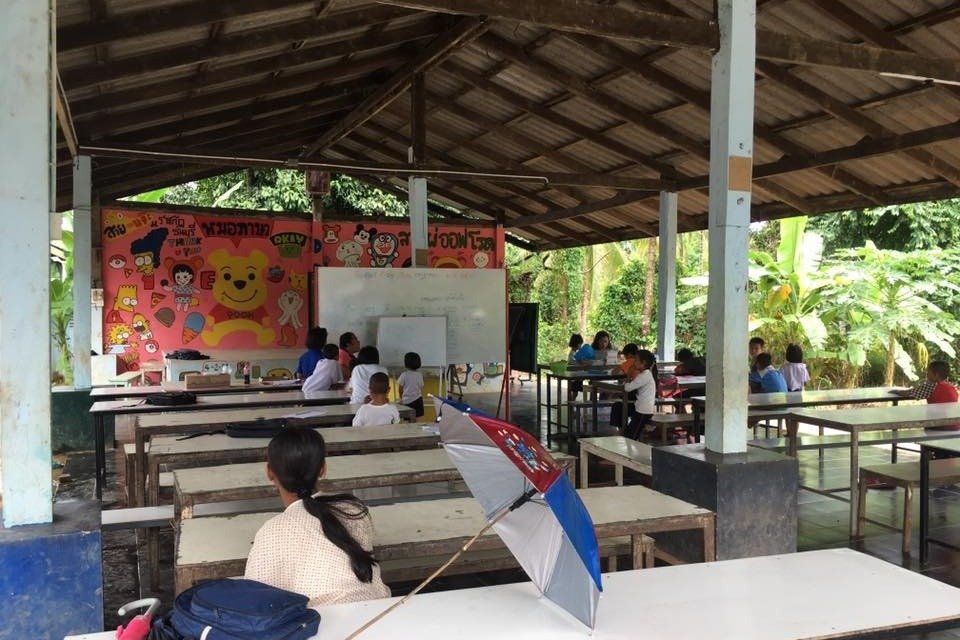 In the run up to the event we thought it would be nice to do some fund raisers so we can donate more for school equipment, repairs, renovations, xmas presents for the kids and more.
Some of the team have signed themselves up for a 10k run in Koh Phangan on 16th December to get things going. The rest of the team will be revealing their fund raising ideas soon. Stay tuned and if anyone feels like contributing, every little helps and it is all going to a very good cause: improving the education and quality of life for some of the least well off kids and families in Thailand.
Around 50 of the Tru Fam will be heading to the village in December to volunteer in the school, do some educational and fun stuff with the kids, help with building and decorating (DIY projects) and most importantly raise funds to help the school feed and educate the kids, hire more teachers, buy much needed educational equipment and make improvements to school buildings and facilities.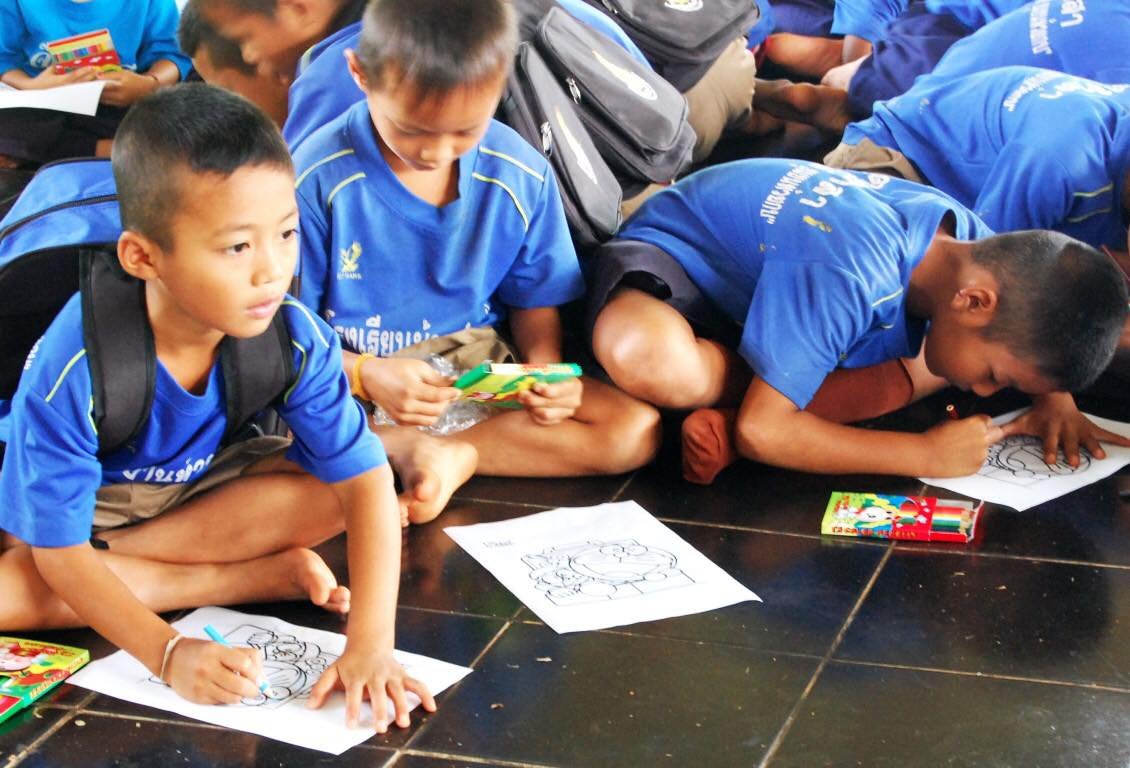 TruTravels will obviously be donating as well as incurring the expense of getting 50 of us up there to volunteer and deliver cash and supplies. However we have also set our team the task of raising funds for the cause in the run up to the event. Some of us will be taking part in the Koh Phangan 10k run the day before we head to BKK. Our girl Sammy is even threatening to do a Muay Thai fight to raise sponsorship money and who knows what other weird and wonderful fundraising ideas the rest of the crew will come up with.

We will also be asking our team to bring old clothes, sports equipment etc that they no longer need to give to the kids and their families. As well as raising cash for food, paint, building materials, educational equipment and salaries for new teachers, we want to have enough to be able to stop the Tru bus on the way up there to buy loads of small xmas presents for the kids.
FIND OUT HOW YOU CAN HELP...
The more we raise, the more we can do to help raise the quality of education for the kids and the quality of life for their families for generations to come. If you would like to help then please go to our gofundme page to donate whatever you can. Even small amounts can make a difference and if you are coming on tour with us in the next couple of months feel free to bring small gifts like pens, sports equipment, small games/toys etc. They will be much appreciated.
If you would like to speak to a member of our team for more information about how you can help or if you would like to get involved with the fundraising, then pop us an email over to info@trutravels.com.
BIG TRULOVE <3