So you know how my life out in Thailand is terrible? Well it recently got worse…
The powers that be from TruTravels sent me off to Bali to check out our brand new Bali tour. Can you believe it? They made me explore majestic temples, splash around in waterfalls, visit and active volcano and wander through rice fields. And that's all before enjoying:
the local coffee,
discovering islands,
kicking back on beautiful beaches,
indulging in delicious food,
learning to surf,
snorkeling in crystal clear seas and
dancing the night away in what is, quite frankly, paradise.
I nearly had to quit my job due to the stress of it all!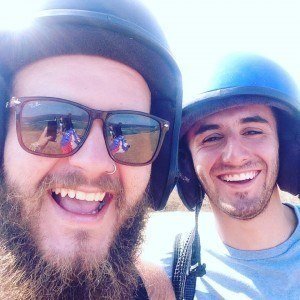 Kuta is where I started my trip, and is probably the most well known area in Bali. It all started at a small fishing village, made up of straw huts and dirt roads. In just a few decades, Kuta has become the most tourist-heavy area in all of Bali. Now with paved road and modern structural buildings, it is now covered with gift shops, cafes and night clubs.
Everyone you walk past tried to sell you something, whether you look interested or not. So be prepared! It can get full on, but it's something everyone should experience which is why it's a great place to start the adventure! And this is where we spent our first three days.
Day One
Day one is arrival day, and so I basically spent the day relaxing by the pool, took a wander to the beach and explored Kuta itself. That evening, we headed out for our Welcome Dinner & Drinks, and this is where I met the rest of my group. We had a wild night out together, which included drinking and partying into the early hours- what a fantastic way to break the ice!
Day Two
On our second day in Kuta, we explored the culture of Bali by visiting the magnificent Tanah Lot Temple, which is found set on a rock formation in the sea. It is one of the seven sea temples around the Balinese coast. Each of the sea temples were established within eyesight of the night to form a chain along the south-western coast. They are all holy place to worship the Balinese sea gods, and although you cannot actually enter the temple, the architecture is phenomenal and can definitely be admired from the outside.
On our way back to Kuta, we stopped off at La Plancha for a cocktail and to watch the sun setting. It was amazing! This was also actually the place I got my first ever pedicure! They do say travelling is all about trying new things, so when in Bali, get yourself a £1.50 pedicure whilst sipping on a cocktail!
Day Three
It was soon day three, and we hit the beach once again. This time, it was Kuta beach in the morning where we learnt to surf with our laidback local surf instructors at Kuta Beach.It is definitely the way to go if you are eager to learn how to surf but just don't know where to start. The guides take your surfing ability to the next level, so I basically went from amateur to pro within the lesson! It really brings you to the challenge stage, where you must conquer the fear and dance with the ocean. It involves bravery, balance and spacial awareness, but when you finally get to stand it, it truly is an amazing feeling! Ripcurl actually approached me after the lesson, but I had to turn down the worldwide fame because I already have a job…
It was then only a short drive up the coastline to visit the beautiful Padang Padang Beach; beautiful and an absolute must see. However, it is very crowded and the current is a little strong, but there's a great bar where you can sit and enjoy a Bintang whilst watching the beginner surfers struggle to stand.
Finally, we hit our last top of the day at Uluwatu Temple, a Hindu temple set on a cliff bank with a stunning view of the Indian Ocean and boasts spectacular sunsets. The temple is inhabited by monkeys; notorious for snatching visitors' belongings, so make sure you take off those fake RayBans before entering! They can usually be persuaded into trading items for fruit, but I would still recommend leaving pinchable items on the bus.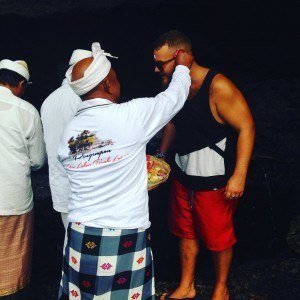 Day Four
So, on day four, it was time to pack up and move onto the beautiful town of Ubud- cultural and home to great restaurants, cafes and streets of shops selling goods from local artisans. Ubud is hands down my favourite place in Bali, and the hotel we stayed at was amazing (and much needed after the hustle and bustle of Kuta!) On the way to Ubud, we stopped to cool off with a little dip in the stunning natural Tegnungan waterfall. After check in, we stopped off to visit the 'Little Locals' at the Monkey Forest. This sanctuary, again, is inhabited by a band of grey-haired and greedy long-tailed Balinese macaques who, may I add, are nothing like the innocent looking doe-eyed monkeys on the brochures. Nestled in the forest, the temples have real Indiana Jones feel to them! After that, it was time to relax by the pool and drink a couple of Bintang before we took an evening to chill out after a very busy three days.
Day Five
Early the next morning, we headed to a local primary school for the unique opportunity to spend time in the class with with local kids. What a fantastic experience! The kids were so well educated and we really appreciated spending time with them. I could have spent a full day here, but their IQ seemed far too superior to mine, and so I had to move on before a complex kicked in.
After our morning with the kids, it was off for coffee at a local plantation where you can see how the world's most expensive coffee is made. Funnily enough, it's made by the poop of a cat-like creature called a kopi luwak, and can cost up to £51 a cup! We had our lunch overlooking an active volcano named Mt. Batur'and, and spent the afternoon wandering around the famous Rice Terraces of Ubud. Again, something you have to see to believe. The beauty is unmatched, and the afternoon really was one to remember.
After having a chilled few days, we boarded a boat to the picturesque island of Gili Trawangan where we settled into our beachside accommodation again, with some free time to sunbathe and wander about; bask in the beauty of this little island. About an hour before sunset that evening, we jumped onto the only mode of transport available on the island- push bikes. We cycled around, seeing the sights and marvelling at the amazing sunset, whilst some of us indulged in the opportunity of the Ombak sunset swing (a very famous picture amongst travellers!)
That evening, it was time to party… island style! We started the night off by heading to the local market for food to line our stomachs and then it was onto some of the island's famous bars: Blue Marlin, Sama Sama reggae bar and after that… I have no recollection as the cocktails and shots of Joss soon took their devilish grip on my human functions. But judging by my hangover the next day, it was a good night. Now, what better way is there to cure a hangover than snorkelling? There were so many fish, and all the colours you could imagine. They were patterned, dotted, striped and streaked with luminous colours- it was like being in a cartoon! It was so enthralling, being in that underwater world. The coral swayed seductively in the water as tiny fish made little popping sounds as they nibbled away. The way the coral seemed to breathe and dance was almost as amazing as the fish.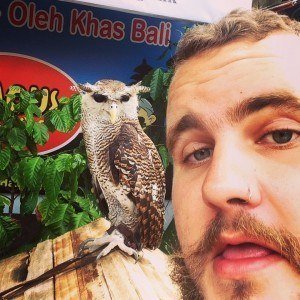 We then visited the wreck of a Japanese World War II patrol boat, around 20 meters long, sat upright on the sandy bottom. It's a little deep for untrained lungs to get too close, but you can still see it in all it's heroic beauty and marvel at all the beautiful underwater wildlife that resides there. It was such an amazing way to end my trip.
Unfortunately, I had to leave and so I didn't get to enjoy the group's farewell dinner that evening, but if it was anything like the rest of the trip, I'm sure it was filled with laughter and alcohol.
The trip truly is a once in a lifetime experience, and the itinerary has been expertly thought out so you manage to experience all the hidden beauties Bali has to offer in just eight days. And to top it off, you make lifelong friends along the way!
If you're thinking about visiting Bali anytime in the future, I couldn't recommend our tour enough. I promise it won't disappoint and you will most definitely have the time of your life!
Stay Tru