We are excited to announce we have opened our first travel shop in Bali! This has been one of our dreams for a long time and it's amazing that to have it finally come true! Located under Koa D'Surfer, which is the first hotel our guests stay at with us on our Bali tour's. We've got a dope ass team to help each and every traveller with booking day tours if they arrive early, ferry tickets etc. as well as selling local, eco-friendly products.
A big part of our mission is to help our local communities, whilst doing our bit to help improve the environment. Here's a little bit of info about the exciting products we have in store for you!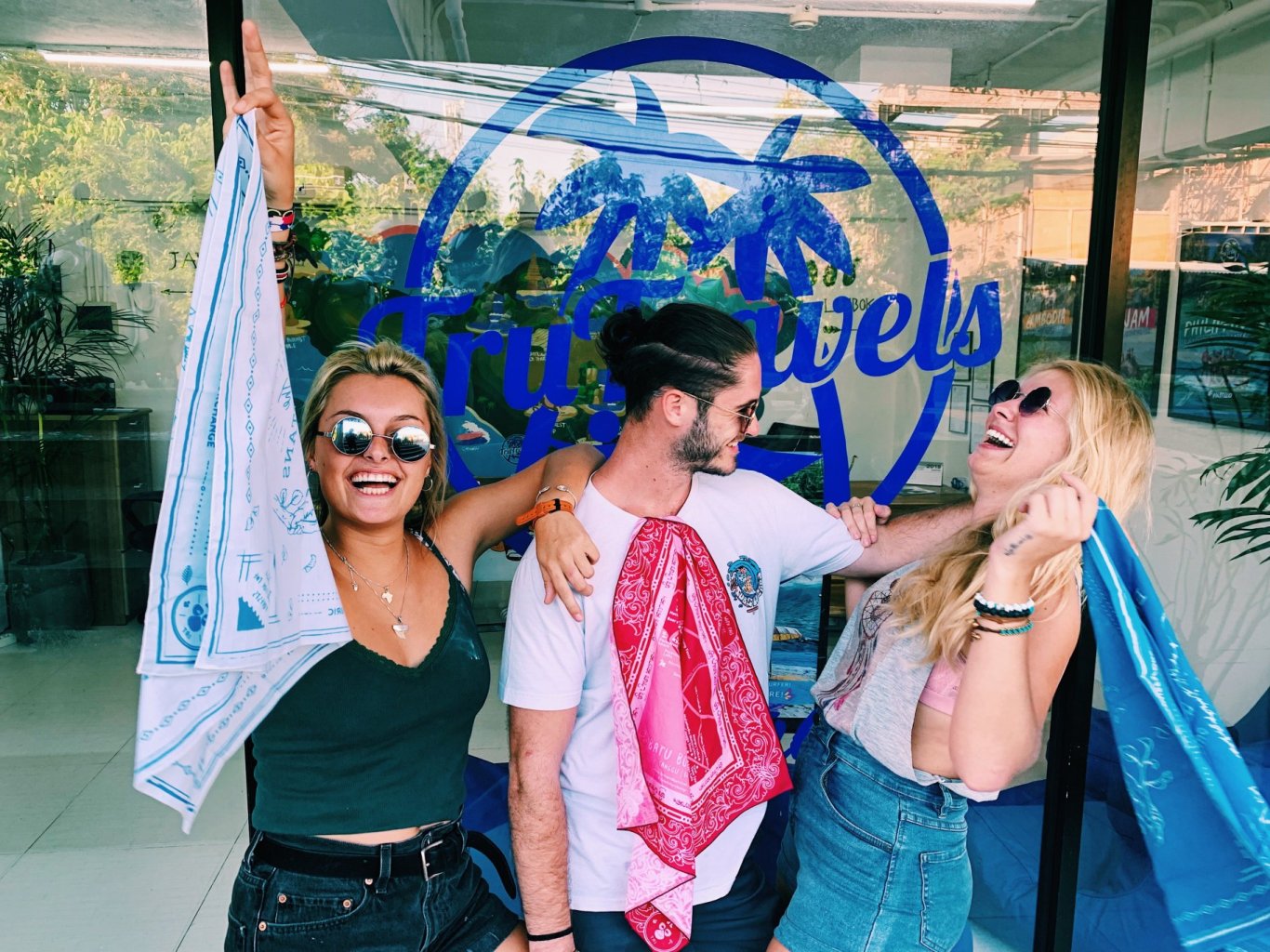 We are proud to be opening our shop in Bali with stockists of Tri Up. Tri Up is a truly ethical company that does so much amazing work to give back to the environment, we just had to rave about it! They create bandana's and tote bags made from 100% upcycled linen with beautiful printed designs. We've got the classic, the Orangutan, the map of Bali, and the Sumatran elephant totebag designs too! To give you an insight about their company what they are all about, here is a summary of how they began..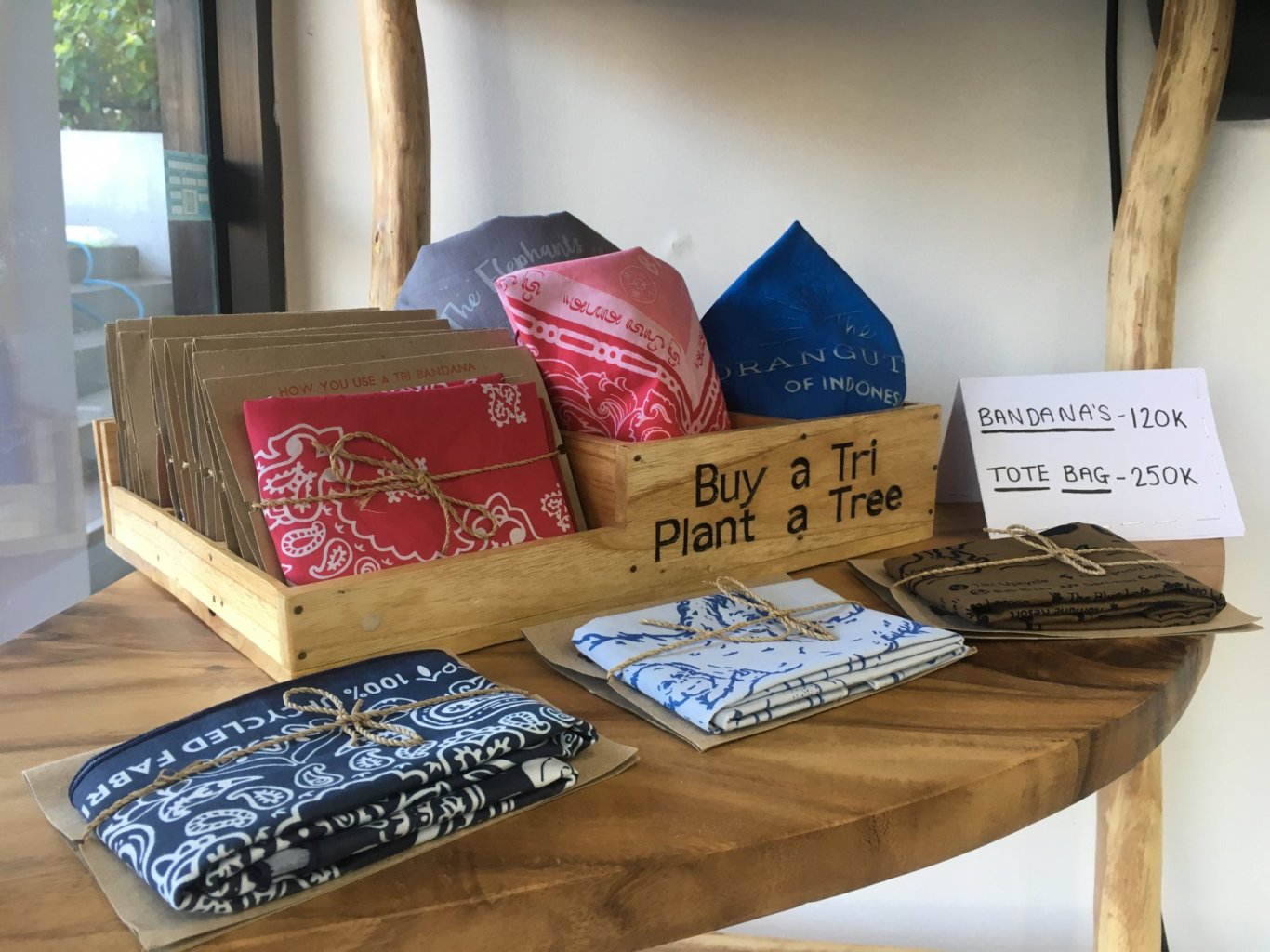 "The TRI story started with a red bandana that my dad carried in his pocket since 1995. He picked it up as a souvenir after hiking in Seoraksan National Park in Korea. The bandana has a map of the national park on it. My dad collected them from each of the national parks he visited when he used to live in Korea. At the time, he just thought they made cool souvenirs, but he got into the habit of carrying them and realized how often they came in handy. As my dad loves forests and trees, his pet peeve is wasting single-use tissues to do things like drying hands after washing, wiping your face when eating, etc.
"My favourite red bandana became like a talisman that I carried with me wherever I went, reminding me and connecting me to the forests I love, and making me more conscious of how I consume" –Ben's dad"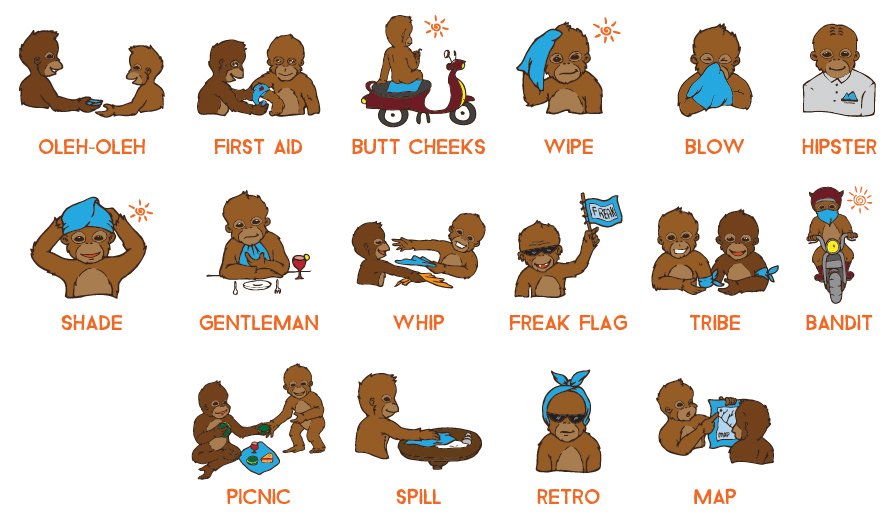 The name Tri came from 'Tri Hita Karana', Bali's beautiful philosophy about the three causes for happiness or prosperity: harmony with humans, harmony with nature, harmony with Spirit.
As you may have heard, deforestation is increasing by the day. Indonesia is the second most bio-diverse country after Brazil. It's home to about 15% of the entire worlds plants, mammals, birds and home to many endangered species such as oranguatans, Sumatran rhino's and tigers. In the last 50 years around 74 million of hectors have been destroyed (around the size of two Germanys). It is destroyed to make way for Palm Oil plantations (Indonesia is the biggest producer in the world) and the pulp and paper industry for things like oil for toothpaste, paper for magazines, packaging. The effects of this releases tons of toxic carbon that cause forest fires, make it harder for local communities to survive as they depend of the forest for food and shelter, and destroy natural habitats for animals such as the orangutans.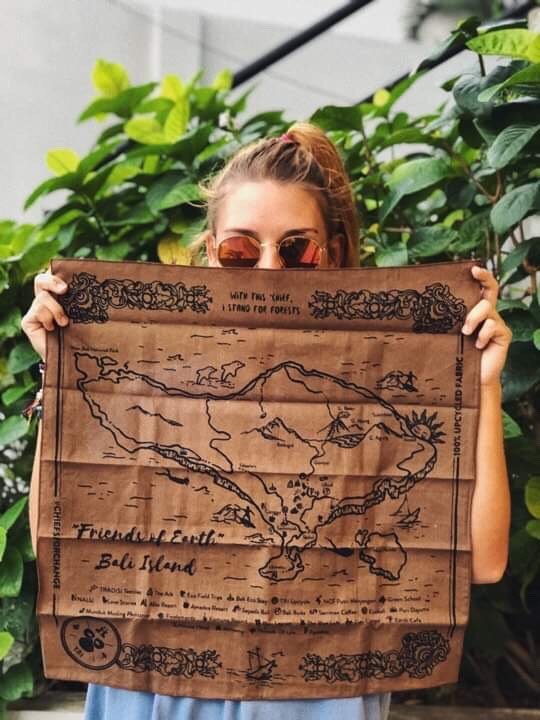 Tri Up aim is to reduce the amount of waste paper consumption, and each product that is sold contributes to the protection of the precious forests of Indonesia, like Borneo, Bali and Sumatra. With every purchase, Tri Up replants a tree, supports the indigenous people of Indonesia, donates money to training volunteer firefighters to combat forest fires and the conservation of the endangered species habitat!
There is much work to be done to protect our planet, but why not start with a bandana? So if you are heading on one of our Bali trips or know a friend that is, make sure you pop into our Bali shop and buy a Tri, plant a tree!