BUCKET LIST DESTINATIONS IN GREECE
Welcome to Greece, one of the sunniest places in the world, basking in more than 3,000 hours of sunshine each year. That's a dream right?
Before we cover all the important stuff, let's start with some facts. Here are 5 things we bet you didn't know about these beautiful islands:

1. 80% of Greece is made up of mountains.
2.There are over 4,000 official traditional dances in Greece. They originate from all over the country.
3. Greece is the third largest producer of olives and produces more varieties of olives than any other country.
4. Greece has one of the largest coastlines in the world.
5. There are an estimate of Greek islands between 1,200 and 6,000, 227 of which are inhabited. Crazy right?
ATHENS


Now, let's get straight to it, starting with Athens, the oldest European capital city. Here is where you can spend your days discovering Acropolis, the mythical home of gods, hiking the Lycabettus Hill and exploring the Monastiraki neighbourhood known for its many iconic landmarks. And if you're a theatre fanatic.. this is the place for you. With 148 theatrical stages, the city has the most theatrical stages in the world!

MYKONOS



Moving onto Mykonos, known as one of the most beautiful Greek islands that guarantees constant jaw-dropping views. This unique island is famous for its beautiful colour scheme which is actually a strict colour code that requires doors and windows to be painted blue, green or red. This dates back to a tradition where sailors used to paint their doors blue, farmers painted them green and everyone else used red. The houses, on the other hand, are all painted in white – a colour that helps keep homes cool during the hot summer months. Here, is where we recommend you to get lost whilst wandering the street and discover hidden gems along the way. Below are some of our favourite spots that you should NOT miss on your trip to Mykonos:
Get lost in Hora
Visit Lena's house
Visit the Windmills
Visit Rarity Gallery
Visit Ano Mera
Walk between Platys Gialos Beach and Paradise Beach
Hike to Armenistis Lighthouse
Visit little venice
All of which are free to visit, may we add..
By now we're sure you'll have figured out that this is the island that you've probably been dreaming of visiting for all these years after seeing incredible pictures plastered all over your socials.. And if recreating these pictures is what you're after, then we've got you. Below you'll find Mykonos most 'instagrammable' spots that will certainly not let you down:
Mattheou andronikou
Panachrantou
Busulas (pics and food)
Little Venice
The windmills
Kastro's restaurant alley
Mykonos viewpoint
Blue street
Ella beaches
Red church
Metropolitan church
Agia Kyriaki church
Paraportiani church
Thank us later if you wish!
Mykonos is also known as the party capital of Greece and it is a hotspot for those who love a party. This dates back to the 1900s where pirates would come and enjoy drinking and singing until early hours in the morning. Not only that, but this wonderful island is also home to Paradise Beach Club which is voted #14 best clubs in the world. I mean, it really does have it all!
Nonetheless, if exploring or partying isn't for you, here you'll find some of the best beaches in Mykonos:
Paradise beach
Psarou beach
Ftelia beach
Kalafti beach
Ornos beach
Platis Gialos beach

IOS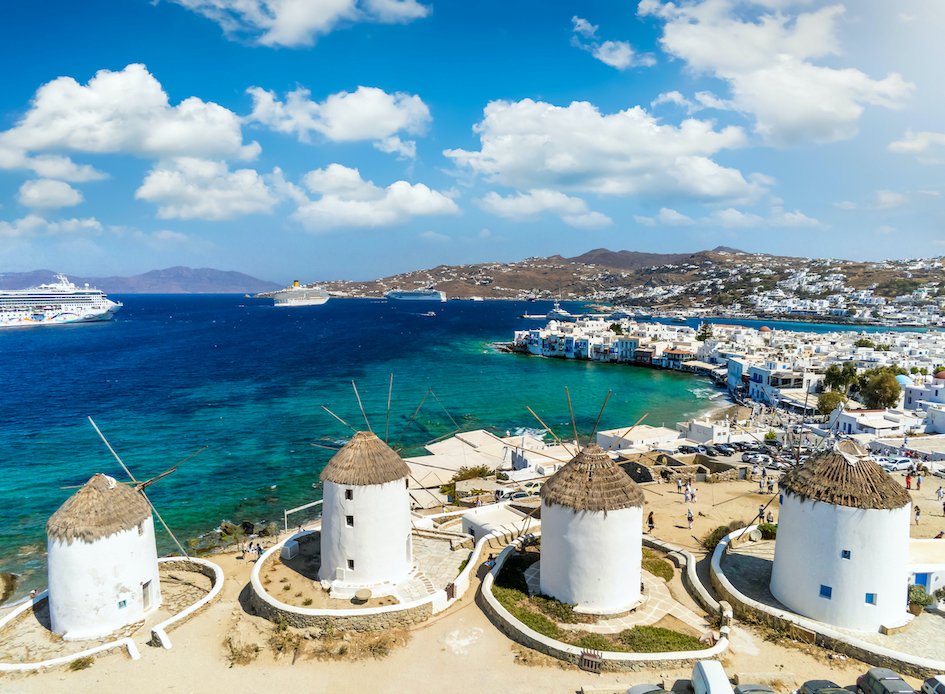 Next up, we have Ios. In Greek, Ios means flower. The first site of this island and the beauty it has to offer will immediately explain why they gave it such a name. With a gorgeous old town, stunning long beaches and unforgettable sunsets, this is the island of dreams.. Here, you can spend your days visiting Homer's tomb (famous poet), hiking the many trails, watching the sunset at Lorentzen beach, visiting the ruins of Skarkos, climbing to the top of Chora, visiting the windmills and SO much more. Of course we couldn't not mention those perfect insta worthy locations that will make all your friends want to catch the next flight out… so here goes:
Open air amphitheatre
Chora chappel
Agia Irini Church
Abandoned windmills
Ruins of Sarkos
Although Ios is rather small, there are still 32 beaches on the Island with one of the most popular being Mylopotas beach. Here you'll find 1k of incredible restaurants, quirky bars and some of the best beach clubs where you can happily spend the day swimming in the most clear and calm waters, join in with water sport activities and dance the day away with your friends. Listed below, are some other popular beaches we recommend you visit:
Chora beach
Agia beach
Kalamos beach
Chamouchades beach
Santorini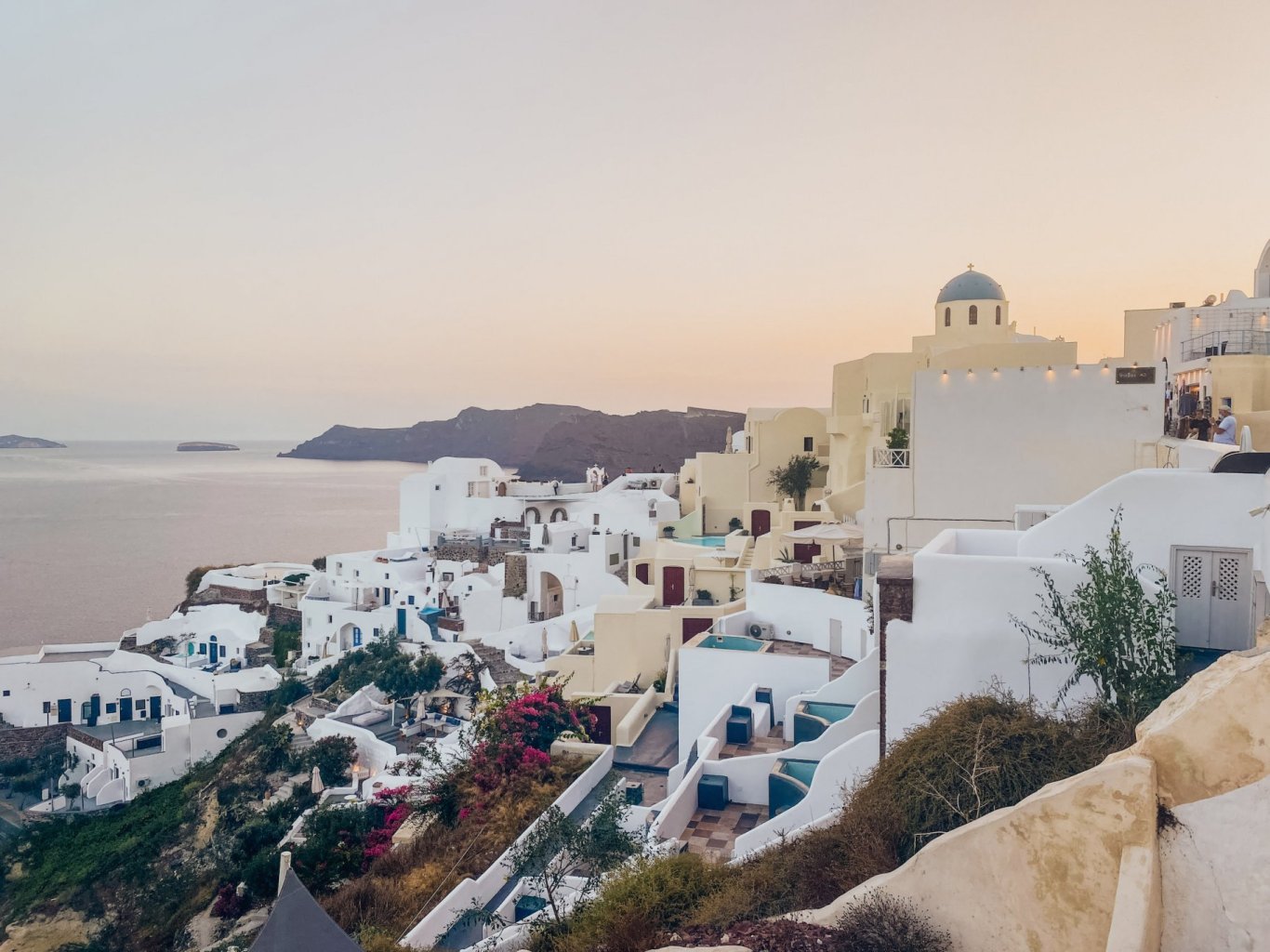 Last, but certainly not least we have Santorini, the fascinating volcanic island. The island where there are more churches than homes, where you'll find not only red, white AND black beaches but where there are also over 100 varieties of grapes. Did someone say wine??
Now, as you'll be aware, this has got to be one of the busiest and most popular of the Greek islands so early morning and late nights are highly recommended to ensure you make the most of your days. For one last time, here we are giving you the BEST and most picturesque locations:
Kastro house stairs
Oia Windmill
Oia night viewpoint
Santorini Caldera view
Pink church
Three domed church
Anastasis church
Amoudi bay
Church of Panagia Platsani
You're welcome!
Although Santorini is one of the most expensive European islands, there is still so much you can do that does not require you to spend any money at all. As always we don't gatekeep anything at TruTravels so here are some of the best FREE activities we think you would love.
Spend your days hiking between Fira and Oia, cliff jumping at Amoudi Bay, watching endless amounts of sunsets, climbing up Profiti Ilias and visiting Akrotiri. And if that isn't enough, enjoy the remaining of your days beach hopping between these stunning locations:
Red beach
Manoussou beach
Kamari beach
Perissa beach
Vlychada beach
Agios Georgios beach
White beach

Now, that's all from us!