HO HO HO TruTravellers!
It's coming up to that magical time of year where Santa Claus busts out the neon paint, fills a bucket with whiskey and hits Haad Rin beach delivering festive joy and party spirit to all…… no it's not Christmas, it's December on Koh Phangan, and this year we have a special surprise in stall for you.
For those unfamiliar with the Full Moon Party, it is well known as the biggest beach party in the world, each month between 10,000 and 40,000 revelers descend on Haad Rin beach for a night of whiskey buckets, neon lights and dancing, with Full Moon Parties falling around Xmas and New Year being the busiest and craziest ones of the year. With this many people turning up every December it's no surprise that accommodation fills up quickly and prices go up. For this reason we have always taken a break from running trips over xmas, until now. This year we have teamed up with our good friends Heidi and Christina who own and run one of the coolest hostels in Haad Rin and pre booked a limited number of beds right in the heart of the action for a one off, super fun, Tru-Xmas and New Year Full Moon Party Koh Phangan bonanza! (even includes a free shit shirt!)
With the lunar calendar on our side, Decembers' Full Moon Party actually falls exactly on Christmas day meaning that this years shenanigans on Koh Phangan will most likely be even more epic and popular than usual. Like always, we're here to help and we want to make your Christmas and New Years plans that little bit easier (and much more fun) by putting together an awesome Koh Phangan accommodation, party & activity package over the busy Christmas and New Years Full Moon period. It's basically double version of our awesome Full Moon Experience extension but done during the busiest and craziest time of year on the island. Check out the video here for our full moon tour (Note: some of the destinations in this video such as Khao Sok are not in the xmas and new year package as they are on the 8 day Thai Experience trip which usually goes before the full moon bit.. Check that out here)
So, if you're planning a trip to the beautiful island of Koh Phangan this New Year just check out what we have in store for you in all it's awesomeness below! We have split the 10 nights up into two 5 night packages so you can join us on the island for Christmas & Full Moon (24th – 29th Dec – now full) or for New Year (29th Dec – 3rd Jan), or you can stay all the way from the 24th December till the 3rd Jan for the super Xmas, New Year Koh Phangan festive orgy of awesomeness. Follow this link to HERE to ask us any of your burning Christmas questions.
Option 1: Tru Xmas Koh Phangan XXXtravaganza
5 Nights: £295 (24th – 29th Dec)
Celebrate Christmas in Tru-style, running from the 24th – 29th December. Check your bags in and enjoy the festive cheer with us here at TruTravels island paradise HQ. Over the 5 days we'll take care of the good times while you enjoy everything Koh Phangan has to offer, get your dancing shoes on because it's going to be one hell of a holiday with the Full Moon Party falling on Christmas day and all the below to look forward to!
What's included?
– 5 Nights Accommodation at one of the best party hostels on Koh Phangan

Join in the madness and meet other travellers from all around the globe in one of the coolest hostels in Haad Rin. Located only 100m from the Full Moon Party beach and serving up some of the best food on the island from their restaurant/bar downstairs! You will not be disappointed with the accommodation or the crowd. It's well known for being an extra specially good place to stay and party over Xmas due to the very cool management and atmosphere!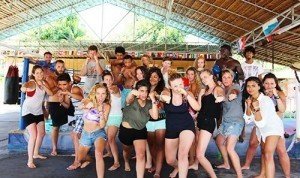 – Muay Thai session
Hone your fighting skills and get involved in a session of Thailand's national sport of Thai boxing. We take you and the rest of the group for an intro training session with professional fighters at one of the islands authentic Thai boxing gyms.
– The Challenge course
Take on Koh Phangan's 'Challenge course', an awesome inflatable obstacle course on a fresh water lake, try and conquer the BIG red balls and be remembered throughout history! (Just like on the TV show wipeout!) You can see what you've got in store here (video).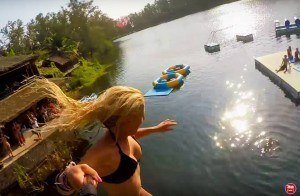 – Island Booze Cruise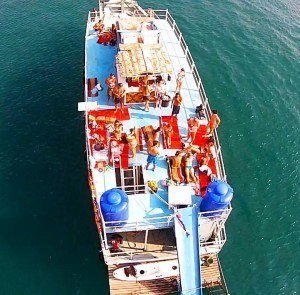 Enjoy a day soaking up the sights around Koh Phangan on a double decker party boat complete with open bar, snorkeling, volley ball, waterfall trek and big tunes pumping all day through the sound system. Damn good times ahead, check out the video for the boat trip here!
– All transport to activities
Forget local payments and transport to the fun, we'll take care of getting to where you need to be, sip a beer and enjoy the ride.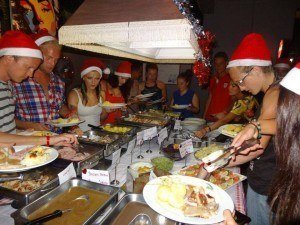 – Christmas dinner (Scandinavian or Traditional English)
What's Christmas without a delicious festive feast!? Enjoy a choice of either a Scandinavian meal on the 24th or a traditional English roast on the 25th, YUM! Prepared by Heidi and Christina's own fair hands. Guaranteed one of the best roasts you'll find in Asia!
– Whiskey Buckets
Of course as it's Haad Rin and to encourage the Christmas cheer, we'll throw in a few whiskey buckets for ya to limber up before the Full Moon party!
– Christmas Day Full Moon Party
We will show you how to do the full moon party the right way! We'll get painted up and pre drink at the hostel before heading out to some of Koh Phangan's coolest venues before heading down to the main beach for the big party. Will you last till sunrise? Or even the famous backyard after party? (They are our favorite bits!)
– Complementary 'Shit Shirt'
Upon arrival we'll even supply you with some much sought after island gear, your very own TruTravels Hawaiian style shit shirt to get you into the island vibe and help you look the part (we might even chuck in a Christmas hat too!)
Option 2: Tru New Year Koh Phangan Bonanza
5 Nights': £325 (29th Dec – 3rd Jan)
What could be more awesome than welcoming in 2016 with the biggest beach party on the planet!?….Not much! It's time to dance off all that food you ate over Christmas and welcome in the new year in a blaze of glory! This package 29th December – 3rd January and is sure to supply you with a welcome to 2016 you won't forget….depending on how many buckets you drink of course!
What's included?
– 5 Nights Accommodation at one of the best party hostels on Koh Phangan
Join in the madness and meet other travellers from all around the globe in one of the coolest hostels in Hadrin, located only 100m from the Full Moon Party and also cooking up some of the best food on the island! This super chilled guesthouse offers a great atmosphere to relax between the parties and meet like minded people hitting up the island for an epic Christmas!
– Slip 'N' Fly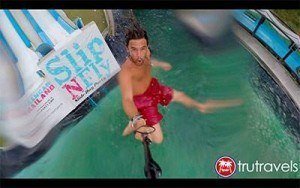 Fly alongside the palm trees on one of Phangan's most popular attractions, the Slip 'N' Fly water park! Two giant water slides propel youhigh into the air before splash landing into the water below, or even challenge your friends to mud gladiators or mud tug of war!
– Thai Massage
Recharge and relax before the party by going for a Thai massage and stretching out those muscles to full party potential.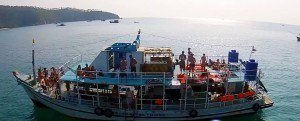 – Shipwrecked Boat Party
Cruise round the island and take in all Phangan has to offer on the Shipwrecked boat party (video), the drinks will flow all day at the open bar!
– New Years Gala
See in the New Year on the guesthouse rooftop, with cocktails, fireworks and enough party to shake a bag of fullmooners at. Once the rooftop party dies down, hit Haad Rin beach for one of the BIGGEST, BADDEST New Years celebrations in the world!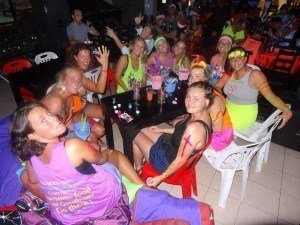 – Whiskey Buckets
We'll even chuck in a few buckets of whiskey to help you limber up for epic celebrations, just cos we're nice like that.
– Complementary 'Shit Shirt'
Upon arrival we'll even supply you with some much sought after island gear, your very own TruTravels Hawaian shirt to help you look the part… (They're not really shit, they're great!)
Get in quick as the beds are filling up fast and we can't guarantee space for everybody. Get In Touch to reserve your spot!
Until then, see you on the beach and a Merry Christmas to ALL! x