South East Asia is a real hot spot to capture those Insta pics and make your feed look mighty fine. Although lots of people travel for the experience and to meet cool people, you do get the odd traveller that goes to places to get hundreds of pics to make their followers jealous of where they are. Nothing is wrong with that though, hey. So to help you all out we put together some of our all-time favourite spots in South East Asia that are also loved by our awesome influencer friends.
NO.1 HALONG BAY, VIETNAM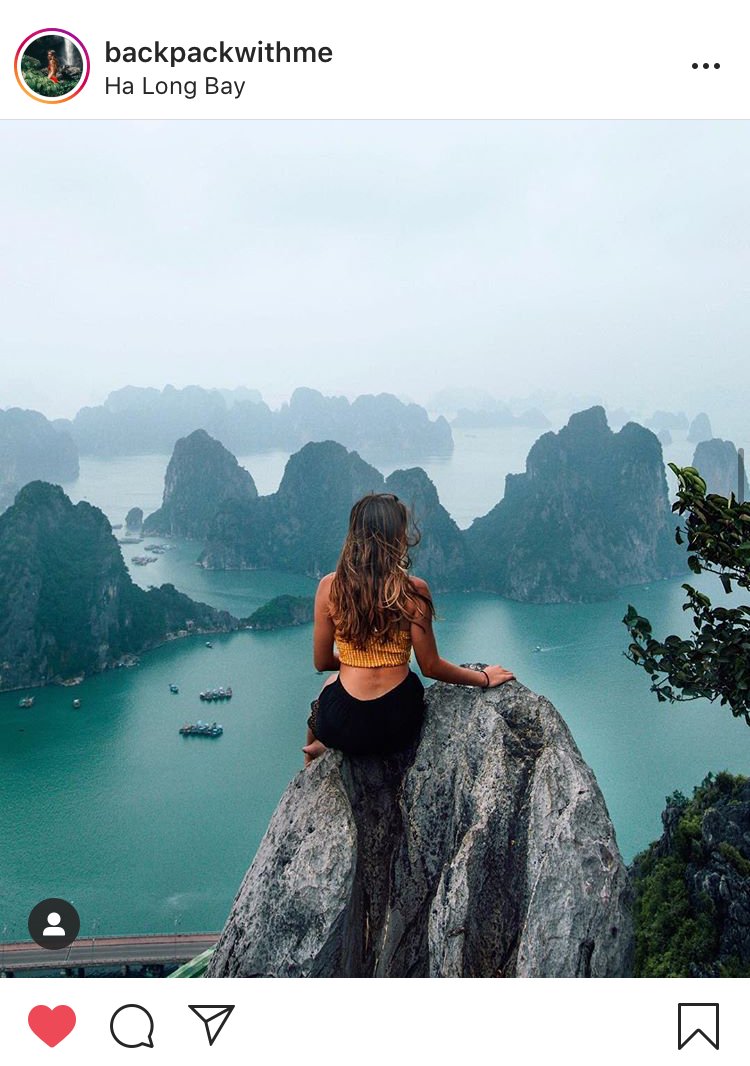 To the East of Hanoi, in the north of Vietnam, lies Halong Bay. If you haven't heard of it then I don't know what rock you've been lying under cos there is something really special about this place. Basically, you just have to go visit it, and not even because it's a cool Instagram place to travel, but because it honestly is out of this world. The top two hottest Instagram mountain views are best from Bai Tho and Titop mountain. The trek up may get your heart pumping, but it is for sure worth the sweat when you get to the top.
NO.2 UBUD, BALI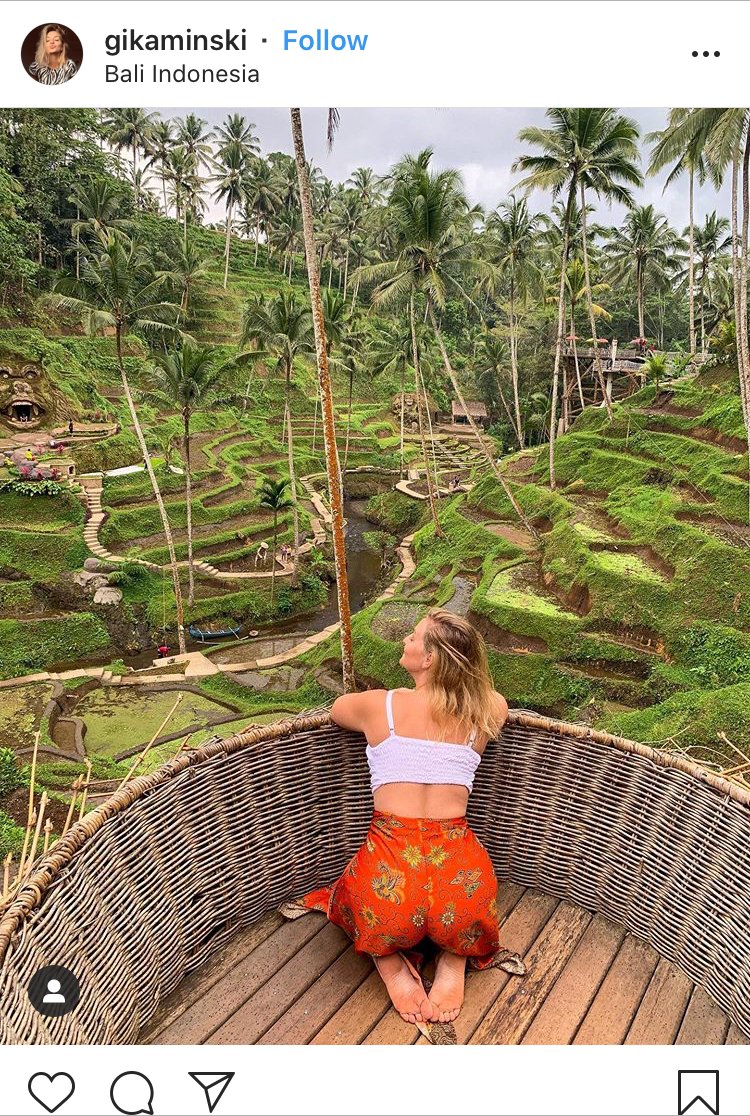 Probably one of the most Insta worthy places in South East Asia is Ubud, Bali. Although you may have already felt like you have been there from seeing so many pictures on your Insta feed, it's much better in real life. Trust. Release your inner Tarzan and swing away on the famous 'Bali swing' or simply sit back and relax and enjoy the views. When you go there and get those hundreds of likes on your Insta pics. You're very welcome.
NO.3 KOH TAO, THAILAND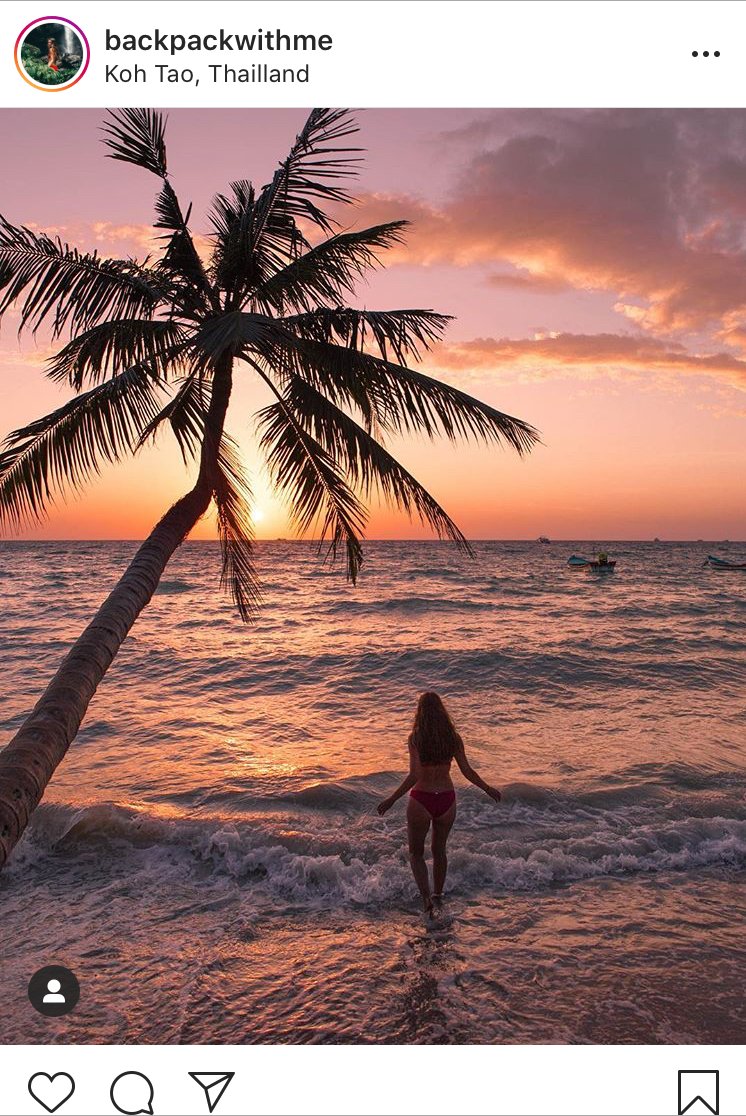 Forget about the busy backpacker streets full of shit faced tourists, Thailand is in fact, an Insta hotspot place to travel. But, make sure you head to Koh Tao if you want really spark up your Insta feed. Found in the Southwest of Thailand, there is so much more to Koh Tao than just a popular diving destination! Take a sunset stroll along the beach, flick your hair back and forth, and you might be lucky to get that golden shot.
NO.4 ANGKOR WAT, SIEM REAP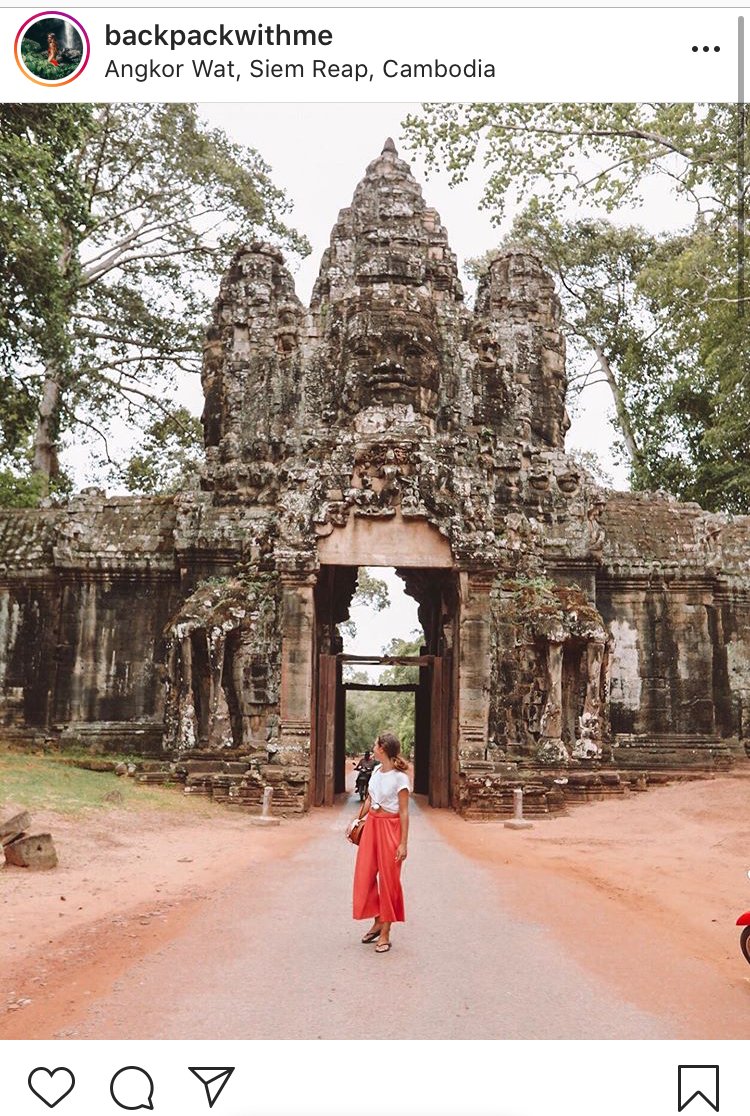 Step back in time as you immerse yourself into Cambodia's fascinating ancient history. Angkor Wat has to be one of the top places to capture those Instagram travel pics on your adventure and is even better when you head there for sunrise to witness an array of colours the sun gives off as it rises over the Buddhas. If you are not an early riser then don't worry as the sunset is just as special. Grab an ice-cold drink with some Mango and sticky rice to make the experience complete, and you'll have a day to remember.
NO.5 CHIANG MAI, THAILAND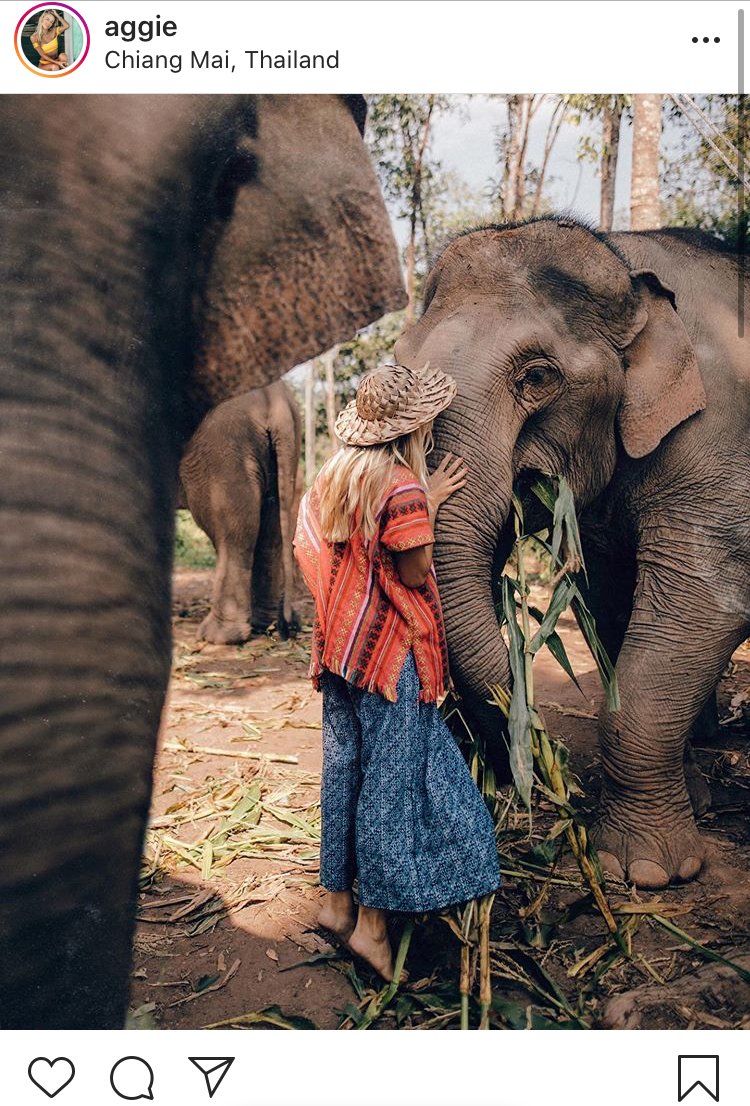 There are so many things to do in the Chiang Mai, so make sure you allow a good amount of time to hang out here. Spend a day caring for the big friendly elephant's and get your heart pumping zip-lining through the jungle. You don't just need to travel here for the Instagram snaps, but to have fun and realise your adrenaline as well. Win-win.
If you are heading out in November make sure you do not miss the Yi Peng festival where the sky is lit up by lanterns. Magical.
NO.6 PADAR VIEWPOINT, INDONESIA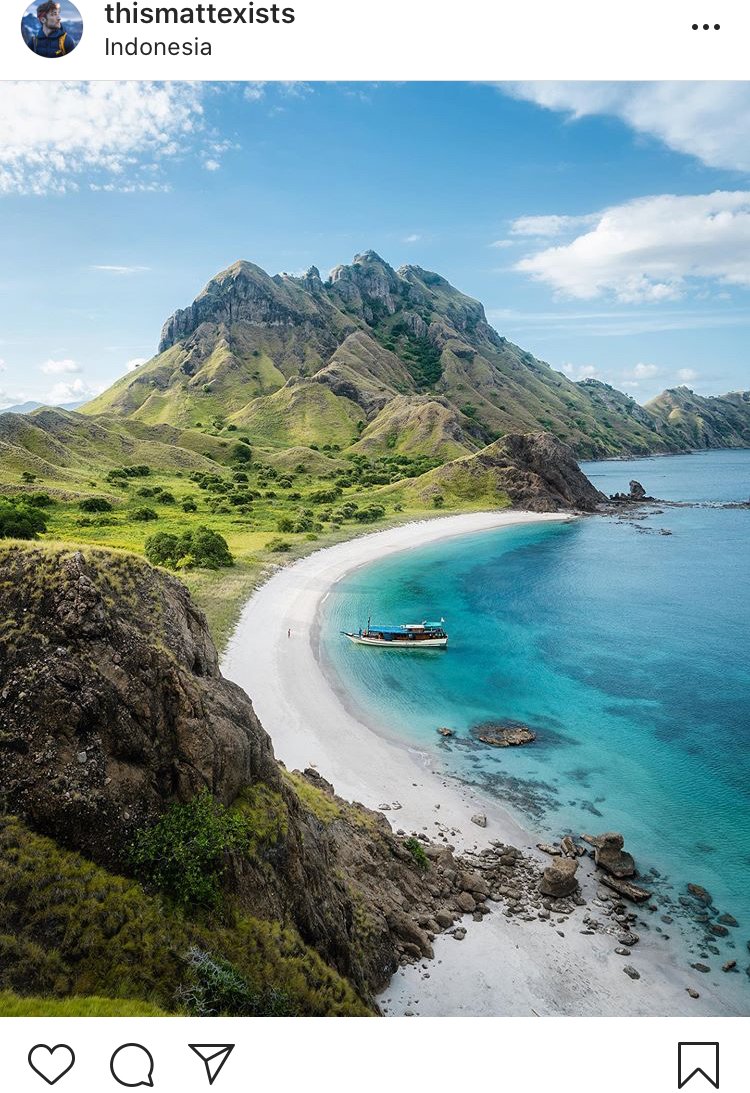 Another one of our top 10 Instagram worthy hotspots is no doubt the Padar viewpoint in Indonesia which is a real show-stopper to brighten up your news feed. Head off the beaten track in Indonesia to get a slightly different experience than just your everyday classic Bali traveller. If you don't like to travel just for the Bingtangs and shit tattoos then you'll love it here.
7. HOI AN, VIETNAM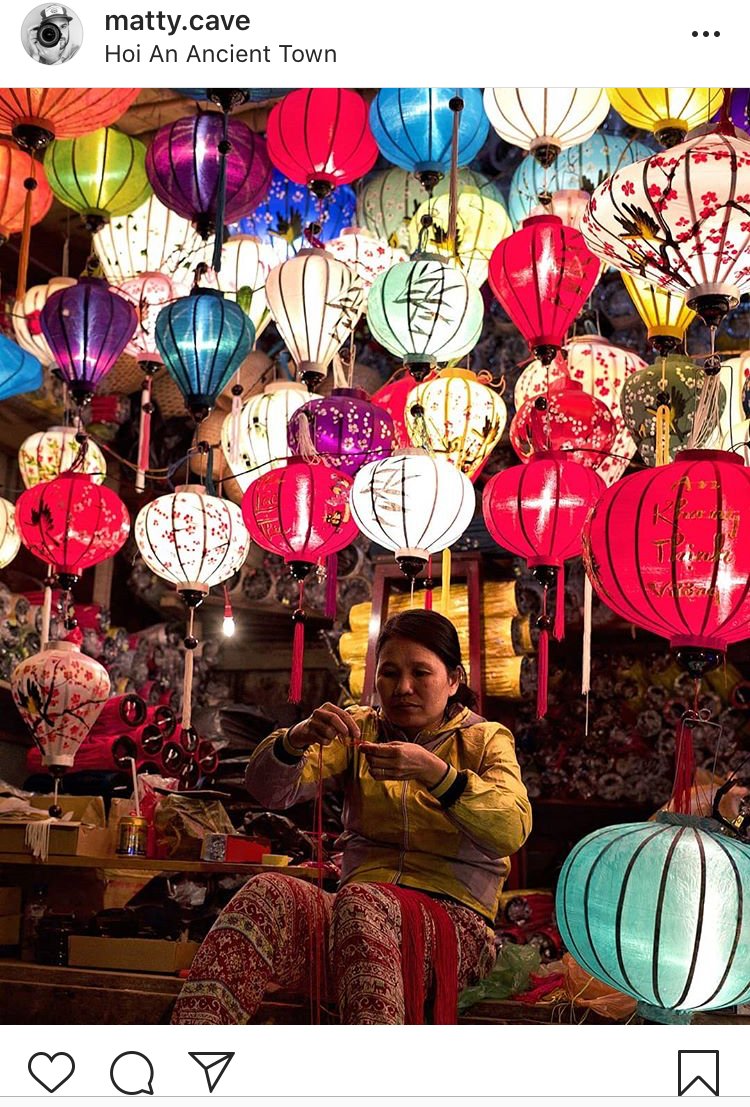 Hoi An is nothing but a cute and colourful little town with so much character to it. Don't get too pissed while you're here so you can take a cycle ride around the streets and line your stomach with some local street food before you get on the beer again. It's also quite fun to get your very own tailor-made suit or to have a traditional lantern making class if you're feelin' like doing something a bit different. Oh, and if we forgot to mention, it's a great place to snap up some colourful pics too.
NO.8 KOH RONG SAMLOEM, CAMBODIA
Imagine waking up to the sound of waves on your own private beach, well you don't have to imagine if you go to Koh Rong in Cambodia. Koh Rong Samloem is the perfect getaway to add to your adventure in S.E.A. Nothing but bright blue crystal waters and white sandy beaches that will make your photography skills look like you're a professional - well you can at least pretend anyway. Relax on the swings in the sea and sip on ice-cold cocktails and beers but try not to drink too much as if you fall asleep here and get sunburnt you'll regret that big time the next day.
NO.9 PINK BEACH, INDONESIA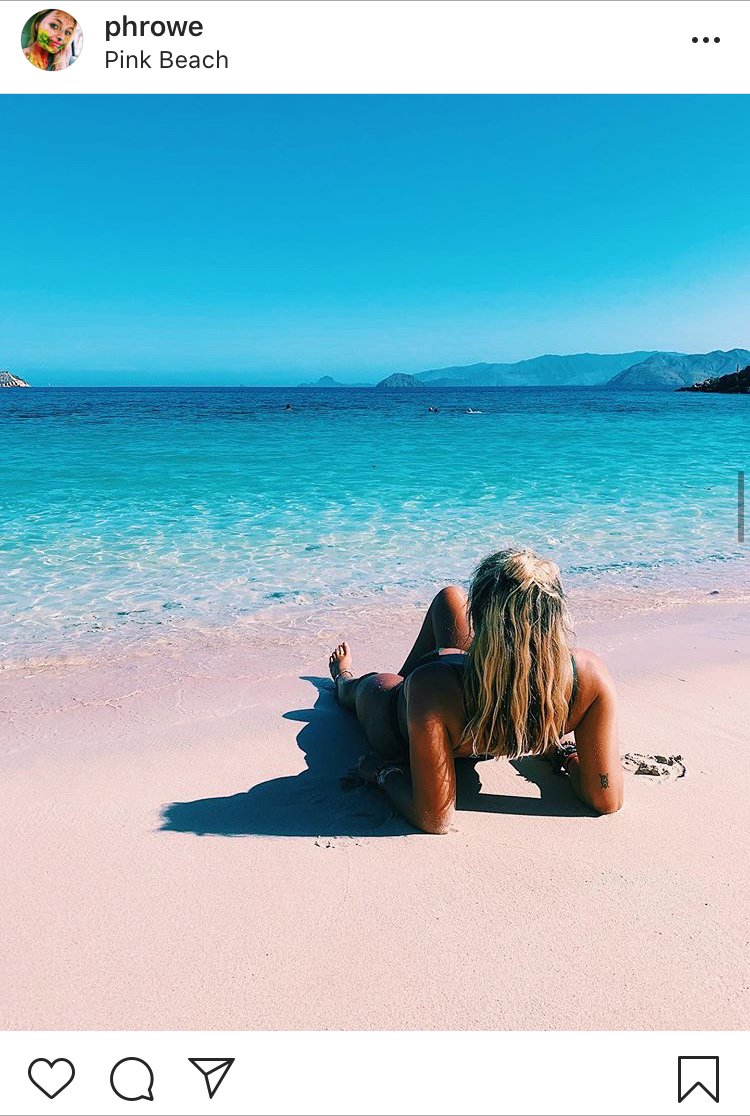 Sandy beaches are great, right? But there is something really cool about lying on a PINK beach. Maybe because it's a very rare sight, or maybe because it looks cool in a picture, but either way, you don't want to miss out on travelling here to snap up some fire Instagram pics.
NO.10 KAWASAN WATERFALLS, PHILIPPINES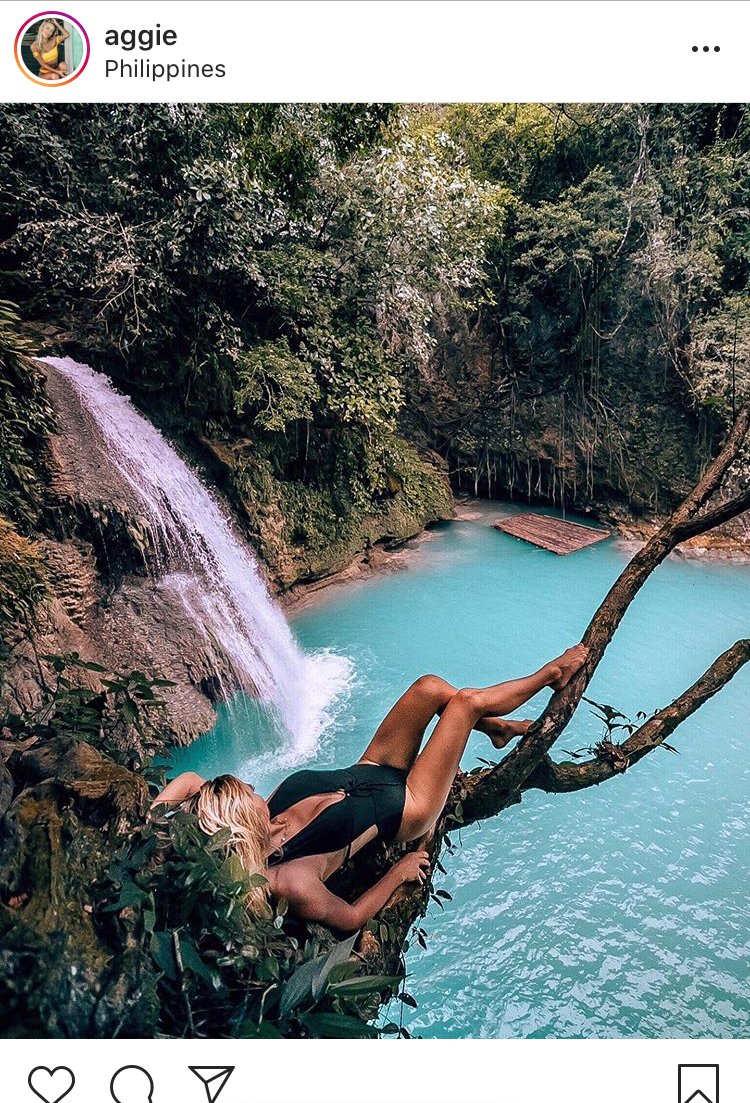 For the first time canyoners and waterfall lovers, the Kawasan Falls will be just up your street. Located in Badian, the falls are home to 3 natural waterfalls, which are found within a luscious green jungle. At 65 feet tall, canyoneering here is not for the faint-hearted, but if you've always wanted to cure your fear of heights, there's no better way to do it. Or if you're like Aggie, pop on your fancy swimsuit and hang out in the trees while you so you can people-watch everyone else jumping into the water.
For more inspo on how you can brighten up your Instagram feed, check out our Instagram and prepare to get a real urge to jet away to paradise.