Check out this awesome blog written by one of our fabulous Tru Travelers after she joined us on our Bali 10 day Experience through the beautiful Canggu, Ubud and Gili Trawangan. Here is Stefanie's day by day account of her trip...
My TRU Adventure!
This trip through TruTravels in Bali definitely exceeded my expectations! I had an awesome experience, met the most amazing people, and made memories that will last a lifetime. Traveling with TruTravels helped me gain a different and more positive perspective and insight into the world around me. Traveling with a group was a lot more fun compared to traveling solo. Having a group made me feel like I was part of a family and I have made lasting relationships with people all over the world that I still keep in contact with. Another perk of traveling in a group is having a tour guide that leads the group to the best spots, gives the group a greater insight to environment and culture around us, and makes everyone feel welcome. When the trip was coming to an end I was sad that I had to leave all this behind and I never wanted to leave, which speaks volume of the tour. This trip was one of the best decisions I've made! This trip has inspired me to travel more and experience the world around me. Check out what I got up to...
Day 1- Meet the Crew
I spent most of the first day getting settled at the wonderful Koa D'Surfer Hotel, and meeting my tour group who were soon to become friends for life.
Day 2- Temple Run
My second day of spring break was spent exploring the culture of Bali as I headed to two of it's two most famous temples;Tanah Lot and the Royal Temple of Tamun Ayun. The first temple I saw was the Royal Temple of Tamun Ayun. Pura Taman Ayun is a compound of Balinese temple and garden with water features located in Mengwi subdistrict in Badung Regency, Bali, Indonesia.
Fun fact: The temple garden was featured on the television program Around the World in 80 Gardens.

Royal temple Taman Ayun, Mengwi, Bali, Indonesia
While touring the temple I got to see the Barong statue (a lion like creature), the main sanctum, the Garuda Shrine, the Meru Towers (pagoda-like shrines), the Cockfighting Pavilion, and the Bale Bedong; garden contemplating pavilion. After touring the Royal Temple of Tamun Ayun, my tour and I drove to see the iconic Tanah Lot temple which is set on a rock formation on the sea. Tanah Lot is home to the pilgrimage temple Pura Tanah Lot. It's a very popular tourist and cultural icon for photography (and I got some amazing shots).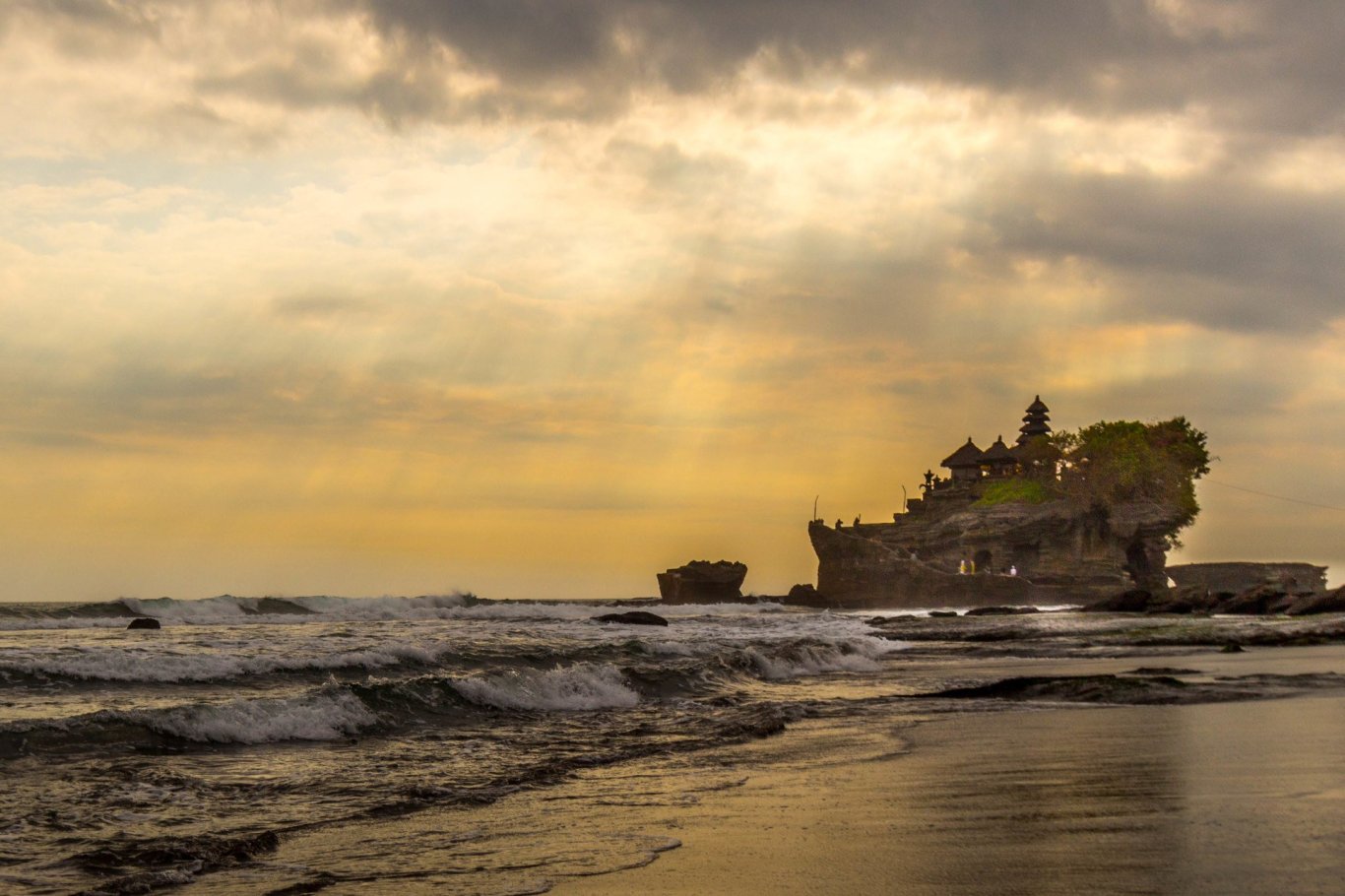 To reach the temple, you have to walk through a set of Balinese market-format souvenir shops which cover each side of the path down to the sea. On the mainland clifftops, restaurants have also been provided for tourists. Pura Batu Bolong, another temple in the Tanah Lot area, is situated a short distance north of Pura Tanah Lot. I actually didn't get the chance to go inside the temple because to gain admittance you need to get blessed which usually requires some sort of donation. By the temple there was also a holy snake in a cave, which also required a donation to see. Holy snake is one of the legends in Tanah Lot Temple. People believe all snakes (sea snakes) in Tanah Lot Area with white and black relief were holy snakes that guard the Temple from the evil or bad things. I'm deathly afraid of snakes so this wasn't a huge priority for me. After the temples we went down to the local beach, Batu Bolong and watched the sunset and got to watch people release paper lanterns, which was a perfect ending to a great day.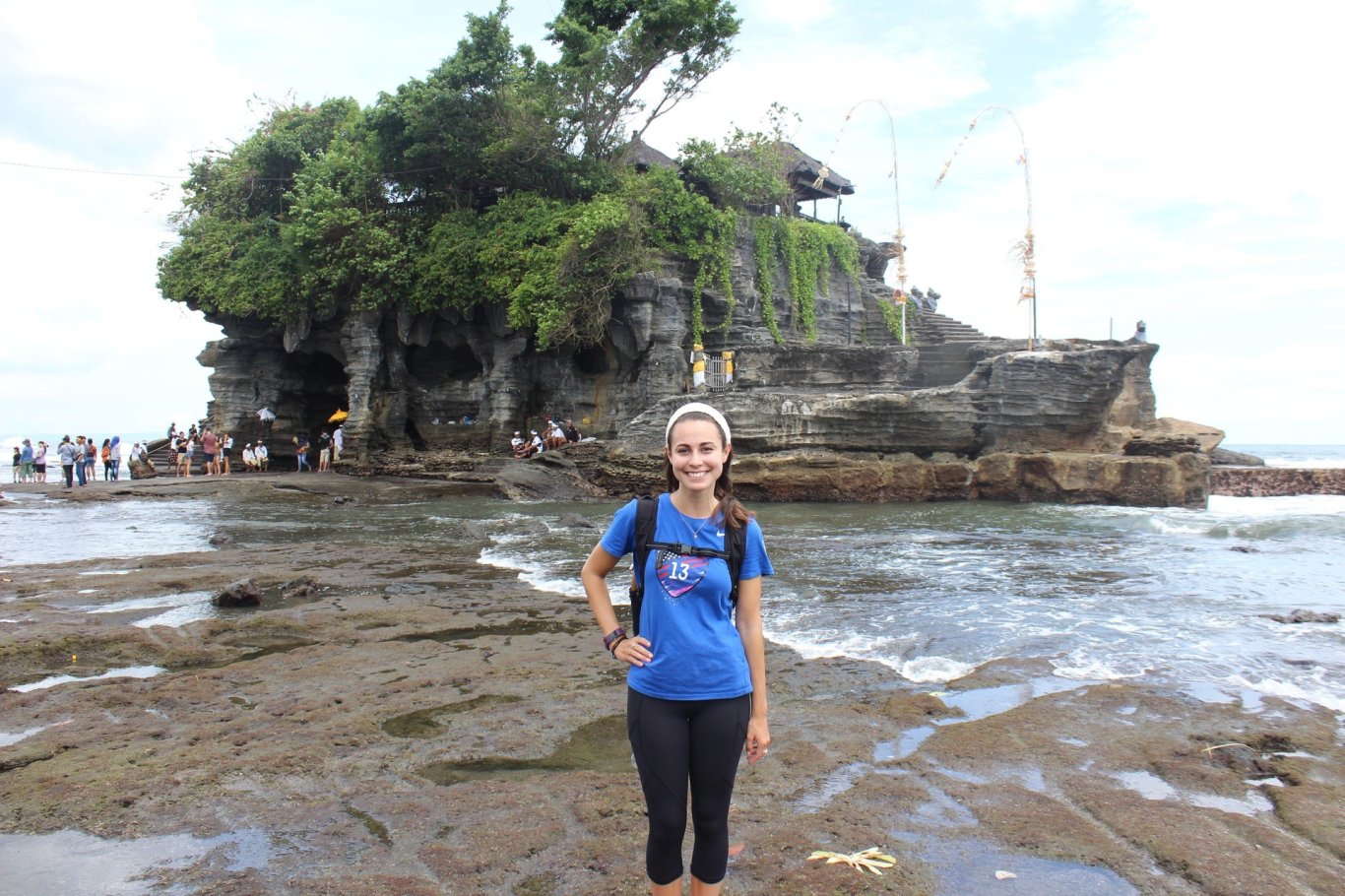 Day 3- Surf's up!
The third day I hit the beach and had my second surf lesson! The day started at 10am with some local instructors on Kuta beach. I had already had my first surf lesson 2 months ago when I went to visit Byron Bay. My first time surfing was super hard and I was expecting the same from this lesson. I was fortunate enough to have smaller waves in Kuta Beach compared to the ones in Byron Bay and for some reason I seemed to pick up the surf technique a lot better the second time around. Surfing the second time around was more fun than the first time I did it. When you're surfing it doesn't even feel like you're out there for that long until you come out and you're starving and exhausted, but in a good way. If you ever have the chance to surf you should take advantage of it and make sure to have someone take pictures your first few times because you will end up with some really funny pictures. Surfing was a great wrap up to the time I spent in Canggu followed by a relaxing evening dinner at my hotel.

Life changing group travel experiences! Start your journey here: www.trutravels.com - #JustGo
Ubud love it here!
Onto the second part of the trip, Ubud! The town of Ubud, in the uplands of Bali, Indonesia, is known as a center for traditional crafts and dance. The surrounding Ubud District's rainforest and terraced rice paddies, dotted with Hindu temples and shrines, are among Bali's most famous landscapes. During my three days in Ubud I got to cool off with a dip in the stunning natural Tegenungan waterfall, checked into the Ubud View, went to the local markets, learned about traditional ingredients found in Balinese dishes, helped prepare food with a local family and feast together, learned to pick up a few bargains at the local markets, meet up with the locals in the sacred monkey forest sanctuary, walk around the Tegalalang rice terrace, and eat lunch next to an active volcano!
Day 4- Goodbye Canggu & Hello Ubud!
The day started off with checking out of Koa D'Surfer Hotel in Canggu and heading to off to Ubud! I didn't take TLC's advice and spent the day chasing waterfalls. My tour and I went to the Tegenungan waterfalls. The waterfall is isolated but has become a popular tourist attraction to explore and relax. The waterfall site contains green surroundings with fresh water that can be swam in. The waterfall includes varying highs that can be climbed after the decent down stairs to reach it. This waterfall site also features a viewing point to the jungle and waterfall at the main entrance. After trekking down to the waterfall site I got to enjoy the refreshing dip in the pool of water at the foot of the waterfall while getting some really awesome shots. I wouldn't recommend bringing an expensive camera down there unless you have a water cover. If you want to get really cool pictures I would suggest bringing a GoPro. After seeing the waterfall we checked into the Ubud View Hotel. Out of all the hotels that I stayed at during my time in Bali I have to say that the Ubud View was the most aesthetically pleasing. Shortly after we had checked in it started to down pour and when I walked outside the water had gotten up to my shins but this only lasted for a short period of time. After that shower I didn't experience anymore rain on the trip. After relaxing we wrapped up the day at a local restaurant, The Laughing Buddha.
Day 5- Penne for your thoughts!
Halfway through the trip already! At the halfway point of the trip our tour group was taken in by Wayan, a local from Ubud, to his home. There we learnt about traditional Balinese cooking. We started off at the local markets learning about the traditional ingredients found in common Balinese cuisine. After the markets, Wayan brought us to a rice field and taught us about all the steps that go into rice harvesting. Paddy harvesting activities include reaping, stacking, handling, threshing, cleaning, and hauling. Finally Wayan took us into his home and taught us the art of making a basic offering to the bad spirits, basic sauce (basa gede), mushroom soup (sup jamur), sweet tempe (tempe manis), Balinese satay ( sate lilit), steamed fish (pepes tuna), yellow rice (nasi kuning), fried corn dumplings (pergedel jagung), raw spice (samal matah), and rolled cake (dadar gulung). My personal favorites were the fried corn dumplings and the mushroom soup. After cooking class we went down to the markets and got to barter. Its very easy to get someone to lower the price to what you want it to be. I got a price down from 150,000 to 40,000 rupiah. Just hold your ground and you will get your asking price!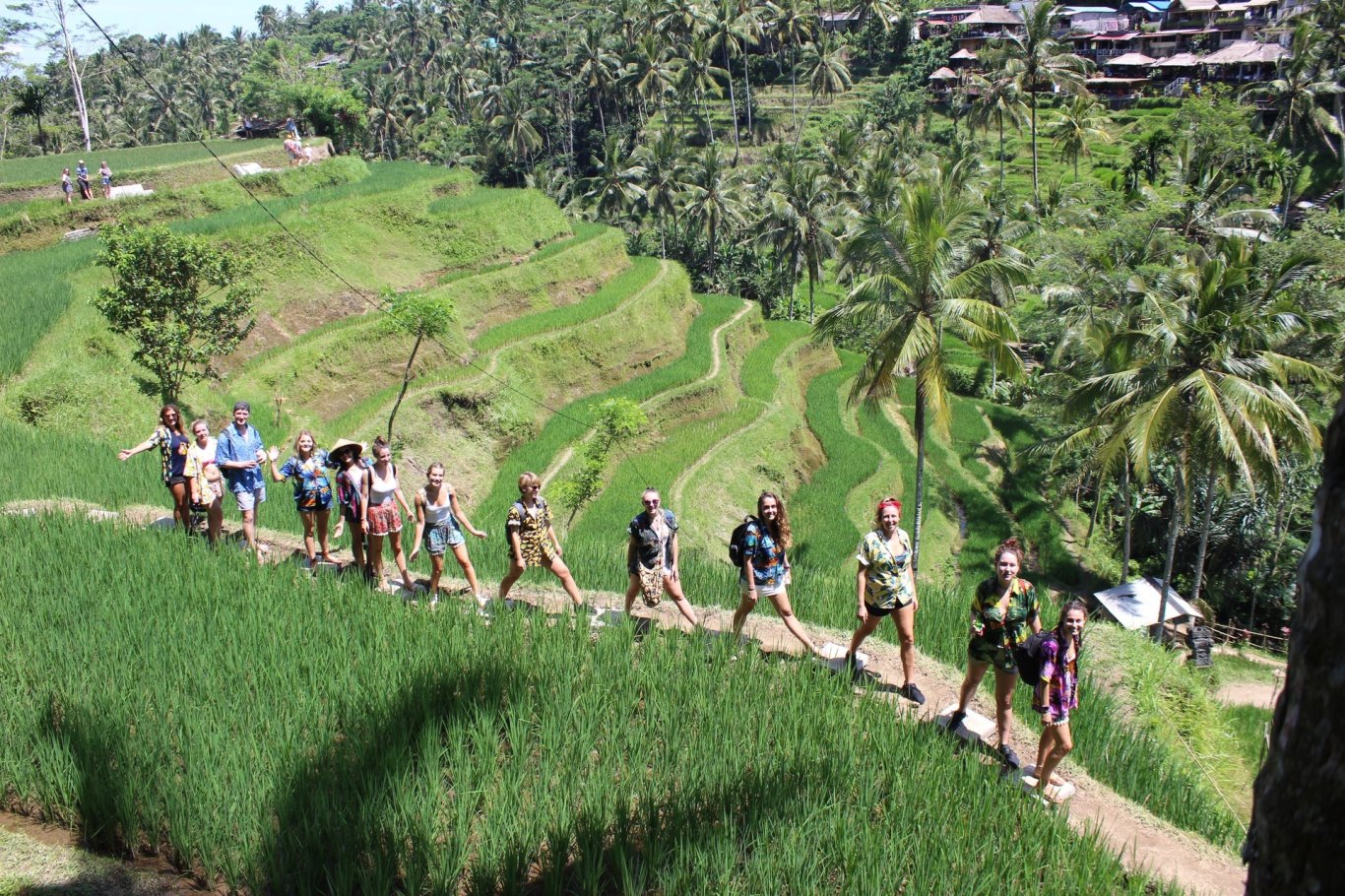 Day 6- Monkey Business!
Time to meet the locals of Ubud, the monkeys! The type of monkeys that live in the area of The Sacred Monkey Forest Sanctuary (Monkey Forest Ubud), known as the Balinese long-tailed monkey, in English called macaque. There are about 600 monkeys living in this area. You can have a pleasant visit if you are mindful of the rules and always remember that these monkeys are not pets, they are wild animals. When I went to the monkey forest I made sure to not have any food on me when I went, I did bring my backpack but I had locked it before entering, and I did not open my bag once I was inside the forest. A monkey did come up to me and tried to open my bag but left once he knew he couldn't get into it. One of the cheeky monkeys even lifted up my shirt trying to see if I had hidden anything under there. The monkeys are very smart and mischievous. Overall, my trip to the money forest was a successful one and I had a lot of fun seeing them up close and personal. After the monkey forest I got to freshen up and I got to trek the iconic Tegalalang rice terrace. If you've ever cyber stalked someone who's been to Bali, there's a good chance that you've seen them at a rice terrace. Rice terraces are synonymous with Bali and the dominant part of the scenery. The views were super lush and green. I would definitely recommend bringing water if you're going there, it gets very hot. After the trek we got to have a well deserved lunch right next to active volcano, Mt. Batur. This was a great end to my time here in Ubud.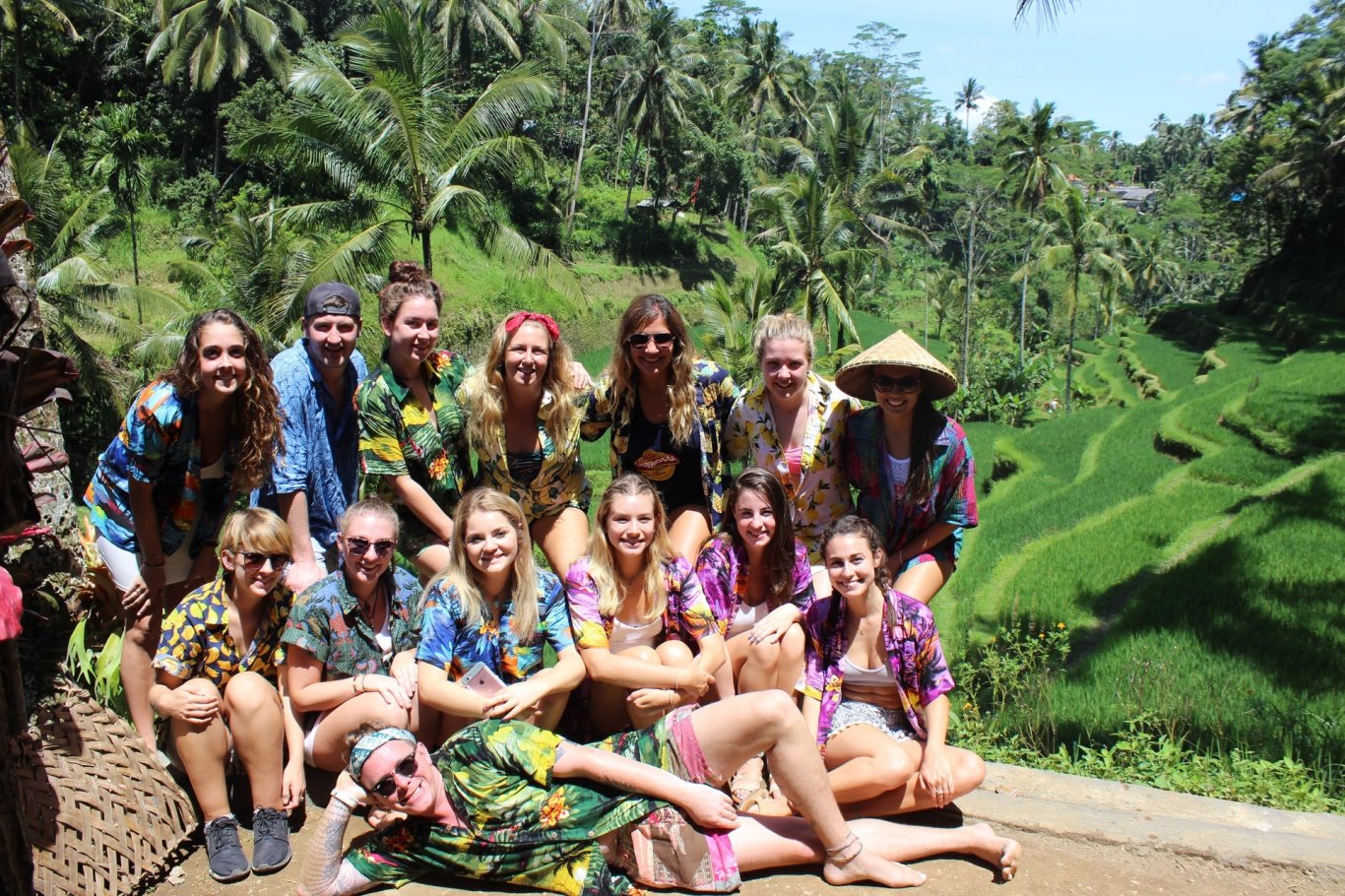 Life changing group travel experiences! Start your journey here: www.trutravels.com - #JustGo


Life changing group travel experiences! Start your journey here: www.trutravels.com - #JustGo
Giddy in Gili...
Sadly, onto the last leg of the trip but my personal favorite as well! The Gili Islands are an archipelago of three small islands — Gili Trawangan, Gili Meno and Gili Air — just off the northwest coast of Lombok, Indonesia. The islands are a popular destination for tourists. Each island has several small resorts, usually consisting of a collection of huts for tourists, a small pool and restaurant. Most local inhabitants live on Trawangan in a township stretching along its east side just inland (which is also where most recent development is taking place). Automobiles and motorized traffic are prohibited on the islands by local ordinance, so the preferred method of transportation is by foot and bicycle or the horse-drawn carriage called a cidomo. Scuba diving and free diving in and around the Gilis is also popular due to the abundance of marine life and attractive coral formations. During my time on the Gili Islands I got to see the famous datu swings/"sunset swings", have dinner on the beach at sunset, go island hopping to all three islands, go snorkeling, enjoy a nice lunch on the Gili Air beach front, go scuba diving for the first time, and do a bike tour of Gili Trawangan.
Day 7- On island time
It's time to head to the Gili Islands! I had been looking forward to this part of the trip the whole time I was here. After my group and I checked out of our hotel we headed to the docks to catch our two hour ferry to Gili Trawangan. While on the ferry I got to stay on the roof the of the boat and get a pretty cool view and lots of sun! Once we got to Gili Trawangan we were greeted by cidomo that took our suitcases to the hotel. My group and I stayed at Trawangan Nirvana. Out of all the hotels that I stayed on during the trip this one had to be the most relaxing one. I especially liked this hotel because it had bug nets. Since there are no motorized vehicles on the Gili Islands and the hotel wasn't on the main strip it was very quite and serene. After we were all settled we took a walk to the exile bar and got to take picture with the famous Instagram swing. Then we ended the day with dinner on the beach watching the sunset.
Day 8- Island hopping!
Got to start my day off going shopping at some local stores on the main strip right on the beach. I got a few bracelets for my family and myself. The Gili Islands are little bit more expensive than Bali and most of the stores are fixed price shops so you can't barter but its only about a one or two dollar increase so it's not breaking the bank. After shopping around a bit I rejoined my group for island hopping and snorkeling. Snorkeling in Gili Trawagan was really cool and I got to see the beautiful reefs, a bunch of different fish, and even some turtles!. After snorkeling we got to have lunch on the beach front of Gili Air.

Day 9: Scuba Stef!
I got to spend my last full day on Gili Trawangan scuba diving! This is the first time I've ever been scuba diving and it's probably one of the most amazing things I've ever done in my life. There are risks present but as long as you listen to your instructor and remember not to panic you can reduce your risks to none. When we practiced in the pool we learned crucial diving skills that would keep us safe and prepared when we went for our actual dive. Once we got to our dive site we suited up and dove into the water. The way you go in for a dive is that you sit on the edge of the boat with your back to the water, with your legs crossed, holding your nose, and then finally leaning back into the water. Honestly leaning back into the water was the scariest thing for me which wasn't even that bad.
Once I was in the water I was really calm. It was so beautiful! I got to see the reefs, a bunch of fish, some dolphins, a shark, and more turtles. This was a whole different experience compared to snorkeling. I was about 12-15 meters deep and being able to see all the marine life up close was an amazing experience. When you dive you're on the same planet but a completely different world. The dive was about 41 minutes but you don't feel like you're even down there for that long. After diving we took the boat back to the shore and headed back to the hotel to prepare for our bike ride through Gili Trawangan. We did our bike ride around sunset and rode to the exile bar to enjoy our last sunset on the beach. My group and I successfully managed not to fall, or hit anyone or anything while riding in the dark. On our last night my group and I got to enjoy one last meal together before we all went our separate ways.
Day 10- Chilled Check Out
My day stayed off early packing all my stuff to prepare to leave. I had my last breakfast at Trawangan Nirvana and got into a horse drawn carriage that took me to the docks so I could board my three hour ferry ride back to the main land. This was a sad day because I had the best time in Bali, made great memories, and met some really amazing people. I will never forget this trip and I will definitely be returning to Bali some time in future. If I had to take away anything from this trip is that you should take risks, go out of your comfort zone, live life adventurously, and be shameless #shaneless.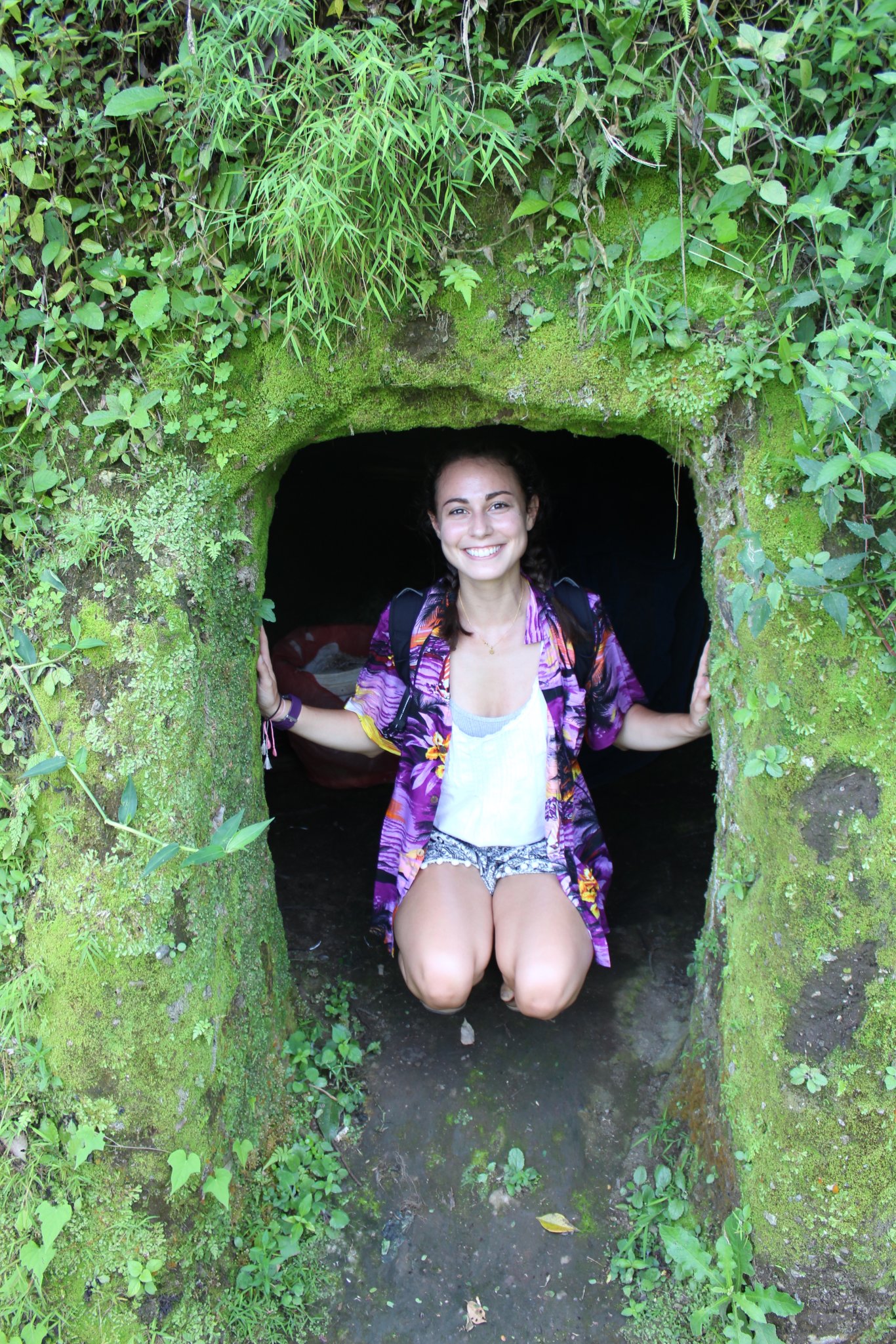 Words by Stefanie Mongiardo: https://stefaniemongiardo.wixsite.com/aussieaesthetic