Our trip to Chatuchak Weekend Market!
When we're not in other parts of Thailand showing people an awesome time, the TruTravels family for the most part live on the beautiful island of Koh Phangan. We like to spend our days on the white sandy beaches sippin' on ice cold beers and admiring the horizon and crystal clear water (when we're not hard at work at Tru-HQ of course).
We understand that the city isn't for everyone and it can all get a bit too much with so much going on all the time (especially if you're not used to big, chaotic, Asian cities). However, Bangkok has sooo much to offer and even after having lived in Thailand for years and having loads of friends in Bangkok, you probably would have only seen around 10% of what the city. We are still discovering cool new places almost every time we go there and the average tourist/backpacker probably won't even see more than 3 or 4 of the biggest tourist attractions.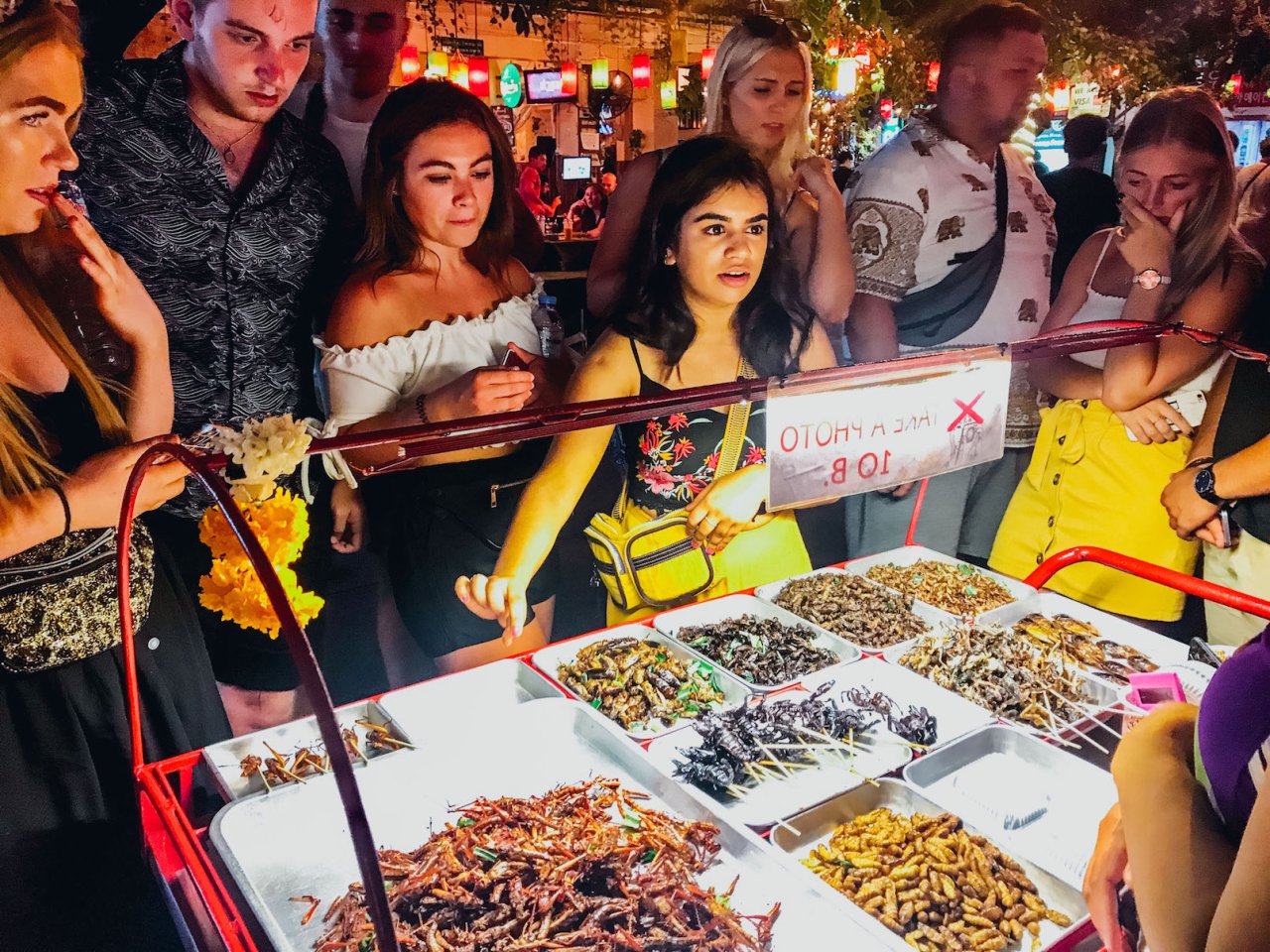 We are rather fond of Bangkok though and we know that if you're unsure of what to do with your time there, you could just find yourself drinking your days away on Khao San Road which is all fun and games n'all but you should go experience some other cool sh*t while you're there to.
Anyway, here's the write up and video of our trip to Chatuchack weekend market. Enjoy.
Chatuchak is the largest market in Thailand and said by the locals to be the largest outdoor market in the world boasting over 15,000 stalls over 27 acres of land. There's definitely something for everyone. From trinkets, clothes and jewellery to furniture, animals and bananas on sticks, shoes, bags, food etc. You can pretty much buy anything at a damn good price. That being said, if your haggling powers are of a high standard then you're guaranteed to walkout with a bargain, or 20.
Located on Phahonyothin Road (not too far from Don Mueang airport) which is about a 30 minute taxi ride from either Sukhumvit or Khaosan areas (if there's no traffic – which is almost never in Bangkok, so in reality allow an hour) – the market is easily accessible through a multitude of different entrances (seriously, there are so many I don't think I've been in the same one twice…).
JJ's Third Location
JJ is now in its third location in Bangkok since it started around 70 years ago as a simple street market in Sanam Luang Square. It grew in popularity and size as more and more people visited every weekend (back then only locals of course). It was relocated to 'Sanam Chai' where it continued to grow – it is now located back in the Sanam Luang area on a big bit of recreational land called 'Chatuchak Park' which was donated by the State Railway of Thailand.
Now the market is visited by hoards of both locals and visitors every weekend who come for the bargains and the experience (which can be a little overwhelming at first). The variety of shopping at JJ seems almost endless, it's split into 27 main areas with each loosely dedicated to certain types of goods, all the shops in each section though are most the time neighboured by either clothing shops or any other random thing you could think of. Some of the stalls in JJ can sometimes be quite repetitive, selling the same t-shirts and knock off sunglasses, but if you take the time to search through the madness of the market then you're sure to find some awesome independent designers with some great original clothing and even some old school antiques in one of the old school second hand stalls (we've found some real cool sunglasses and watches there!). One piece of advice we have learned the hard way and still sometimes fail to follow ourselfes: If you see something you really like and can get it for a reasonable price, get it!!! You almost certainly won't find it again if you walk too far. (Also, always try and haggle a bit as vendors sometimes start on way above what they'll actually accept if they're feeling cheeky and/or you look rich – which almost all foreigners do).
Sometimes our TruTravellers arrive in Bangkok to meet us a day or two before the start of the tour itself, and if they're lucky enough to arrive over the weekend and have some spare time, our group leaders sometimes like to whisk them away for a little day trip to JJ. (and one of our fav bars in BKK which is there)
Viva 8
Once all of your shopping is done and you wanna wind down, you can choose from a wide selection bars and restaurants. The food and drink is located in sections 2-4 and 23-27, here you can eat delicious homemade thai curries, a variety of styles of meat on sticks, sip on a fresh coconut or even treat yourself to an amazing cocktail at one of our favourite bars 'Viva 8' (secretly the main reason we go there most of the time…).
Viva 8 has to get a massive shout out from us here at TruTravels down to how much time we've all probably amounted their over the years, serving fantastic cocktails, delicious paella and playing great deep house beats, the bar is a guaranteed every time we visit. It's not easy to find (nothing is here) so most tourists will never have seen it but it is a very cool bar and it draws a big crowd every weekend made up mainly of locals & foreigners that live here with the odd tourist who's lucky enough to stumble across it.
Viva 8 is a long time favourite of TruTravels group leaders Jacky and Tanya who introduced it to us along with some of their other pals in Bangkok. Growing up in Bangkok, just around the corner from JJ, they happen to have been using the bar as their weekend watering hole for many years and were good enough to show it to us.
The bar has great music, a great Paella chef "Fernando" (in vid above), awesome DJ's (one is the owner of the bar who is 40 something and still rockin it), they do a fashion show type thing on Sunday evenings and probably the main draw are their extremely nice but very strong cocktails… My favourite happens to be the Mojito but if you're on one then the Long Island Ice Tea's are famously strong, with the record being smashed only a few weeks ago by the one and only Patrick Flory, an old Uni buddy who managed to sink 5 Long Island Ice Teas along with a fair few beers and still walk out of there, just…. (The cab ride home was hilarious!) – if you're sitting at home thinking "that's not a lot, I could smash 5 long island's. Pussies." Trust us, I once thought this myself but these really are next level. In fact, the general rule of thumb and popular belief is that only 3 of these are enough to devastate even the hardiest of drinkers… Strong work Patrick.
Anyway, watch this video we made on our trip (excellently and very professionally presented by Luke and Ryan, with a special guest appearance from Mikey the Aussie) and have a butchers for yourself. Also subscribe to our youtube channel (here), and if you're a really nice person you could do us a favour and share this blog/video so your friends can see it too. Thanks!
In conclusion then, anyone that has a few days to kill in Bangkok and is lucky enough for it to be over the weekend, make sure you drop into Chatuchak Weekend Market. Even if you don't want to buy anything, it's a sight to behold, and the sheer size of the place/ array of things going on make it a unique experience in itself. Of course you should also get on down to Viva 8 and have a boogy and a cocktail.
Until next time, big Tru-love and peace out from the Tru-Crew x
Presented by Ryan Barlow & Luke Macdonald
Filmed & Edited by Matt Cave (Youtube: Caveman.Productions)
Compiled & written by Luke Macdonald & Joe Fallon
Venue discovered by Tanya & Jack Doty