Close your eyes and think back. Picture that moment returning home from a long exhausting journey and how good it felt to kick off your shoes, drop your bag, crack a cold beer and let all the amazing memories you have just experienced sink in.
Now imagine you're not actually home, but walking down the bamboo lined, wooden slat and gravel pathway of arguably the best hostel on Koh Phangan.
Welcome to Echo Beach Backpackers!
I was lucky enough to stumble across the ever growing backpackers hostel due to some good Canadian travel mates I had met on Koh Phi Phi. One month later, we've joined forces again to watch the sunrise, beers in hand and feet in the sand for our first full moon party.
Next day I was invited for post party recovery drinks at this hostel "I just had to check out". I jumped on my bike, drove up from Haad Rin and walked into what has become my home for the last 4 months.
I have been travelling for over a year and a half at this point. I have been to 23 countries, 42 cities and countless hostels. Majority of which don't even come close to what Echo Beach has become in just 3 1/2 short years. The atmosphere that has been created here is second to none. Their spacious and comfortable common area makes you feel as though you are hanging out at your mates flat. Chill morning/afternoon vibes with reggae and hip hop playing as you help yourself to the very reasonably priced all you can eat breakfast buffet and hit the cozy couches spread around the common area.
The vibes carry over into the early afternoon, moving location over to the free pool table or couple steps down to the beach. There's always a group up for some beach volleyball/football or a quick game of killer pool and some cold cheap beers. The perfect setting to get the party started early or continue the relaxed vibes. If you just feel like chillin, make your way up into the newly build tree house and enjoy a beach view from the hammocks or get cozy down on the beach itself in the relaxing lounge area. Perfect place to catch up on some reading or close your eyes and enjoy some tunes.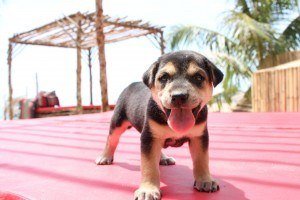 One of my favorite aspects of Echo are their Thai staff. The ladies in the kitchen work long days but with a smile on their face and an amazing sense of humor. On top of that, they can really cook!! Even after 4 months I'm not tired of the food. A good blend of western and Thai food with daily lunch specials. Just keep an ear open as they will yell out your food order when it's ready to be devoured. Every half moon/full moon and occasional days in between the ladies bang out a massive BBQ buffet. Always a crowd pleaser!
With day trips organized a couple times a week, knowledgable staff and tree house massages, Echo has a lot more than just atmosphere to offer to its guests. Need to rent a motorbike? Just ask the staff and there will be one delivered to you within 10 minutes. Best way to get around the island for only 150 baht (3GBP/4USD/6CAD) a day. Curious about where to go and what to check out, ask the staff or take a peek at the hand drawn map highlighting the best beaches, snorkelling, bars and waterfalls on the island.
Their in house travel agent makes booking onward travel a breeze. Bus, train, ferry and even flights. The lovely P Som is incredibly knowledgeable and can ensure your safe arrival anywhere in SE Asia. With 10 years booking experience, she's the best person you could have on your side. That is if you decide you ever want to leave.
Echo offers a wide variety of rooms as well.
The cheapest at 100 baht (2 GBP/3USD/4CAD) a night are the 16 & 12 bed dorms. Move into the 8, 6 or 4 dorms for only 200 baht a night except during full moon period.
If you need something a little more private, renovations have just been completed a month ago on a new building offering private triple rooms and private double bed rooms. These range from 300-600 per bed a night except during full moon period. If you do plan to stay during full moon, book well in advance as this place is popular and fills up quickly.
Their amazing staff greet you with a smile, all beds are made up for your arrival and each room has a/c units to battle the sometimes sweltering Thailand heat.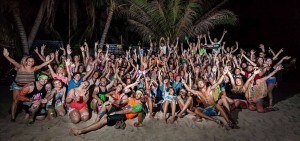 If you do decide to join Echo during Full Moon/Half Moon or Jungle Party (1 day before full moon) be prepared for one of the BEST pre parties on the Island! After the BBQ the lights are dimmed, tables are moved to create a dance floor as the DJ cranks up the hits! Pre parties start roughly 9pm and go on till midnight. Enjoy beach bonfires and a fire show, all part of the pre party warm up. The newly built bar right off the beach encourages a lively social atmosphere and you can even give the "wheel of misfortune" a spin at a chance to win a free shot, drink or do something mildly embarassing. All in good fun! Tickets for Half Moon and Jungle Party can be purchased at Echo and include a free taxi to the party! Not a bad deal. Full moon doesn't require a ticket, just purchase a wristband when you arrive and you still get a free ride down to the festivities.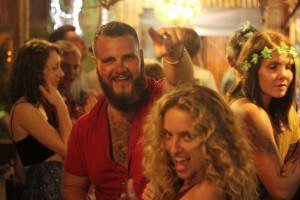 All in all Echo Beach has become not only mine, but many travelers home away from home. It seems to attract the best of the best when it comes to their guests and you're guaranteed to make new lifelong travelling friends as well as have some of the best travel experiences and memories anyone could ask for! Do yourself a favour and make this a must stay on your travel itinerary. I'll be waiting for ya at the bar with a cold brew and a high 5! Cheers
Drew Harwood