LOST IN TRANSLATION - IT SAYS WHAAAT?
A collection of a few of the many amusing grammatical errors & spelling mistakes often seen on the menus, notices and street signs in Thailand. Have a read to find out the type of words used in Thailand and their funny English translations.
THAI LANGUAGE AND FUNNY ENGLISH TRANSLATIONS
Thailand is an amazing country full of contrasts and extremes which immediately grab the attention of us westerners (farang), who often end up taking pictures of the most random things. Whilst these things are clearly ordinary for the Thais (they are probably as amazed at us taking pictures as we are by the things we're papping!) they can amaze us for hours, weeks and months on end.
Now, having been in Thailand for some time, we have noticed that people's attitudes towards certain differences, novelties and oddities change depending on the length of time they have been here. For example, suit guys, street vendors and tuk tuk drivers in Bangkok at first are met with amusement which quickly turns into annoyance. After some time wandering the soi's of Bangkok this tends to develop into a strange tolerance combined with bemusement (i.e. How can this guy still entertain any hope of me buying a suit from him even though he has asked me the same question at least 500 times..?).
FUNNY SIGNS & MENUS OF THAILAND
Some things about Thailand however, instead of becoming less of a novelty actually become more intriguing and perhaps even endearing over time. One of these things for me is the many, many, many spelling, grammar & translation mistakes found on signs, menus, posters, flyers etc… throughout Thailand (and indeed South East Asia). It is amazing the size and cost of the signs that get made without ANYONE asking a native English speaker to read it first! Even on 50-foot billboards in Bangkok and large neon signs for restaurants words are commonly misspelt. Don't get me wrong, I'm 1000% sure that if I tried to write any of this stuff in Thai, it would come out a lot worse, and the vast majority is at least understandable. But sometimes you can't help but chuckle slightly at the randomness of the translations and how they come out.
From amusing spelling/grammatical errors to complete mistranslations, here are a few:
BEWARE OF SNATCH THIEF!
Ok, so this may be just a simple mistake but it tickled us. As it's a sanctioned sign printed presumably by the government, one would think they would get it checked before putting it to print??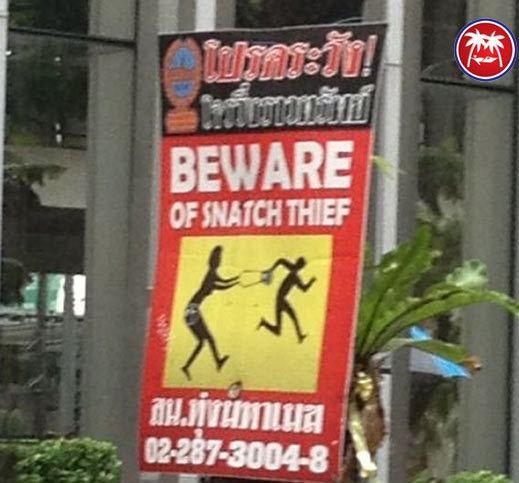 KICK YOUR EYES?
Also a fantastic sign (and not one that's cheap to make)! This not only tickled us but puzzled our western brains… What could it possibly mean? Who would want to name their clothes shop this in an effort to attract custom? Intrigued, and sure that this sign must have been seriously lost in translation, we asked a few of our Thai friends (who also speak excellent English) what it could possibly mean... After some investigation, we discover that there is a Thai phrase which directly translates to 'Trip my eyes', meaning to double take or look again because something literally stops your eyes in their tracks and immediately put this sign down to a mistranslation of that which works for us as it's quite funny and also quite a likely explanation!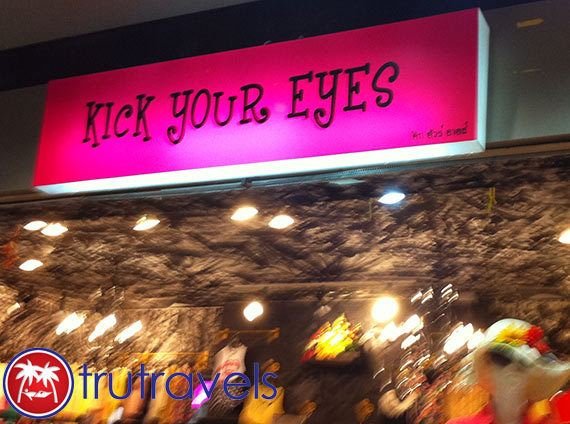 HANK UP DRINKS?
Wake up drinks maybe?? Also notice the Graterade above. It's like Gatorade but greater!


WE CLEAN ROOM EVERY 3DAY
OK, the room cleaning bit is nearly spot on and certainly understandable. The next bit however… This one is perhaps our favorite of all, mostly down to the sheer randomness of the translation.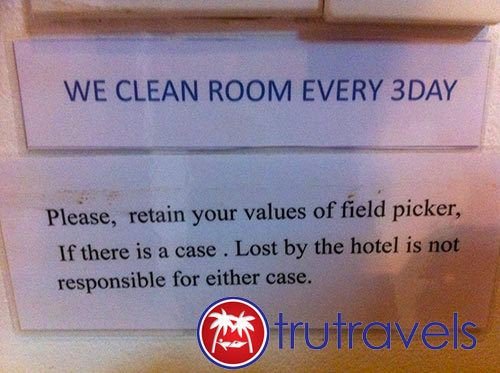 BLEND JUICE & SMOOTH BOWELS?
Who doesn't like a good fruit smoothie in the morning? Well, blend juice at Siam Paragon shopping centre in Bangkok certainly know how to sell em… 'Morning love' anyone? Or perhaps a 'Smooth Bowel'? Excellent!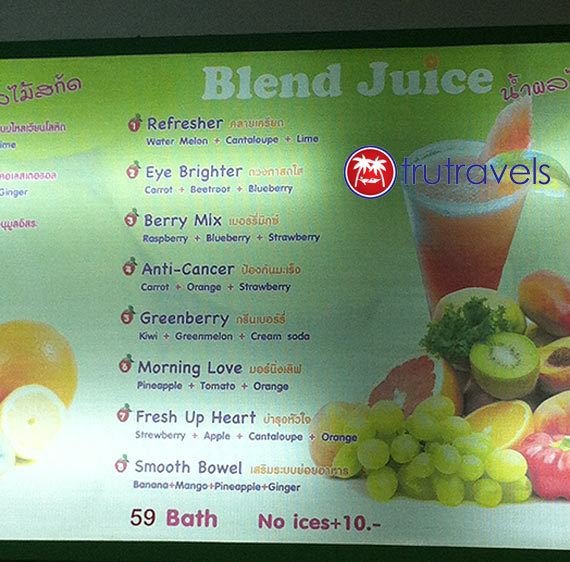 FRENCH FRIED - MCDONALD'S COMPARABLE
We thought this was hilarious. The 'French fried' bit is pretty standard. You would be hard pushed to find a menu in Thailand which describes a portion of chips/fries in the plural. The fact that they are saying that they are like McDonald's chips as if this is something they should win an award for is excellent! You gotta love Thailand.

We hope they've cheered you up a bit and if you want to read Part 2 check it out here!
As always TruFam,
DON'T QUIT YOUR DAYDREAM