On a recent reccy to Chiang Mai and Pai we were given the outrageous and unenviable task of researching cool activities which may or may not be featured in a brand new experience, which may or may not soon be the newest addition to our awesome Tru Thailand Trips (watch this space).
Anyway, as the North and Chiang Mai is seen by some as the food capital of Thailand, we thought it only fitting that we go and try a Thai cooking class, of which there are many available in the city and get learn to get cooking in Chiang Mai.
Thai Cooking in Chiang Mai
Many of the best dishes (in my opinion) in Thailand come from Chiang Mai and surrounding areas so there really is no better place to take part in one in order to get the full authentic experience. Now when I say that this activity is for everyone, I really mean it. Anyone who knows me will testify that I am no chef at all, I don't even like cooking (apart from the odd BBQ of course) and do my best to avoid it wherever possible.
It is for this reason that when I first did a Thai cooking class in Chiang Mai with my girlfriend at the time I was more than slightly skeptical and didn't really think I was going to enjoy it. The fact that six years later we are testing schools out to put in one of our trips should tell you that this was not the case. It was interesting, fun, educational and gives you a nice sense of having achieved something. The best two things about it for me were that it was not very difficult (so even someone of my limited culinary skills can easily partake) and you got to eat the food after you cook it (which is good, cos an afternoon of cooking really tasty food made me pretty peckish).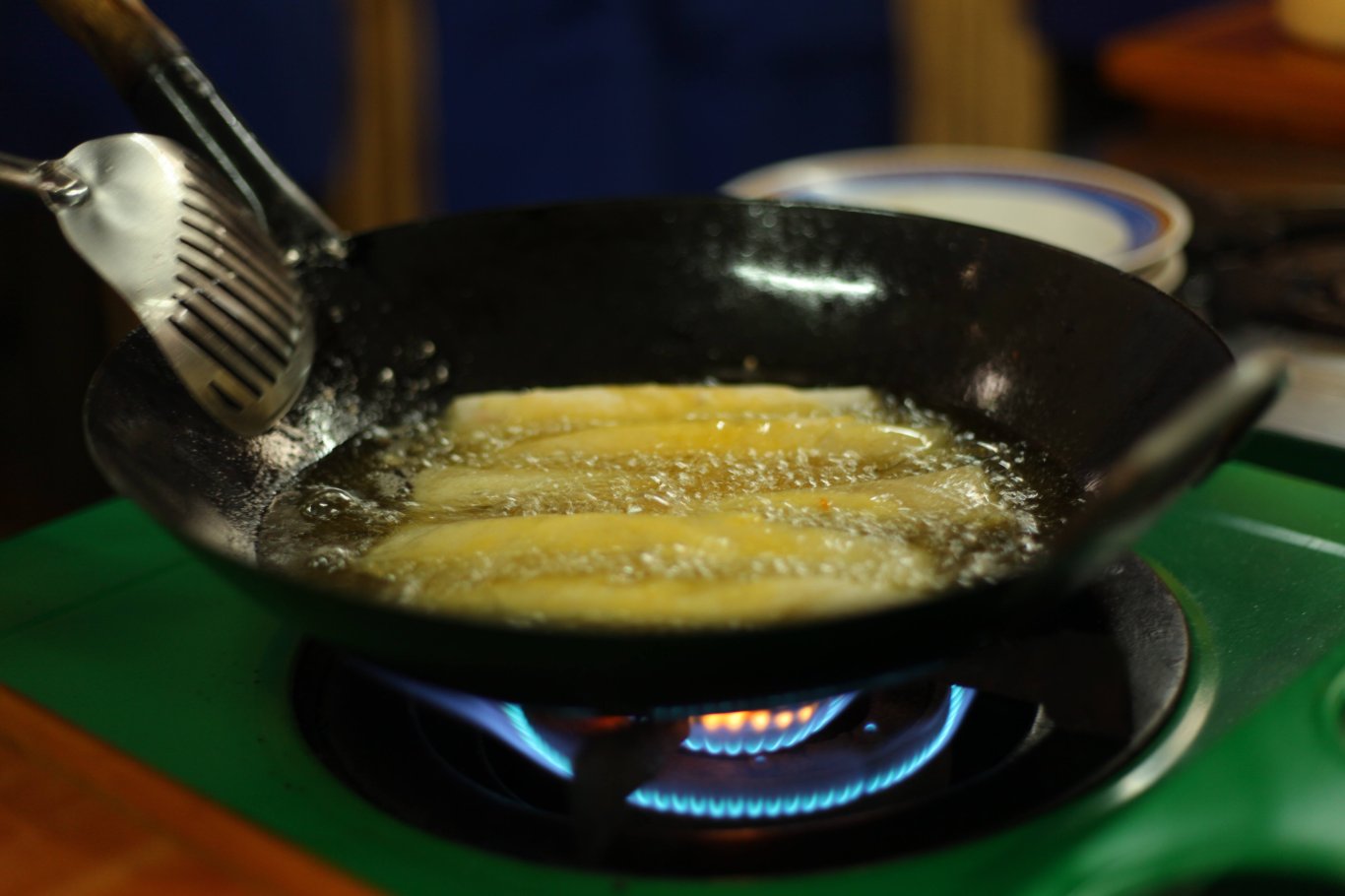 This time round we asked our good friend Nick at SK House 2 for a recommendation and he pointed us towards the Thai Kitchen Cookery Centre, what was just a 10 minute walk from the guest house, and apparently one of (if not THE) first cooking schools for farangs (foreigners) in Chiang Mai, it was established in 1993 and boasts over 100,000 students.
On arriving Matty, our young Canadian Videographer realised it was the very same school that he and a friend attended a couple of years back as backpacking virgins. They said they wouldn't mind if we shot some footage so we decided to cut a short video and write a short blog to let you know what went down and what to expect if you do it. So here goes...
You can either choose to do a morning session (from 9.30am-2pm), an afternoon (1pm – 4.30pm), or evening. We chose evening which started at 4pm and finished around 8pm. These three options allow you to cook four dishes from the list. A full day session is also available where you can learn to cook six dishes.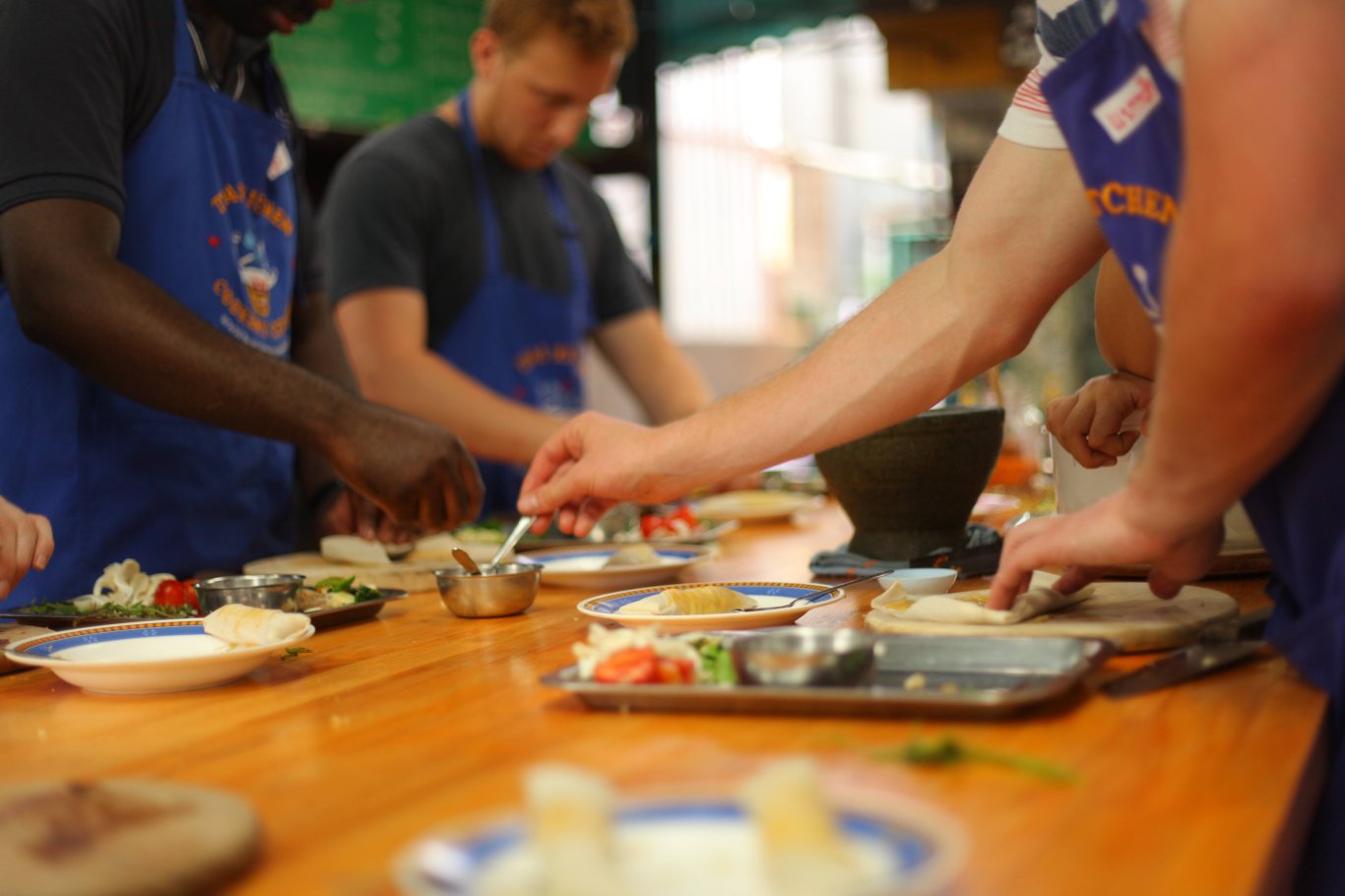 On arrival at the centre you will first head to the local market with the teacher (Kru in Thai) and your group to source some of the ingredients you will need. This in itself is a cool experience, but it gets better when you arrive back and start preparing the ingredients to cook your chosen dishes. The experienced chefs will guide you through every step of the process from measuring to slicing, crushing, chopping, pounding, rolling, frying, boiling and serving. You will get to cook four-six dishes, with choices ranging from spring rolls to red, green, Massaman and Penang curry, Khao Soi, noodles, stir fried chicken and cashew nuts, sweet and sour, Tom Yum soup and more.
Check out the video below for a quick glimpse of the Thai cooking class in action...
https://www.youtube.com/watch?v=fCxaio7Kbtg
Completing each dish comes with its own reward – stopping to eat it! After each round the group will retire to the dining area to sample the goods, which made the day even better. The courses also include a certificate and recipe book so you can be sure you won't forget how to make the dishes when you get back home. They can also arrange pick up from local accommodation and throw in tea, coffee, snacks and drinks all day. All for around 1200THB or £30, that aint a bad deal in our book.
You can find Thai Kitchen Cookery Centre's Thai cooking class on Facebook or you could join us on our new and upcoming North Thailand Tour and we'll take you there ourselves!