One of our TruCrew talks to us about her experience spending 24 hours in Vientiane. If you're looking to travel Laos or never even thought about it before. You will after reading this real experience!
VIENTIANE, LAOS
I'll admit one thing; getting from Koh Phangan to Vientiane is not the quickest journey! BUT…I took the bus from Koh Phangan to Bangkok and then, in not so 'backpackerish' style, flew up to Udon Thani. This flight is only an hour and cost me 645thb (that's around 13pounds, $20!), then from Udon Thani you simply take a 200thb bus to Nong Khai Bridge which is where the border to Laos is and you can cross over through immigration there! The last little bit is a cheap 100thb minivan, tuk tuk or taxi and only a 40 minute journey to the centre of Vientiane.I was dropped off outside…. Well I don't know what I was dropped off outside of because it seemed like nowhere: run down hotels, everything was closed, no one was around. on top of that I stuck out like a sore thumb! I couldn't see a single backpacker in site and I'm this tiny blonde thing with a beaming smile on my face so I was prime meat for the taxi guys…. Wait what? THERE WERE NO TAXI GUYS. No one tried to grab me 'where you going?!' 'TAXI!! TAXI?!' Nope, just silence and a few weird looks from the locals, that was the moment I decided – I'm going to like this place!
I wandered around the streets of Vientiane for around two and a half hours until I found the Patuxai Monument (I was looking for a hostel but it was a pleasant surprise!), I then decided to call it a day and just get in a taxi and accept defeat and then what do you know!? I was walking in the completely wrong direction to the town centre! The Taxi driver was pleasant and funny and first offered me the 2km drive for $6 dollars, I said 'are you mad?' then he quickly changed his tune and asked for only 50 baht! (That's not even $2!), however; in Laos, they seem to prefer the Thai currency and I was okay with that!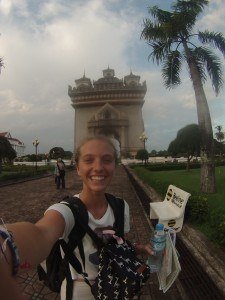 PATUXAI MONUMENT, VIENTIANE, LAOS
The Tuk Tuk driver dropped me at the end of the street (Don't ask me to tell you it, it was crazy long but I know it was in the Mixay <pronounced Mix-Eye> area), as I strolled down I saw 'Vientiane Backpackers Hostel' and thought there's got to be some people in there! I checked in for $5 for the night into a 12-bed mixed dorm, which also included a free breakfast! As I headed up the stairs, i thought the hostel was like any other hostel you would see in South East Asia: a little worn, broken taps, murals on the wall (most probably painted from previous backpackers) and empty bottles of beer! The hostel was pretty much empty and out of the 5 dorm rooms they had they were only using 1. As I walked into the dorm room I was pleasantly surprised to see a beautiful girl with massive, bouncy blonde hair gleam back at me! 'Hey, how you doing?', that is the best feeling in the world no? Relief! Woohoo, I am no longer on my own, I have someone to have some fun with. After the same-same introductory you always have it was the moment of truth is this chick going to be my kind of chick? Temples of Cocktails? 'Want to come downstairs and grab a beer', RESULT!
We went downstairs and I indulged on my first ever Beer Lao, delicious is the only word to describe it. After a while, we were joined by an Irish man, a musician from Cameroon and one of the local girls who works at the Sushi shop down the road. We just hung, ya know? Nothing fancy, just good old fashioned hang out. We swapped stories, shared playlists, enjoyed each other's travel stories and just laughed through the evening. BAM, 'Anyone hungry?' We walked maybe 20 metres until we found a local street vendor that was packed, you know somewhere is good when all the locals are eating there! (That's my personal #1 trip for travelling: 'It doesn't matter what it looks like if the locals are eating it you gots to, too')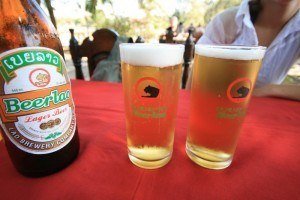 BEER LAOS, POSSIBLY ONE OF THE BEST BEERS!
I ordered good ol'fashioned Chicken Noodle soup topped with crispy pork fat and glutinous noodles, the others ordered a similar combination: thick noodle soup, crispy noodles with beef and thick soup etc… Everything we ordered was divine; we all finished our plates, paid up our $6 bill and headed to the corner shop for a bottle of whisky to end the night!
'EXCUSE ME, EXCUSE ME, HELP, HELP!' All I could see was a guy on the corner of the street flailing his arms all over the place, in an American accent yelling: 'DO YOU GUYS SPEAK ENGLISH!?' His name was Nate, he had just landed in Vientiane from Chiang Mai and had the shock of arriving in the middle of the night with nowhere to stay and no idea where to go. We laughed, exchanged names and then headed back to the guesthouse where we knew Nate would be able to get a bed and unwind a bit after the ordeal of walking around, alone for a few hours.
We continued the night, chatting away and sipping on Whisky until we decided to head to bed as it was close to 2am and most of us wanted an early start to our day. I headed up to our dorm and jumped onto my, incredibly hard, bed. I was out within the minute, the combination of Laos Whisky and a long day of travel was just too much for my body to handle so I was 'out like a light', the minute my head hit the pillow. I decided that night: I had a little crush on Vientiane, as a city.
RICE FIELDS & TREKKING WATERFALLS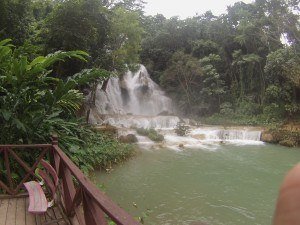 WANGXI WATERFALL, LUANG PRABANG
If any of you guys are keen to come and join us for the adventure of a lifetime in Laos. Check out our awesome Laos tour and chat to us to plan your adventure of a lifetime!