WELCOME TO OUR MINI SERIES - TRUSTORIES
BALI, INDONESIA
Experiencing a country's culture is up there as one of the main reasons why people go travelling - it's like stepping into a whole new world. A once in a lifetime chance to step outside of our comfort zone and embrace the unknown by being exposed to new languages, cuisine, and traditions. What better way to do that, than meeting local families for a first-hand and authentic cultural experience. At TruTravels, we also believe in giving back to the planet and the communities we are fortunate to travel in and that it is a great way to share the love and the wealth around the world.
This mini-series will take you through a journey to meet some of the friendly locals we work with around the world.

WAYAN & HIS FAMILY
Wayan is our legendary temple guide who has been with us since we first started running tours in Indonesia. Let's set the scene… one rainy day in Bali, we were on our way to sample some local cooking classes to add to our awesome 'Bali Experience' tour when we lost our way and accidentally ended up at Wayan's home. Sheltering us from the rain, he invited us in to meet his lovely family. We got chatting and found out he was a temple guide, and his family ran a cooking class. With one flash of his cheeky Wayan smile, we instantly knew that we wanted to work with him and his family and incorporate them into our tour. Although their business had been running for almost two years, the market was competitive, and they could only accommodate 10 guests per class!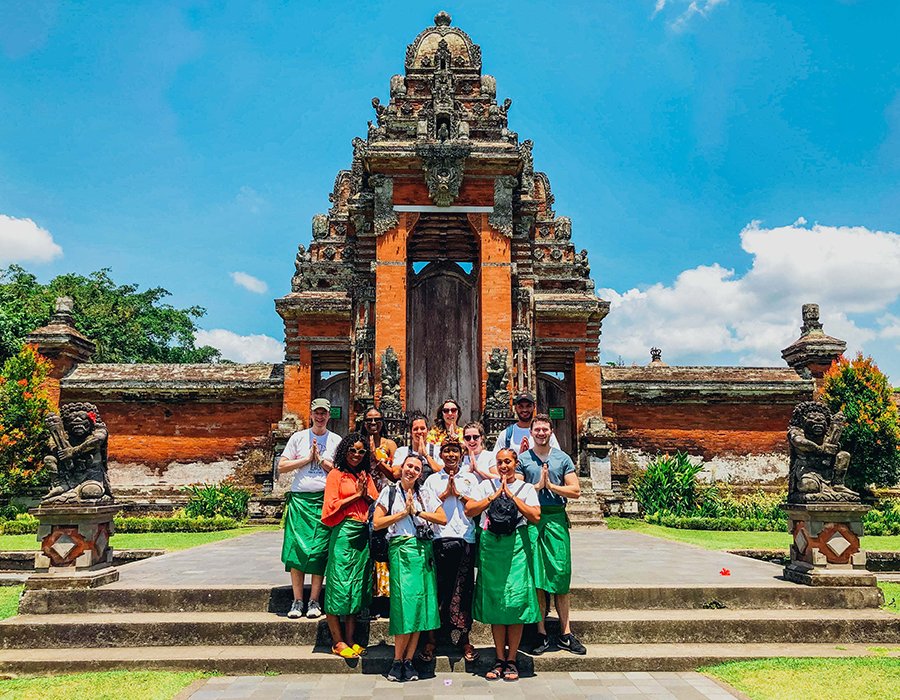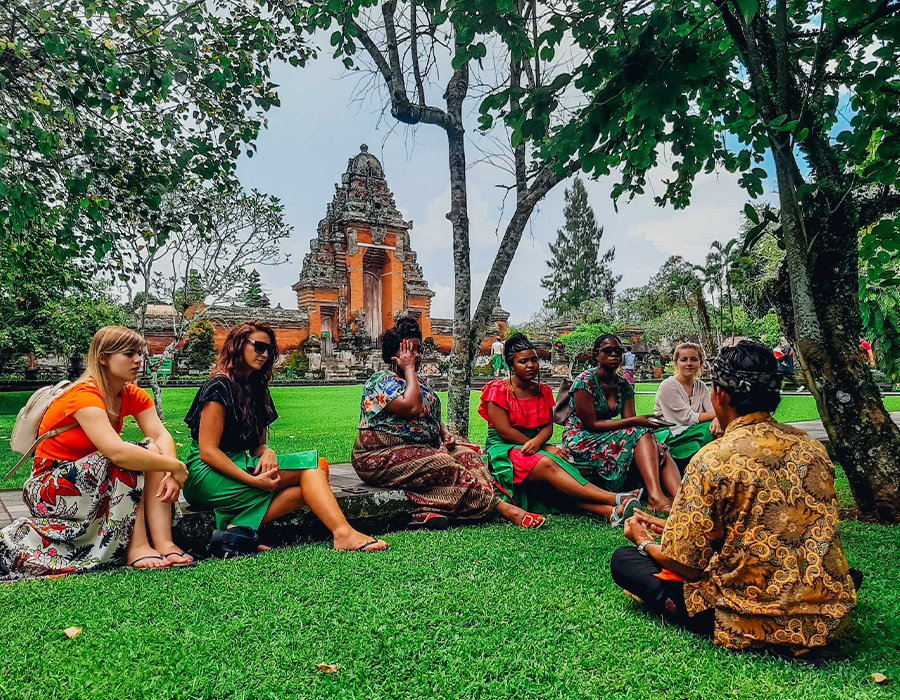 WAYAN'S COOKING CLASS, UBUD, BALI
Wayan and his family give our guests that precious insight into Balinese life. By showing us around their family home and taking us to iconic Hindu temples, we get a glimpse of the culture, traditions and ceremonies that make Bali truly unique. Wayan also hosts us in his cooking school where we get to try our hand at cooking some delicious Indonesian dishes.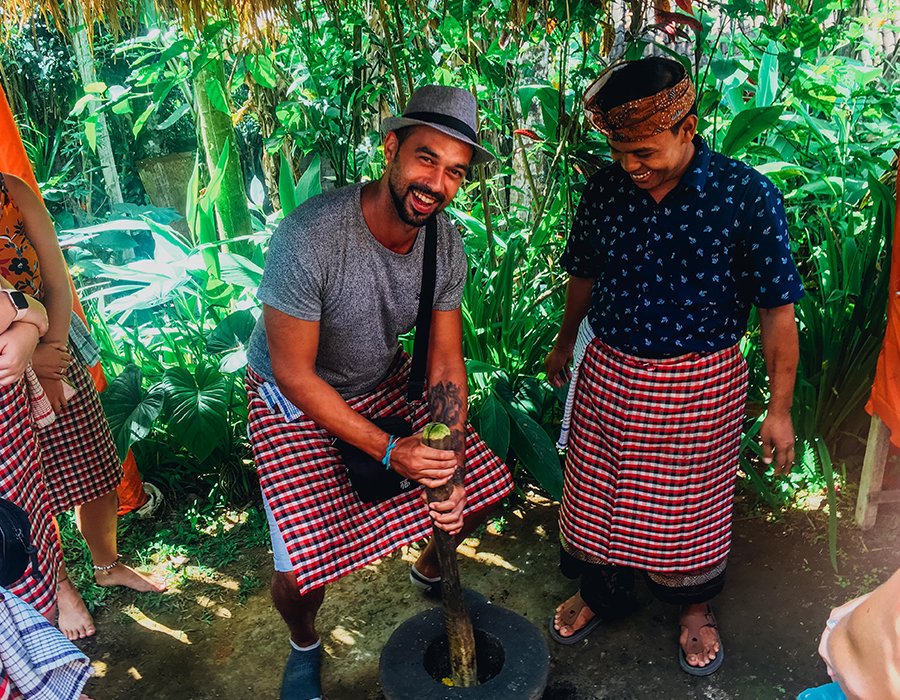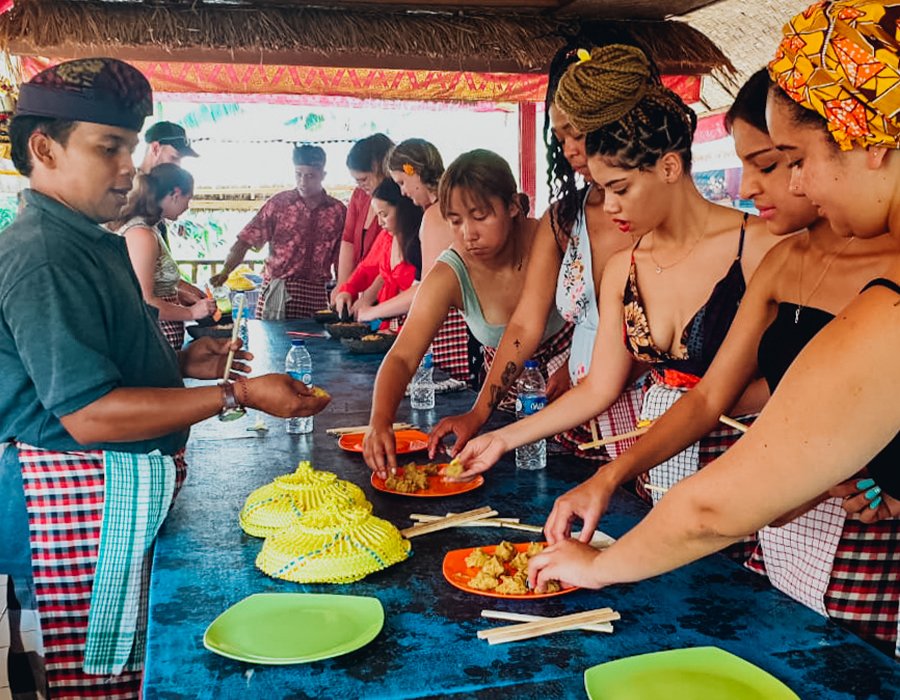 Wayan's brother Nyoman also works with us running our cooking class in Ubud. He shows us around a traditional food market to teach us about the local ingredients before taking us back to their traditional Balinese home. There we get the privilege of meeting Grandma and Grandpa, little Wayan and the whole family who are all super accommodating and lovely! Wayan and his family are a legendary and memorable part of our trips. Their happy, smiling and kind demeanour is contagious… if you've joined us before on one of our Bali tours, you'll know what we mean!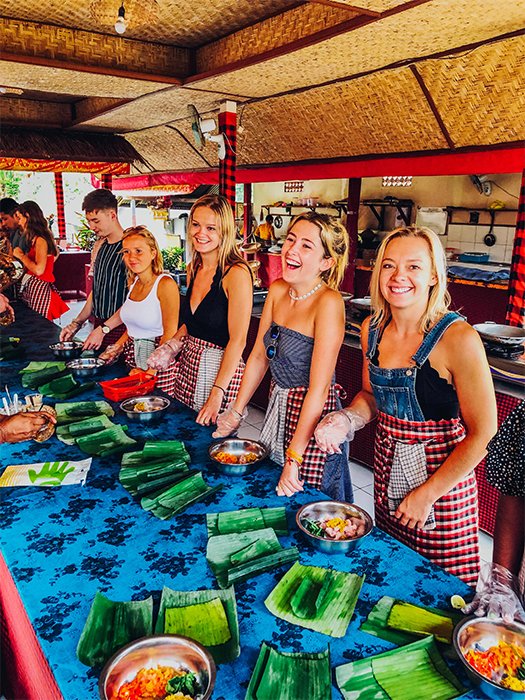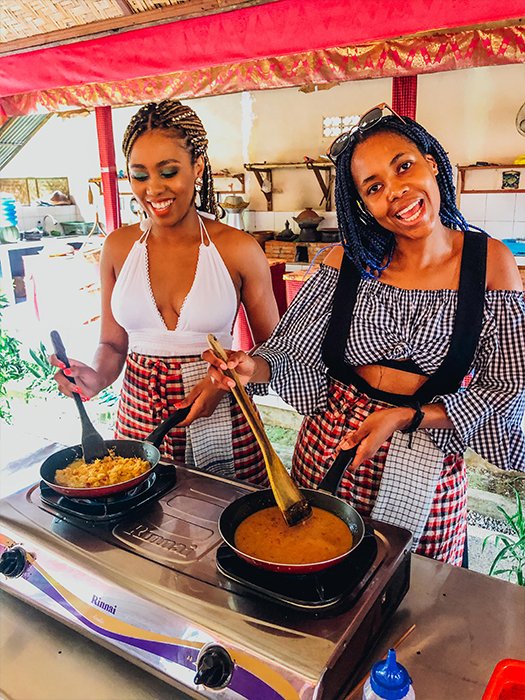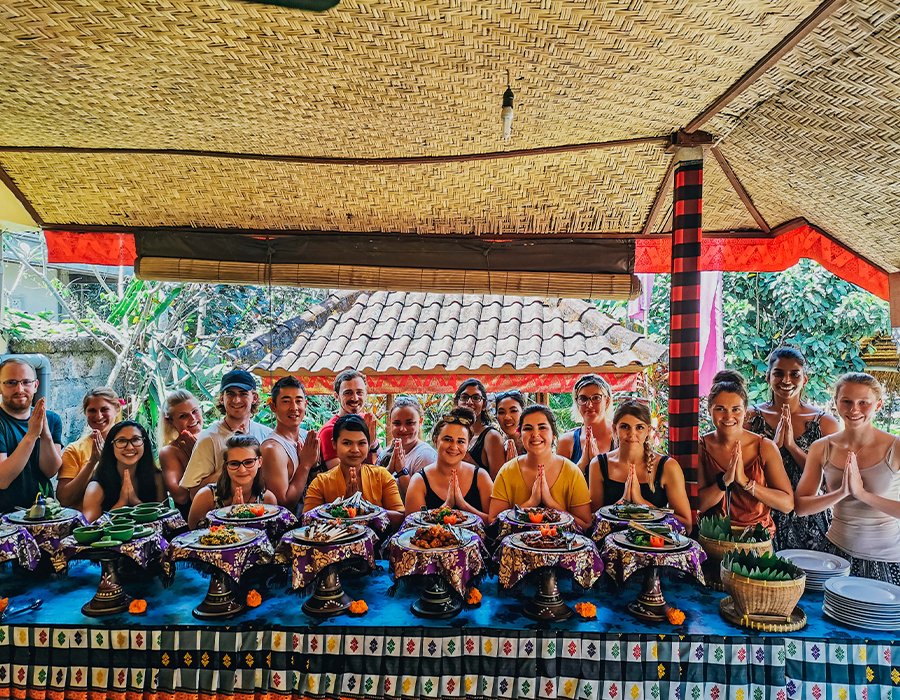 A FEW WORDS FROM THE TRUCREW
We asked a few of our group leaders to tell us their favourite things about Wayan and why they love working with him, so here we go…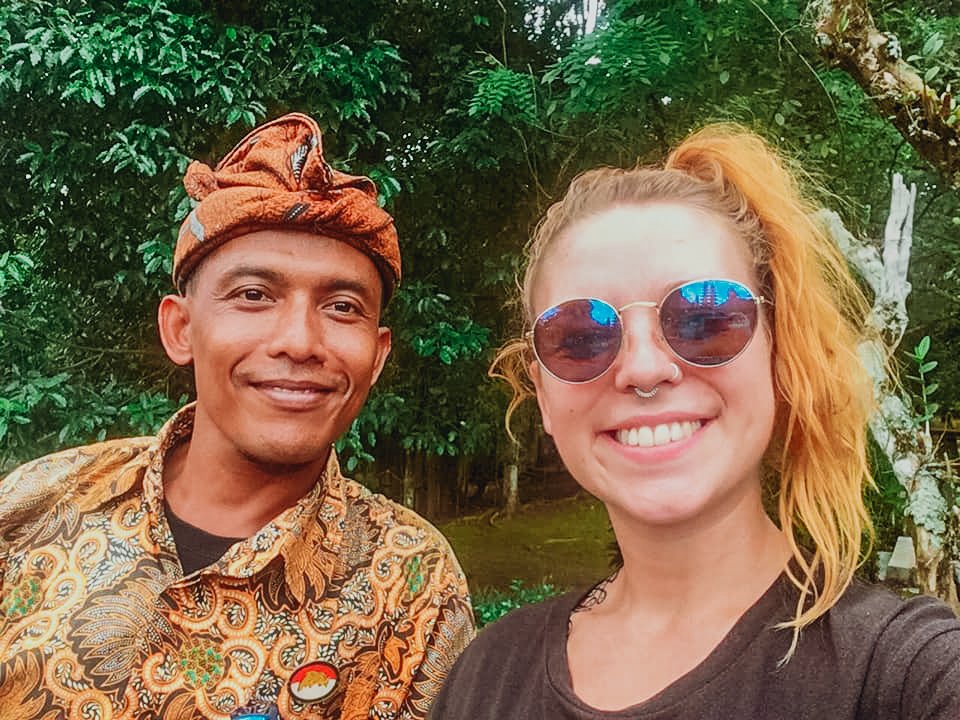 "Working with people like Wayan and his family is what makes our tours so special, they are the loveliest and kindest people who always give our TruTravellers the best experience possible. Wayan loves to make a joke or three whilst giving us an insight into the Balinese culture, and his family invite us into their home and teach us about their lives and traditions. When I moved into my new place, Wayan was sweet enough to come bless it and bring traditional Balinese offerings to ward off any bad spirits!! Wayan is more than just a temple guide, he is a friend, someone to turn to for advice, someone who loves to come out and party with us, loves a cheeky selfie, but also forever part of the TruFam."
Rianna Smith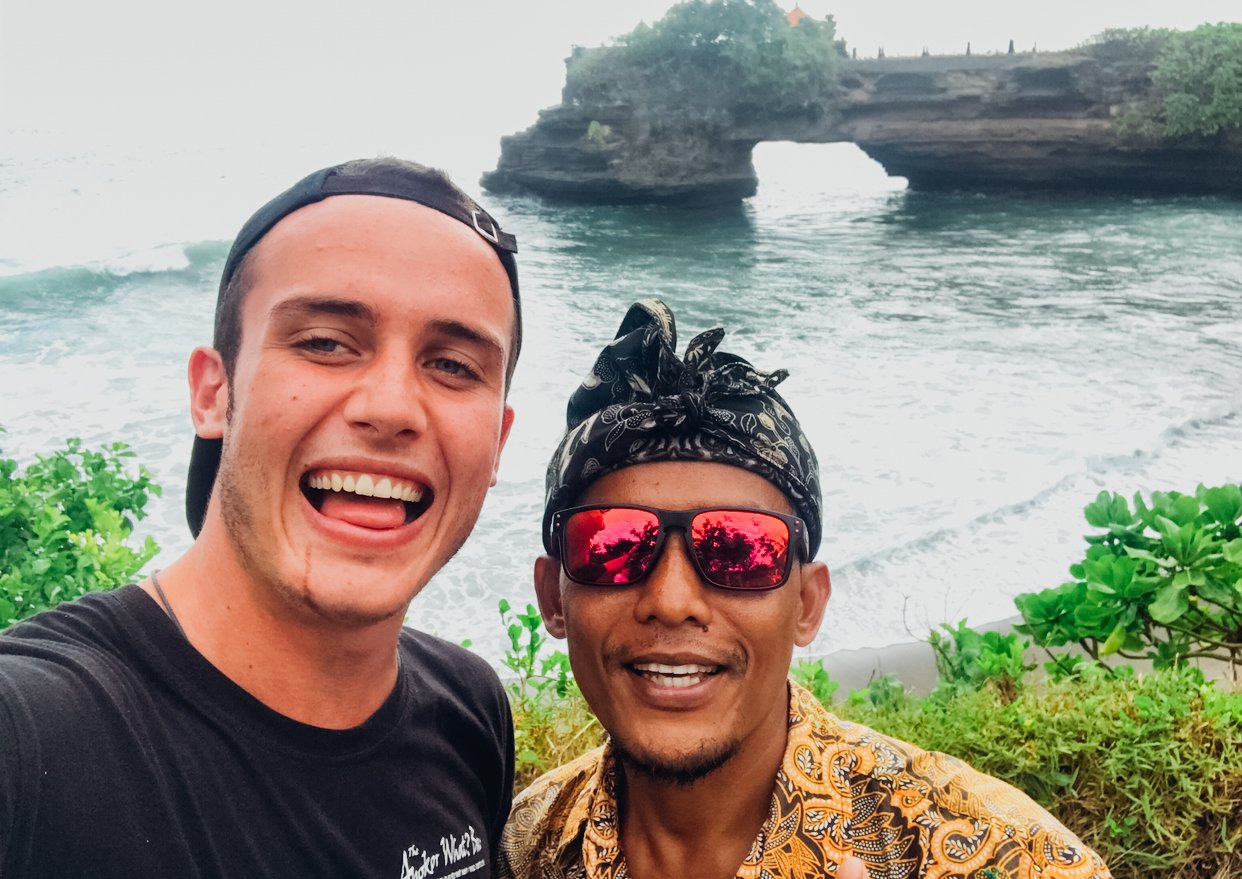 "When I first met Wayan I instantly could tell how great a man he was. He's one of the most happy, smiley, warm and accepting people I have ever met. Despite his passion and commitment to Hinduism, he welcomes all people from all walks of life regardless of their beliefs. Since the day I met him we've spent countless evenings sharing stories and learning about each other's lives. I had the lucky opportunity of taking Wayan to the beautiful island Gili Trawangan for his first time ever. Watching him try to do a headstand on the beach at 1 am after a night out is something I will definitely never forget. To me, he will always be a friend for life."
Freddie Speak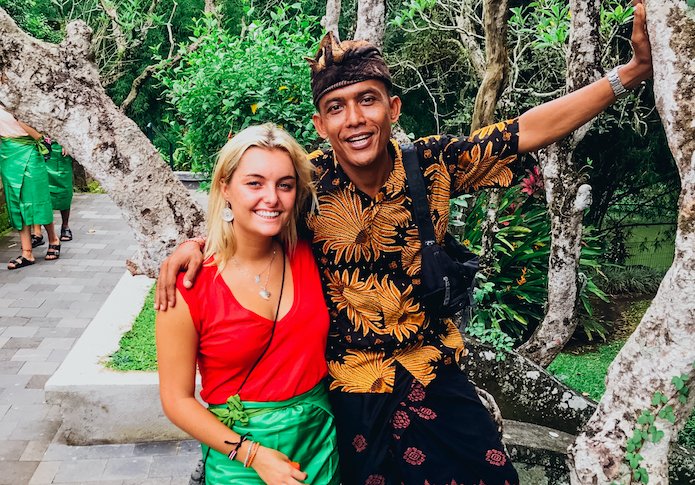 "Wayan, the man, the myth, the legend! Such a lovely guy, he spreads happiness everywhere he goes. His smile is so infectious it's impossible not to be happy around him. Love how welcoming he is to all the guests and so passionate about Bali and it's unique culture! I will never forget all the laughs I have had with him, from nights out to swimming around the Gili islands looking for turtles, a Tru legend!"
Phoebe Rowe

IMPACT OF TOURISM
Bringing our groups to Wayan's cooking classes has meant their family home that houses his two brothers, their wives, and all of their children has been able to expand. They have also been able to build a larger kitchen (accomodating a whopping 45 guests!) to host more cooking classes. Wayan has been able to send his oldest son to Thailand to gain experience to be a tour guide, just like his legendary father!
We pride ourselves on working with as many locals as possible on our tours, to help support their communities and have a positive impact on their lives. It is our mission as a company to use tourism as a force for good, and help make a difference to people wherever we can by giving them repeat business. By using local suppliers throughout our tours, we can provide the best and most authentic experiences to all our travellers. That's what TruTravels is all about after all -giving back!
So what's next...? Wayan and his family dream of opening their own guesthouse in Ubud. Having customers joining our Bali tours means we can continue to give back and help them reach their goal, which would be incredible!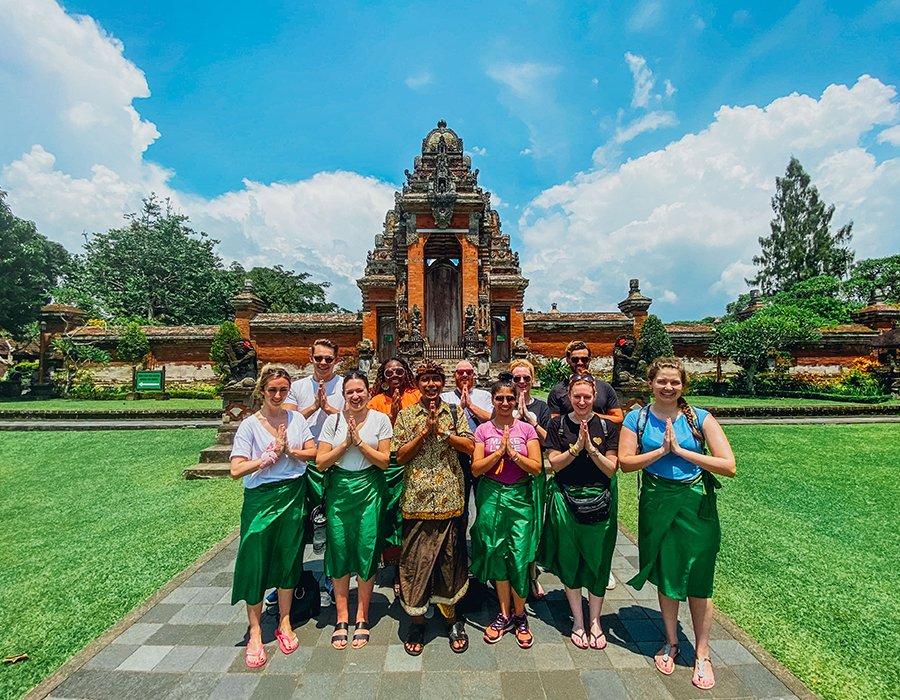 WAYAN ALSO WANTED TO SAY A FEW WORDS...
"I love being a tour guide because I can share our culture with other people from different countries, and I would like other countries to be peaceful like Bali. Now Bali has become the 3rd best island in the world. I can't believe it. I love TruTravels because they have great teamwork. From the beginning, I knew this company will grow up very well. This company really cares about our people and our nature in Asia. For myself, I feel Tru have helped the economy of my family so much. Thank you for this company."
A huge thank you to Wayan and family who make our tours so magical! A family who is so hardworking and always striving to give our guests the most unforgettable memories. We love you!