If you're looking for a banging destination to go to... The Philippines is it. Insane white beaches, luscious green jungle, and dramatic vistas - this place has it all. There are thousands of incredible things in The Philippines that you should experience but we've chosen just 10 to put in this blog post that you MUST tick off.
Unfortunately, The Philippines is going through a pretty hard time right now though because of Typhoon Odette. The victims of this tragic event, many of them being our TruFam, need our help! If you want to support the recovery of this incredible country, please donate to our GoFundMe page. Donations of any size will make all the difference! Together, we can help support the victims of this awful event and help them get back up and running so that in the second half of 2022 and into 2023, we can fully enjoy all the incredible things that The Philippines has to offer once again!

1. Surfing in Siargao
Whether you're a seasoned surfer or a complete beginner, surfing in Siargao is the shit. It can be done all year-round too so it's something that you can experience whenever you decide to visit this magical island. If you're a surfing pro, the most popular surfing spot in the Philippines is Cloud 9 and is best visited from September to November; these months provide waves that go as high as 12 feet in some places with others at 8 feet. Not to fear if you still need to learn how to master the waves, on our Philippines Island Hopper tour and Philippines East tour, you get a private surf lesson with our instructors that live and breathe surfing!

2. The sardine run in Moalboal
We mentioned this in an earlier blog post and it's so damn impressive that we're going to have to mention it again. The hundreds of thousands of sardines usually form their giant school around Panagsama Beach, making it super easy for tourists to experience this phenomenon. They hover just 30 meters off the coast, so it's a very easy swim and it's easily done with a mask and snorkel so no need to get your scuba gear (unless you really want to!). Underwater lovers flock to Maolboal for this special natural show, and it really shouldn't be missed!

3. Partying in Boracay
The Philippines boasts beautiful beaches, incredible marine life and incredible limestone cliffs… but you know what, they also know how to throw a partaaaaay. You can dance the night away at Aplaya Beach Bar (after watching their incredible fire show) or make friends on the road on the Boracay Pub Crawl. Epic is considered by most as the most popular beach club in Boracay. What we love about the beach bars in Boracay is that you can generally chill there all day and enjoy the vibe, as they transition from cool, relaxed bar-restaurants to fun and lively bars with live DJs. There are so many beach bar options and none of them disappoint, so drink up and see where the night takes you…

4. Island hopping in the lagoons in Palawan
When you visit Palawan, you have lots of island hopping options. In El Nido, there are four different itineraries that focus on different aspects of El Nido's beauty - lagoons and beaches, or caves and islands, an itinerary for great snorkelling and a shrine, and lastly, island beaches… and that's just El Nido. There's also amazing island-hopping adventures to be had from Port Baron, on traditional Banca boats, and Coron. Lucky for you, on The Philippines West and Island Hopper, we combine the best of all the tours and make sure you hit all the top spots.

5. Wreck diving in Coron
There are so many incredible underwater experiences to be had in The Philippines, and we gotta say, wreck diving in Coron is definitely up there with one of the best experiences ever. Coron is considered the wreck diving capital of the Philippines (and arguably, the capital of Southeast Asia!) and the best thing is, there are some of the 12 wrecks that are accessible for all levels from snorkellers to advanced divers! The wrecks are from WWII when a fleet of Japanese ships was sunk by the US Navy in 1944. The wrecks are now also full of marine life, so, pack your GoPro and get ready to explore…

6. Canyoneering to Kawasan waterfalls
Don't go chasing waterfallllls… or do? If you have Instagram, then you may be familiar with this gorgeous waterfall. With pastel blue waters and lush forest walls and a canopy of trees, it's understandable that this iconic natural beauty is on every traveller's bucket list… But let's talk about the journey to get there! Sure you can be boring and go straight to the waterfall, but who wants that?! Canyoneering is a sure-fire way to get adrenalin pumping through your veins before ending up at Kasawan falls. You can relax there, knowing full-well that you've earnt it!

7. BBQ with the locals
It wouldn't be a top experiences list if we didn't include any food in here, now would it? One of the top experiences for any foodie is to have a traditional BBQ with the locals. One thing I fell in love with The Philippines was the Filipino Style Pork BBQ! And of course, like any country surrounded by water, their seafood bangs so get your knives and forks out and get ready to tuck into the tastiest meal while getting to know some Filipino locals. The only thing we would say though, is that if they offer you something that looks like a boiled egg… watch out! It could be a local delicacy called Balut. No judgement if you want to try it, but just make sure you know what it is before you devour it! Otherwise, you could be in for a surprise.

8. Seeing the Chocolate Hills in Bohol
From one food to the next… or so you'd think. Nope, you can't eat these hills, unfortunately. This natural phenomenon is completely unique to this small island, which makes it even more special. Named due to the grass changing from green to brown at the end of the dry season, these hills look somewhat like chocolate drops.

9. Having a sing-a-long with the locals
There's one thing that is for sure… Filipinos love karaoke. Sunday may as well be National Karaoke Day in The Philippines! Karaoke is undoubtedly an integral part of the Philippines culture and it is one of the key ways Filipinos celebrate! I remember my first trip to the Philippines, I got chatting with these local Filipinos in Cebu, they had a BBQ going and the karaoke machine blasting! They invited me in and they told me that they have a karaoke party every Sunday! I pulled out my best karaoke song (Angels by Robbie Williams), but it was no match for the seasoned Filipino karaoke-ers. They sang Eternal Flame with so much passion, I almost shed a tear!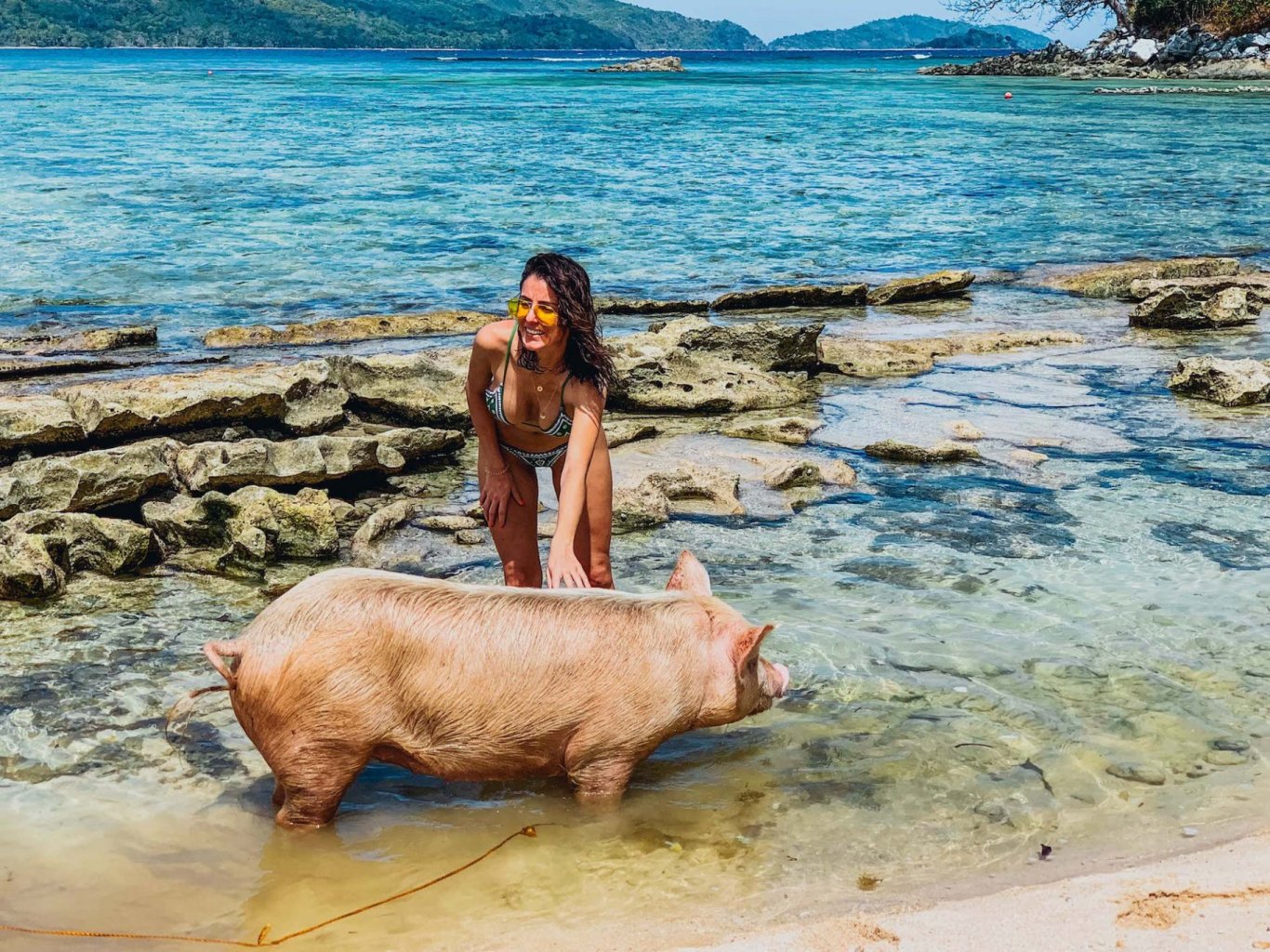 10. Isla experience
So this is one that you won't see on any other blog or any other travel site because, well, it's unique to Tru… it's our Filipino TruExclusive and exclusive it is. We spend 3 days and 2 nights on our own private secluded island where we stay with a local tribe in traditional Filipino beach huts overlooking the ocean. Our first morning, we go snorkelling in amongst an old shipwreck before we hit up PIGGY BEACH! We also visit Daracotan Island, home to just 88 residents where learn how tourism has positively impacted their lives and way of living today. Then, we have our very own beachfront cooking class, taught by a lovely Filipino family. If a unique experience is what you're looking for, you've found it!
So, there you go... those are our top 10 best experiences in The Philippines. As we mentioned above, some of these experiences will have been affected because of Typhoon Odette which has destroyed a lot of The Philippines. We would really appreciate it if you could donate to our GoFundMe page in order to support the recovery of this country and to help support the victims of this tragic event. Donations of any size will make all the difference! We're hoping to raise $10,000 (and then some), with every single cent going directly to the worse-hit communities (including Palawan, Siargao and Cebu - places that we hold close to our hearts!) So, let's donate as much as we can (and if you haven't got the means to, please just share our GoFundMe page link with your friends and family) so that we can help speed up their recovery and help those who have been affected.
We hope to be back in The Philippines ASAP! Remember guys, don't quit your daydream...
See you on the beach,