Koh Phangan is well known globally as the home of the famous 'Full Moon Party' which occurs on the beautiful island on a monthly basis, a party where people from all the around the world congregate for a night of dancing, fire shows, whiskey buckets and all sorts of madness!
KOH PHANGAN PARTIES
Most people will visit Phangan during the crowded five days over the full moon period and swiftly leave the island once the party has subsided, though what many party people fail to realise is the sheer buffet of parties available on the island with at least one to cater to every raver's needs.
Over the past few years, more and more parties have developed around the island, predominantly around the south of the island. Hundreds of ravers flock to these parties every week where the music can vary from hardcore trance to minimal and minimal house or even a soul and funk jam.
LOI LAY
For those looking for a venue which is a bit different I urge you to check out 'Loi Lay', in my eyes one of the coolest venues on the island, located on a floating raft about 100m off the coast 'Loi Lay' is always a popular party amongst residents and visitors, busting out deep and progressive house tracks from some of the best DJs on the island, if you manage to be there on a night where the place is really kickin' off then the venue itself begins to move in time with the few hundred people dancing the night away….not for those prone to seasickness.
THE JAM
Of course not everyone comes to Phangan to lose their minds to electronic music, the island is home to many talented musicians who perform most nights around the Island. A fantastic venue for those looking for some live music is 'The Jam' which can be located in 'Hin Kong' on the west coast of the island. Twice a week 'The Jam' and its in house band host open mic nights where anyone is welcome to get up on stage, pick up an instrument or sing a song with some awesome musicians from around the world, the performances that can be seen there most weeks are absolutely unrivalled and will always keep you going beck for the next open mic night just to see if the talent can top last weeks!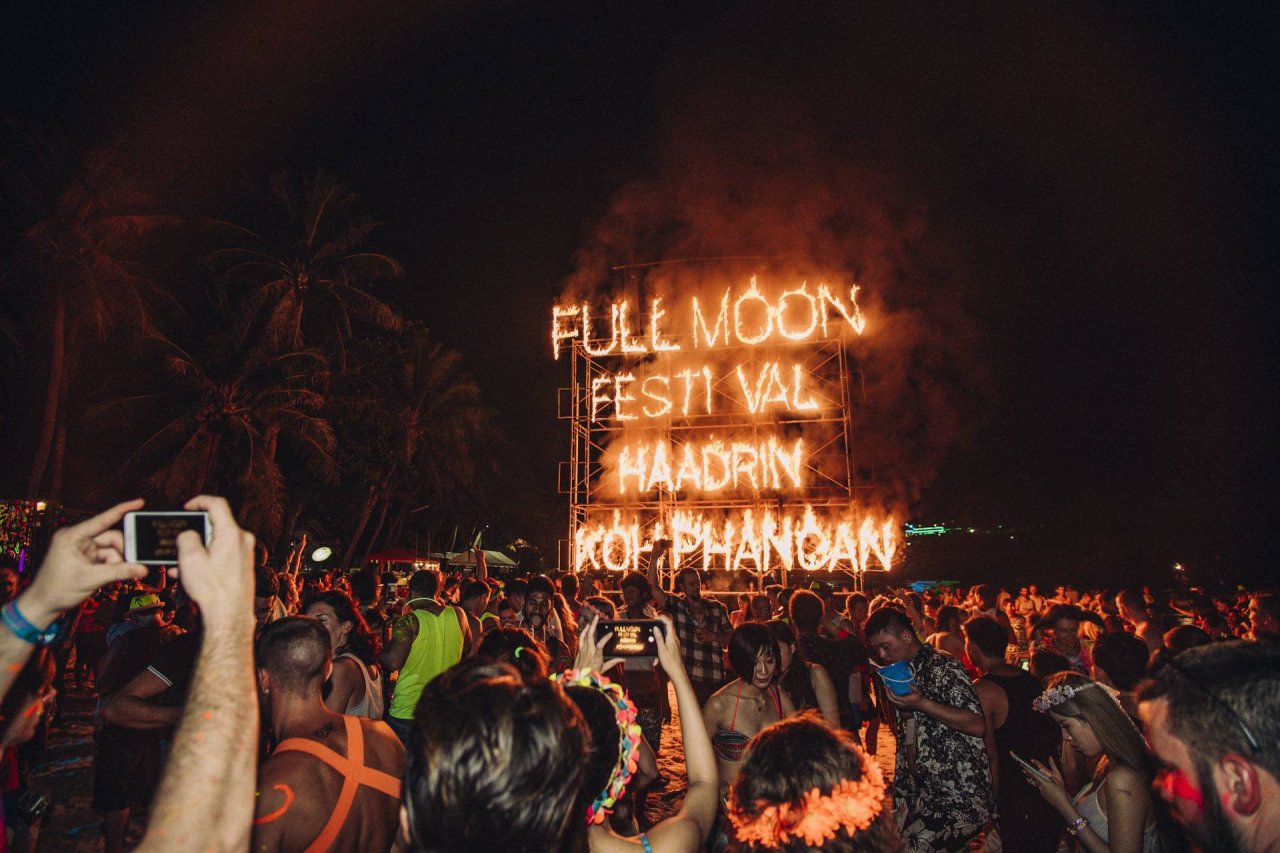 FUBAR
For those who find themselves down in Hadrin around Full Moon period, take a couple hours before heading down the beach and check out a small guesthouse by the name of 'FuBar', which is set back about 25m from the beach party itself. Though at a glance during the day it may just look like your standard guesthouse, by night the bar jams out awesome house which get deeper, darker an funkier throughout the night! All the people I know who stay at 'FuBar' (also x-residents) will always start their night by bustin' some shapes on the colourful glass dance floor, so whatever you do, don't just see this as another guesthouse, jump in for a cold beer and a boogie!
PIRATES BAR
On the West coast of the island, in an area of the called 'Srithanu' you will find 'Pirates Bar', where all you psy- trance lovers looking for a smaller and more intimate venue can go to lose your minds. 'Pirates Bar Moon Set Party' takes place 2 days before and after full moon, it's situated on a quiet beach where you wouldn't even think a party would take place, so, if you're in the area and can hear the beats blaring, I would definitely suggest poking your head in. Pirates over the past couple of years has become increasingly popular due to global DJs now playing sets alongside local DJs ultimately providing a wider array of trance from around the globe. Even if trance isn't your thing, pop in for a beer and check out the awesome bar shaped like a Pirate ship!
JUNGLE EXPERIENCE
Another party which has exploded over the past few years is the 'Jungle Experience', again located in Ban Tai, just down the road from the Half Moon party and boasts a bigger venue and a wider variety of music. The party is set back amidst a jungle setting surrounded by flowers, trees, fluorescent paint and lasers… what more would you want!? On top of that though you may even come across an Ibiza resident DJ playing a set or two. The party itself has done so well that the resident DJs there have started their own label and still run a great night! It runs all through the night and into the next morning where you can watch the sun rise over the mountain and party on until breakfast.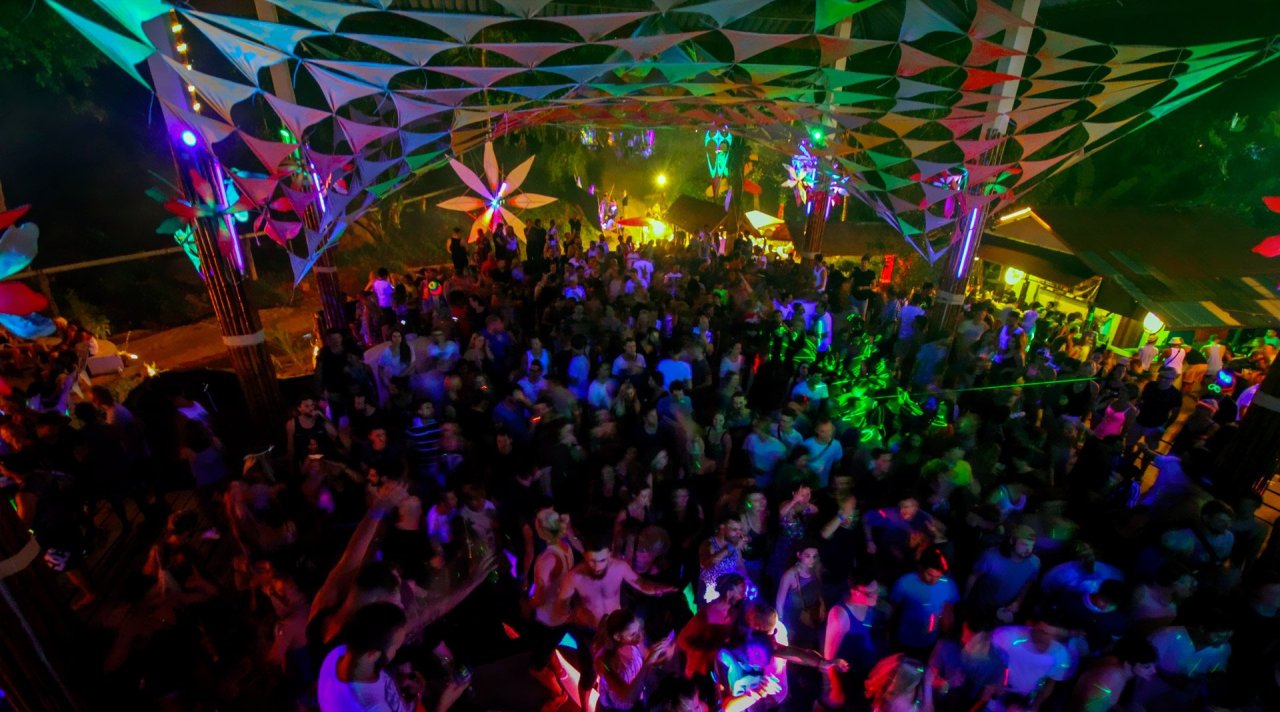 HALF MOON PARTYYYYY
Also in 'Ban Tai' Set in the Jungle a midst a fluorescent backdrop is the well known Half Moon Party which takes place twice a month (one week before and one week after full moon). If you're visiting the island and your schedule just doesn't permit a Full Moon party, never fear, you still have the opportunity to get covered in glow paint and dance until the sun rises.Many visitors to the island do prefer the Half Moon party due to the music being less commercial and more geared towards people with a passion for psy-trance, here global DJs mix some awesome trance throughout the night accompanied by spectacular fire shows and a venue which could rival some clubs in Ibiza!
If you don't think any of the above are your bag then don't fear, the list of parties goes on…
VooDoo,
Heaven,
Amnesia,
Heaven & Earth,
Reggae Village Jam,
Drop In,
Cactus,
Eden,
Guys Bar,
Merkaba,
Samanora Waterfall party,
Secret Garden party,
Shiva moon,
Black moon,
Coral Pool party,
Backyard and Ban Sabai… just to name a few.
Of course many come purely for the few days around Full Moon, for some more information on how to get down on full moon check out our last blog ☺
Also, check out our blog 'The Real Phangan', to show everyone out there that the island truly isn't just about the party and the other reasons we love it here soo much!
In the meantime, if you're looking for a beautiful party location, come by Koh Phangan and join us on one of our and we dance until sunrise, we may even buy you a bucket!
See you on the dance floor!….. We'll be the ones with flames coming off of our feet due to the dancing awesomeness