Koh Phangan, home of the infamous Full Moon Party! But that's not all there is to it!
So is it still the gem of the Gulf, the tropical paradise that has attracted so many backpackers and tourists over the years, or has it become a Malia like place where drunken youngsters gather en mass for a monthly dance/mating ritual known as the Full Moon Party?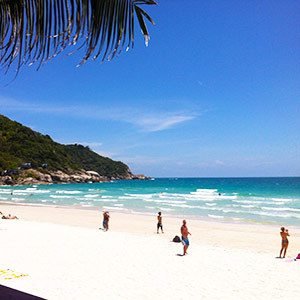 EVEN HAAD RIN BEACH IS PRETTY WHEN IT'S NOT THE MORNING AFTER FULL MOON PARTY
As a long time fan of Koh Phangan, I tend to agree with the former and I hope that this post will help convince readers that Phangan has not become a trashy place only for young people to get drunk and pass out on the beach as is being claimed by many travellers and commentators alike as the Full Moon Parties have been getting more and more press over recent months. Especially in a recent article in 'The Sun' (those of you from the UK will know how reliable a source this fine tabloid newspaper is) and a recent episode of 'Undercover Parents' which both focused on Full Moon parties and most of the negative aspects of this therefore supporting the belief that Phangan or even Thailand in general is turning into a Malia/Magaluf type destination, something we really do not agree with at all.
Koh Phangan is a small island, perhaps 15km in length and sits in the Gulf of Thailand next to its larger neighbour Koh Samui off the East coast of the Southern province of Surat Thani. The island is mostly made up of jungle and mountain surrounded by over 20 varied size beaches. Two of these beaches happen to be in the town of Haad Rin on the southern tip of the island. This town is the birth place of the Full Moon Party and where around 20,000+ party goers descend every month for bucket fueled fun on the beach. Now, in the 4 or 5 days a month when it is really busy it can sometimes resemble scenes from Magaluf, but the majority of the time it is a relatively quiet town with two nice beaches where one can usually find a party in or around if needs be (not always a bad thing).
The rest of the island does not experience as much of a fluctuation in monthly visitors and many of the beaches further North of the island are quiet and secluded and many are as picturesque as you will find anywhere in Thailand or even the world! In fact, the island itself is approximately 80% untouched, most land consists of beaches (some more secluded then others), jungle and this (video below)…
This in mind, some of the scenes and attendees of Haad Rin are giving the whole island a bad name. I now often overhear conversations on buses which go something like this: T1- "Just come from Phangan, don't bother, place is a $*%t hole and full of drunken idiots" T2 – "Oh, well I'm not gonna stay long, I'm just going to full moon then getting out of there." T1 is clearly a traveller who has only experienced Haad Rin and probably only near FMP time and T2 and conversations like this are the reason why more and more people are only visiting for a few days a month and not experiencing the true beauty of the rest of the island. I challenge T1 & T2 (not the robots from the films) to spend a few days in a different part of the island on one of the many other beaches and still give the place a bad review or want to only stay for a FMP.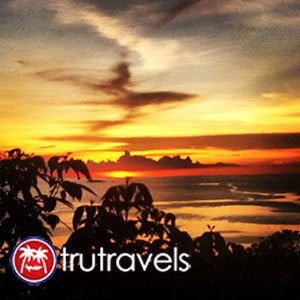 I have many Thai and foreign friends that have lived on the island for many years who all say that it used to be fairly busy all month round and only in recent years have people started coming more and more just for the full moon parties. As mentioned, this bothers us because we love Koh Phangan and want others to appreciate the beauty of it. Another reason for this trend is the price of accommodation going up during the party days and often coming with a 4 or 5 night 'minimum stay', meaning that to stay in Haad rin over a full moon period is many times more expensive then it would be to stay for the same amount of time the rest of the month.
It is a bit of a 'catch 22' for the resort owners who are in a way shooting themselves in the foot by putting prices up so dramatically for full moon because it means that people go away and talk to other backpackers and tell them how expensive it is to stay in Haad Rin, to which the usual reply is "Oh well, I only wanted to go for a Full Moon Party anyway, I'll just stay for a couple of nights then go to another island." thereby enforcing the trend of people only going to Haad Rin or Koh Phangan for a couple of days and experiencing only FMP and meaning that resort owners have to keep prices high during these periods as they won't make money the rest of the month when it is quiet.
So, for the sake of both you travellers and our friends who own/run resorts and businesses in Koh Phangan – It is a beautiful island which has plenty of parties but also plenty of quiet, relaxed beaches and for most of the month you can get a simple beach bungalow for as little as 500THB per night! So go there! And not just to Haad Rin for 2 nights over Full Moon! This bloke has written a blog along the same lines as this one and it's worth a read.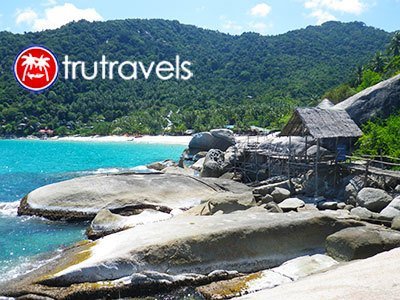 Anyway, off to the office. Laterz!
Our South Thailand Tours all visit Koh phangan but for exactly the reasons explained above, we stop at Bottle Beach (our favourite beach on the island) for a night before heading down to Baan Tai for the last two. We also do a boat trip around the island where we get to explore some more beaches, waterfalls, viewpoints and snorkelling spots as well as riding some elephants up in the fishing village of Chaloklum. This means that our group members will experience both sides of the island and see a lot more of it then the vast majority of backpackers and travellers to Thailand. Haad Kuat or Bottle Beach is just one of the magical stretches of sand that is secluded, quiet and almost untouched, which take you back to a time not so long ago before Phangan had roads and you had to spend a while there hopping from beach to beach with hammock in backpack. Others include Haad Tien, Haad Yao, Haad Salad, Haad Yuan, which we urge you to visit at least one of during your stay in Phangan!
#NotJustAboutFullMoon
Update: Since we wrote this blog a few years back, covid has happened which of course meant the full moon party stopped running and things changed a bit. Another thing Covid also did was to accellerate the rise of the digital nomad community. Being a tropical island paradise with good internet and low cost of living, Phangan became quite a nomad hotspot and is getting more and more popular with digital nomads, remote workers and entrepreneurs. If you are one of these types (or want to be) and are considering moving to Phangan to see what its like then we highly recommend it. We also highly recommend checking out Digital Nomad Adventures, who like TruTravels (and infact in partnership with us) run life changing group travel experiences, but unlike us, these guys do it for nomads and entrepreneurs. So if you are one of them or have ever thought about living in Phangan. Hit em up.