So I want to talk about the day I spent scuba diving in Koh Tao on a discovery dive, sold by one of TruTravels's good friends Mo, who resides on the island. This discovery dive is perfect for first timers who don't necessarily have the money or time to complete their open water dive course or want to just give it a go before committing to earning their open water dive certificate.
My day started when I arrived at the Mojo Diving Shop where I was greeted by a Canadian guy, Martin. He assured me, and the three others joining me to dive, that he was a professional PADI certified instructor- very important!
We followed him to a bar next door, the well known 'Choppers', and it was here we were given a thorough explanation on how to interact responsibly with the aquatic life, as so not to disturb the beautiful underwater habitat or, worse case scenario, harm them or yourself. Then came the basics of diving, the dos and don'ts whilst underwater and then the communication procedures; underwater hands signals and when is appropriate to use them. Finally, he introduced us to our scuba equipment and although it sounds a bit much to take it, it was very laid back and as long as you pay attention, you can't go wrong!
Sairee Beach
We then walked down to Sairee Beach where we met another group doing different dive packages, most of whom had either gained their certificates and having a day of fun diving, or in the process of obtaining it. I took this opportunity to gain some insight of what to expect from the deep blue as I was pretty apprehensive about diving (mainly because I've always had a fear of open water/what lies beneath- great film!) However, everybody I spoke to assured me there was nothing to worry about, and that as long as I followed my instructor's directions, it was an amazing (and safe) experience, this also helped to squish my apprehensions. These boys were serious divers and had the gear, but I still had no idea!
White Rock
The boat dropped off some of the more experienced divers at various dive spots and we headed for 'White Rock' dive site, located south of Koh Nang Yuan. It consisted of two large rocks and a shallow coral garden, full of reef fish around 10m deep- perfect for beginners. This was great for less experienced divers like me, and so as we waited patiently for Martin to prep our equipment, we listened to another quick safety talk- nearly ready to enter the unknown! Oxygen tanks on, we slipped into our flippers and defogged our masks, we were ready to enter the water.
We started off in very shallow water and practiced a few safety skills- how to use the regulator, how to get water out from your masks (without letting more in!) and most importantly, how to use your instructor's emergency regulator in case of an oxygen shortage. Don't panic- we were assured this rarely ever happens! Once we felt comfortable with the various skills, Martin began to show us around this amazing dive site and discover this incredible underwater world.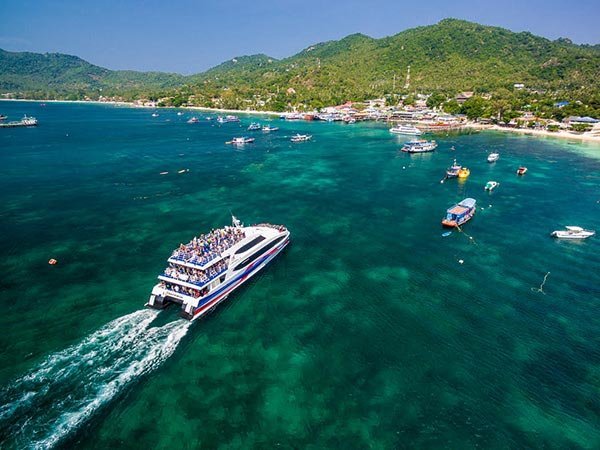 The range of wildlife at White Rock was huge and there was something for everybody. Turtles visited to munch away on soft corals, casting a lazy and half-interested eye at passing divers,- amazing creatures! Koh Tao's infamous Triggerfish prowl this dive site, and we were pre-warned these buggers like to bite divers and their flippers. There were so many more hunters there too: the great Barracudas (my personal favourite), Trevally fish and Banded Sea Snakes. Blue ringed and six-banded Angelfish swam around in their shoals passing Beaked Coral Fish, Bannerfish and Pig-faced Butterfly fish.
We were told to peak under ledges and outcroppings to try and spot some White-eyed moray eels or a Blue-spotted Ray as they reside here during the day, eagerly awaiting nightfall. This is not to mention, under the South buoy line, a large shoal of Yellow tail Barracuda spending their days following divers.
We were also told it was whale shark season! Whale sharks are the largest fish in the sea and, fortunately for most sea-dwellers- and us, their favourite meal is plankton. Unfortunately though, we had no success in seeing them, though a few days later a group came across a school of 5 whale sharks swimming through that exact location!
If you loved the first dive, you could opt to do an additional dive before we headed back to Sairee Beach. This second dive was just a fun dive with your instructor; another opportunity to experience the amazing underwater world. They provided the equipment as before, and there were no skills to practice, just get into the water and enjoy, So my hand was straight up, and I was ready for round 2!
The Twins
Our second dive site was at 'The Twins', also known as Twin Peaks. It was one of the best Koh Tao dive sites according to some websites I'd looked at prior. It consists of 2 large underwater rocks, starting at 7 metres with a sandy bottom way down at 20 metres- suitable for divers of all levels.
The reef is incredible, with
Blue Ringed Angel Fish,
Moray Eels,
Stingrays,
Green sea turtles and
Koh Tao's renowned Clownfish family!
It's not rare either to see Pelagic fish like Trevallies and yellow tailed Barracudas, although we only saw the Barracuda this dive. We did stumble upon a Trigger fish, yes- my heart rate did increase, but luckily it just swam on by. This site was great for underwater photography; the visibility was amazing and you could embrace everything there was to see. I was hooked!
Heading back to land, we visited the shop and Mo informed me there would be showing a video of that day's dive at Choppers, so I went along later to check it out. How he put it together in such a short amount of time I'll never know! It was great to see ourselves scuba diving- ACTUALLY scuba diving, and catching a glimpse of what other fished we missed. Overall, what an amazing experience.
My overview of the discovery dive is simple… DO IT! The water is warm, the fish are bright and the underwater world is mind blowing. It's an experience not to be missed, and I can guarantee you won't regret it. Mojo provides all the equipment, training materials and instructions; you just need your swimmers, suntan lotion and a smile.
For a bit more info on diving in Koh Tao check out our Koh Tao Diving Top-Up Adventure, or to jump in on the full TruTravels saga check out our TruTravels 18 Day Island Hopper Tour, you never know we may very well be seeing you on the beach very soon!