Ryans first Trip to Pai...
This will be my first attempt at a blog, in fact the first attempt at any creative writing since leaving school over 10 years ago so please bare with me.
Pai, the first thing that springs to mind when someone asks me about 'Pai' is apple and rhubarb pie that my grandma used to make when I was a kid. It was delicious by the way…. now after visiting Pai in Thailand, the first pie that springs to mind is this place, and it will now be firmly wedged in my brain forever.
Thankfully, we now have 2 Northern Thailand Trips which visit Pai so I get to visit all the time! Lucky me.
We will start at the beginning which is always a good place to start.
Myself and a few TruTravellers ventured up to this place in April 2015, the journey up here from the start was a mixed bag of high expectations and vomit.
The steep winding road up consists of over 720 bends, luckily we had a lunatic driver and a stinking hangover from the night before in Chiang Mai. Although the hangover and sickly feeling soon disappeared when we had a peek out of the window. The scenery was absolutely beautiful, steep hills with dense tropical jungle, farmer's fields and small villages cut out in the landscape, absolutely untouched natural beauty…. reminded me of Manchester. If you do find yourself in the north (of Thailand), Pai is just 3 – 4 hours away from Thailand's most popular northern city Chiang Mai, which definitely shouldn't be missed either.
Upon arriving in Pai we were obviously pretty tired so we took it upon ourselves to immediately find some accommodation and have a nice lay down. I had researched prior to arriving and looked at a bunch of places online such as; circus backpackers, spicy pai hotel. But Trutravel's dear friend (And newest member of staff) Amy had recommended a place she thought would fit us down to a T, 'My Darling view point guest house'. We were greeted at 'My Darling Viewpoint' by the owner herself, aptly named 'My Darling' with open arms, she is hands down the most lovely, funny and inviting woman I had ever met (besides my own mother), she sat us down and brought us some cold water to cool us down after our hike to the place, hugged us all and proceeded to tell us her life story.
My Darling explained that she had previously had a guesthouse which had been washed away along with her life by the awful floods in 2005, but her cloud did indeed have a silver lining when an unsung hero from the Canadian navy rebuilt her home. As touching as the story was it did not justify the, shall we say basic, room she chose for us at 250B each (which was expensive for Pai).
The mattresses were no thicker that my pinky finger, the shower just a trickle of water, the room hotter than the surface of the sun, and the wildlife around in the evening was like living in a zoo. The biggest struggle was trying to sleep… Sounds that could only be compared to that of a dinosaur fighting a giant on the roof (I have heard this before), and the heavy tech rave and drum and base music from the nearby bar resulted in about 1 hours sleep.
It was safe to say that My Darling jedi mind f**ked us with her perfect personality and great aura, to the point where we felt it was compulsory to stay a night despite the price and comfort level. The next day we broke the poor woman's heart when we checked out and said our goodbyes, but we knew that it was for the best and despite the unusual charm of the place and the owner, there was a cheaper comfier bed out there somewhere!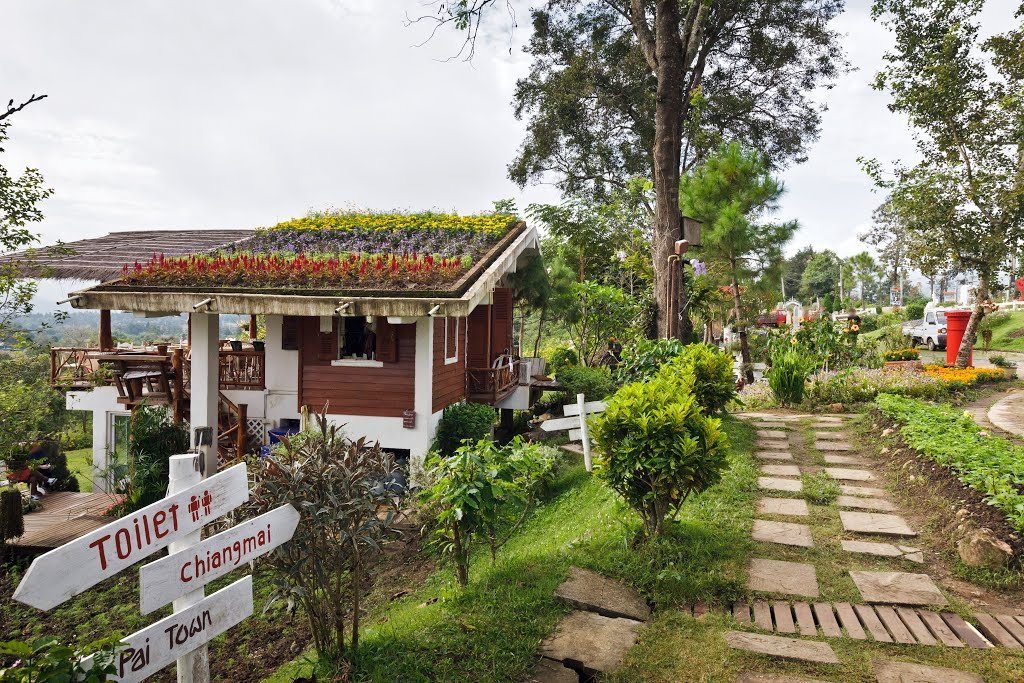 After a 15 minutes stroll down by the river we found a delightful place – Breeze of pai guesthouse, cheap, clean, fan and a/c rooms AND good coffee, even after settling in we found a short stroll through the town there are also plenty of other options available and the vast majority of them not popping up on booking.com or Agoda, 'Pai Riverside' for example is only 250 baht for a nice clean bungalow.
During the day we discovered Pai has plenty to offer. There's a number of stunning waterfalls – although on our trip during dry season there was sadly no water. – Hot springs, view points, even ATV tracks through the jungle!
Our first day was mega chilled as we relaxed by a local pool known as 'fluid', this place is awesome, has great food and is one of the social hubs of Pai. A great place to go if you're a solo backpacker and want to meet some people and chill out…. oh and they have a bar of course, what more is needed in life!? Entry charge is only 60 baht and they have some great drink offers throughout the day which myself and the Tru-crew obviously indulged in.
Pai has a great mixture of people and a real hippie vibe, it's a great place to meet weird and wonderful characters, which ultimately make the place. One spot in particular which is definitely worth a mention (both for the place and the people) is 'the circus', a dorm/hotel on the hills of Pai overlooking the endless green fields. The Pai Circus School is a super cool place to hang out, there's a great crowd that's drawn to this place all year round, they have a pool which is a little murky, but feel free to have a dip if you dare, and of course plenty of entertaining characters that were more than happy to teach us how to fire spin, walk a slack like, juggle or even unicycle.
While the rest of the group honed their circus skills, I myself enjoyed a refreshing beer in the pool overlooking the fields and mountains, which this particular afternoon had a haze of smoke over them, I'm not too sure if the smoke was from the farmers burning the fields to regrow crops, or from the several joints that were being freely blazed that afternoon (there are a lot of "Thai Rasta's" in the area).
If your perfect scene (like mine) is a pool, beers and great backpacker stories from other friendly travellers, of course complete with the odd hippie and people busy 'finding themselves' and playing shit guitar around a camp fire, then this is the place for you.
Myself and the lovely Matt (one of our previous Trutravellers) thought it would be rude not to go and check out some of Pai's other attractions. We rented a bike (with insurance (140 baht)) one afternoon and headed over to Pai canyon.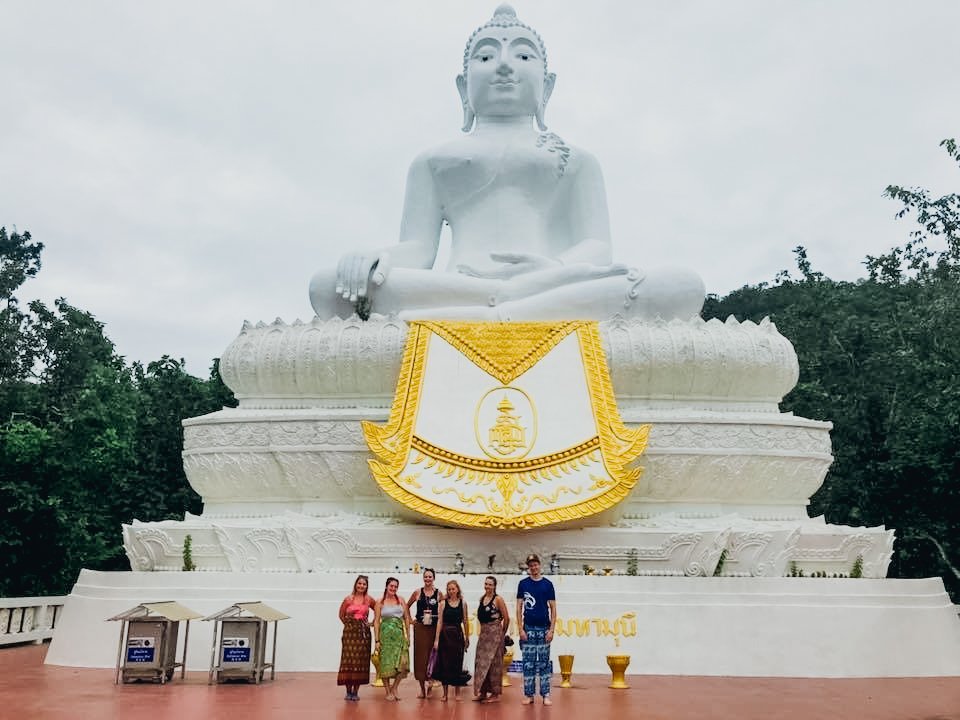 In true Thai style, health and safety naturally goes out of the window, Pai canyon is a maze of narrow ledges with frightful 100 feet drops either side. The ground was dusty, slippery and dryer than Gandhi's flip flop, which makes walking around the cliff edges a little riskier than your everyday stroll.
The canyon is an awesome place to kill a few hours, do try and get there for sunset though as it's quite exceptional watching the sky change color over the mountains. On route back to town there is an abundance of small cafes and shops, so we stopped for a cheeky strawberry smoothie before getting back to the guesthouse.
Most of our evenings were generally filled with masses of Northern Thai food, which is some of the best in the country, generally in the north there's a much wider spectrum of flavors and ingredients (in my opinion)… and of course some of the best 'happy hours' Thailand has to offer. 40 Baht Sangsom and Red Bull and 50 Baht cocktails. Trust me, that's a bargain and I'm from Manchester (well Macclesfield).
We indulged most evenings till the early hours with a great bunch of fellow backpackers we met at the pool and circus, all the main bars are only a stone's throw away from each other on the Pai Walking Street, though a lot of them shut down around 12pm there's always the rogue bar owner that has some contacts in the local police so they're able to stay open till 3am.
At many of the bars around Pai you'll find a good amount of fire spinners, and people that have practiced at 'the circus' and have become fire spinning guru's so start spinning a flaming stick around in a crowded bar like crazed madmen (and women) – which is nice. Of course with fire spinning comes the occasional mishap, one evening in particular one lovely guy set his jersey on fire, ouch!
If you're reading this and planning your trip to Pai then you should definitely try and make it coincide with the 'Pai Reggae Festival' like we did if you can. It's a great event with some cool bands playing and with a good mix of locals and backpackers. The festival takes place around every 4 weeks and fits perfectly into the whole feel of Pai, at only 200b entrance you can't really go wrong and are guaranteed an awesome night and leave feeling that bit more rasta!
To sum up Pai, it's not to be missed, hippie or backpacker you're sure to fall in love with this place just like we have. One of the cheaper places to visit in Thailand, and some of the most beautiful scenery and the friendliest people around. I'm in love…!
If you enjoyed this piece of literary genius then you never know you may even enjoy some of our other blogs, you may be a fan of Wakeboarding, Street Markets, Partying or just purely travel , give them a click!
See ya on the beach x