Imagine walking through the thick jungle in a foreign country and uncovering something the likes of which have never been seen before, an ancient structure on such a large scale that parts wouldn't be discovered until over a hundred years later. This is exactly what happened to French missionary Henry Mohout in the mid 19th century when he rediscovered the ancient ruins of Angkor Wat.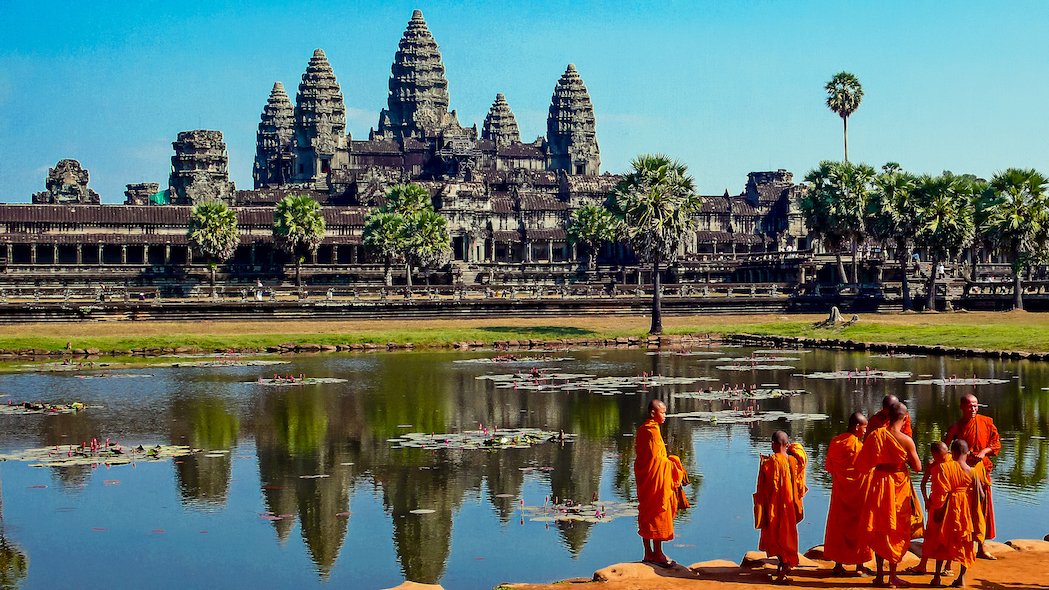 Located just outside the city of Siem Reap, the ancient temple of Angkor Wat and its surrounding complexes have since been a marvel. Since its rediscovery in 1860, researchers have speculated on the temple's age, its construction process and even its purpose. It wasn't until later years and proper excavation that the truth slowly came to light.
Here at TruTravels we have our own expert theory on how these temples were created, and collectively as a team we have put thousands of seconds into research that we will share with you at the end of this blog, until then we'll give you these apparent 'facts' from assumed 'professionals'.
Angkor Wat alone spans over 160,000 square metres and is an absolute feast for the eyes. The complex sits surrounded by a moat and thick stone walls. Even walking towards the temple from hundreds of metres away, you can already see the sheer grandeur of the central pagodas that thrust out the middle of the complex in perfect symmetry.
Many have wondered still to this day how the the Ankorians perfected the fine measurements down to such a small measure, did they have some serious math skills, or were they lent some kind of ruler...from space!?
The initial design and construction of the temple is believed to have begun in the first half of the 12th century during the reign of King Suryavarman II, still to this day seen as one of the most important rulers in the history of Cambodia. Not only did he build these incredible structures, but he is thought to have reunited the country during times of turbulence, built a powerful government and had an extremely successful reign as king. His picture can still be seen today at Phnom Penh airport to welcome all visitors to Cambodia.
Though famous researchers claim they have proven the temples were built by mere men, many do believe that there had to have been some sort of divine architect that lent a helping hand to the construction, leading many to other theories of how they were built, our resident TruTravels archaeological and supernatural expert Mr. Harry Bradbury has his own facts on hand that he also wanted to share with us.
Find out our Harry's Angkor Wat theories in this video below...
King Suryavarman originally dedicated the temple to the Hindu god Vishnu. This alone makes the temple quite unique, as most temples around that time were orientated towards the east, whereas Angkor Wat faces west. This is believed to coincide with its relevance to Vishnu.
At the end of the 12th century, Angkor Wat was converted to a Buddhist temple by monks and has remained that way since. The various different carvings of women, celestial creatures and faces seen throughout the temples are not only religious figures, but also depict life within the Angkorian era.
Angkor Wat's architecture itself is seen as the pinnacle of the high Khmer style and still today is wondered over, so much so that it's even been recognised by UNESCO as a world heritage site and can even be found on the list of Man-Made Wonders of the World!
Angkor Wat lies at the intersection of Cambodia's history and future. Translated from Khmer as 'Capital Temple', Angkor Wat can even be found on Cambodia's flag, and with 2.1 million people visiting last year alone, you can see how Angkor Wat is a big part of Cambodia's economic future.
A large amount of the profits from admittance do go back into the site's restorations, but sadly over time the sites have been weathered or and partly reclaimed by the encroaching jungle. During the reign of the Khmer Rouge during the 70's, large amounts of Angkor Wat were defaced and even destroyed, and in some places you can still see where bullets struck the walls of the temple.
If you're visiting S.E Asia and are making your way through Cambodia, don't hesitate to get yourself to this incredible place. Having been to hundreds of temples across Asia and admittedly slightly tired of 'temple-ing' nowadays, I still relish every opportunity I get to visit Angkor Wat and its surrounding temples. They truly are something very special and simply out of this world ...which brings me to my next point.
As mentioned earlier, and no doubt the suspense has been killing you, but after what seemed like endless research, deliberation and looking at rocks, TruTravels can confirm without a shadow of a doubt that Angkor Wat was ACTUALLY built by...aliens!
Now before you say "No way!", or "This guy doesn't know what he's talking about", let's look at the facts:
They built with some heavy f**kin' rocks! No mere mortal creature could lift such things!
The carvings are better than some Marvel comics! Alien artistry, no doubt!
They had crazy gangster knowledge of irrigation! Aliens be havin' water fights back then!
TruTravels says so.
Well, now you know the truth, come and explore the whole truth (here comes the shameless plug) on our 12-Day Cambodia Explorer Tour. We'll hit up all the hot spots across Cambodia before finishing up with an epic sunrise at Angkor Wat. What better way to enjoy ancient alien architecture!?
*Note: We don't actually think aliens built Angkor Wat (though they might have) and if you come on tour with this we will be sure to give you properly accurate historical descriptions of all the temples and places we visit (to the best of our knowledge). And if we make anything up for our amusement we will tell you at some point. Probably.