Koh Phangan is a beautiful island off the South East Coast of Thailand. Koh Phangan is most famous for being the home of the world-famous Full Moon Party, which is a huge monthly beach party that attracts over 10,000 young people from all over the world. While this is no doubt a fun party, there is so much more to Koh Phangan, so do not make the mistake that 90% of people do and just stay here for 2 days for the party. There are beautiful secluded beaches, viewpoint bars, waterfalls, daytime activities, boat trips, water sports, kite surfing, water parks, delicious restaurants, and of course, other great parties. So if you are planning a trip to Thailand anytime soon, these are some the areas you will want to add to your travel bucket list.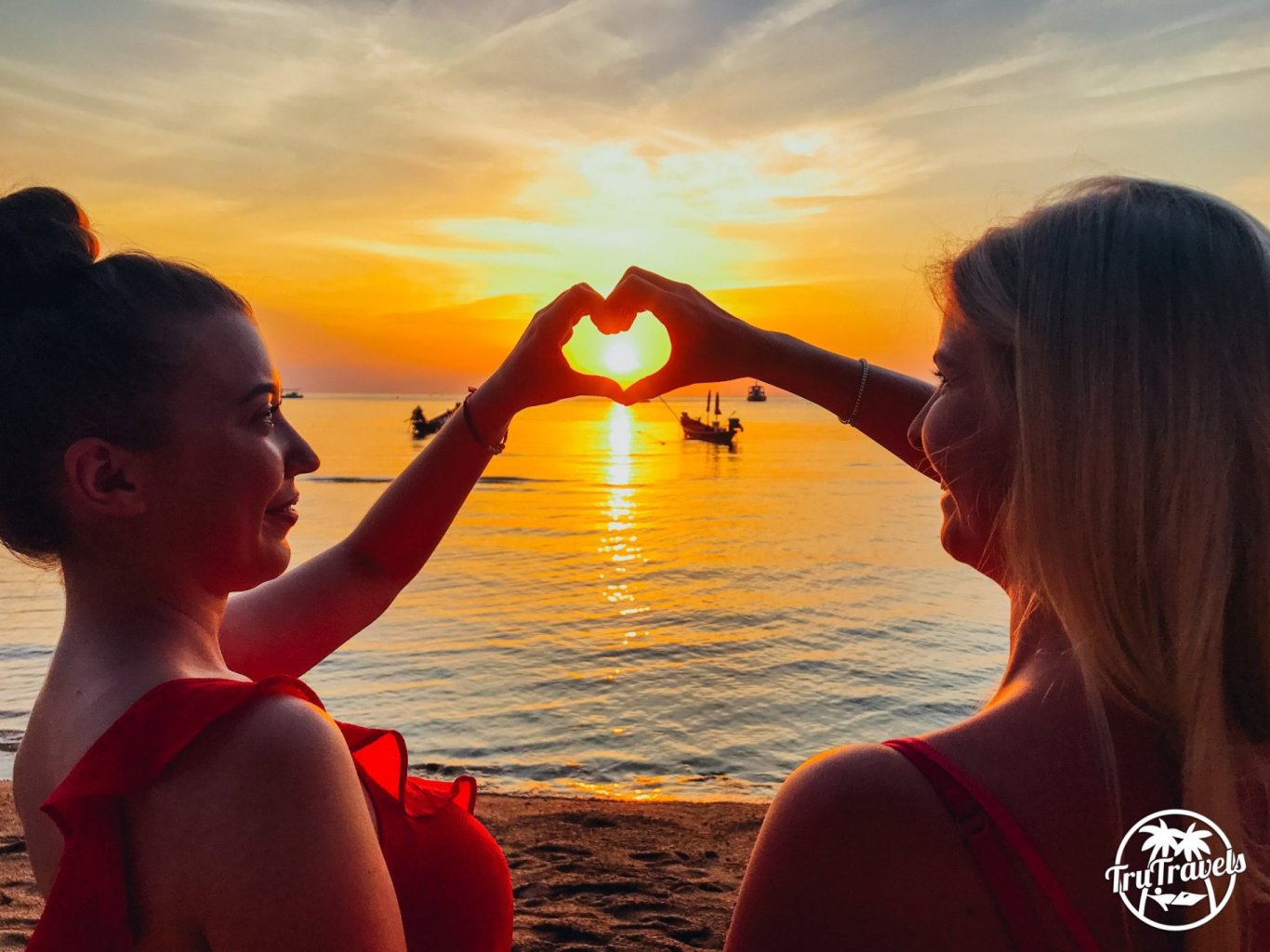 BEST PLACES TO STAY IN KOH PHANGAN
NO.1 HAAD RIN
Haad Rin is in the South which is where the monthly Full Moon Party happens. Many people who are just going for the party stay here and don't see much else, which is a shame. Haad Rin has a beautiful beach (just not the day after the party) and plenty of nice hotels, however, it has had its hay day and now many young party-goers tend to stay outside Haad Rin and just get a cab there for the party.
NO.2 BAAN TAI
The main area where backpackers tend to stay now is Baan Tai, which is located in between Haad Rin and the main town of Thong Sala (where the ferries arrive) and is about a 10 min taxi ride from both. Baan Tai also happens to be where some of the other major parties are located such as Half moon and Jungle Experience and from here it is easy to get to every other part of the island by car or motor bike.
NO.3 HAAD YAO/SALAD/CHAO PAO
Further up north on the west coast you have some lovely beaches like Haad Yao, Haad Salad and Haad Chao Pao but being further away from the parties, this area is more popular with families and older travellers, with Srithanu being the "spiritual" area with plenty of vegan restaurants, yoga schools and plenty of hippies and "conscious people" seeking enlightenment.
The east of the island is far less developed and has loads of stunning beaches, one or two of which with absolutely no development at all, so it is well worth taking a trip over there either by boat or car/bike.

TOP ACCOMMODATION PICKS...
So, without further delay, here are our top 5 picks for young adults and backpackers looking to make the most of their time in Koh Phangan. We have deliberately chosen one resort/hotel/hostel from each of the main areas we have mentioned above and we would highly recommend staying in at least two of these places during your stay on the island so that you can experience more than one of its sides/personalities, see more of its amazing beauty, and take part in more of the great activities that you can and should do here.
NO.1 MAD MONKEY HOSTEL - THONG SALA, KOH PHANGAN
Always a favourite among backpackers and young travellers in South East Asia. This popular party hostel chain has grown from a few locations in Cambodia around 5 years ago, to having several destinations in Cambodia, Thailand, Indonesia & The Philippines. The reason they have grown to be so popular is because they know how to do it right and are a cut above most other hostels you will find! Their hostels are clean, comfortable and well run, the staff are friendly and trustworthy, the locations are good and they know how to party! As well as this they do some great stuff in the community meaning some of your money goes to local causes to help change lives and make the world a slightly better place.
On some of our Southern Thailand tours stay at this awesome hostel when we get to Koh Phangan. It has the highest standard of room of any hostel in Koh Phangan by far, and also many hotels, dorms are all newly built, nicely finished with AC and custom-built, comfortable beds.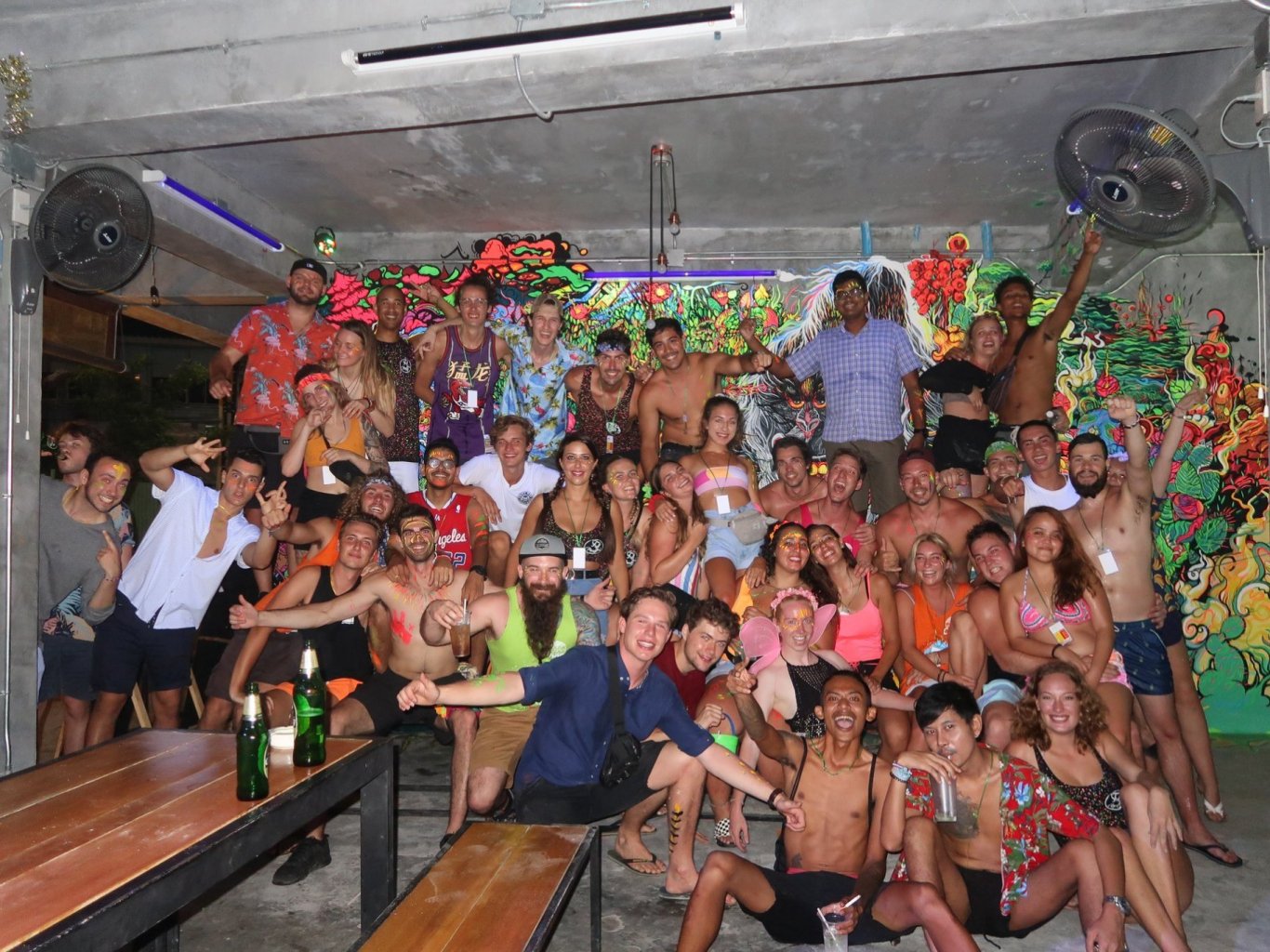 The location is perfect to get anywhere on the island relatively quickly. It is a 5 min taxi ride from the main pier in Thong Sala and from the hostel you can walk to the big food market in town as well as the nearest beach and several bars and restaurants. All the parties (Half Moon, Jungle, Full Moon etc..) are a 5-15 min taxi ride away. Plus all the amazing beaches, waterfalls, viewpoint bars and other attractions Phangan has to offer are within no more than a half-hour taxi or motorbike ride away.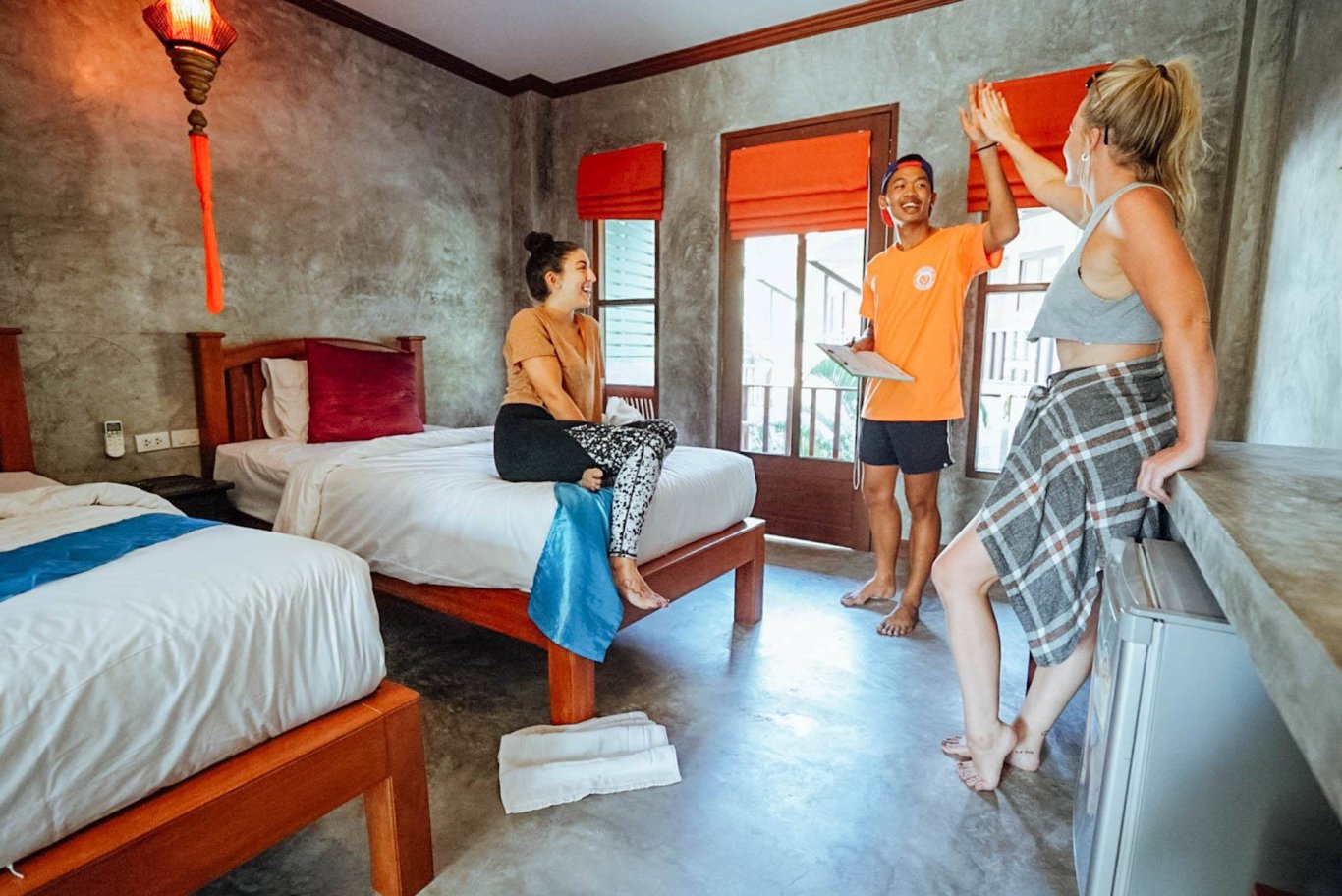 The hotel has an awesome 2 story bar with pool table, sun deck, cheap drinks, games, entertainment or DJs every night You can be sure to find some of the most lively pre-parties here with plenty of young party-goers warming up for the main events. They have a small but much needed swimming pool for those hot, hot days that are pretty common in Koh Phangan with plenty of seating in and around the pool and even a small bamboo swim-up bar which serves beer directly to you in the pool when it's busy. Wifi is some of the fastest on the island and the food is great, and they organise day trips almost every day to different must-see/do places and activities on the island so you will get to make the most of your time here.
In summary, if you are a young, fun-loving person who enjoys a party and the social element of a hostel then you need to stay here on your Thailand travels.
NO.2 TIKI BEACH RESORT - BAAN TAI, KOH PHANGAN
Moving slightly further south from the main town of Thong Sala, you next reach Baan Tai. As mentioned above, this and Thong Sala are pretty much the place where all the major hostels and backpacker places are now located, possibly due to its proximity to all of the islands nightlife and the fact it has a nice stretch of beach. As with neighbouring town Thong Sala, it is very quick and easy to get to almost anywhere you want to go on the island from here.
Tiki Beach itself is a brand new resort located right on the beach bang in the middle of Baan Tai. Being one of the best places to stay in Koh Phangan, we now stay here with Full Moon tour groups. It has spacious double, twin and triple bungalows which all come with AC, en suite bathrooms, hot showers and a balconies overlooking a huge garden, some poolside and beachfront rooms which are just as nice as the bungalows but closer to the pool and the beach, and a few dorms and family rooms which are suitable for people travelling alone who want to meet others easily or for large groups who wanna save money by sharing. As well as a massive stretch of beach, it has a medium size pool right next to the beach, and a huge common area with pool table.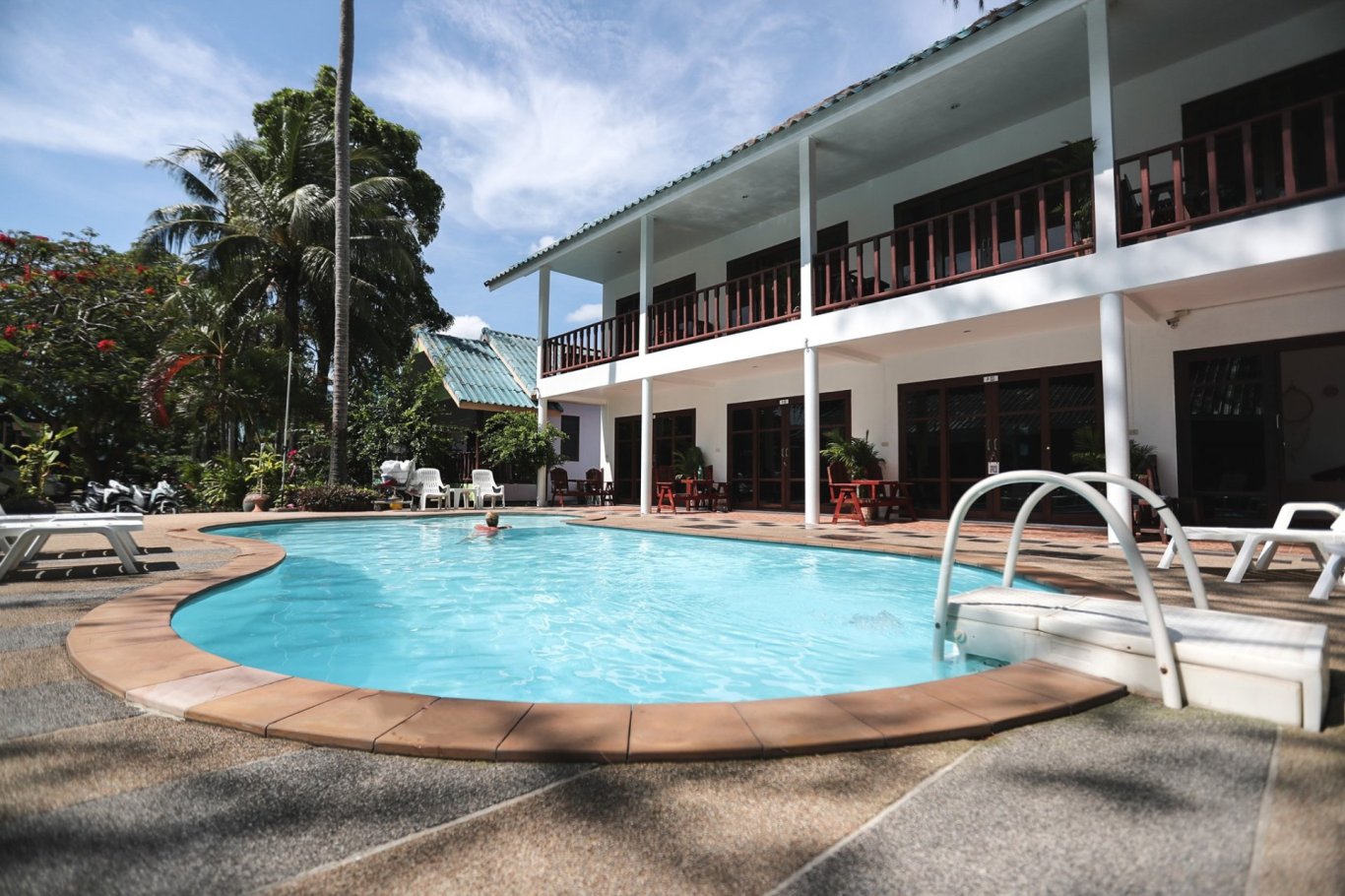 The vibe here is extremely laid back, the beachfront restaurant serves great western and Thai food and the Tiki Beach Bar is gaining somewhat of a reputation for being the coolest place to hang out in this part of town. Tiki Beach bar plays cool music all day and night, serves great cocktails, cheap beer and has some of the cheekiest most amusing staff on the beach. Beach loungers, hammocks, bean bags and tables mean you can always get a comfortable seat with a view.
They even have a watersports shack on the beach where you can book boat trips around the island, boat party cruises, and you can even have a go at wakeboarding, kiteboarding, windsurfing, paddleboarding, and lots more.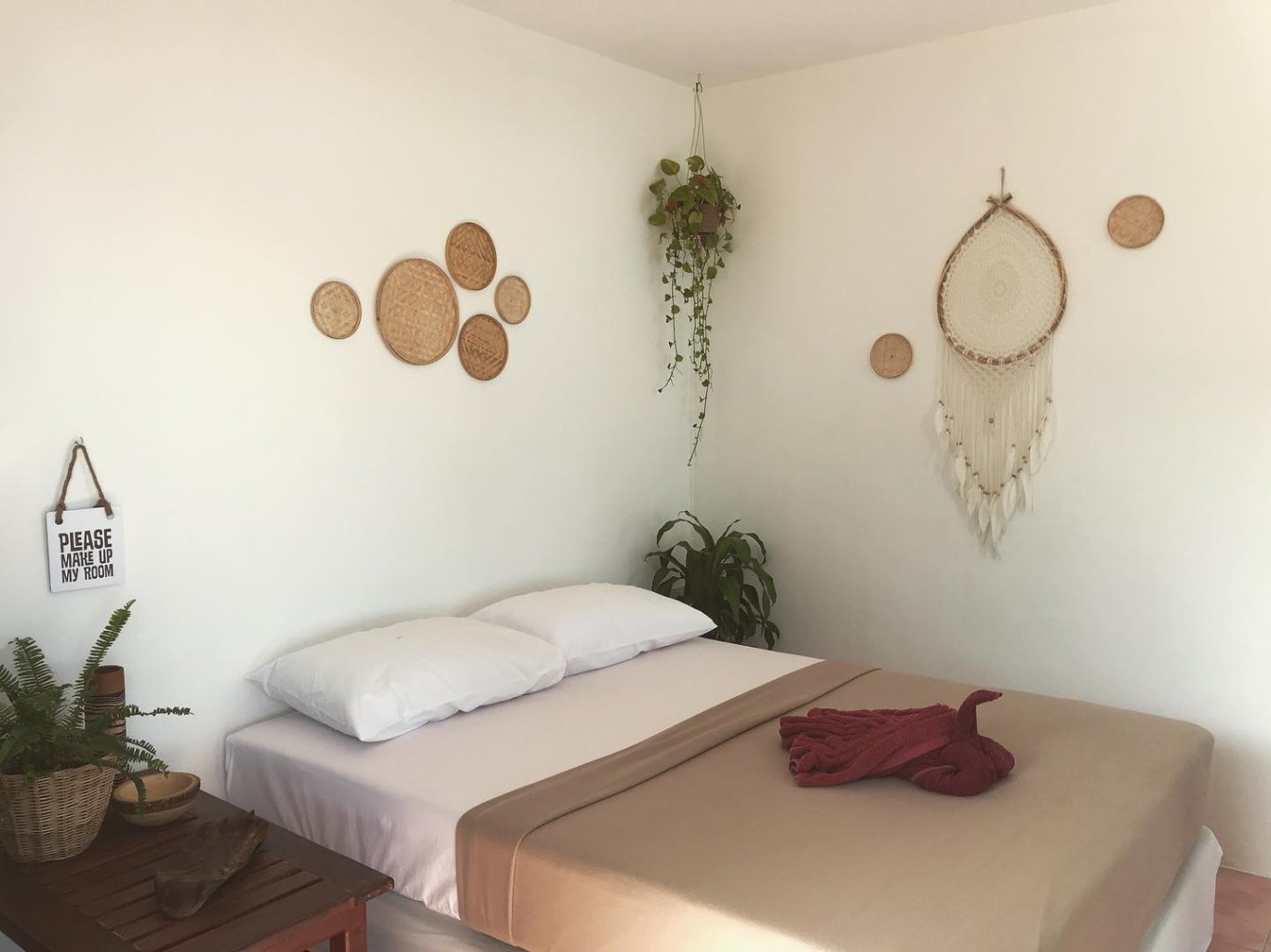 To summarise, this resort is perfect for young adults wanting to relax and have fun, solo travellers, groups and couples. Mostly private rooms with a chilled but social vibe, beach BBQ's and pre-parties for the islands main events. This is the new place to stay in Baan Tai.
NO.3 BOTTLE BEACH RESORT - HAAD KUAT/BOTTLE BEACH, KOH PHANGAN
Bottle beach is a small but beautiful little beach right at the north of the island. The fact that it is quite secluded and cut off from the rest of the island gives it the sort of castaway feel where there is nothing in the world to worry about but your next beer or meal. This is what backpacking in Thailand was like 15 years ago. On the beach, there are only 3 smallish resorts which have their own bungalows and restaurants so it has everything you need but will never feel over developed or crowded.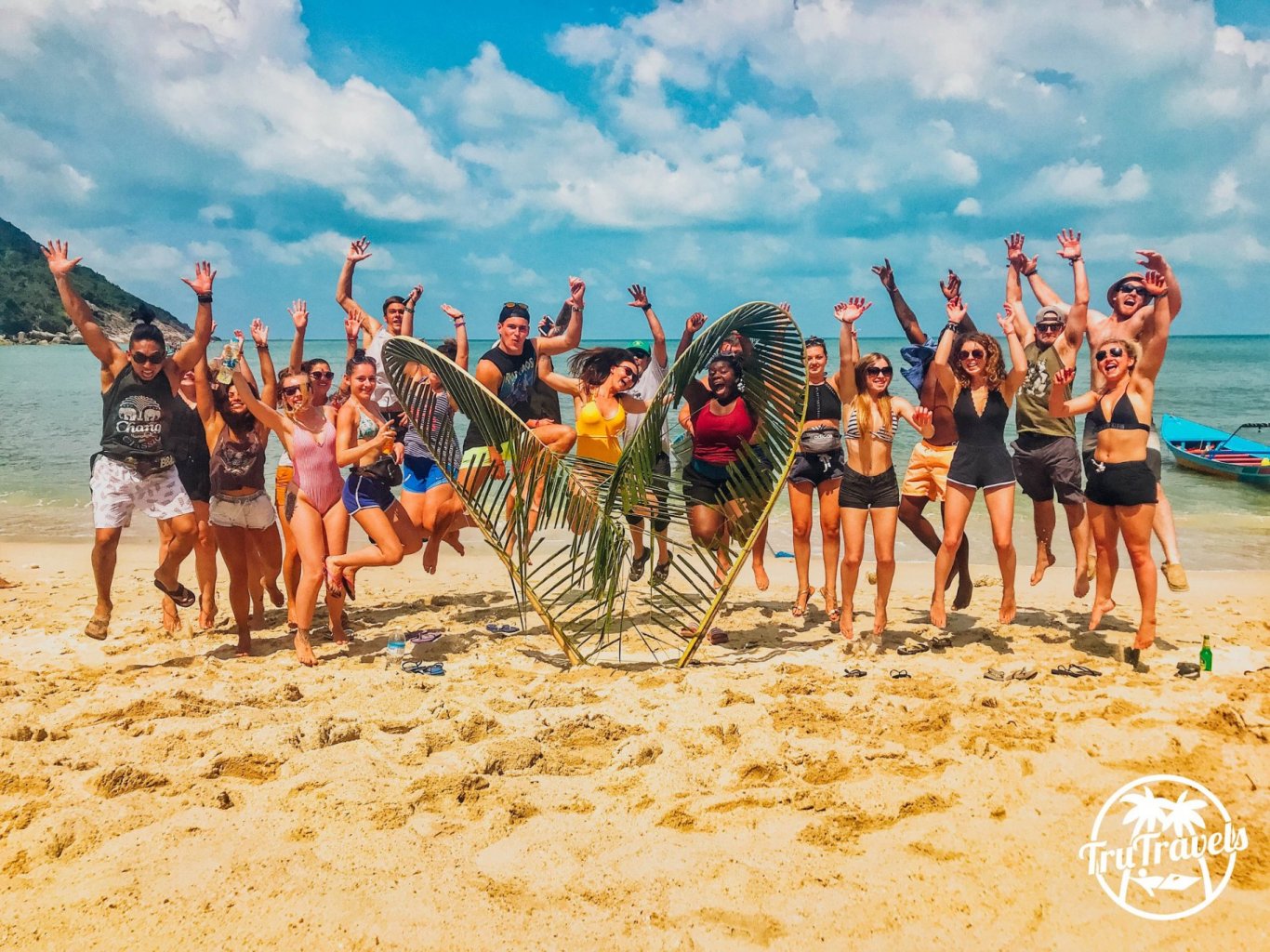 Not many people who visit take the time to stay at places like Bottle Beach any more and this is a huge shame. To get there is slightly longer than most other places on the island due to its remoteness, but it is well worth it as the nature here is so beautiful. The beach itself sits between crystal clear blue water, luscious green jungle, and high granite rock formations. There is a stunning viewpoint hike starting just behind the resort and leading up to a high peak from which you can see the whole bay, miles of ocean and island and also all the way over to Koh Tao on a clear day. You can rent kayaks, play volleyball, go snorkelling/swimming or just chill in a hammock or on the beach to your hearts content.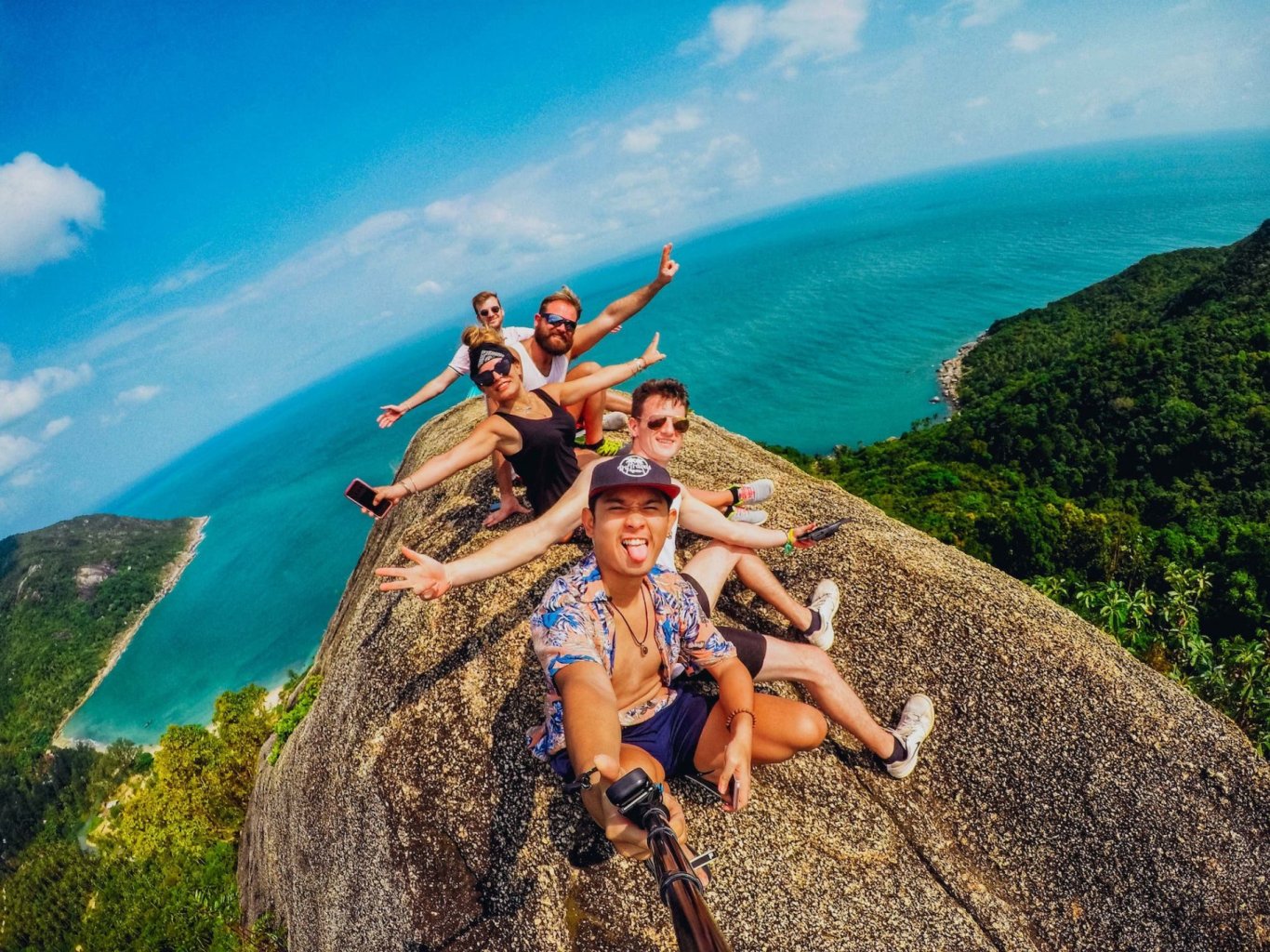 They have a very cool little beach bar and restaurant with pool table, nice food, friendly staff and of course the best views you can imagine. We have been taking our Southern Thailand groups here for years and as it is such a laid back, family-run resort, they will pretty much open the bar as late as you want and let you play your own music so long as there are still a few of you up and enjoying yourselves.
NO.4 MAI RAI BUNGALOWS - HAAD THAN SADET, KOH PHANGAN
Last but not least on our list is a little gem over on the east coast of the island. Similar style accommodation and surroundings to Bottle Beach, this is a great place to get away from everything for a night or two. Mai Pen Rai literally means "no problems", or "no worries" in English so you can imagine the sort of place it would be. Like Bottle Beach it is an absolutely beautiful little stretch of sand surrounded by nothing but nature. It is a bit easier to get to now that they have built a proper concrete road on this side of the island (it used to be all dirt roads or taxi boats) but it is still very secluded with nothing else on the beach but this resort.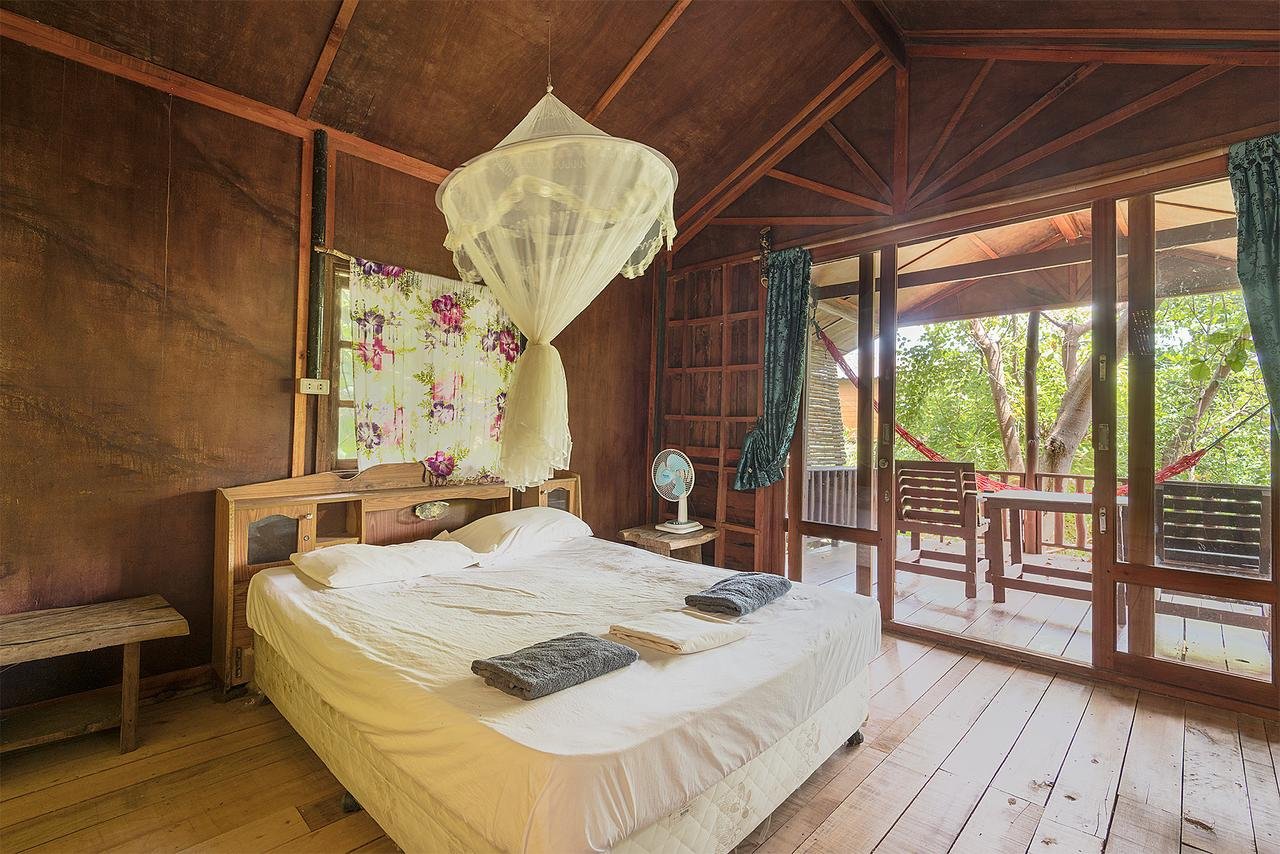 Than Sadet Beach is named after the waterfall with is only a few minutes walk away and happened to be famous with one or two of Thailands extremely well respected and loved former Kings, both King Rama V and King Rama VIV who very sadly, only recently passed away. Because these two both used to love to visit this waterfall, it is somewhat famous among locals, however the fact that it is only usually full of water after it has rained a lot and that it is pretty secluded means that it is definitely not overcrowded or a tourist trap.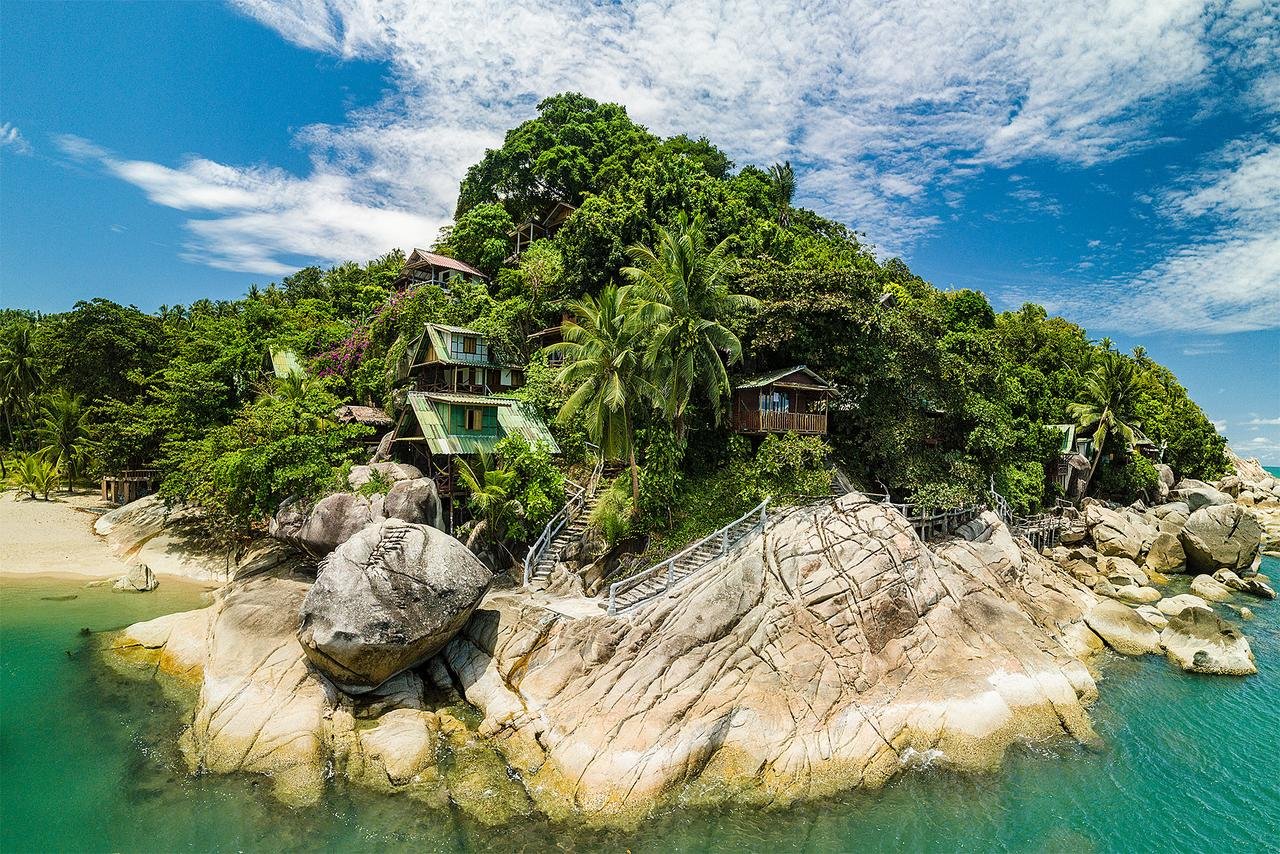 As with Bottle Beach, you would come here to experience what the island was like many years ago before all the roads, big hotels, chains and even 24 hour, mains electricity (it is still all generator power over here). Nothing but relaxation, beautiful beaches, nature hikes, swimming in crystal clear waters and sipping cocktails on the beach.
So they are our top places to stay in Koh Phangan, but you've got to come and see them for yourself to see how great they really are. Whether your journey one of our awesome Thailand tours or you're already on the island, make sure you come and say hi, and grab a beer with us in the sunshine.