This guide has been updated on June 23rd, 2020 from the original publication in Sept 2019 to outline the most recent news in terms of COVID-19 and to include our new 10-day Cambodia Explorer.
Cambodia is one seriously impressive country to visit. I mean this place is more diverse than a craft brewery's IPA list, more beautiful than all the TikTok doggos combined (that's an admittedly brave shout) and more welcoming than a reopening of the pubs back home. However, there is so much more to the country than Angkor Wat. It is often a common question of what the best route is when travelling around there, or how safe it is for backpackers, what are the must-visit spots and hidden gems. So, we're here to give you some much-needed travel inspo on exploring this stunning part of the world (when we can again).
CAMBODIA ESSENTIALS
Currency: Cambodian Riel is their official currency, however, they do often use US dollars so it's worth having some as a backup. £1 is the equivalent of around 5,075KHR so dropping 50k on a night out is not as reckless as in Vegas (and might we add a much more authentic experience in our humble opinion).
Visa: a 30-day tourist visa is required for all tourists which you can get on arrival for $30 at Phnom Penh, Siem Reap, and Preah Sihanouk. Alternatively, if you are super organized you can buy an e-visa online.
COVID-19 Status: Cambodia has been largely spared the pandemic thus far with only 128 reported cases and no deaths as of June 18th. As a result, entry into Cambodia has been re-established from late May albeit with significant provisions including a mandatory COVID-19 test on arrival. Just like everywhere else, it is very much an evolving situation but the expectation is that Cambodia will be an active destination again before too long.
Safety: Cambodia is generally a safe country, the locals are super friendly and welcoming to tourists. However, as with all places, it's important to keep your wits about you like any normal human being. Keep your belongings safe and try not to wander on your own in rural areas. It's better to be safe than sorry, but in the main, it is a wonderful and safe place to visit, especially with a Travel Ninja on your shoulder to guide you.
Best Known For: The simply magnificent Angor Wat temple in Siem Reap and one of the most iconic sunrises anywhere in the world. Cambodia is stunningly beautiful but has a tragic and violent past, something that is guaranteed to have a lasting effect on all those who visit. Visitors to Cambodia will also wax lyrical about the wonderfully friendly and accommodating locals. Their pride for their home seaps from every pore and it's really infectious.
Tru Tours: As a destination, Cambodia has become a must-visit addition to Southeast Asia over the last 20 years. In addition to our existing 12-day Cambodia Explorer, new for 2021 we are launching a new 10-day itinerary in case your boss is being a real jerk about your time off.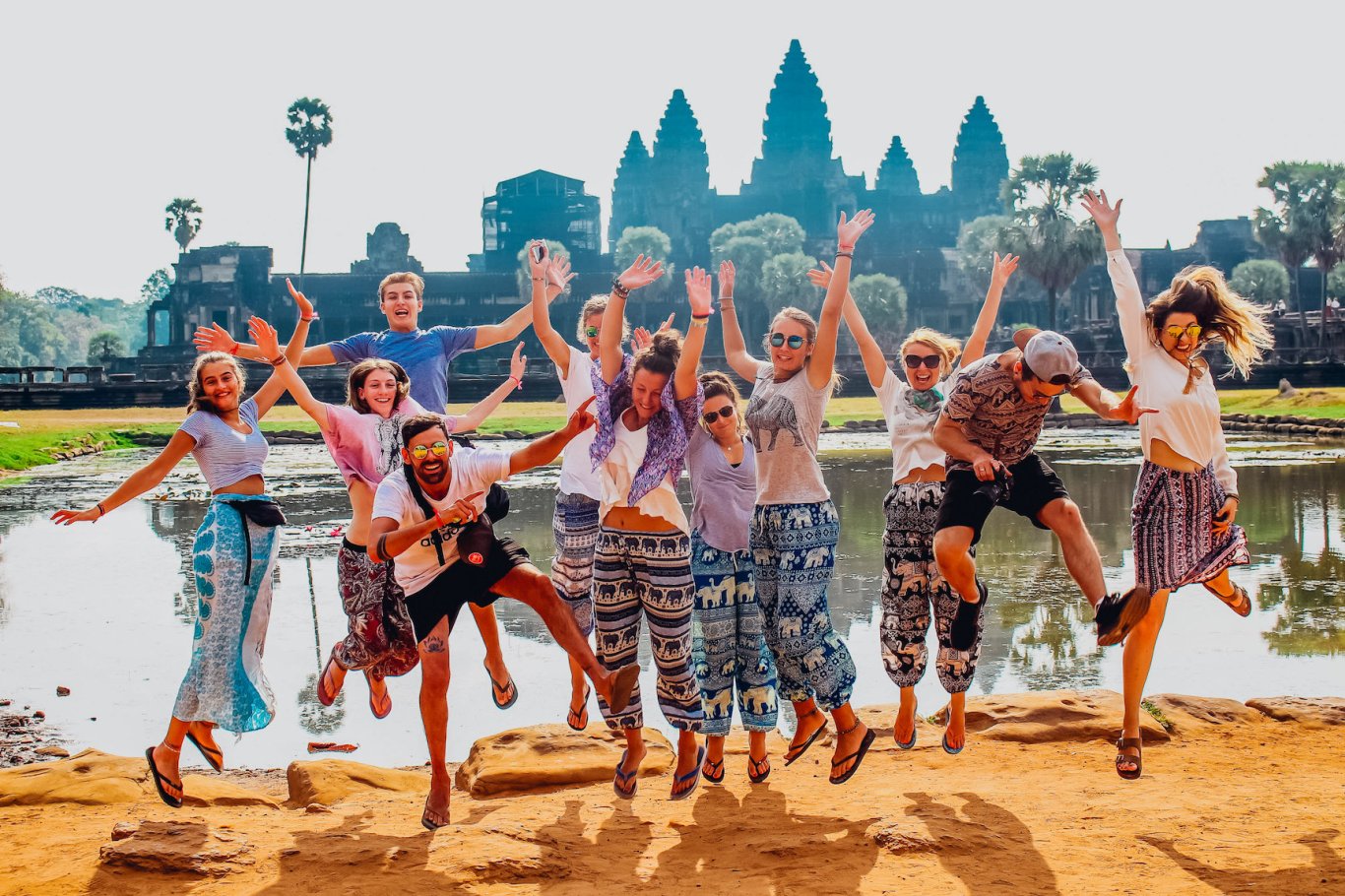 TRAVELLING TO CAMBODIA
When planning how to to get around Cambodia, a common route is to travel Thailand, Cambodia and Vietnam altogether, as they are all on each other's doorstep. If you are starting your trip in a neighbouring country, there are plenty of options to get yourself around when backpacking Cambodia.
Both of our Cambodia itineraries begin in Siem Reap with a number of different ways of making your way to meet you group:
1. You can get a bus from Bangkok (Mo Chit) to Siem Reap which costs approximately 750 Baht (around £20) and takes 6-7 hours in addition to 7-8 litres of sweat (just telling it like it is folks).
2. The quickest way is to fly. If you are in Thailand you can fly from Bangkok to Siem Reap or Phnom Penh which will take around 1 hour and costs approximately £100. Alternatively, from Hanoi to Siem Reap it costs around £50-£100.
3. If you are in Vietnam the cheapest option would be to get an overnight bus from Ho Chi Minh city to Phnom Phen which costs £15 and takes around 6.5 hours.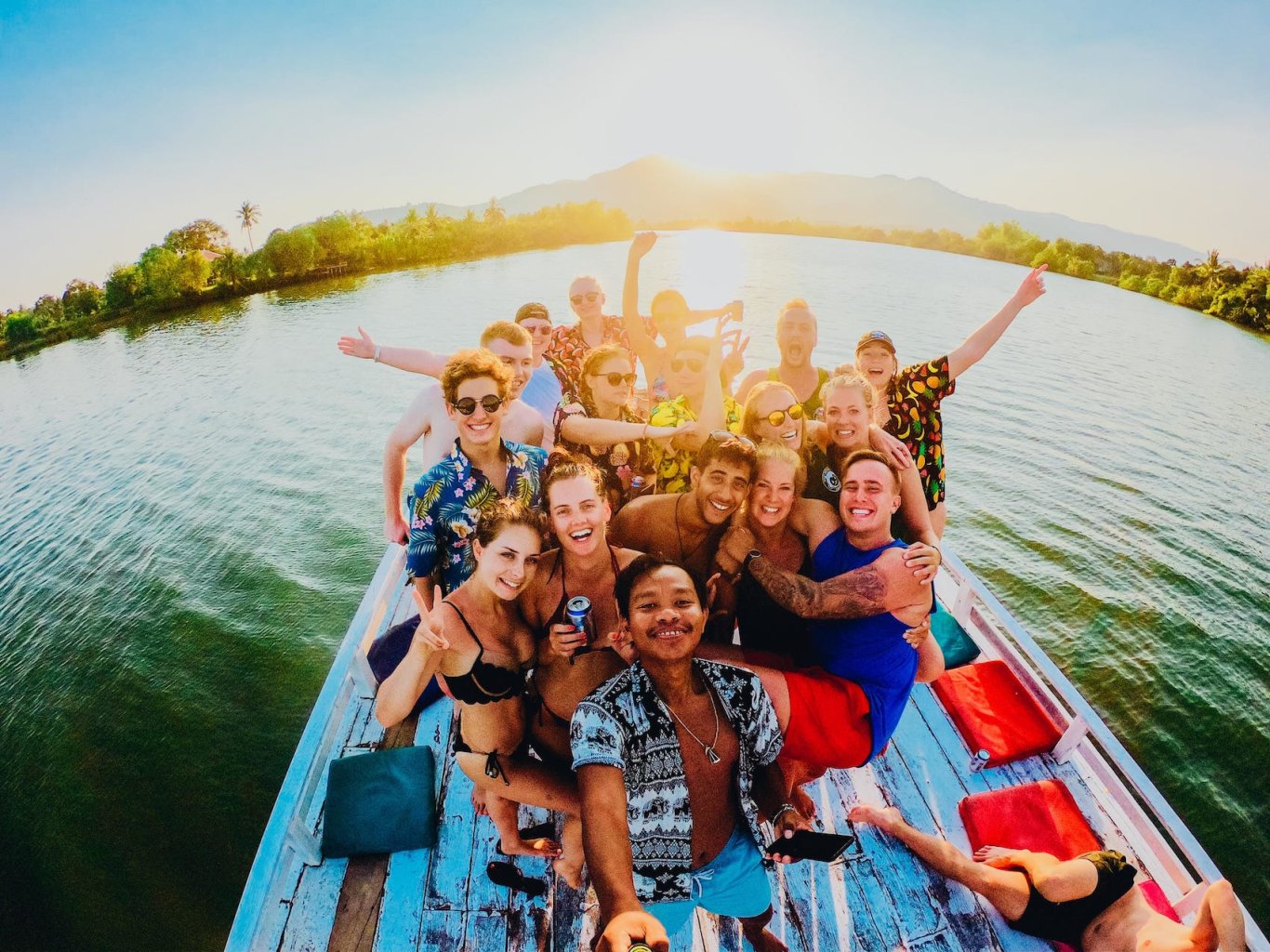 HIGHLIGHTS IN CAMBODIA
Siem Reap
Touch down in Siem Reap and learn to make your own authentic Khmer food & even better you can feast on it after! The perfect way to indulge yourself in their culture to kick start your travels there. Afterwards, get an early night to catch the sunrise at the famous Angkor wat temple, you can't miss this experience if you are travelling to Cambodia! Spend the evening at the famous Pub Street - a real backpackers hub & perfect to meet lots of other like-minded travellers. If you're thinking Pub Street sounds good, you are terribly underprepared for the absurd fun that is had here pretty much round the clock. Like-minded, fun-loving backpackers plus the social lubricant of a few cold beers (or not, whichever you prefer) is not an experience you'll forget in a hurry (once you take it relatively easy!).
Floating Villages
A super cultural & fascinating experience especially if you are looking for something different on your travels. There are a few floating villages in Cambodia; Chong Khneas is close by to Siem Reap and Kampong Khleang which is 50km from Siem Reap. Take a boat trip to get a hands-on experience and immerse yourself within the handmade houses that will fill you with a mix of heartfelt emotions. There is something very beautiful about this communities way of life and you'll also notice beaming smiles on the faces of the locals. It's almost as if they've already figured out that arguing with strangers on Twitter isn't particularly enjoyable or healthy.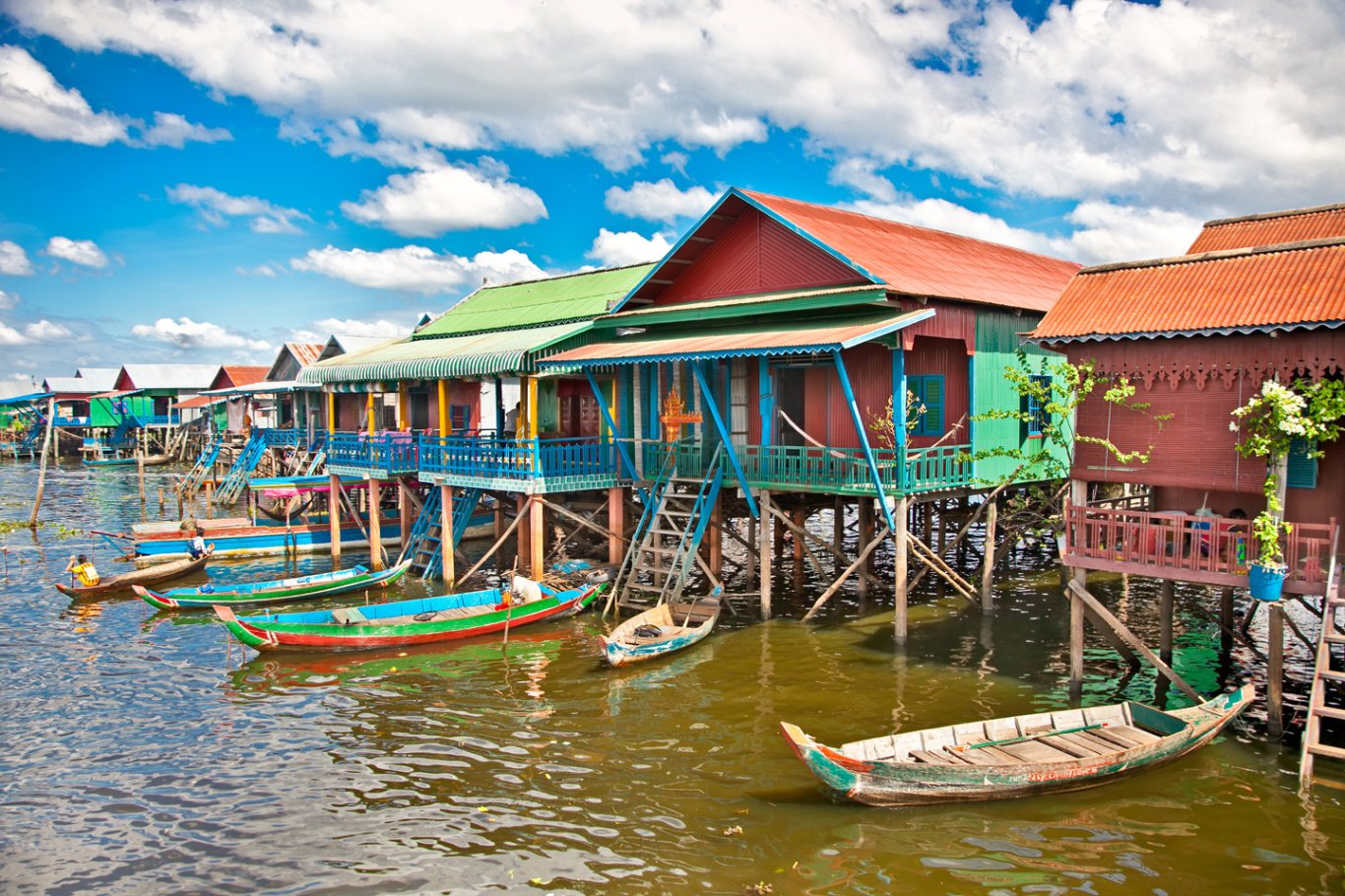 Kampot
Hop on a bus from Phnom Penh to take a short ride to Kampot. Arrive at this cool little town where you can take a boat trip along the river surrounded by lush green trees. A great destination for a spot of activities. From rope swings to pontoons & tubes, the place to get your adrenaline pumping!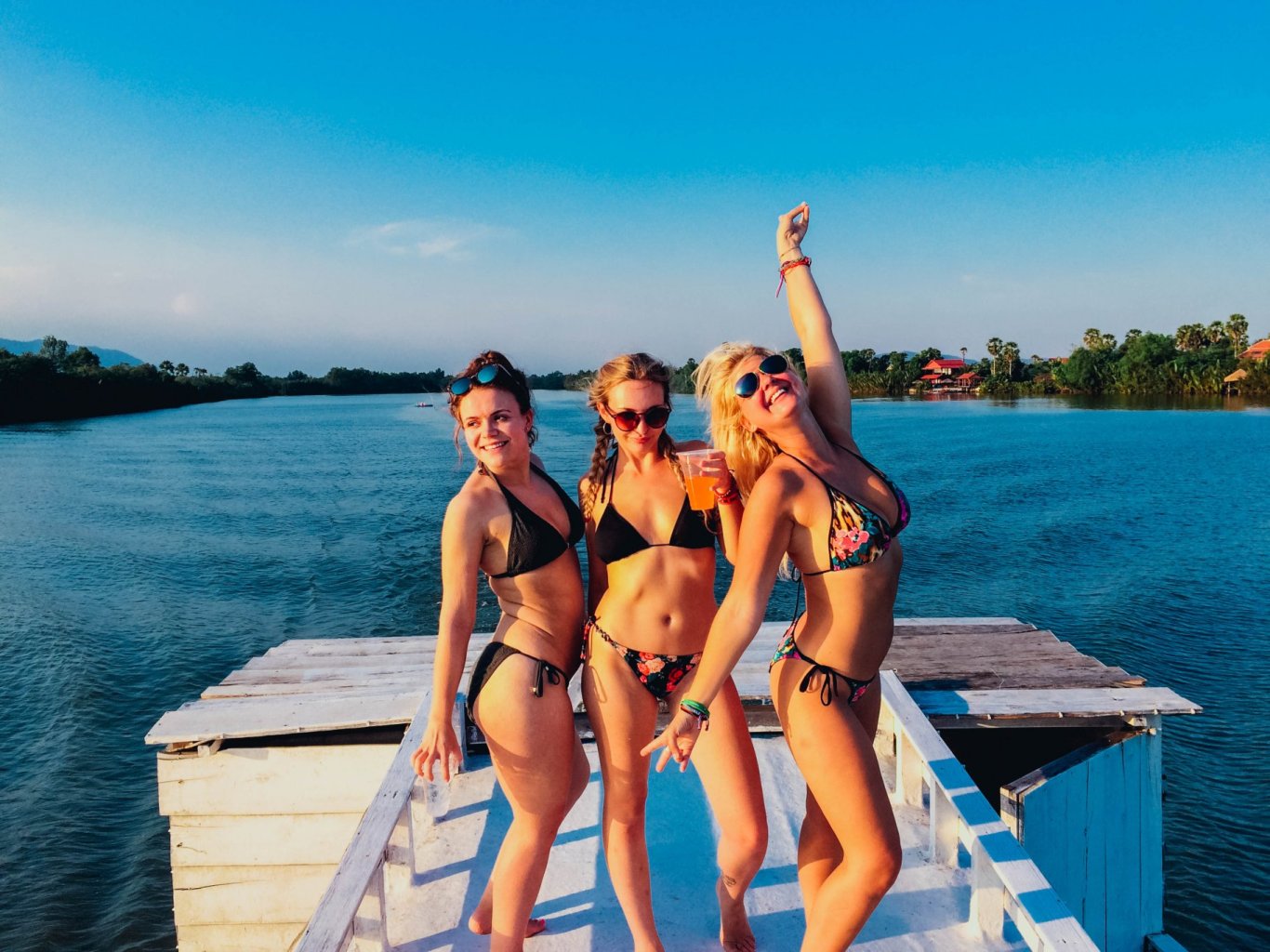 Koh Rong
If you are looking for paradise then look no further! Arguably the most beautiful place in Cambodia, where you can relax on the beach, cool off in the crystal clear waters & get your idyllic photos on the sea hammocks. We could drone on about Koh Rong, but we process visual information 50,000 times faster than textual...you get the idea!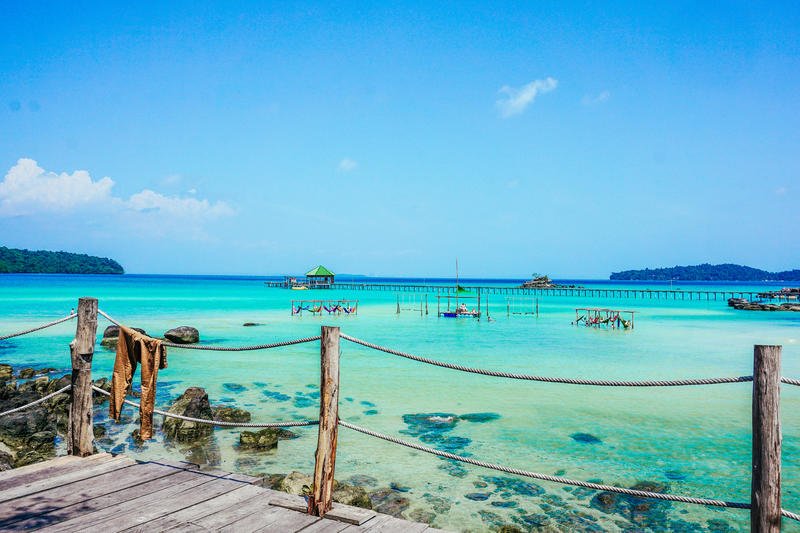 So there you have a few ideas to give you an idea of the best route to travel in Cambodia! If you are still on stuck where to go, pop us a message or check out our Cambodia itineraries, for a stress-free adventure!