WELCOME TO OUR MINI SERIES - TRUSTORIES
DELHI, INDIA
India is an incredible destination to travel to that is made up of culture like no other. The people of India is what makes this place so special and tourism is a massive part of their life and the economy. In this TruStory, learn about one of the most trusted non-profit organisations in India for street children, Salaam Baalak Trust and how tourism has allowed them to spread awareness. They are dedicated to providing a sensitive and caring environment for street and working children in Delhi. India's population is currently 1.4 billion and 5% of this population is still living and working on the streets, many of which are children.

SALAAM BAALAK TRUST
Thirty-one years ago, the Trust discovered the world of street children within the harsh underbelly of Delhi, and as a result, Salaam Baalak Trust was born. The children were all lacking food, security, education, health and love. Salaam Baalak Trust literally translates to 'Trust which salutes the child'. Thanks to this amazing Trust, they have been able to not only put a big smile on the children's faces but give them the support that every child deserves!
"We salute their resolve to live a life of dignity and by providing them with care, love, along with health, nutrition, education and vocational training facilities to fulfil their dreams. "
Salaam Baalak Trust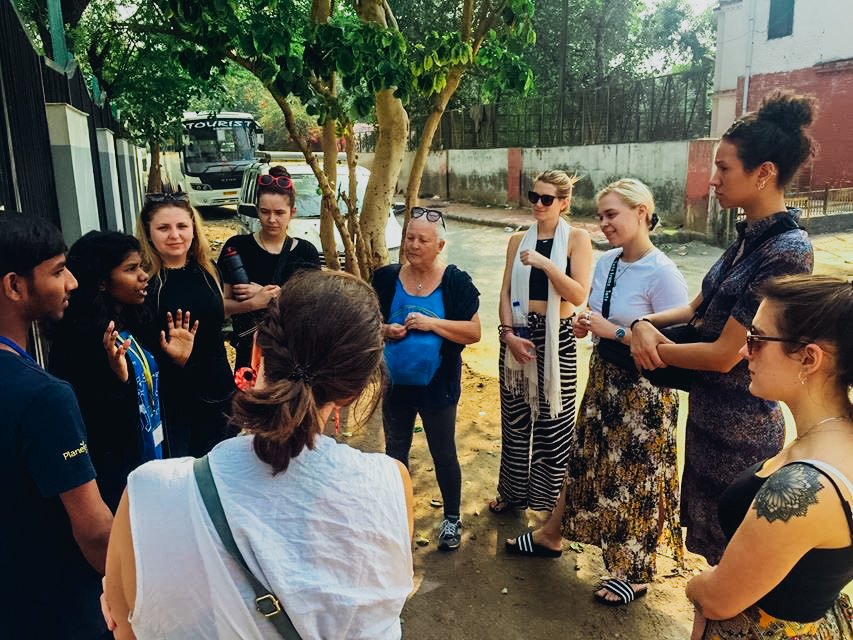 GUIDED STREET TOUR OF DELHI
On day two of our India Uncovered tour, we go on a 2 hour City guided walk around Delhi led by teenagers who used to live in the streets of Delhi before joining the Trust. They are fully trained as local guides and use this as an opportunity to improve their communication and speaking skills by sharing first hands stories of their time on the streets, and giving people a view of their world through their eyes.
The tour takes you away from the main tourist attractions and through the streets of Paharganj and the area around New Delhi railway station. This gives guests a precious insight into how Salaam Baalak Trust is providing children with shelter, food, education, medication, and anything else they need. Over the last seven years, thousands have taken the walk and empowered a number of children, helping them to join mainstream life. Not only does this support the locals but it is an amazing and rewarding experience while you're on your India travels!
The City Walk has allowed the Trust to focus on their four key missions to provide children with homes, health protection, education and social inclusion and recreation. The Trust believes that educating children will strengthen their independence and prepare them for a life of their own, so continuing to support this organisation will change the lives of so many children in India.
"We want to help nurture their dreams and make them realise that their fate can be crafted by their own heart, their own hands and a firm resolve".
Salaam Baalak Trust
Here is a video from Surya, one of our awesome group leaders providing insight into how Salaam Baalak Trust raises awareness of the issue through their guided walking tours.
ANNY FROM SALAAM BAALAK TRUST
Anny is an energetic 19-year-old girl who now works as a local guide for Salaam Baalak Trust, but her life wasn't always that way. When the TruCrew first went to set up the India Uncovered tour, they met Anny and instantly fell in love with her happy vibes and beaming smiles. Here is Anny's story -
IMPACT OF TOURISM
Travellers joining these walking tours have allowed the Trust to continue to raise awareness, empower the people of local communities and help give the children support where possible. These tours also provide people like Anny with an education and a job, meaning in the long run, they will have a happy (and financially stable) lifestyle.
Check out more of our TruStories from the Philippines and Bali for further inspiring reads!