Welcome to another blog in our series of 'Best Places To Travel.' For those who will be facing the cold winter months in the western part of the world, or if you are lucky to have the sun shining but are just in REAL NEED of an overseas holiday, check out all of our best places to travel in February 2021!
FEBRUARY TRAVEL 2021



NO.1 EXPLORE MEXICO
What is the first thing that springs to mind when you think of Mexico? Probably their mouth-watering cuisine and tequila right? While you're not wrong, there is so much more to this country than you might think!
If hot weather, beautiful beaches, rich culture and lively nightlife is what you're after for your February 2021 travels, the Yucatán Peninsula is for you! February is one of the driest months for Mexico with virtually no rain, hot weather and great temperatures reaching averages of around 28 degrees Celsius.
There are countless amounts of things to do in Mexico from checking out the postcard picture-perfect Caribbean coast to partying the night away on the famous beachside town of Cancún. Spend your time relaxing on pristine beaches, swimming with tropical marine life, wandering around the ancient Mayan ruins of Chichen Itza or diving into freshwater pools, known as cenotes. Make sure you've read our 'Tips for Travelling Latin America', and you'll be ready to take that trip to Mexico in 2021!
Mexico Highlights: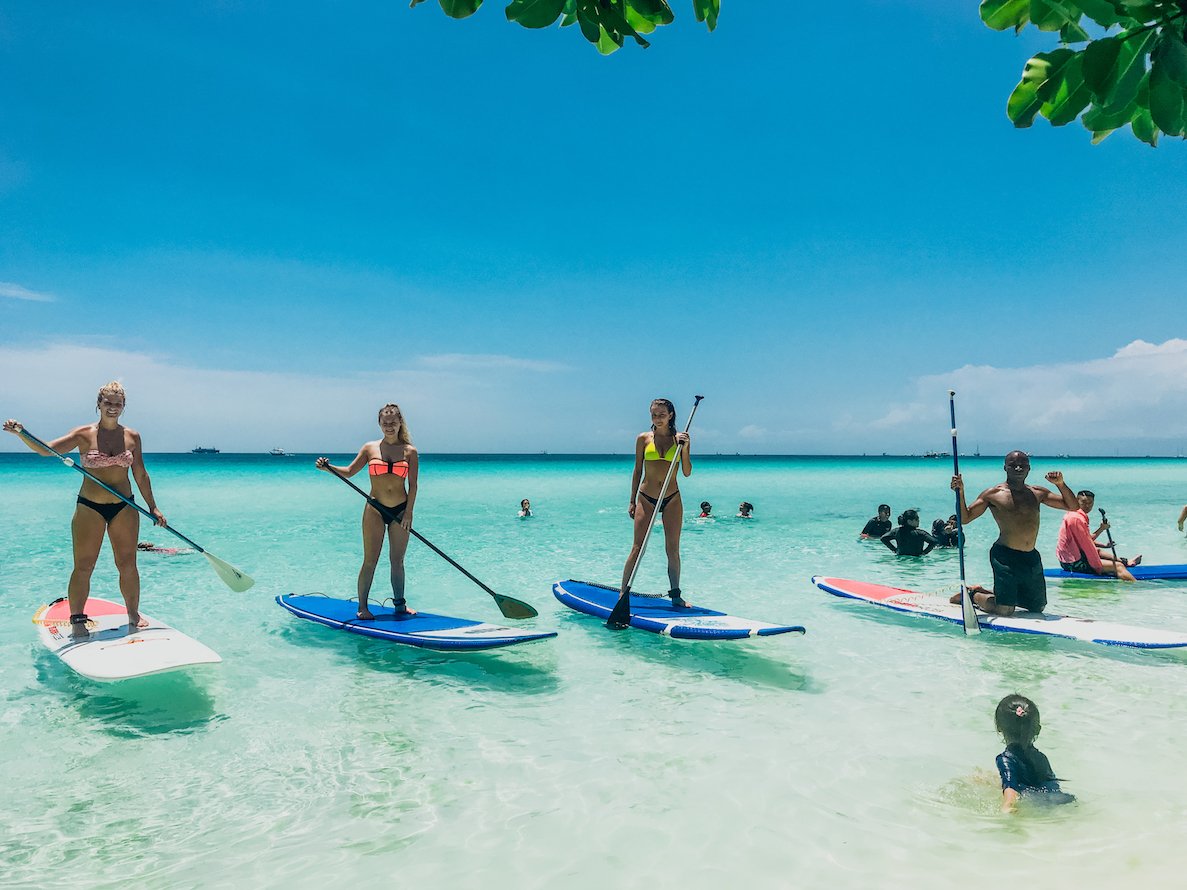 NO.2 ISLAND-HOPPING AROUND PHILIPPINES EAST
If you're looking to travel in 2021, the Philippines in February is a must! Made up of over 7,000 islands, the Philippines is one of the largest archipelagos in the world. As you can imagine, many remote beaches are abundant, making it a picture-perfect holiday destination. The East of the Philippines is a popular and must-see place for all travellers to visit. It is great to explore with plenty of activities such as canyoneering at Kawasan falls, snorkelling the sardine run in Moalboal, island-hopping and surfing in Siargao.
Philippines East Highlights:


NO.3 VISIT SINGAPORE
Singapore is hot, humid and pretty much an all year round destination which makes it super popular with tourists. February through to April are the driest months with averages of 27 degrees, a great time to check out what this modern city has to offer!
This country is known as one of the cleanest and most expensive shopping havens in Asia with many huge swanky shopping malls in Orchard Road you are bound to get lost in. It has a mix of contemporary districts with many different cultures from the graffiti art in 'Little India' to delicious street food in Chinatown. One of the highlights of Singapore has to be the 'Gardens By The Bay', a huge 101 hectares of green space filled with lush flora and fauna covered by the flower dome. This floral paradise is the biggest greenhouse in the world, and every evening there is a dazzling light and sound show, not to be missed!
Singapore Highlights:
Gardens by the bay
Singapore Botanical gardens
Check out Marina Bay
If travelling in February in 2021 doesn't work for you, don't worry! Find out more about the best destinations to travel from November 2020 to May 2021 and check out the following blogs:
Best Places To Travel In November 2020
Best Places To Travel in December 2020
Best Places To Travel In January 2021