So some of you might know I went to Greece at the beginning of August 2020, I mean you should know, I posted it all over Insta and even wrote a blog about it... Haven't you seen it? God, where have you been? Check it out here. (Hey, whilst you're there...We've also currently got up to 30% off Greece departures for THIS summer!)
GREECE IS WHERE IT'S AT
Greece has become THE place to be, with crystal clear waters, unbelievable cuisine and 2 Euro beers. What more could you ask for?! But is there a better way to see Greece? With over 200 inhabited islands have you really seeeeen Greece by just visiting one? Introducing SailVentures! With the likes of Leonardo Dicaprio and Tom Hanks sailing the Aegean sea on their superyacht, living the dream, island hopping from day to day, I had to think... Are these yachts only for the rich & famous?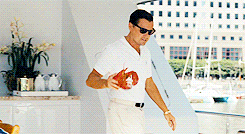 This sparked a conversation with us at Tru, we've always been committed to giving you life-changing experiences at a fraction of the price. Therefore I CONVINCED THE GUYS TO BUY A BOAT. No, Just kidding but we HAVE chartered a massive 98ft yacht to give you, ALL past, present and future TruTravellers (especially me) that little taste of the rich and famous. Sure I'll be bringing my knock off ray bans and Primark swimsuit, but I'm going to be on a yacht so yeah call me Gemma Dicaprio from here onwards. Please do, I love him. I'm dreaming of spending the morning snorkelling and sipping champagne from frosted glass flutes whilst sailing from island to island.
Actually naaaah. That dream's becoming a reality.
Wind in my hair, sailing the sea, crystal clear waters splashing up at my feet pulling out all those poses like I'm being snapped for the cover of Vogue. TOO MUCH? NAH NEVER. One day I'm swimming in the crystal clear waters of the blue lagoon in Syvota the next day partying, sipping cocktails in Kavos. I'm hitting up Parga Town to explore the famous cobbled streets of Greece or even watching the sun go down as I devour a BBQ dinner onboard. GREECE. IS. THE. DREAM. Hey, I'm on a boat. what more can you expect?
I'M ON A BOAT B*TCHES
Imagine stepping off the boat every morning on a different island. One day we're reenacting Mamma Mia, the next day you're James Bond slow-mo walking out of the sea. Low key I've always wanted to be a bond girl. Am I ready to not have another Gyros or devour another plate load of Tzatziki for another year? No, I AM NOT. I'm going to Greece! Oi oi Captain, we have our heading! I'm sipping margarita's, checking out the local towns, and eating fresh seafood every day before resting my weary head with the Trucrew onboard. Mannnn did I mention our accommodation is a 98ft yacht? Yes, we're classy!
YOU ONLY HAVE TO UNPACK ONCE!
Uhhhh If you're one of those people who unpack and repack with every hotel they check into, I salute you but the best part about sailing for me, is the beauty of only unpacking once. Island hopping but without the stress of having to sit on my suitcase just to get it to close every other day and having to check out. That's the way to do it. Plus, on a boat, you can control your enivroment, It's good to know who and what you're sharing your stuff with. Who's clean or who need's throwing overboard back into the sea for another dip. Another reason I'm 1000% down for sailing. We're in our own little bubble. Just us, the Captain and the ocean for 8 days. It's clean, It's safe and It's probably the best way to travel for the moment. Plus you're on a bloody yacht. Duh.
VISIT PLACES ONLY ACCESSIBLE BY BOAT!
Hellloo freedom! Being on a boat means you can get to all of Greece's best-hidden spots, only accessible by boat like Syvota's famous blue lagoon, which has a beautiful small beach with golden sand, perfect for soaking in the sun, and stunning waters of 50 different shades of blue and turquoise! Syvota is known for being one of the most beautiful islands in the whole of Greece, so of course, we're going there and the BEST thing about going on our Greece Sailing Adventure, is we have the freedom to dock up when we want and we even host our very own TruTravels Boat Party! Music playing, boat jumping, it's a sick day... and that's just one of the beautiful places we visit. Get ready to be left in awe!!
WHEN ARE WE GOING?
If you've been convinced to head to Greece (it's not hard is it?), and if you're practically booking the flights as you read this well - check out our departures here!
I'm going wild. Meet you at the airport, yeah?