Imagine you're doing a visual meditation and the person tells you to think of your happy place, somewhere you'd consider paradise. Well, when I first went to The Philippines, I realised that what I think of as paradise is real!!! I just hadn't seen it with my own two eyes until I visited The Philippines.
So on your trip to paradise, you need to make sure you hit all the top spots. While all of The Philippines is absolutely beautiful, we thought we'd tell you the 5 Islands in The Philippines that you reaaaally CAN'T miss!

1. Palawan
To be honest, we'd even include Palawan on our top 5 islands you can't miss in the world. It really is stunning and it's no surprise that this island attracts tourists with its perfect balance of stunning white beaches, luscious green jungle, and unbelievable marine life. Palawan is the ideal island for adventure lovers and beach-goers alike. Most of the top attractions in Palawan are its incredible beaches and stunning blue lagoons, but it's also home to top-class scuba diving, huge caves and underground rivers so there's something for everyone whether you're a chilled out beach-goer or an adventure-seeking adrenaline junkie. At the tip of Palawan Island is the stunning El Nido, which has the most vibrant coral reefs, striking small and big lagoons, stunning limestone cliffs, and geological formations. There are so many stunning sites in El Nido, you really can not miss it. There are 4 different island tours to choose from, each one focusing on an El Nido speciality, whether it is the impressive lagoons or the breathtaking white beaches. Whichever you do, you'll be impressed with El Nido's unique natural beauty and you really won't wanna go home! Palawan is also home to the Puerto Princesa Underground River and the idyllic and unspoilt fishing town of Port Barton! So plenty to do in this stunning island hopping haven. On our Philippines West tour and our Philippines Island Hopper, we hit the BEST of this stunning island so no worries if you're on our tour!

2. Coron
Technically a municipality of Palawan, but separated from the main island is Coron! it's not the easiest to get to but god damn, is it worth it (and don't worry - we sort out the transport for you, so no stress!). Considered as one of the best islands in the Philippines by many, Coron Island is famous in part for its insane beaches, lagoons and lakes, but what it is really famous for is its wreck dives. Coron is the perfect destination for anyone who loves chilling on the beach or people who love to snorkel or scuba diving (and exploring cool old abandoned shipwrecks). For travellers who wanna go exploring, you can go hiking to witness a famous Filipino sunset (they really are the most beautiful sunsets we've ever seen!) or take a dip in a hot spring.
3. Siargao
If you've ever been on Instagram (which we know you have), you'll have seen the shots of the unbelievable Palm Tree Road and that insane vista can be found in the one, the only - Siargao. Siargao is a dream destination for tourists because it has the most perfect white sand beaches, impressive lagoons and huge mangrove forest reserves. However, the biggest reason for travellers to flock to this incredible island is the waves. Whether you surf a lot or are yet to take on a wave, this island is known as a surfer paradise. On our Philippines East and our Philippines Island Hopper, you'll have the chance to have a surf lesson in this world-class surfing hub! This cool lil island town also has shops, resorts, restaurants, etc. but it's still got that chilled out but also lively surfer vibe to it making it the perfect little island to visit on your trip.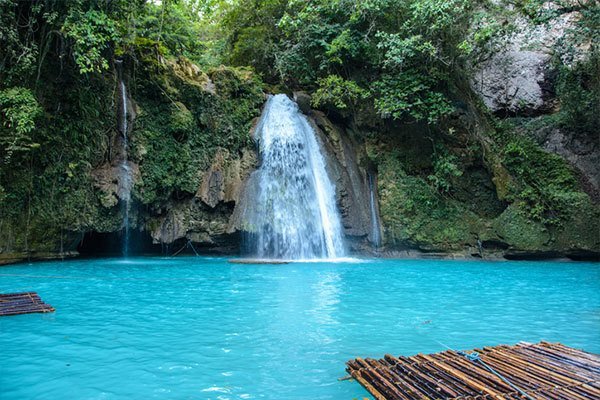 4. Cebu
As with many of the other Filipino islands, Cebu is known for its pristine beaches and gorgeous clear blue seas BUT Cebu is mostly famous for what happens under the water instead. Cebu has an incredibly diverse marine life that lives in its brightly coloured coral reef, meaning that it is a dream-come-true destination for scuba divers. Moalboal, a small town in Cebu, is home to the impressive Sardine Run, lots of turtles (there's a diving spot called Turtle Point... go figure!?) and a whole host of colourful marine life that'll make you wish you could miraculously turn into a mermaid... no fear though! Scuba diving and snorkelling is the next best thing, and we do a shed load of it when we go to Cebu in our Philippines East tour and our Philippines Island Hopper tour. Cebu is also where the insta-famous Kasawan Falls is, and a whole host of other impressive, winding waterfalls that lead to it, so if you fancy seeing the most stunning lush forest and bright pastel blue waters (it looks like people have let off 100 bath bombs in there BUT IT'S NATURAL!)... Cebu is the one for you! Don't listen to TLC, let's go chasing those waterfalls baby!
More specifically, you'll be guided through narrow crevasses filled with waterfalls, tropical foliage, natural pools of water and natural waterslides. At the end of your day-long journey, you'll come to Kawawan Falls- a waterfall that you have to see to believe.

5. Boracay
Boracay has lots of natural beauty... it has about 17 different beaches, which for such a small island is impressive and you'll never be stuck if chilling on a beach is your main aim on Boracay. BUT it's most well-known for its insane beach clubs, which makes it one of the most popular islands in the Philippines. Surrounded by stunning white-sand beaches and clear water, Boracay is an ideal place to enjoy a range of nautical activities on beaches, including snorkelling, kiteboarding, surfing, or simply relaxing on the soft sand.
You probably already know this but The Philippines is going through a really tough time right now because of Typhoon Odette. Hundreds have been killed and there are thousands of other people who have been affected, with many of the victims being our TruFam. All victims of this horrible event need our help! If you want to support the recovery of this incredible country, please donate to our GoFundMe page. Donations of any size will make all the difference! Together, we can help support the victims of this awful event and help them get back up and running so that in the second half of 2022 and into 2023, we can visit these incredible destinations and enjoy them to the fullest.
We hope to be back in these unreal destinations and this beautiful country ASAP! Remember guys, don't quit your daydream...
See you on the beach,