The beauty of Khao Sok National Park is indescribable, unbelievable and expansive, and it stole my heart the moment I laid my eyes on the turquoise waters that stretch over 285 square miles. I recently visited Khao Sok as part of a tour with TruTravels and this is what went down.
Khao Sok National Park
Surrounded by dense jungle and towering mountains that are home to magnificent creatures such as elephants, gibbons and tigers, Khao Sok is located in Surat Thani, just a quick 12-hour sleeper train ride from Bangkok. To continue the rest of your journey to this secluded paradise you will then need to find a taxi or mini bus to take you the rest of the way (we had one waiting at the station to whisk us straight there). Referred to by the locals as 'the dam' expect a bumpy ride as you journey along. That said, I feel there has never been a more worth while journey than this one. The views were breathtaking, and we hadn't even started our Khao Sok National Park tour yet. You will know when you are getting close, tall limestone towers capped in lush green jungle will start peeking into view in the distance.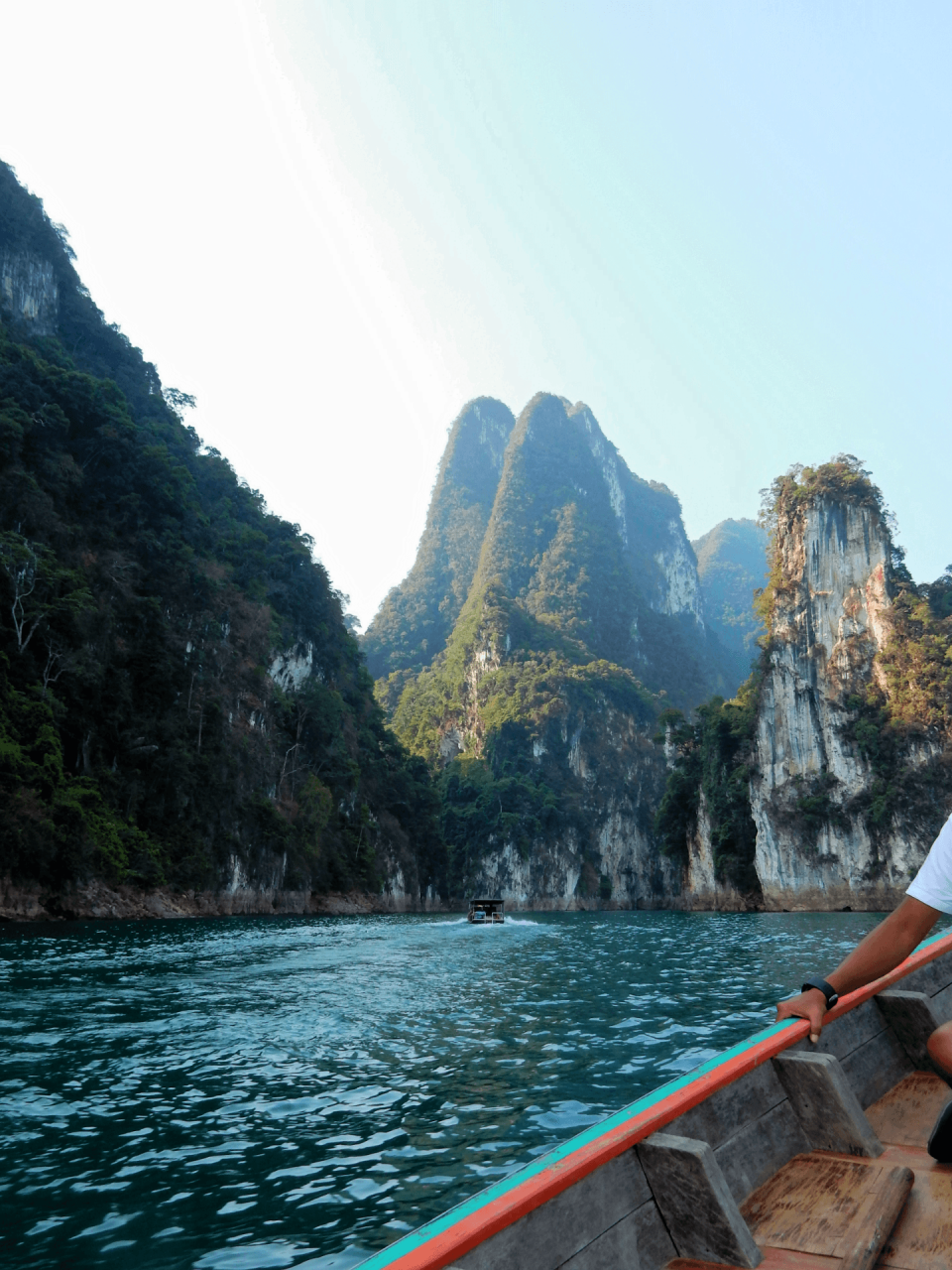 Whether you choose a jungle experience type tour where you are camping in treehouses, or you chill out and take in the views on a floating bungalow like we did, this place will change your life. From the minute I booked my tour with TruTravels, Khao Sok National Park was the visit I was anticipating most and excited for beyond belief.
The lake is HUGE, there is so much to explore from jungle to caves and view points! We arrived bright and early at 7.30am and took a boat towards our gorgeous floating bungalows that we'd call home for the night. On the longtail ride towards our temporary homes Luke told us to jump in the water at a particular spot, although the sun was still rising over the rocks we didn't debate and jumped into what felt like a warm azure bath.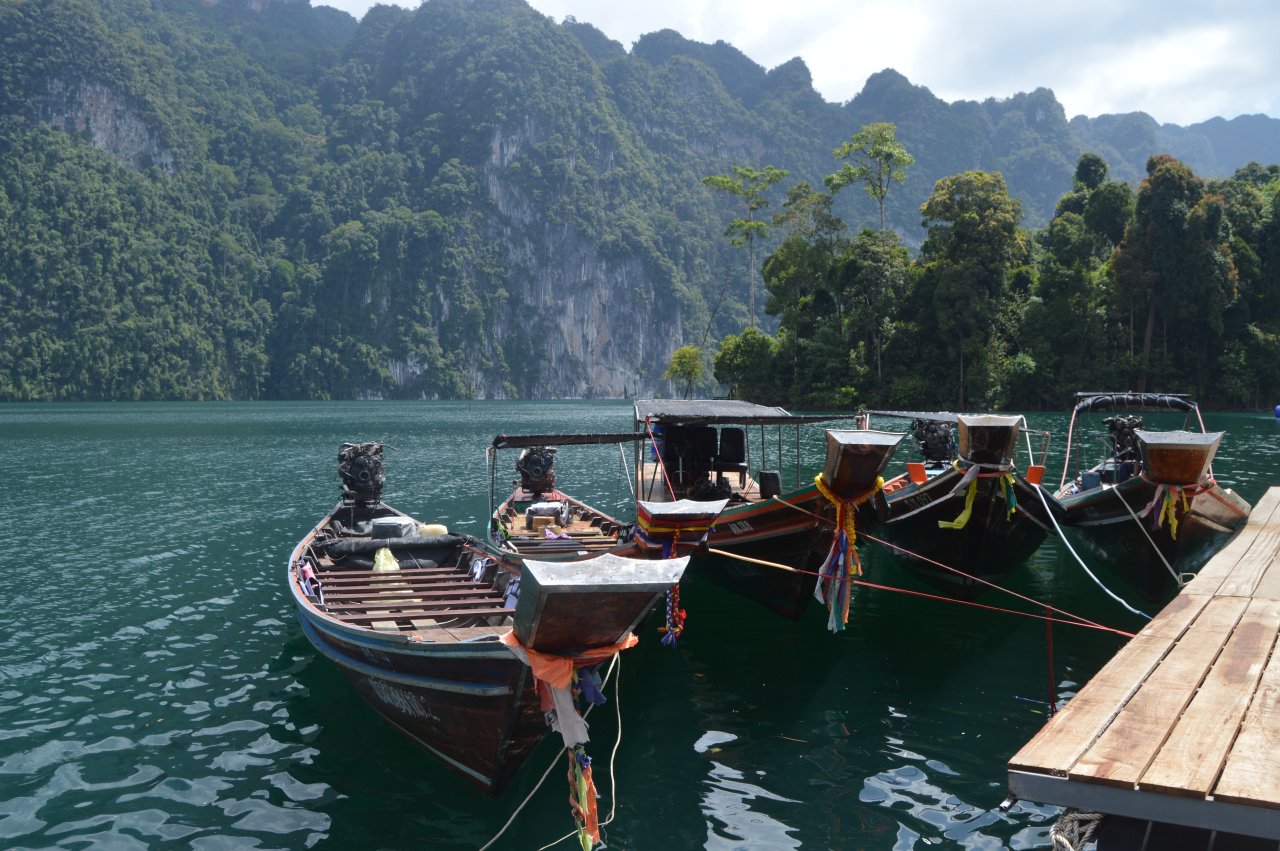 After a morning of cascading round a few more rocks we arrived in paradise. Here we where met by a restaurant that served us delicious meals, kayaks for us to endlessly explore in, a huge log to play games on and tubes to bob around in, beer in hand for hours of R&R, the perfect antidote to the chaos of Bangkok that now seems so far behind us.
Then we returned to play around for hours as we sipped on countless cups of Sangsom rum and soda until the sun went down. The bungalows were simple but stunning, with a view to die for and mattresses to sleep on, what else could you need?! The electricity at Khao Sok National Park went out at 11pm and left us with only the noises of the jungle to fall asleep to.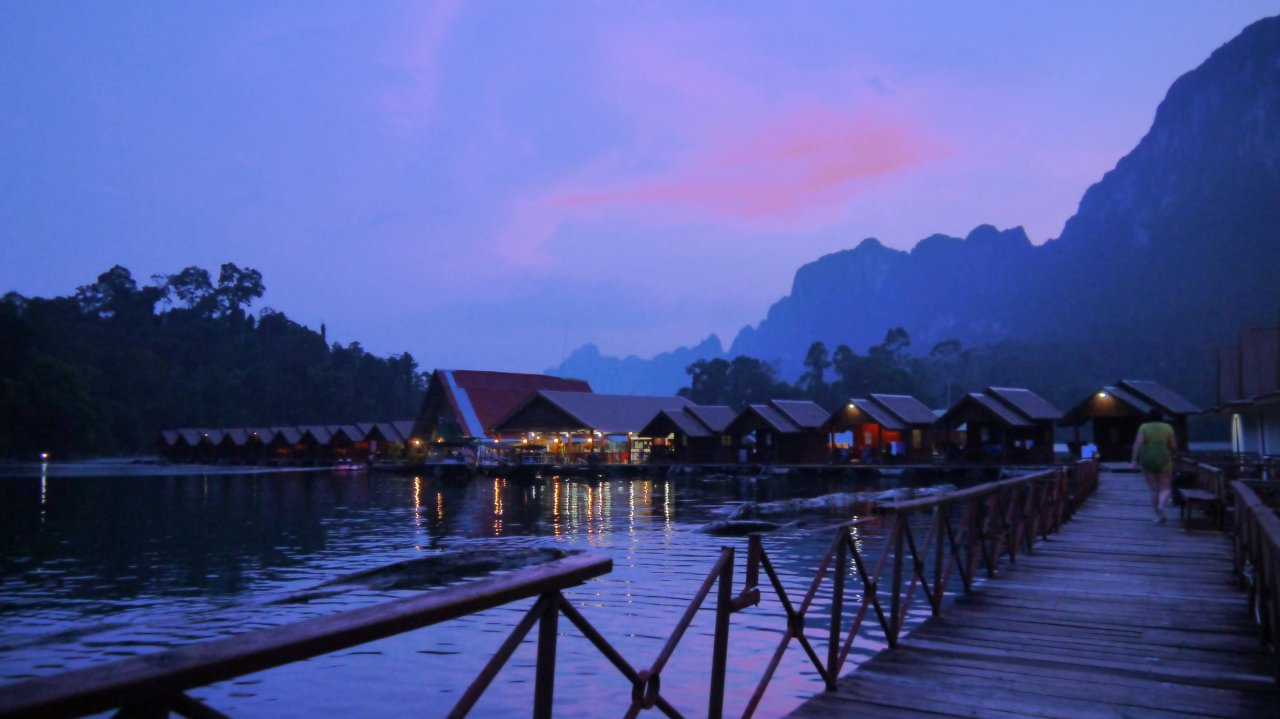 The whole time we were here we kept reminding each other that no photo could EVER do the lake justice and that people at home would never understand it's true beauty. If there is one place in the world I could tell you to visit tomorrow, it would be here. Ever inch of utterly stunning and the memories of this magical will stay with me forever. I only wish I could take everyone I know to experience it themselves, but for now, I will treasure it before it's discovered by the world.
Words By Charlotte
Our Khao Sok National Park Tour
After word, by Tru: It is of course possible to visit Khao Sok by yourself, however you would have to navigate the long and sometimes challenging journey to the dam yourself. The methods of transport you need to get there and then to the bungalows are not usually cheap either. Going as an individual or on groups of 2 or 3 can often cost upwards of £100 per person and it can be a real ball ache to explain where you want to go and negotiate a price. Also if you get to the right place, you will most likely be the only other western travellers at the resort - which may of course be what you want. But, if you prefer being with a group like us, then we can also provide you with 15 - 25 travel buddies to share the fun & good times with.
There are also several other Khao Sok National Park tours which you can book, some of which are very good. However there are so many of them it is very difficult to guarantee you will be getting a decent one which fits with what you want to do. We know many many people who paid good money for a Khao Sok tour and thought they would be sleeping in the floating bungalows only to end up spending a night in the jungle (or vice versa). These tours can also be pretty expensive for what they are and it is unlikely that you will be with a group of young backpackers. Your group would more likely be made up of families or other tourists who you may not have as much in common with. Just google it and check them out if you don't believe us.
You don't have to take our word for it, but.... Joining one of our trips is by far the easiest, best value, most stress free and most fun way to experience the magic of Khao Sok and spend a night in the unique floating bungalows. Join us, you will not regret it!