Back in August 2014 we had the pleasure of Lucy joining us on our 8 day TruTravels Thailand Experience, here's her week in a Blog:
Solo travelling?
It seems like the most dangerous thing to even consider. Well that's what I thought before I booked a tour in Thailand with TruTravels in June 2014. I sat there in my bedroom for hours, wishing I had the balls to do it – reading through reviews that were screaming about how good a time I would have. Biting my nails I thought, 'fuck it, shall I just book it? – what's the worst that could happen?'
My plane took off from London Heathrow Airport at around 2pm on Monday the 25th of August, which headed straight to Bangkok (my plane was delayed for 24hrs so I missed a day of the tour but shit happens…). So I was basically flying to other side of the world, on my own, with nothing but my bag, an itinerary and open mind. Landing on the 26th of August, I was greeted by 'Papayan', our taxi driver and two other girls who were also coming on the TruTravel's tour – Rhi and Simmone who were from London.
On arriving at our hotel 'Mango Lagoon' in Bangkok, a guy in his twenties with a beaming smile and a cigarette wedged in between his lips welcomed us with a hug. This was our tour guide Luke and from this moment I knew that this was going to be an amazing holiday. He helped us with our bags up to our rooms and took me to mine where I met a girl called Candida, or Candy for short. She was my roomie and also a solo traveller. I thought my nerves of being on my own would have gotten to the better of me by now, but conversation kept flowing and after a while we found ourselves exploring Khao San Road.
And here's what I got up to over the course of the week:
26th August – Day 1
We travelled by boat along Chao Phraya river to the golden-plated temple of Wat Pho and the strikingly beautiful Wat Arun. With incredible views across Bangkok, and being blessed by a Buddhist monk we had a great start in being introduced to the Thai culture. Luke educated us all about Thai culture and its history, Buddhism and the temples themselves, which was exceedingly factual and interesting. In the evening we understood the concept of eating Thai style by sitting on the floor with bare feet as we ate dinner – incredible start to the week!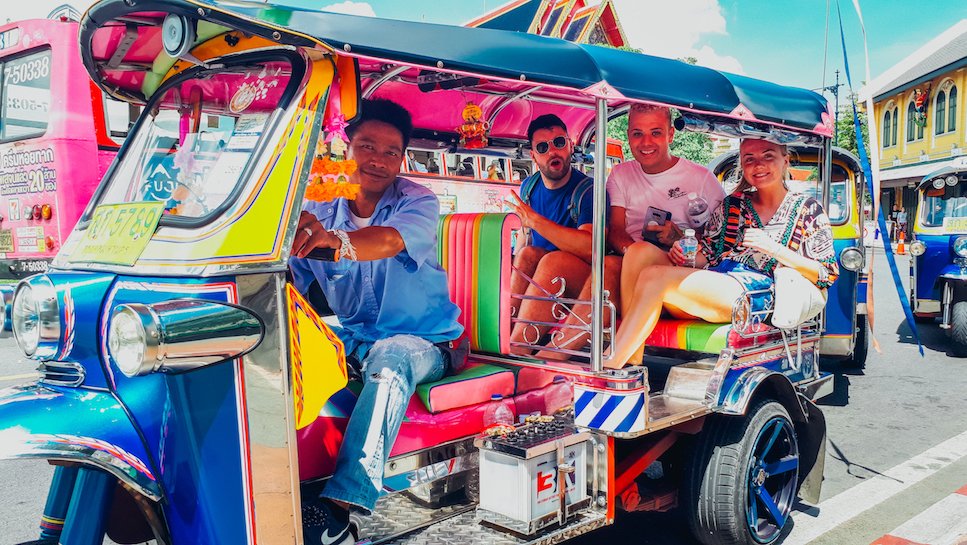 27th August – Day 2
On the second day we started off with a traditional Thai massage and if I'm honest, I'm not really a massage kind of person, but this was on a whole different level! The Thai massage was absolutely amazing, and quite the experience. At 4pm we all checked out of our Bangkok hotel and headed for the night train, which was to take us South to Surant Thani. After a few hours of being on the train, we had our train seats turned into what looked like bunk beds. We all got a good night's sleep and in the morning watched the sun rise over the luscious green jungles of the south.
28th August – Day 3
We arrive at Surant Thani and after a short stop at the one and only 7/11 for toasted sandwiches! We head out to get a boat that went amongst the most beautiful scenery (that I have ever seen in my whole life!) – mountains upon mountains with clouds that hugged the tops of them, the boat surrounded by sparkling water which reflected the sun. It looked like something from Jurassic Park! The boat stopped in the middle of nowhere where we could spend time to swim, cliff jump and take in the amazing views. After a while we were lead to some floating bungalows where we were going to stay the night. Having a drink of whiskey, we floated in rubber dinghies upon the lake. Being monsoon season the rain later on in the day came down hard and the sound of it hitting the lake was precious.
Heres a little video put together by Matt our Talented videographer which will almost show you how amazing a place Khao Sok actually is:
29th August – Day 4
We take in the breath-taking scenery one last time before we head off to the pier where we get a ferry to Koh Phangan. After a few hours we arrive and Luke leads us to a pick up truck, which we all climbed into the back of. In England this definitely wouldn't be legal! We drove through Koh Phangan town and alongside palm trees until we reach some waters where a boat was waiting for us. The boat took us to the white sands of Bottle Beach, which seemed to me to be the ideal definition of paradise. Luke showed us all to our beach huts and we all got ready to go for a dip in the clear waters. We were then introduced to the other members of the TruTravels team – Holly, Joe and Andre, who joined us. That night we played pool, danced around a bonfire and set off Chinese lanterns on the beach – absolute bliss!
30th August – Day 5
This morning I find myself sitting on the deck of my beach hut, sitting writing my journal taking in the beauty of this incredible island. An overwhelming emotion of appreciation washes over me and I ask myself "How can such a place exist?" After another ride on the long-tail boat, we all head off to do some Elephant trekking which was absolutely incredible and also something to tick off my bucket list. After an amazing experience with the elephants we headed to Haad Rin where we were to spend our last two nights.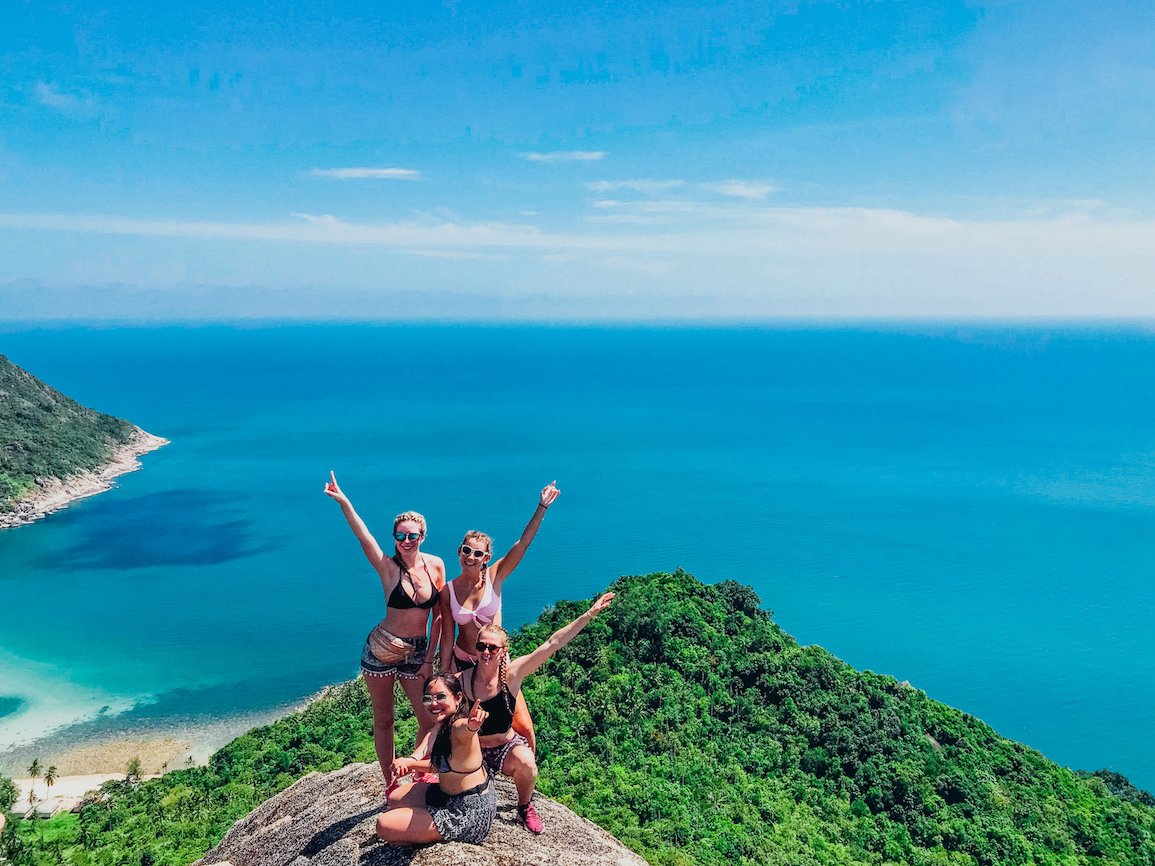 31st August – Day 6
Whilst everyone went on a party boat trip, I decided that I really wanted to go and get a traditional Thai bamboo tattoo. That's one of the good things about this tour is that you can do anything you want to do, and you don't need to feel pressured into doing anything. Luckily, Luke knew an extremely talented and professional friend and referred me to a woman named 'Nang' in Thong Sala, which was a tuk tuk drive away from Hadrin. After enduring two hours of worthy pain, I headed back to our villa where we all got ready for our farewell dinner that TruTravels paid for! After a lovely Thai dinner, we all headed to the beach where we had a few drinks and watched a fire show. After an emotional / drunk good-bye we headed back to our villas.
1st September – Day 7
After chatting with Luke throughout the week he was able to help me with all of my onward travels and made me comfortable in travelling solo for the rest of my duration in Thailand. I decided to stay in Koh Phangan for 2 extra nights to spend with the TruTravel's team before heading back to Bangkok. By this time I had contacted British Airways to extent my stay in Thailand (I loved it that much). I simply couldn't get enough of this amazing country and all it had to offer!
From the moment I was sitting in my bedroom 'umming' and 'rrring' about whether to go to Thailand or not, I am so glad that I plucked up the courage to do it. I went to Thailand alone, met some amazing people, did things that people only get to do once in a lifetime and made it back to England without a scratch! I simply had the time of my life and I would like to thank TruTravels – without you guys I wouldn't have done it and I would've still been sitting behind my screen just hopelessly wishing..
A MASSIVE Thanks from TruTravels for writing about your week with us m'darlin!
For more of Lucy's lovely words you can check her out at either;
OR