With arguably some of the best nightlife in South East Asia, Thailand has no shortage of bars and clubs to cater to any newcomer or seasoned traveller. If you're like us here at TruTravels though, you're not looking for the mainstream dime a dozen type of establishments that litter every main touristic area scattered around the country.
TOP BARS TO VISIT IN THAILAND
No.1 HAPPY BAR
Nestled between the hustle and bustle of the famous Koh San Rd and Rambrutri in Bangkok lies a relatively unknown gem known as Happy Bar. Usually only discovered by accident while wandering through one of the only alleys off of Koh San, Happy Bar has become a staple on the TruTravels night out with our Thailand groups. With live music every night of the week and serving very reasonably priced cocktails and beer, Happy Bar is the best spot to begin your wild night on Koh San or just enjoy a relaxed drink or two before calling it a night.
No.2 NORTH GATE
As its name suggests, this quaint little jazz bar is located just south of the North Gate in beautiful northern town of Chiang Mai. Cheap drinks and great music make this a must-stop in this quieter town. North Gate is a smaller venue but boasts a great sound system and showcases mostly local artists. If the upstairs loft and street-level seating are full, no worries! There's plenty of space to grab a drink and turn the sidewalk into a dance party.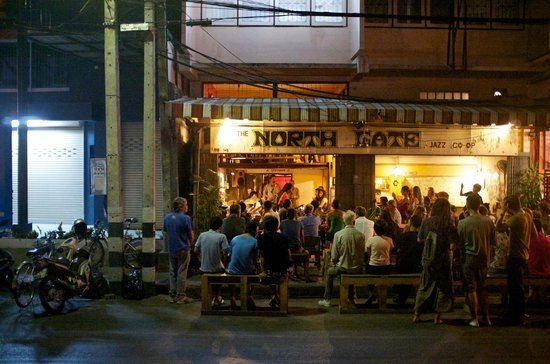 NO.3 DON'T CRY
Next stop on the northern route located in the quiet town of Pai you will find the infamous Don't Cry bar. This is not only the best option to end your evening but also the only option, as every other bar directly in town close between 12am-1am. This bar doesn't even come alive until this time and goes until the early hours of the morning. Pumping sound system and the entire party crowd congregating in one location makes Don't Cry an excellent way to end the night in beautiful Pai.
NO.4 ECHO BEACH BOOGIE BAR
Located in Ban Tai between the port town of Thong Sala and Full Moon party beach Haad Rin resides the beachfront Boogie Bar at Echo Beach Backpackers. A large open communal area, beach seating and 360 bar makes Boogie Bar the best place on the island to meet fellow backpackers and enjoy some of the cheapest drinks on the island. Come enjoy the free pool table or stuff your face with the incredible Thai and western food cooked up by their talented staff. This place is also known for its wild pre-parties and awesome DJ's to kick off the night before any of the main events found on the island.
NO.5 ROCK BAR
On the small scuba and party-oriented island of Koh Tao situated on the popular Sairee Beach you will find one of my personal favourites. A small trek down from the main bar/club scene of Koh Tao you will find the graffiti-filled "get loose" bar known as Rock Bar. Aptly named due to the massive rocks sitting just next to the bar on the beach, Rock Bar keeps the music loud and the drinks flowing until you find yourself dropping the pants and t-shirt and having a late-night dip in the sea.
NO.6 WHY NOT?
Railay is definitely known best for its world-famous rock climbing but also huge reggae culture. There are more dreadlocks found here than a Damian Marley concert. Therefore, as you can imagine, there are an abundance of reggae bars spread around Railay East and West. Probably the most appropriate bar to spend a lazy afternoon or begin the evening playing pool and sipping cocktails is Why Not? Lined with raised seating and lounging mats, chill musical vibes and a slew of signature cocktails, it's easy to lose a couple of hours in their friendly and welcoming environment.
NO.7 BANANA BAR
The only rooftop bar on Phi Phi, Banana Bar is a delicious mix of cold Coronas, original cocktails and Mexican food. Hosting a nightly moonlight cinema, Banana Bar is a must-stop for dinner/drinks and chill vibes to kick off any type of evening. The action picks up once the movie is finished with good tunes and a couple of tables to test you and your mate's beer pong or flip cup skills. Phi Phi's best option for a pre-party before finishing the night off surrounded by beach clubs and fire shows.
Well, there you have it, ladies and gentlemen. Hope these come in handy when planning your night out and as always drink responsibly, have fun, be respectful and remember lads…they're not always ladies! Bottoms up.