Ok, so i know what you're thinking. Was I crazy to run away to Greece during a pandemic? Short answer ABSOLUTELY NOT. Long answer… ABSOLUTELY NOTTTTTT!! I'll tell you why...
After months of lockdown, looking at the same 4 walls, baking banana bread and participating in one too many zoom quizzes I made the decision F*CK IT IM GETTING AWAY! I've always loved every part of Greece, the people, the culture, the white sandy beaches but most importantly THE FOOD! With Greece under one of the UK air bridges meaning no quarantine upon return, why would I not getaway to the beauty of the Aegean Sea? This may sound impulsive, but Greece has one of the lowest COVID rating meaning it's probably a much better place to be than in the UK right now anyway. Plus they sell 3 EURO GYROS. (I always knew they were a better country since Eurovision).
Greece is looking increasingly like the saviour of our summer in 2021, it's why we've created not one but TWO amazing trips in Greece - a 9-day Greece Island Hopper or an 8-day Greece Sailing adventure aboard your own private catamaran.

WAS IT STRESSFUL?
Not at all.
DID I FEEL SAFE?
100% of the time.

WAS IT 10x BETTER THAN IT WOULD HAVE BEEN PRE-CORONAVIRUS?

In a word, YES. With fewer tourists heading to Greece this year, if anything it's the best time to go. We visited Santorini. Normally full of the hustle and bustle of high season tourism, locals described it more as April-May time opening season. We visited Ancient Thira via quad bike, there was no one else there! We watched the sunset in Oia, it was as quiet as you see in the instapics, influencers try so hard to edit out. The island was beautiful, busy but quiet at the same time. We took a boat trip out to visit beaches, the caldera, the volcano and its hot springs. In total there were 7 guests on our boat (we were 2 of them) We had our temperatures checked upon boarding the boat and then I drank perhaps 3 bottles of sangria whilst snorkelling in crystal clear waters. PERFECTION. Not so much my hangover the next day.
Restaurants were half empty, socially distanced and the locals nicer than ever! Most are open-air, on the beach (the restaurant's not the local's) plus it's a cool 24 degrees at night! Nothing like this humidity, stick to your sofa heat in the UK we experience. We danced, drank Ouzo and listened to live music. It felt like the stress of the last 4 months melted off me. A holiday we all seem to need right now. Sunbeds are spaced out and most things are table service. (This should have been a thing before corona, no one likes sitting too close to the seriously sweaty, red as a lobster guy next to you) and table service. EXCUSE ME I'M A QUEEN. Hand me the G&T. Jk, but it is better!

BEACHES, BEERS, BOATS & BANGING ACTIVITIES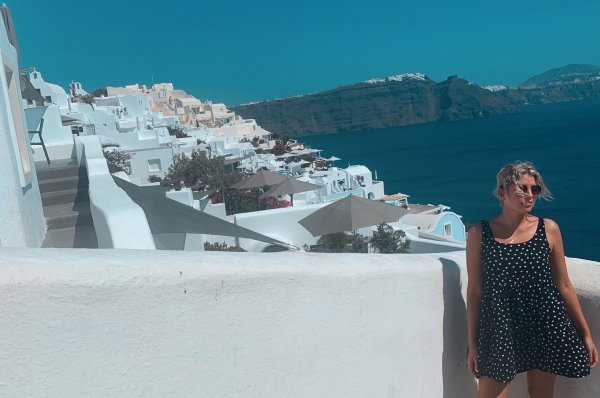 Beaches are open and pretty much empty! I may or may not have consumed a beer with breakfast, lunch and dinner every day for a week (Mythos is an elite beer, if you know, you know) and there's still sooo much to do! Boat trips are run daily and probably the highlight of our stay. We sailed, wind in our hair, sun beaming down on our glistening bodies, water at our very feet and music playing so loud you can hear it from the shore. The ultimate day out. We also hired a quad bike for around 30 euros a day, rode around the island stopping at the Red beach, black beach basically any beach we could find, ate halloumi gyros for lunch before parking up to watch the sunset. EPIC.

WHAT IS THE AIRPORT EXPERIENCE LIKE?

So here's the scoop on flying at the moment! Our flight was not full, we wore a face mask for the duration of the flight but in all honesty, if you're prepared, it's not even a second thought. Have a big breakfast before leaving, arrive at the airport, go through security and jump on your flight. We watched maybe 2 episodes of Friends on Netflix then fell asleep for 3 hours. Hardly the traumatic experience some may think it could be. All aircraft are going through extensive cleaning after each sector and have upgraded to some of the highest levels of filtration systems. It's probably much cleaner than popping to the shops or grabbing a McDonalds.
48 hours before arrival you have to fill out a form on the Greek government website, takes around 10 minutes and just ask's the basics of where ya staying, ya flight number you know all that jazz. When you get to the airport you show it at check-in, before boarding and when arriving in Greece and that's about as stressful as my experience was. Airports are quieter, the flight wasn't so busy. Greece is also doing random spot check testing on arrival. As a country, they're on it. Mask's are worn in closed spaces. Unless you're going shopping pretty much everything is outdoors, most staff and waiters wear clear visors so you can still see their cute greek smiles.

SHOULD YOU GO TO GREECE? FUCK YES.

The world is opening up again and Greece is calling both mine and your name. In all honestly, I wish I didn't come home. Oh to be on the beach again drinking Aperol Spritz, eating olives and Tzatziki quietly side-eyeing the sexy Dilf going into the sea behind my huge glasses. The sea is clearer than ever, the food was some of the best I've ever tasted and the experience. Probably the best holiday of my ripe old 26 years.
Ready for your summer to be saved? We have VERY limited availability on the 9-day Greece Island Hopper or the 8-day Greece Sailing Adventure. Head over to our Greece page and let's get this moving!