If someone had told me a few years ago that I wouldn't have been on a beach in 2 years, I'd have done a big smug belly laugh right in their face... me? not on a beach? are you crazy? But it's true..I haven't been able to get away and I haven't been able to live out my spirit animal fantasy of a lizard who suns themselves all day on a beach.
But now, I can't wait to pack up my case and escape this country! The one question on my mind is which beach shall I go to first? Where shall I head this year? I'm craving crystal blue waves and white sandy beaches. The feeling of the sun on my skin, the condensation running down my hand from my beer, and watching the sun go down over the horizon. Damn, I can't wait to be back out there!

1. The Philippines - Palawan
Ok, we're pretty sure that if you ask people to imagine their ideal tropical island, 9 out of 10 people would be picturing the stunning shores of Palawan. Palawan is paraaaadise! Tropical beaches and aqua waters. Yeaaaah you know it! Palawan has so many different places to explore, you've probably seen these magical waters all over instagram but one of the most beautiful in all of Palawan is El Nido! famous for its limestone cliffs, bath-temperature waters, incredible island hopping and colourful marine life. Another must visit is - Coron, famous for its wreck diving and underwater world. We've can't miss out our personal hidden gem of Port Barton, the sleepy Filipino seaside town where you could spend the rest of your days sippin' on coconuts in the shade of a palm tree!
That's the dream. Ok, so, now you know, if you want maximum island life vibes, Palawan is the place for you!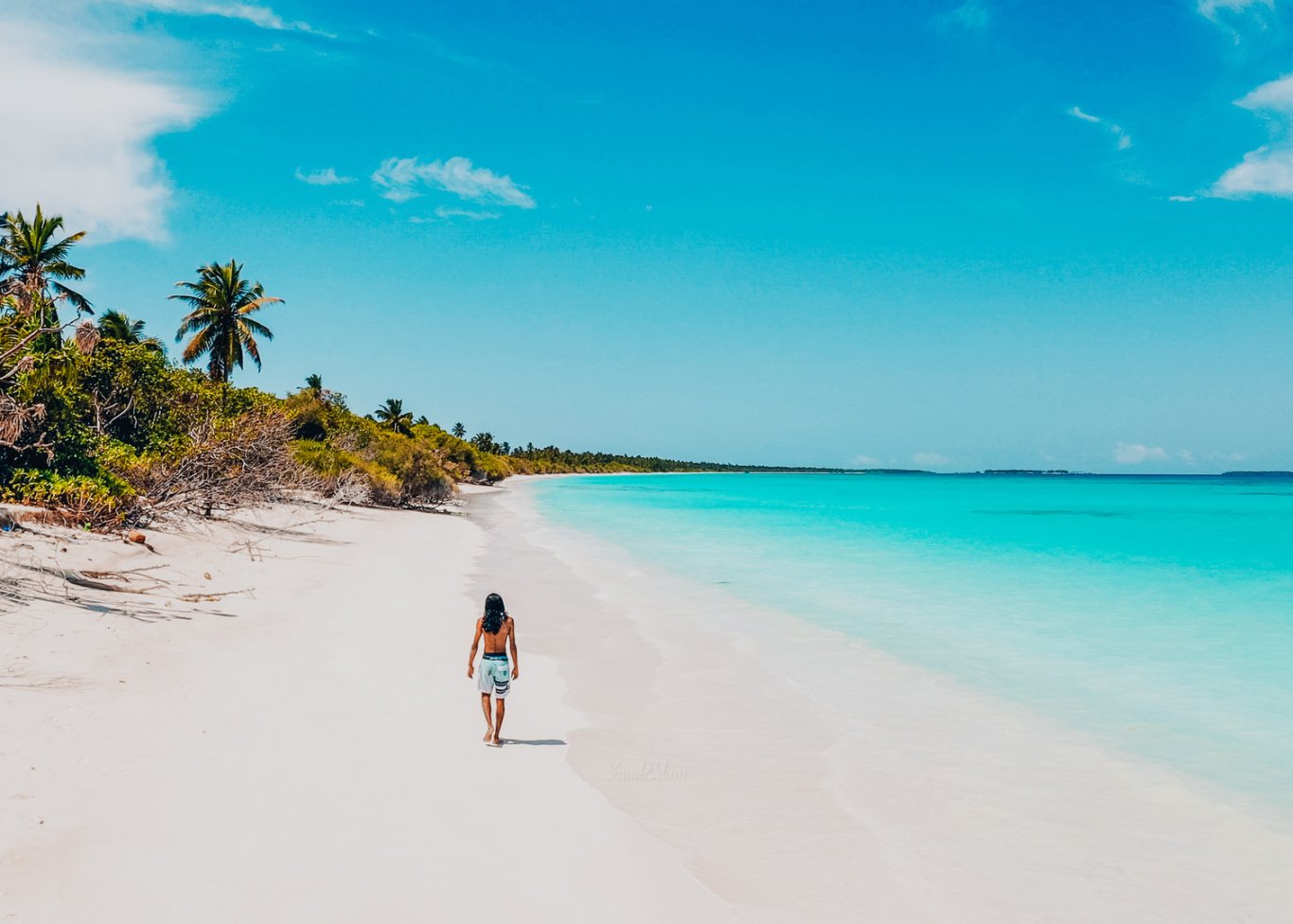 2. The Maldives - Vaavu Atoll
It isn't surprising that The Maldives appears on a list of the best places to go for tropical islands and aqua waters. I mean c'mon have you seen these views? We could write about every single Maldivian island alll day everyyy day but we don't want this post to go on forever! So we're gonna stick with our favourite, which is the Vaavu Atoll. If you wanna make all your followers jealous, you could 'gram ANY picture that you take in The Maldives and you'll bag 100+ likes. Trust us, we may even give you a follow too ;)
The Maldives are home to some of the world's most naturally stunning and untouched islands (like the uninhabited island that we visit and where we have a private BBQ on our Maldives Sailing Adventure) and its surrounding oceans are packed with vibrant sea life (not just Nemos and Dorys but also whale sharks, reef sharks and manta rays... hello bucket list!). The white sand makes the sea just that much bluer!
So whether you're diving, snorkelling or more of a sun-soaker onshore, Vaavu Atoll and The Maldives is the place to be!

3. The Philippines - Boracay
Who says that tropical islands with aqua waters are only built for relaxing on. Have you never heard of a beach party!? Boracay is known as the party island of The Philippines... so OF COURSE, we go there on our Philippines Island Hopper and Philippines East tours! The beauty of Boracay is that it's the perfect spot to relax by day and then party at night (or you can go ahead and party day and night if that floats your boat, we're not here to judge!) While Boracay is well known for it's incredible beach clubs (we'll take you to the best ones on tour, don't worry) but for such a teeny tiny island, it has also got loads of gorgeous beaches. Boracay's White Beach has actually been recognised as one of the most beautiful beaches in the world for YEARS, so you know we ain't lying! Also, sunsets from this part of the world are unbeatable so whether it's day or night, get yourself on the beach and watch the hours tick by!

4. Thailand - Koh Phi Phi
The Beach was filmed in Maya Bay, so if you've seen a gorgeous young Leo DiCaprio galivanting around Thailand, you've been having views of the stunning Maya Bay just off of Koh Phi Phi! Koh Phi Phi is the epitome of the perfect tropical beach with its clear blue waters, perfect for dipping in or snorkelling, and its bright white sand. Like in The Philippines, Koh Phi Phi's beaches have a backdrop of dramatic limestone cliffs with lovely green shrubs, giving just the right amount of shade (and the perfect background for insta photoshoots). Nothing beats the soft white sand and clear turquoise water that Koh Phi Phi has to offer, especially since there's always a bar nearby where you can grab an ice-cold beer or a fruity cocktail. From drinking and partying to snorkelling and bay hopping, there are lots to do in Koh Phi Phi so whether you can soak in the sun for hours or you prefer a bit more of an adventure, you can count on Koh Phi Phi!
Have you managed to get to the bottom of this post without buying the first plane ticket outta here to a fun tropical island?! If so, well done... I don't have your willpower! But why wait? With the couple of years we've just had, we're all looking for a holiday and we DESERVE it! So, where will I be seeing you?
See you on the beach,