5 HIDDEN GEMS OF THE GREEK ISLANDS
Greece is the dream. Crystal clear blue water, white sandy beaches, phenomenal sunsets, amazing history & culture and of course, we cannot forget the food. €3 halloumi gyros (winning), tzatziki, and SO much more. Whether you want to get your fill on culture & history, be an absolute beach bum with a cocktail in hand, living that tru island life or do both, then it's the place to be. Ugh, Greece is definitely that dream destination. We now understand why Donna from Mamma Mia, went to a Greek island and never came back, we should all take a leaf out of her book. So here it is.. we've done the research for you, 5 hidden gems of the Greek islands you HAVE TO VISIT! This summer Greece is calling your name...

NO.1 SYVOTA
Sivota is a charming small fishing village in North-West Greece, with the Pindos mountains to the east and the Ionian Sea to the west, not only has it got many hidden gems as well as being one itself but also has a bustling harbour, unspoilt land, incredible scenery and unreal waters. Sivota is packed with hidden gems, from unexplored beaches to an abandoned village and hidden coves. Uh-huh, sounds made up, but it most definitely isn't. Sivota is known for the phenomenal blue lagoon as well as being one of the most beautiful islands in the WHOLE of Greece. And that's out of a lot of islands. The blue lagoon is like something out of this world, it is a must-see and trust, it won't disappoint. Fancy doing some yoga? Well, no better place to take part in the best exercise for both your mind and body, than the most beautiful island in Greece! Are we right or are we right?
NO.2 PARGA TOWN
Okay so we aren't cheating because even though Parga town is a part of the mainland, it's scenery basically makes it an island. Some say that this place is an Instagrammers dream with pastel-coloured houses lining the town and amazing history to match. So make sure all your phones, cameras, go-pros or whatever ya brought with you are charged because you will want to snap away when at this colourful greek town. Imagine even more beautiful beaches and surreal backdrops. Seriously, how is Greece real?! Up on top of a hill is an 11th-century Venetian castle, but if that doesn't tickle your fancy, and a bit of souvenir shopping is more up your street then Parga town is also the place for you. Grab an ice cream or a cold beveragino and shop til' you drop (Just kidding, no dropping please!). Don't fret, if you've had enough of walking and fancy chilling, there are many tavernas for you to choose from. Munch on a Gyro and have a nice cold Mythos (Greek beer, just a little fyi)! Parga town will be sure to charm your socks off!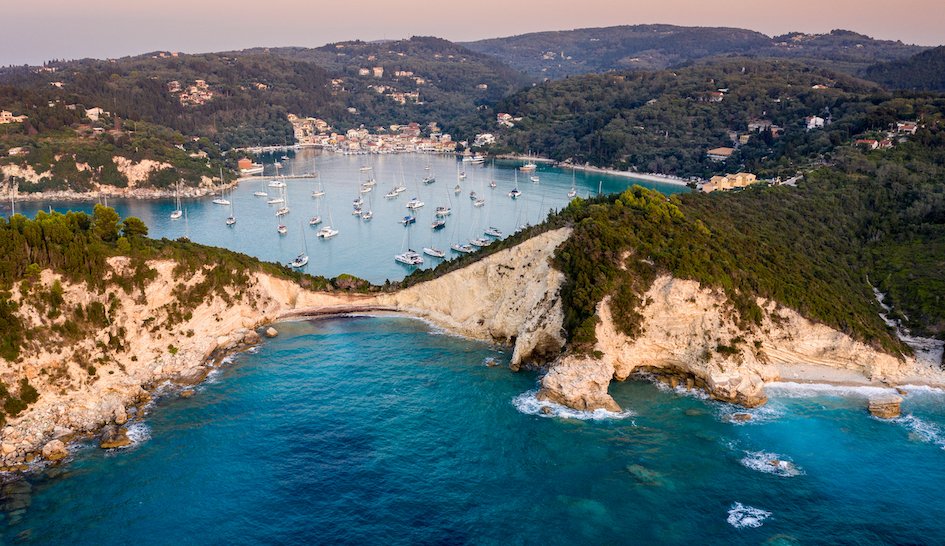 NO.3 PAXOI
Paxoi is an island that has remained unspoiled due to its location being in such a remote area (thank you mother nature), the view of this beautiful island is almost like a fairytale and it captivates most people who visit. So you can count that as your warning because you might never want to leave. Next thing you know you have 4 island cats are friends with all the locals, have lived there for coming up 2 years and have eaten a hell of a lot of halloumi & pitta! Don't know about you, but that sounds like the life for us. Paxoi is home to 2 hidden gems of the sea, Kipaidi bay and Panagia Island, which upon visit you might be the only one there, winning! Imagine golden sand, crystal clear blue waters and the beach empty. What a dream. Did someone say hot springs? Hell yeah, another reason why you should make your way to Paxoi as it is home to some incredible springs, that will get those muscles relaxed. Once you've had your fun in the sun, and have taken way too many photos that will soon make a debut on your insta, Paxoi has a lively port with some 10/10 cocktails. So get yo' dancing shoes on, order that tequila sunrise and enjoy your day/night at this wonderful gem of an island!
NO.4 ANTIPAXOS
Antipaxos, located 3km away from Paxos and is practically heaven on earth. If you want to visit this hidden gem, then you need a boat to get there and get this, the island is only 5 square kilometres! Small but heavenly. If you aren't already one with nature you sure will be once you leave Antipaxos, as it is known for the amazing flora and fauna that encompasses the island. There are two main beaches in Antipaxos, Voutoumi beach and Vrika beach. Voutoumi beach was once voted in the top 10 beaches in Europe, but if you go you'll soon understand why. Imagine the brightest, clearest, most beautiful blue ocean, it's so breathtaking that it almost looks like it's a painting. Vrika beach is a top beach for snorkelling, with a small cove that you can explore, or you can lounge on the beach, soak up the sun and take in the unreal views. Whatever you do when you get there, just be sure you go because these beaches are not ones to be missed. People travel from all over Greece to visit AntiPaxos so you can only imagine how stunning it is, but you need to see it to believe it, honestly. When in Greece wine tasting is often on the cards, a country full of lush olive groves & vineyards, Greece is famous for its wine and olive oil. Fancy tasting the wine Greece has to offer? You can taste samples in the tavernas on both Antix Paxos and Paxos. Wine, not ;)? You are on holiday after all!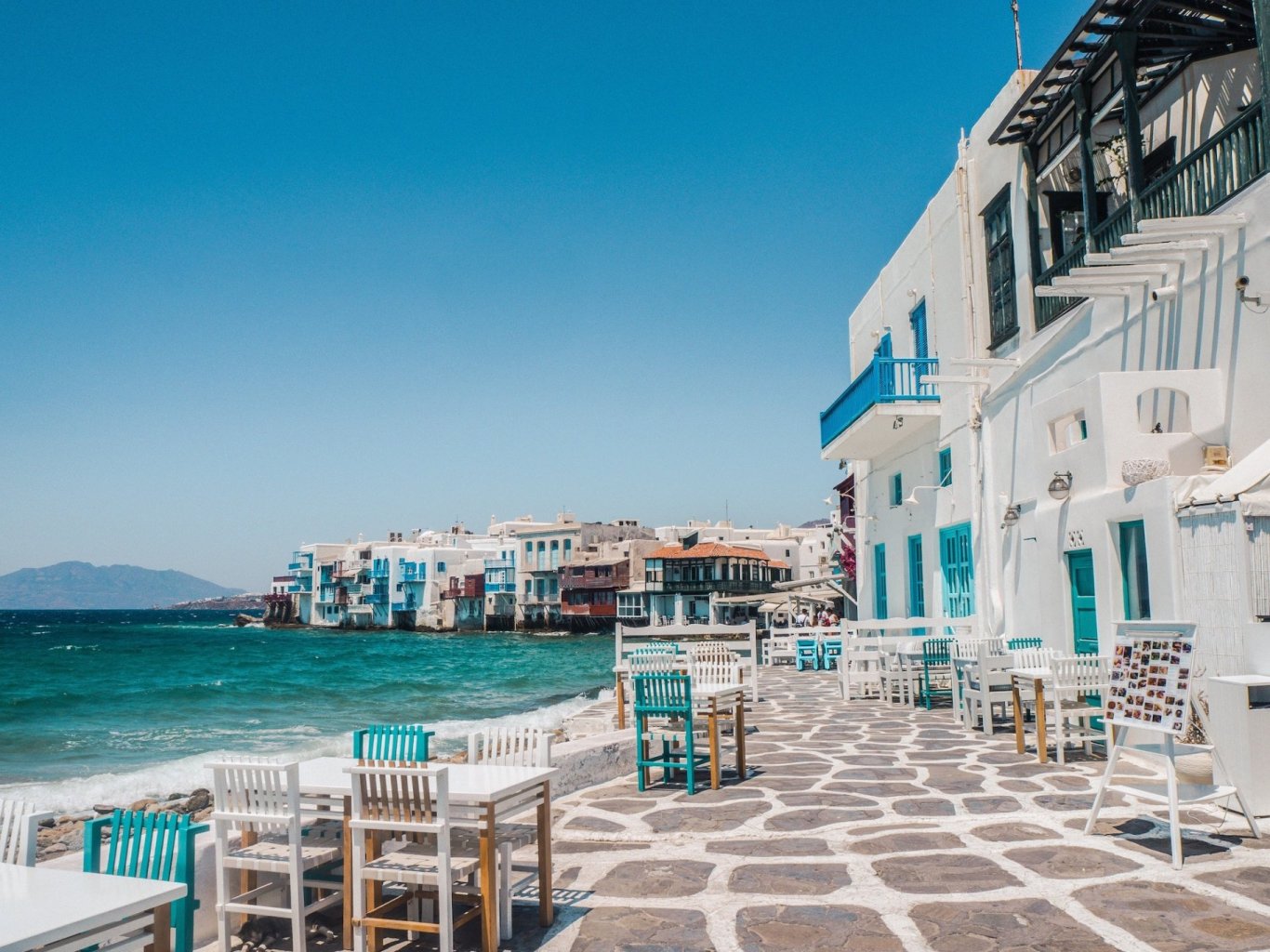 NO.5 PAROS
A lesser-known island, Paros, only a few hours by ferry from the capital Athens, has incredible, vibrant beaches and a lively centre of bars and restaurants. When in Paros, you can wander through the streets, checking out the local village called Lefkes, hit up the port town Parikia for a bit of retail therapy, or the buzzing town of Naoussa, chill at a local taverna or if you can't get enough of Greece's insane beaches and views, then Paros can offer you that as well. Dunno about you but sounds like the best of both worlds to us! Paro's Park is at the northernmost part of the island, expanding over 80 hectares it is a protected natural park. If you fancy earning yourself a few beers or Ouzo shots, there are multiple hikes you can take here that will give you some unreal views of the island. Here's a tip, follow the signs to Faros, the lighthouse at the Northern edge of the park, the views are the best, and even better at sunset! You won't run out of option for beaches in Paros, whether you want to explore the caves of Paros Park, head to Tourkou Ammos beach or if you want a view of the lighthouse from the clear blue water, then head to Lageri which is connected to an islet giving us those fab views or to Lolantonis if you fancy lazing on the white sand. Paros is full of options and is a tru-e hidden gem. Sooo, meet you there, beaches!
There ya have it, the five hidden gems of the Greek Islands and ones that you must see. Because who doesn't love everything Greece has to offer, from amazing culture to unbelievably tasty food (Tzatziki, our one true love) to even more incredible beaches and views, we did not lie when we said it was THE destination of dreams. You can thank us later. So start planning, booking or whatever ya do when deciding to jet off somewhere, even crack open a beer, but make sure the Greek islands and these gems are on your list! We trust you to do the right thing. SEA you out there, this summer, we'll be at the bar watching the sunset with an Aperol spritz if you need us. Over & out!

Don't Quit Your Daydream