CAN I TRAVEL TO GREECE?
Updated June 9th, 2021
Daydreaming about Greece all day every day! Thinking of all the pitta & tzatziki, Mythos (that's greek beer btw), and of course, the unreal views, sunsets and beaches. The Greece withdrawal symptoms are hitting HARD. So this is what we know about getting into Greece...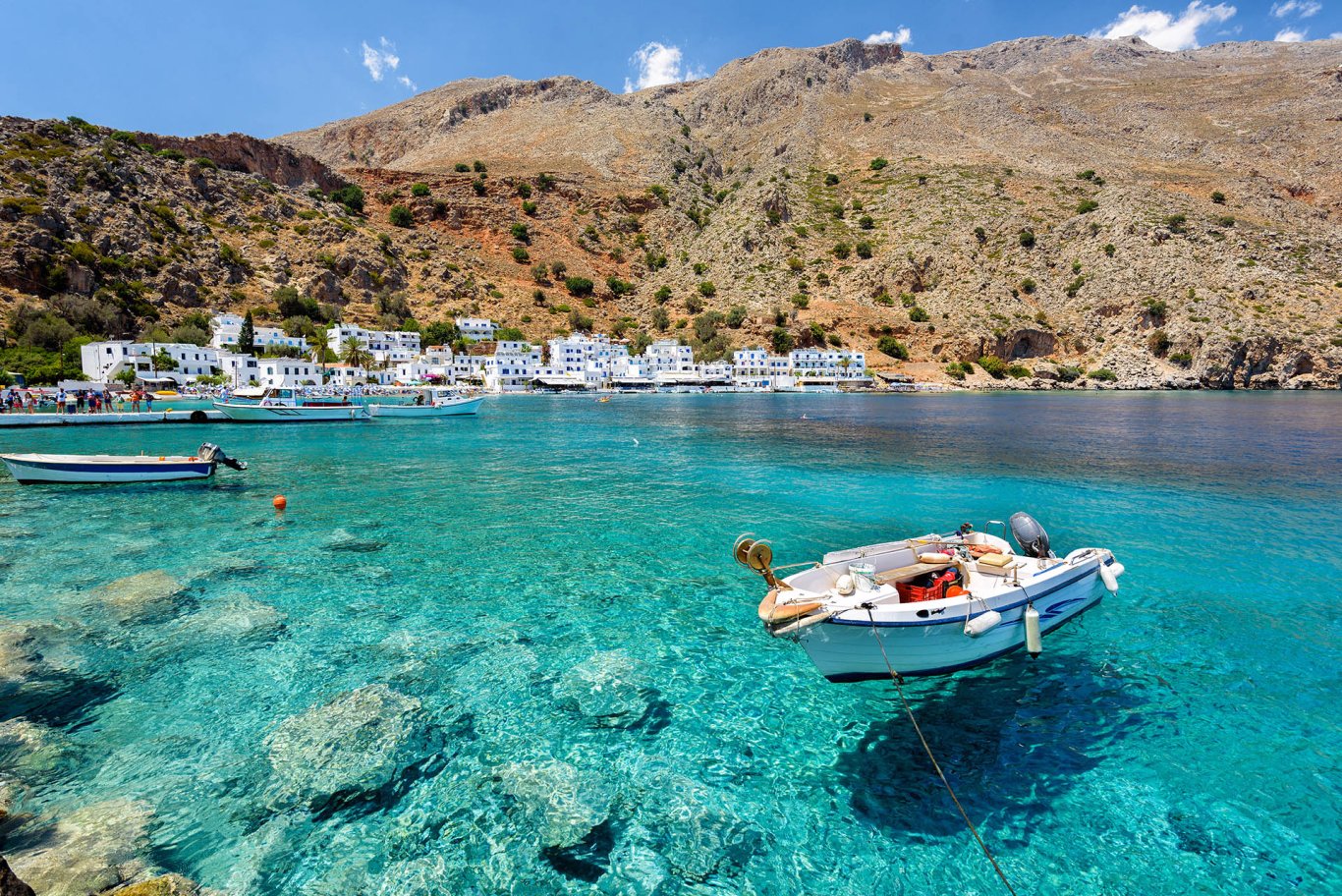 What the Greek Government says:
Anyone travelling to Greece must take a COVID test before departure and complete a passenger locator form when entering into and leaving Greece. You must provide a negative PCR test that has been conducted in the last 72 hours of your arrival in Greece. The Greek Government has announced that from the 19th of April, travellers from the UK with proof of a negative test within 72 hours before arrival will also be exempt from self-isolation. Winning! The Greek Government announced that UK passengers with proof of two COVID vaccinations completed at least 14 days before travel would also be exempt from self-isolating. However, until there is a type of certificate in which you can prove you have had both vaccinations, all travellers should continue to take a PCR test beforehand. You will also have to undertake a rapid COVID test upon arrival in Greece from the UK if travelling by plane. 24 hours before arrival in Greece, you must complete a Passenger Locator Form. Check for more information on the Greek Governments requirements here.
What The UK Government Says:
As of now, travel for leisure is not permitted from the UK, and it is currently illegal (sad reacts only) BUT from the 17th of May travel will no longer be illegal, so cheers to that! However, we know that the UK government has released plans to input a 'Traffic Light'' system, including red, amber, and green categories. The countries on these lists have now been released and Greece is, unfortunately, on the amber list. Amber means that you must not travel to these countries for leisure purposes, however, if you do travel to Greece, you must quarantine for 10 days & take a COVID test on day 2 & day 8. The countries on each of these categories will be updated every 3 weeks, so fingers crossed Greece turns green, soon! The much anticipated June 21st is on its way, with hopes for Englands four-step plan to be ending and all limits on social contact. Check for more information on travel from the UK to Greece here.
What The US Government Says:
Greece is currently allowing travellers into the country from the US. However, the Department of State advises against any non-essential travel and has issued a travel advisory of level 4 for Greece. Check for more information on travel to Greece from the US here!
Our Verdict:
Okay, so we may not be able to travel to Greece right now, as it's not advised by both the UK & US Government, and international travel is illegal in the UK until the 17th of May.. but Greece has welcomed us so, it can't be too long before we get to live our best life out in the Greek sunshine. All our fingers are crossed! Although, that doesn't mean you have to stop planning & dreaming.. Check out our life-changing, bucket-list ticking trips to Greece here!
When Is The Best Time To Visit Greece:
The best time to visit Greece is Springtime, April to early June, and Autumn, September to October. You'll find the temperatures to be warm but not tooooo hot, as we know Greece has the potential to get VERY hot & steamy during the summer months. During these months you'll find that Greece is not as busy compared to the height of the summer. Although Greece is 10/10 whenever you go, just if you go in the summer.. make sure to take plenty of suncream (environment friendly if pos)!
GREECE LIGHTNING!
Not sure about you, but I've been dreaming of lying on a white sandy beach, Aperol Spritz in hand, eating halloumi gyros all day and then going to watch a BANGING sunset. That has Greece written all over it if you ask me. We just want to live our best life in Greece! So once that time comes, here are some bucket list ticking activities & places to visit for when you are in Greece!
Syvota Blue Lagoon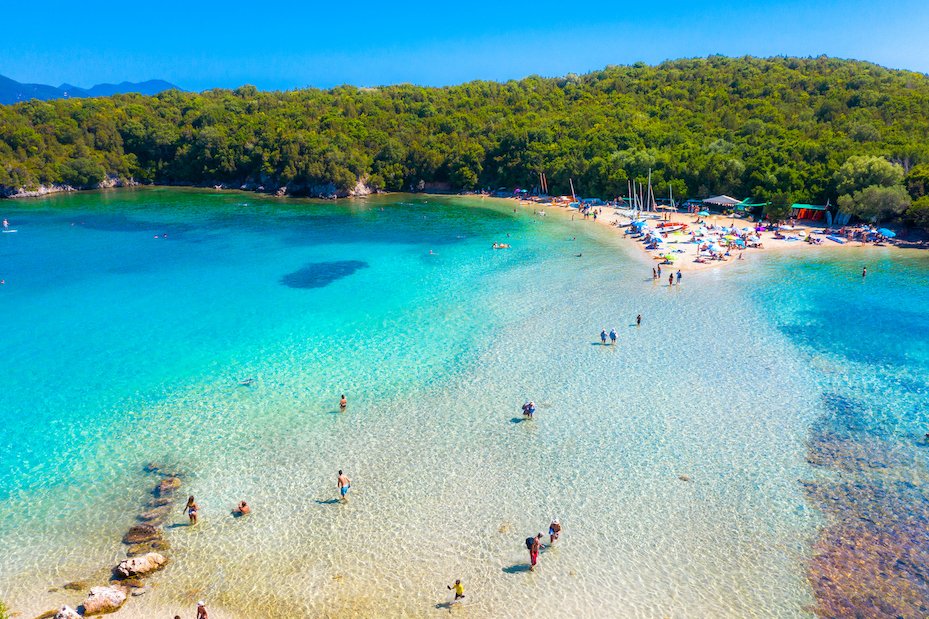 Syvota, one of the smaller Ionian Islands, is a MUST visit. Seriously. Think of paradise, and you're basically imagining Syvota. Syvota is also one of the most beautiful islands in the whole of Greece. The blue lagoon is mesmerising, the sand is golden, and it's famous for a reason. Swimming, snorkelling sunbathing are just a few of the activities on hand when visiting Syvota's blue lagoon. Trust us when we say it's not to be missed. Soooo, you know what to do.
Santorini Sunsets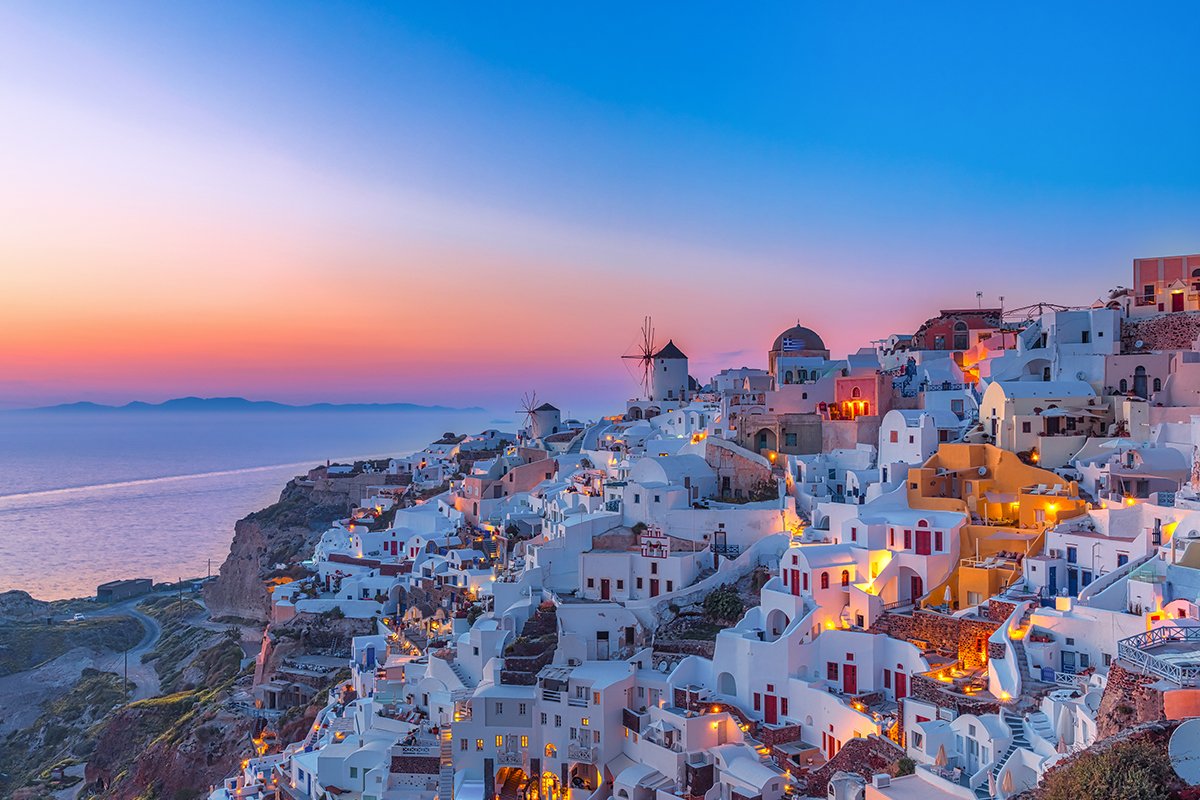 World. Famous. Sunsets. Yeah, we said it. The sunsets in Greece are OUT of this world! Gaze out onto the well-known white villas of Santorini while the sun is setting across the ocean. Hues of oranges, pinks, purples and golds all creating what we like to call a magnificent, 10/10, jaw-dropping sunset. Defo one for the 'gram, make all your friends & fam jealous while you're at it! Alexa, play Sunset Lover by Petit Biscuit. See you in Santorini for sunset!
Mykonos Windmills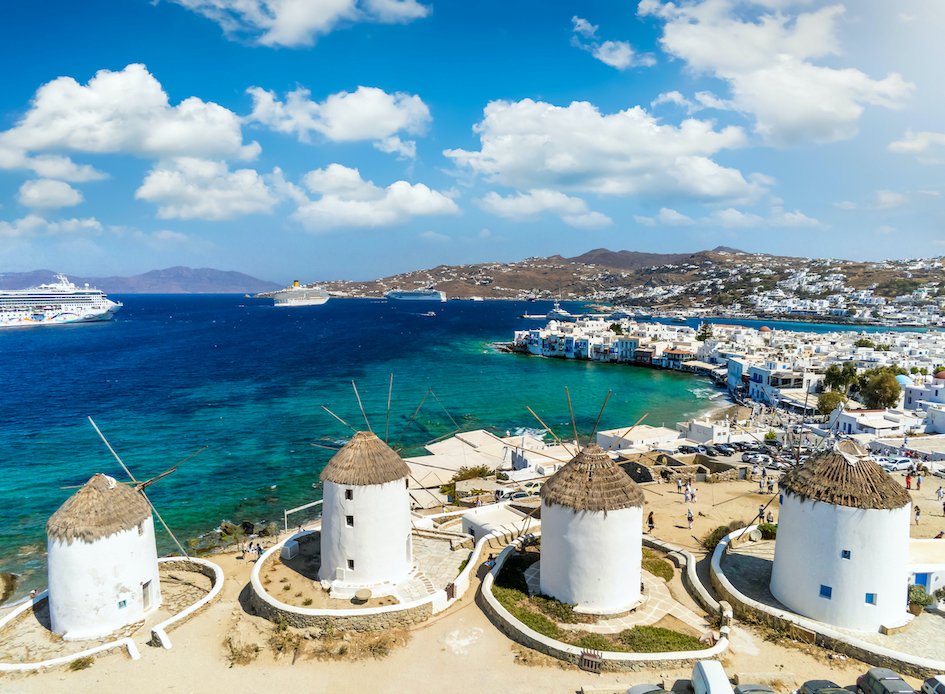 The windmills in Mykonos are a bucket list activity, 100%! A famous spot for travellers and photographers, overlooking Mykonos and the ocean, there are 16-grain windmills which have made quite the reputation for themselves. Get yourself some fab snaps in front of the windmills, and take in the fantastic view in front of you.. The bright blue sea, white villas, clear blue sky and mountainous landscape of Greece.
So although we can't necessarily travel to Greece right now and live out our travel fantasies.. (specifically, on a yacht with a cocktail), there's no reason why we can't plan and give ourselves something to look forward to. You know what we say, don't quit your daydream! Until next time.. hopefully on a beach in Greece!