Best Places To Travel In June 2022
Say goodbye to Spring and helllllooo to summer. That's right - summer is here, the days are getting longer, the sun is getting hotter, and we're craving a summer holiday! We wanna be baking in the sun on a lounger, sand between our toes, cocktail in hand, sweat dripping and with unbelievable views of the turquoise sea. That's all well and good but you need to know the best places to live out this incredible experience in June, so the most important question you should be asking is 'where should I visit in June 2022? Where's the best place to vacation in June 2022?' Well.. we're here to help so keep on reading to find out the BEST places to travel in June 2022!

1. Greece
Greece is at the top of the Summer bucket list for many people, and we're not surprised. It's at the top of ours too! You just can't beat the pristine white-sand beaches of Parga, the crystal clear turquoise blue seas of Paxos or the hidden lagoons in Syvota. And that's just some of the places we hit on our Greece Sailing Adventure. Then, of course, on land, you've got Athens, which is full of culture and history, you can go to Oia in Santorini, where you can watch some of the world's best sunsets (it is famous for it, you know?) or you can live it up at a beach club in Mykonos. The thing is, Greece has so much to offer so it is easy to see why it is THE place to spend your Euro Summer, so why wait? The sun is HOT, the food is DELICIOUS (hello fresh seafood and gimme a gyros or five please) and the vibes are INSANE. We hit all of the best bits of Greece, with top-class snorkelling, perfect secluded golden sandy beaches (ideal for those 'gram pics!) and colourful sleepy seaside towns... what's not to love?! We're going to Greece this Summer, that's for sure... are you comin' with us?
Greece highlights:
Watching the sunset in Oia, Santorini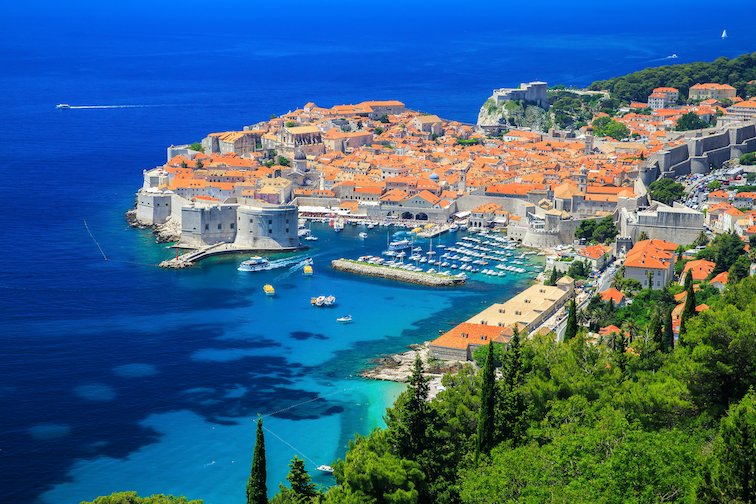 2. Croatia
There's a reason people flock by the dozen to the Adriatic Coast every summer, you know? The Mediterranean Sea's smaller but equally stunning sister, the Adriatic Sea has crystal clear, turquoise and calm waters, meaning it is perfect for a summer getaway. The best thing is that in Croatia, the beaches are not only gorgeous but are sometimes located in UNESCO world heritage sites like Dubrovnik, famous obv for its spectacular walls of the old town that meant it was used for... you guessed it... Game of Thrones! With cities like Dubrovnik, full of history and culture, towns like Hvar where you can get incredible views of the Adriatic, natural hidden beauties like Mljet National Park and places like Split, with great nightlife, where you can pick between hundreds of cool funky bars with delicious cocktails and watch the sun go down... Croatia really should be on your June 2022 list!
Croatia highlights:
Sunbathing on famous Brac Island Beach
Exploring UNESCO world heritage site in Dubrovnik

3. Indonesia - Bali
Why hellooo there Indo! So while most of Asia is going through its rainy season, Indonesia is the odd one out and don't we love it. Indonesia's dry season is April to October and in June, the temperature is hot fire flames and most of the islands have sunny weather, warm water, and blue skies. Just picture yourself on a beach in Canggu, sipping on a coconut, letting the hours pass you by watching the cool surfers... life. is. good. Then go inland, where it looks like you've just swapped to a whole new country. The endless greenery from the rice terraces, the Balinese jungle, the sacred monkey forest where you can make even more new cheeky (pri)mates (after your new TruTraveller buds)! Didn't get enough of the Bali beaches the first time around? Well, lucky you, cos then we head to car-free, tourist heaven Gili T! White-sand beaches, clear turquoise waters that are perfect to snorkel in (there's even a snorkelling spot called Turtle Point where turtles swarm most of day!), stunning sunsets and joss shots by the dozen (if you know, you know). Bali.... in June, it would be rude not to!
Indonesia highlights:
Snorkelling with Turtles on Gili Trawangan

4. Costa Rica
In case you didn't already know, Costa Rica is always a good idea. June is a very good month to visit Costa Rica because, even though it's durin their "green season", most days start off clear and sunny, with any rain that does fall generally in the late afternoon. Since it comes down in showers, it's pretty easily avoidable and there are some huge PROs about visiting Costa Rica in June. For example, rain means rivers are fuller which means waterfalls look even more impressive than they already do and it means it's the best time to practice the most exciting white water rafting! Given that Costa Rica is one of the world's adventure capitals, it's only fitting to go when the activities will be even more adrenaline-filled! Also, unless you live under a rock, you'll know that Costa Rica has the world's most diverse eco-system, and animal migration starts in June so if you want to be in with a chance of seeing humpback whales and turtles nesting, then June is the month to go for sure! Pura Vida baby!
Costa Rica highlights:
There you have it - the best places to travel in June 2022! Now you know how to have the summer of dreams, book it and get something in the diary to look forward to! If you need any more travel inspo, feel free to send us an email on info@trutravels.com or check out our socials!
Still got the travel bug? Read the rest of our best places to travel series here:
Best Places To Travel In January 2022
Best Places To Travel In February 2022
Best Places To Travel In July 2022
Best Places To Travel In August 2022
Don't Quit Your Daydream,