10 BEST PLACES TO VISIT IN SOUTH AMERICA
Travelling South America is an experience that everyone needs to tick off on their bucket list. From visiting one of the Seven Wonders of the World, spending a couple of nights on a private island getaway, trekking through the Minca jungle and diving into the local South American culture, find out our here our top places to visit in South America.

NO.1 MACHU PICCHU, PERU
Visiting Machu Picchu in Peru has to be the number one best thing to do on your travels in South America. Take a guided tour around the ancient site surrounded with lush vegetation, high in the Andes Mountains, and enjoy spending the day at this spectacular seven wonder of the world. A real once in a lifetime experience that you'll cherish for the rest of your life.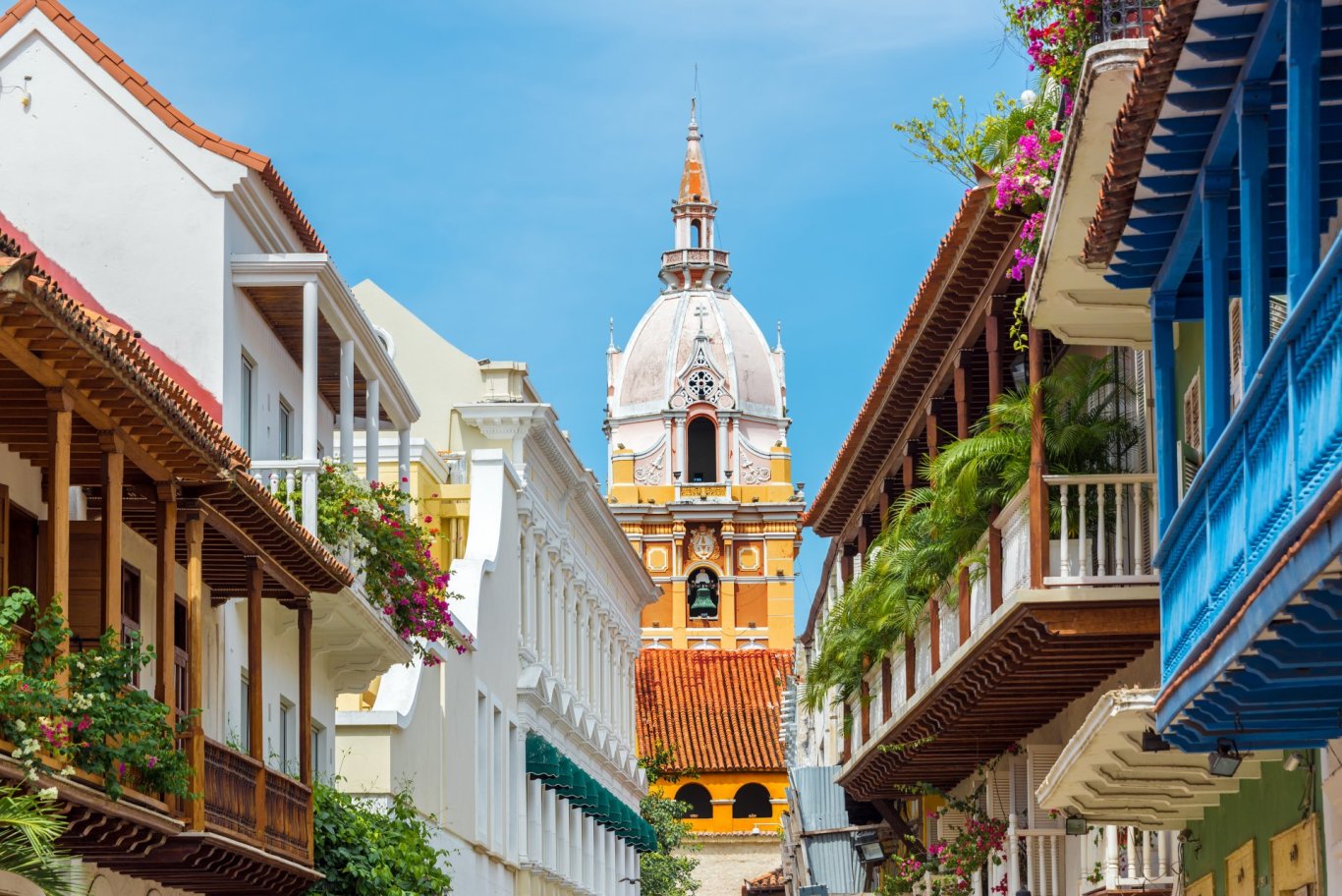 NO.2 CARTEGENA, COLOMBIA
The Unesco World Heritage Site of Cartegena's Old Town in Colombia is a unique and beautiful place to visit on your travels in South America. The streets are full of character, made up of cobbled alleyways, colourful buildings, and spectacular churches that will honestly leave you speechless. Taste some of the local cuisine at the quirky restaurants and sit back, relax and watch the world go by. There is no wonder Colombia is one of our top places to visit in 2020, this city is something else.

NO.3 SALAR DE UYUNI, BOLIVIA
Stretching across the Altiplano, Salar de Uyuni is the world's largest salt flat at 12,106 sq km and sits at 3653m (11,984ft). With that in mind, the altitude is high and the temperatures are low meaning you need to wrap up and prepare yourself for these extreme weather conditions. When the sky is blue, the sun is shining and the ground is dry, the views that surround you is nothing you would have ever experienced before. It's absolutely spectacular. Trust us, you don't want to miss out this stop on our South America travels.

NO.4 MINCA JUNGLE, COLOMBIA
If you're looking to immerse yourself in the nature and wildlife that South America has to offer, a visit to Minca Jungle is an absolute must! Spend a few days staying in the heart of the jungle, where you can enjoy waking up to the sound of birds singing, and the sun rising over the emerald green jungle. Get off the beaten track and explore some of of the impressive waterfalls and viewpoints to really make the most of your experience here.

NO.5 RIO DE JANEIRO, BRAZIL
One of the best and most popular places to visit in South America is Rio de Janeiro. A real hot spot for all travellers who love a mixture of beach and city life as well as immersing into different cultures. There is a real mix of African- European culture within Rio as well as the opportunity to set off on adventurous excursions such as hiking up the surrounding hill-side mountains and taking a selfie at the iconic Christ the Redeemer statue. A box-ticking city stop off!

NO. 6 LAKE HUMANTAY, PERU
Also one of our best things to do in Peru is to visit Lake Humantay. Take a 3-4 hours bus journey from Cusco to arrive at yet another incredible natural beauty in the heart of Peru. Also known as Laguna Humatay by the locals, Lake Humantay is located over 4000 metres up in the Andes, and it's regarded as a sacred and spiritual area to the Incas. Spend the full day trekking taking in the majestic scenery, snow-capped mountains, lush green landscapes and the stunning turquoise coloured lake.

NO.7 ISLA ROOTS, COLOMBIA
Calling all beach lovers, get ready for the complete paradise getaway! Hop on a boat and head for paradise - Islas De San Bernado, a group of islands 2 hours away from Cartagena. Whether you prefer chilling out and soaking up the sun with your favourite book, or getting your adrenaline fix waterskiing and wakeboarding across the ocean, there is something for everyone. You will never want to leave this dreamy island in Colombia.

No.8 INCA TRAIL, PERU

Another bucket list ticking experience is trekking the famous Inca Trail in Peru! Get your walking boots at the ready as this trek truly is, like no other. It's often difficult to apply for your Inca trail pass, but come and join us on our Inca - Adventure where your Inca pass is included in the tour!
Top Tip: make sure you bring a camera as you will be among some serious breath-taking views.

No. 9 ANGEL FALLS, VENEZUELA
Located in the Canimara National Park, Venezuela is not only one of the best places to visit in South America but is the world's most uninterrupted waterfalls on earth. It's a bit tricky to travel to as you will need to get a flight to Canaima because there are no surrounding roads, but it's definitely worth splashing the cash as it's an incredible, breath-taking experience.

No. 10 THE CANOPY WALK, AMAZON, PERU

You could easily spend weeks exploring the Amazon, but for most of us who don't have all the time in the world, still making time for a short visit is well worth it! The Amazon runs through Peru, Bolivia, Venezuela, Colombia, Ecuador, and Brazil before emptying into the Atlantic Ocean. There are plenty of places you can stop off to experience this natural beauty, so make sure you visit here at least.
Are you ready to kick-start planning your adventure in South America? We're here to help you plan the trip of a lifetime, so have a read of our tips for travelling Latin America and come and chat to us for more info on our live webchat. We don't bite ;)


12 Day Colombia Uncovered
Uncover the beauty of Colombia's historic cities, lush jungles and remote beaches on this epic 12 day trip.
Learn More