BEST PLACES TO TRAVEL THIS CHRISTMAS SEASON
We're not saying we're Scrouges or anything, I mean, we do love Christmas and all the fun stuff that comes with it - the eggnog, the silly Christmas jumpers, the gifts.. the works! But we love a bitta winter sun as much as the next man and December (and even the Christmas period itself) can be a great time to travel and get that tan on! So here are the best places to travel in December 2023 to chase those sunny days & sandy beaches. We've put together a list of the best places to visit this festive period! Whether you wanna go to Asia or Latin America, we've got your back. Check out the top destinations to vacation in December below!
We have created the ultimate guide for the best places to visit month-by-month. Everyone's avaliability for the year is different, so whether you'll be seeking sun in September or making plans for March we have your back and we'll show you the top places you should consider visiting! The world is wide and the destinations are endless but there's no need to be overwhelmed, trust us and we will show how to get the best out of your holiday - no matter when you travel! Check out the other parts of the winter travel series with our Part 2 and Part 3 blogs too!
1. Costa Rica

Like other Latin American countries, the best time to visit Costa Rica is between mid-November and April because it is dry and has gorgeous warm temperatures. When the sun is shining for 12 hours a day and the temperatures are a stunning 28 degrees average, why wouldn't you want to visit Costa Rica? It's time to live that pura vida babyyyy. For those who don't know, pura vida is the Costa Rican way of life and it means the simple life. But there's another side to Costa Rica too... Costa Rica is a haven for adrenaline junkies! On our 10-day Costa Rica Adventure tour, we get the best of both worlds. We meet in Costa Rica's buzzing capital, San José, and travel together to the rural village of Coop San Juan, where we spend the night with locals and live out an authentic homestay. Afterwards, we travel to La Fortuna, which is known as the adventure capital of Costa Rica (maybe even Latin America tbh), where there's the opportunity to do canyoning, whitewater rafting, volcano hikes, ATVing or rappelling... you name it, La Fortuna has it! We also leave the backpacker trail behind as we experience a bit of boujie at the thermal hot springs and swimming holes! Our second to last stop is Monteverde, where we hike around the impressive Arenal Volcano, go zip lining and marvel at all the incredible wildlife (including sloths, if you're lucky!!) that this country is so famous far! Our tour ends in Santa Teresa, where we get into maximum relaxation mode with yoga classes at sunset and beach chills. All this is packed into the most epic, life-changing 10 days of your life. So what're you waiting for?! Come with us!
Costa Rica Highlights:

Thermal Hot Springs in La Fortuna
Ziplining through the Costa Rican Jungle
Hiking around Arenal Volcano
2. Sri Lanka


Sri Lanka's southwest coast and its cultural triangle are best visited between December and March, when these areas are dry, get lots of sunshine and reach toasty temperatures. These conditions mean that December is the ideal time to visit this stunning country. During our game-changing 10-day Sri Lanka Uncovered tour, we explore impressive temples, including the well-known Temple of the Tooth in Kandy and the sacred Dambulla Cave Temple, we hike to impressive viewpoints such as Lion's Rock in Sigiriya and Little Adam's peak in Ella, explore tea plantations in Nuwara Eliya and then board that famous blue train for one of the most stunning (and instagrammable) train journeys in the world. AND a trip to Sri Lanka wouldn't be complete without an elephant safari!!! It's, without doubt, one of our FAVOURITE things to do in Sri Lanka and seeing these majestic creatures in the wilderness of Udawalawe National Park is something for the bucket list for sure. Whether you want idyllic beaches, lush jungle, impressive culture, delicious food, unmatched nature... Sri Lanka has got you covered so join us this December for the trip of a lifetime!!
Sri Lanka Highlights:
Train ride from Nuwara Eliya to Ella
3. Mexico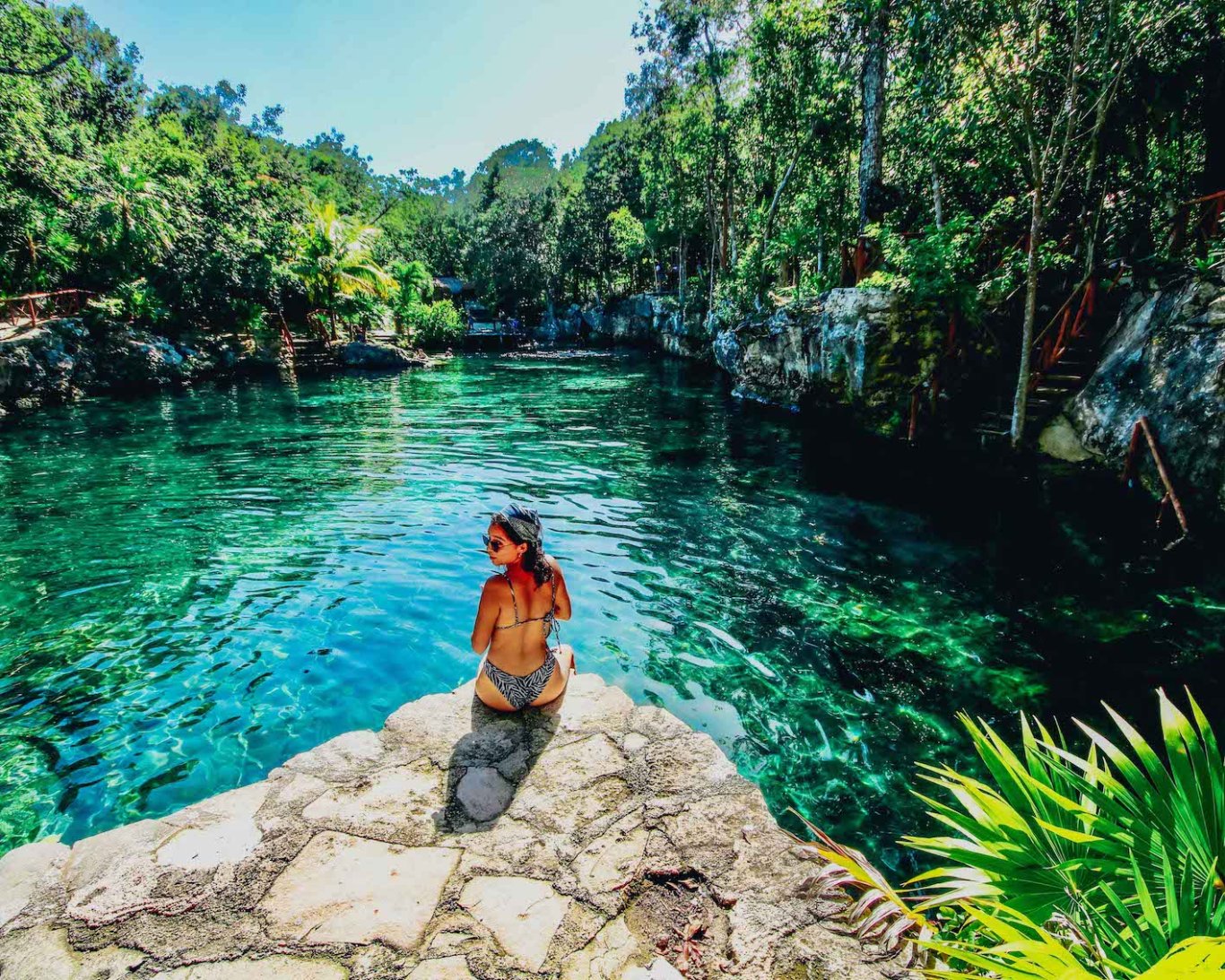 Mexico is an amazing destination no matter what month it is but since its dry season is between December and April when there is virtually no rain, we'd suggest a trip to Mexico in December should DEFINITELY be on the cards! With temperatures reaching an average of 28°C during the dry season, can't you just picture yourself on the white-sand beaches with azure water that Mexico's Mayan Riviera is so famous for? After meeting up in the country's party hotspot, Cancún, we head to Isla Holbox, known for being more on the chill side (but don't underestimate the street parties - they're still pretty wild!) In Holbox, we go island hopping, soak up the sun in some sea hammocks or on the white-sand beach and discover some incredible cenotes. Our next stop is Merida where we explore the impressive UNESCO protected Mayan site of Chichen Itza, discover more cenotes and go tequila tasting!! Arrrrriba. Before heading to Tulum, we go to Bacalar, where we marvel at the 7 colour lagoon. In Tulum, we relax on the beach and explore the ancient ruins which run along the Mayan Riviera, which gives TruTravellers the perfect balance between culture and chill! We end our Mexico - Yucatán Experience in Playa Del Carmen, where we go crazy one last time on one too many cervezas (you'll need to learn that word!!) Come with us and have the best 11 days of your life!!
Mexico Highlights:
Relaxing on the sea hammocks on Island Holbox
4. Thailand

Thailand features in our best places to spend Christmas in South-East Asia, not once but TWICE! Not only is it an amazing place to spend Christmas but it's also an amazing place to spend the whole month of December because it is dry, sunny and hot hot hot!! Now the destination is decided, the toughest decision you're going to have is deciding which bit of the country to go to since, in December, you can visit the WHOLE country with no problems. Well, we have a solution for that... our Total Thailand tour takes you to all of the best of Northern, Central AND Southern Thailand. If you haven't got time to do the full shebang, we have lots of other tours to suit every time frame and type of tour that you wanna embark on! On our Northern Thailand Adventure, we visit the dreamy, 7-tier Erawan falls and explore impressive ancient temple ruins in Ayutthaya, float down the famous River Kwai in Kanchanaburi, trek through the hills and experience an authentic hill tribe homestay, zip line through the Chiang Mai jungle and play with elephants at an ethical elephant sanctuary in the countryside near Pai and the list goes on!! On our Thailand Island Hopper, we discover the best of what Bangkok has to offer before venturing down South to the islands. We stay in floating bungalows in the ultimate, tranquil paradise that is Khao Sok National Park, sleep underneath the stars on private beaches and party hard on Koh Phangan and marvel at the vibrant underwater world in Koh Tao. Our penultimate stop is Koh Phi Phi, where we hop between idyllic islands and we end our trip with a fun night on the town in Phuket after having one too many buckets! I know you didn't need convincing in the first place, but doesn't that sound like a dreamy way to spend December (and beyond...) One way ticket to Thailand anyone? Who's with us?!
Thailand Highlights:

Full Moon Party on Koh Phangan
Floating Bungalows in Khao Sok National Park
Playing with elephants at a sanctuary
There ya go! Those are the best places to travel in December! Now you know what to do. Book that plane ticket, reserve that space on tour and get excited for the BEST festive period of. your. life!!!! If you need any more travel inspo, feel free to send us an email on info@trutravels.com or check out our socials!
Want some more travel inspo for the rest of the year?
Best places to travel in August
Best places to travel in October