Places You Can Visit
If there was ever a sign you needed a holiday, it's the fact that you've landed on this page right here. You don't have to own a crystal ball or have your tarot cards read to know you're dreaming of getting away and relaxing somewhere far away. But where to go? What's even open these days? Well, we're here to tell you the best places you can visit RIGHT NOW! Yep, they're open, we're operating, and you're just a few clicks away from the best god damn days of your life. Not sure where to go? Let us inspire you... Simple.

1. Thailand is OPEN!
An incredible country and our second home, we couldn't be happier to be back in Thailand. As the land of buckets, beautiful beaches, lush jungles and impressive temples, whatever kind of travel you wanna do, we guarantee that Thailand will deliver the goods, easy. In the North, you can enjoy a hippy lifestyle in Pai, care for elephants at an ethical elephant sanctuary, experience an authentic homestay with a local hill tribe and marvel at Thailand's opulent temples. In the South, we hit some of the best beaches in the world, with golden powdery sand and idyllic turquoise water, discover vibrant marine life and experience life on a floating bungalow. If you wanna go big or go home, do our 27-day Total Thailand and experience all the best of what the North, the South and everything in between has to offer. It's a no brainer... now Thailand is open, let's book that flight and secure that tour!
Check out our Total Thailand here
Check out our Thailand Experience here
Check out our Full Moon Party Pack here
Check out our Thailand Escape here
Check out our Full Moon Experience here
Check out our Northern Thailand Adventure here
Check out our Thailand Island Hopper here
Check out our Full Moon Island Hopper here
Check out our Northern Thailand & Beaches here
Check out our Northern Thailand & Full Moon here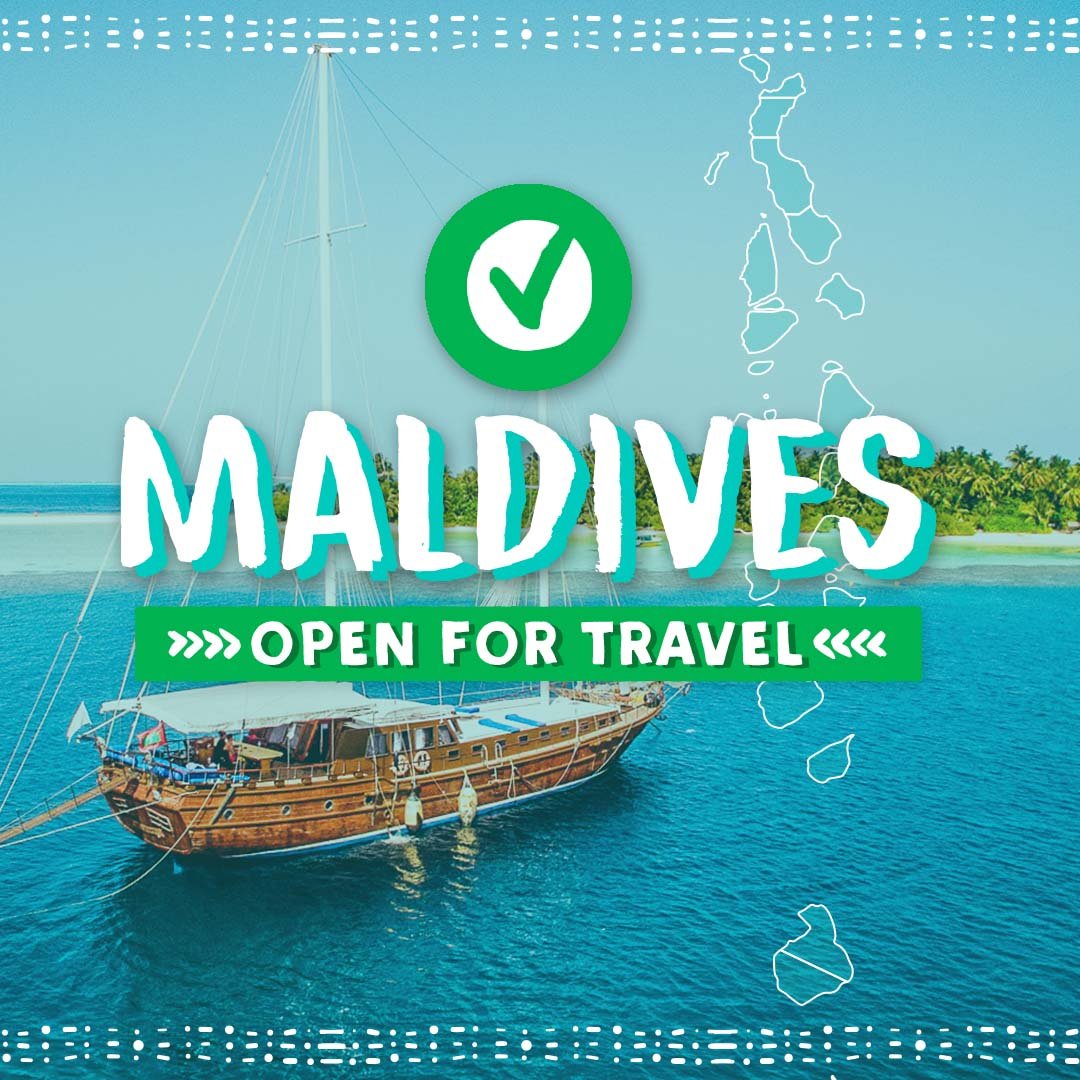 2. The Maldives is OPEN!
Not a cloud in the sky, crystal clear blue waters... we'd swap January Blues for these kinda blues any day. Some people think that The Maldives should be reserved just for honeymooners or loved up couples... but we don't agree! These picture-postcard beaches of dreams should be appreciated by EVERYONE. Whether you prefer island hopping over land or sailing over the aqua blue seas, we have the tour for you. When you're searching for the perfect holiday destination, what more could you want than unbelievable wildlife (hellloooo... whale sharks, manta rays, reef sharks and more!), stunning sunsets and white sand beaches to sunbathe on?
Check out our Maldives Island Hopper here
Check out our Maldives Sailing Adventure here

3. Sri Lanka is OPEN!
Lions and tigers and bears, oh my! Ok, well, maybe not lions or tigers but at Udawalawe National Park, there are definitely elephants (and buffalo, deer, birds and if you're lucky - crocodiles and leopards!!) AND if having some of the most amazing wildlife in the world isn't enough, Sri Lanka is home to some of the most beautiful beaches, incredible food and awe-inspiring nature (this country literally has it all!) I mean, we love Sri Lanka so much, we even wrote a whole blog post dedicated to why you must visit Sri Lanka ASAP, so if that's not enough to convince you, then you're crazy.
You'll have to be quick if you want to get a space on this tour as they're selling fast!
Check out our Sri Lanka Uncovered tour here

4. Costa Rica is OPEN!
Known as the happiest country in the world, it's unsurprising that when anyone visiting this B-E-A-uuutiful country leaves, they are full of happiness and unforgettable memories. Costa Rica has it all - from lush jungles to impressive volcanos and from surfable swells to lazy wildlife (we're looking at you, sloths). Meaning whatever you do and wherever you go, you'll never be bored in this amazing country. In fact, it's quite the opposite. Costa Rica is also known for all of its crazy adrenaline-junkie activities that you can take part in like zooming through the skies on a zipline, visiting volcanic hot springs and checking out the wildlife on a night safari. To fully immerse yourself in Jungle life, get your butt to Costa Rica - what are you waiting for?
Due to popular demand, we've added brand new Costa Rica departures every month between April and December 2022! So don't miss out and book your spot before these tours sell out again!
Check out our Costa Rica Adventure tour here

5. Colombia is OPEN!
Colombia is at the top of our bucket list! "Why" you ask? Our response would be endless... Colombia is one of the best places in the world right now for a holiday because it has so much to offer. From its lively cities, such as Medellin where you can explore its famous Communa 13 and learn all about Colombia's fascinating history and culture and marvel at the cool street art, to island hopping around the San Bernardo islands to discovering the stunning Colombian jungle and coffee farms (you know this place is famous for having the best coffee, right?!). You can get a little bit of everything in Colombia, so what're you waiting for?!
Check out our Colombia Uncovered tour here

6. Mexico is OPEN!
Who wouldn't wanna pack up their bags immediately and leave reality behind for a life in the land of the 3 T's - Tacos, tequilas and Tru-ly amazing times?! We know we would. Mexico delivers on all fronts and I couldn't think of a better way of starting 2022 than food, drink, beaches, nature, game-changing experiences like exploring cenotes and exploring the Mayan Chichen Itza ruins. This is your sign to change into your swimwear, pop yourself into a hammock and explore the stunning Yucatán region. After two years stuck in our own countries, we can't imagine a better place to escape to!
Check out our Mexico - Yucatán Experience tour here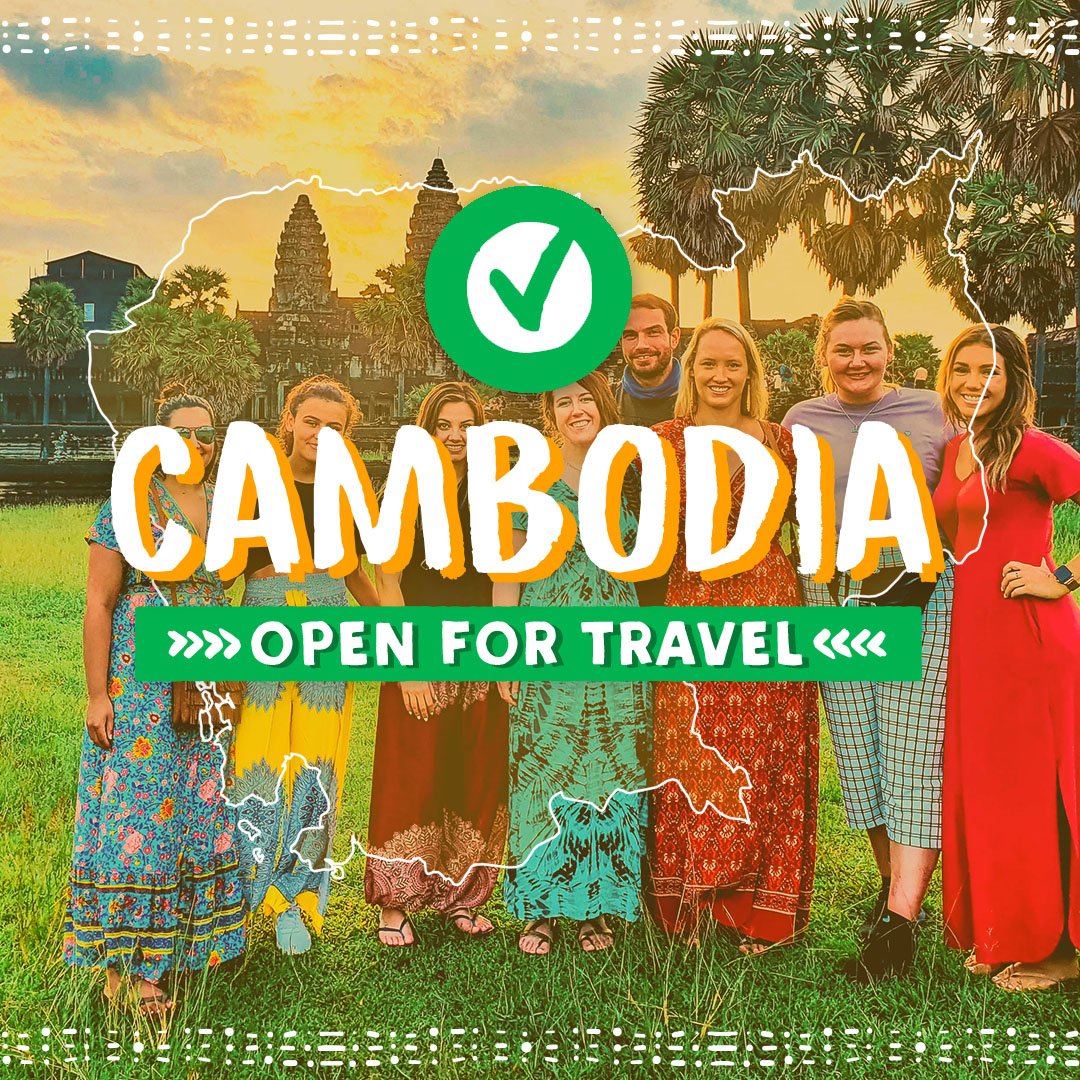 7. Cambodia is OPEN!
Cambodia is the perfect destination for your first trip post-pandemic... it's got EVERYTHING you need for a fun holiday. You want culture? Tick - the ancient temples of Angkor Wat are oozing with culture. You want history? Tick - as you explore the SS21 and Killing Fields in Phnom Pehn, you'll learn all about Cambodia's tragic recent history. You want idyllic beaches? Tick - Koh Rong Samloem delivers the goods with the whitest of sand and the bluest of water. You want stunning nature? Tick - sunrise over Angkor Wat is a bucket list experience that you really NEED to see. Good vibes? Tick - pub-crawling down famous Pub Street in Siem Reap with your fellow TruTravellers will have you dancing and laughing for hours. Ok, you get the picture. So, (Angkor) Wat are you thinking if you've not already booked to go to Cambodia?!
Check out our Cambodia Explorer here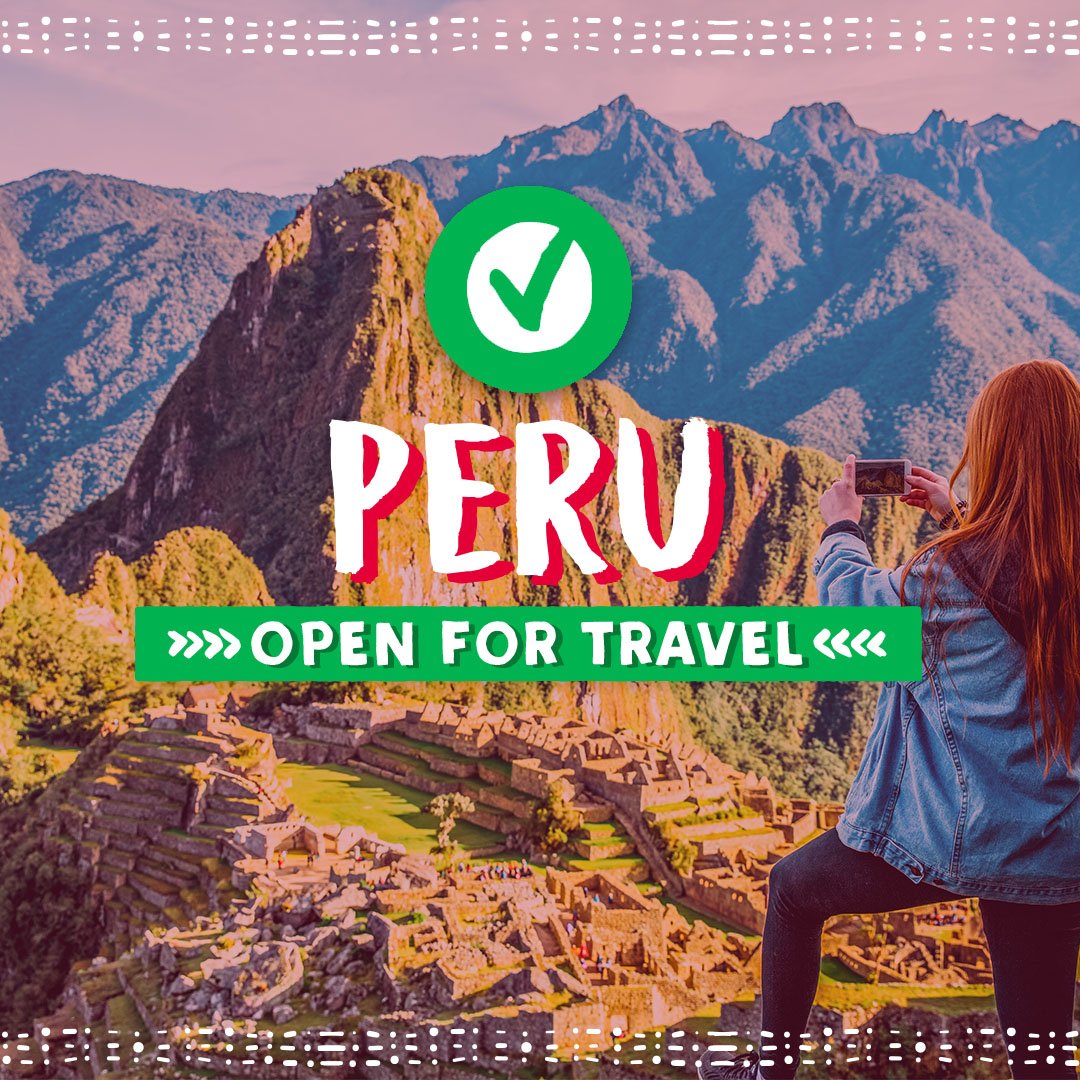 8. Peru is OPEN!
It's official. Peru is open! We don't know about you but heading to Peru ASAP is a no brainer. From hiking the famous Inca Trail to Machu Picchu, trekking to the crystal blue Lake Humantay or whitewater rafting in the high mountains of Cuzco, Peru is a nature-lovers haven. If that wasn't enough, you'll also learn all about Peru's rich culture and history with a walking tour of Lima and a visit to the ancient site of Ollantaytambo to learn about Peru's rich history. If all that hasn't managed to convince you that Peru is the destination you have to visit in 2022 (we know you didn't need much convincing in the first place), you can hug a fluffy llama and nothing can beat that.
Check out our Peru - Inca Aventure here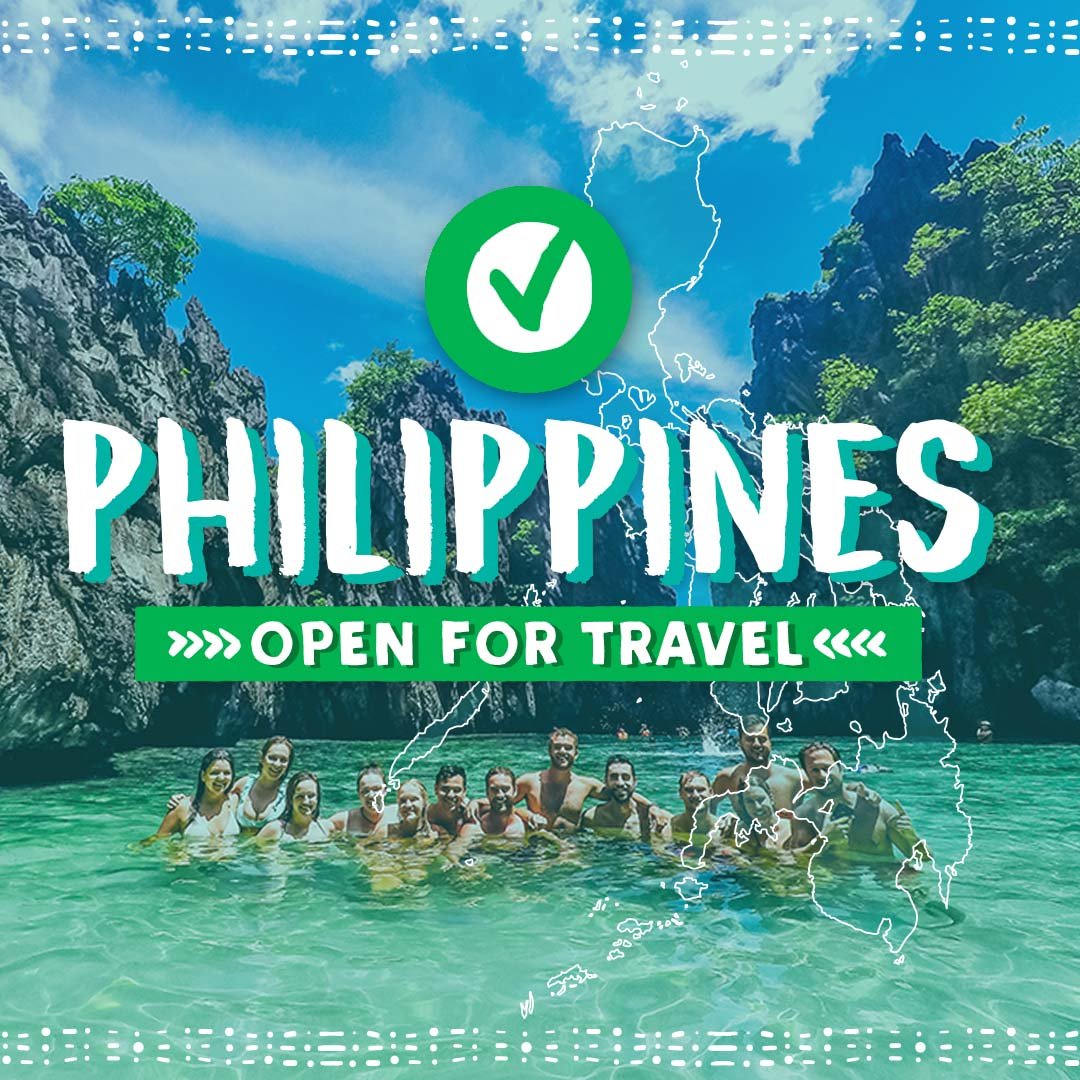 9. The Philippines is OPEN!
Finally, after 2 LONG years, The Philippines is open! With those famous turquoise blue waters and dramatic limestone cliffs, pastel blue waterfalls and white-sand beaches... We can't think of a better place to go to right now. We can't wait to get back in the water to see the sardine run in Moalboal, watch the sunset over the horizon from a traditional Paraw boat in Boracay and discover shimmering, stunning lagoons in El Nido. The Philippines is honestly paradise, why WOULDN'T you wanna go?! With us, you'll also live out a true castaway experience, snorkel with turtles and go canyoneering down tiers of stunning waterfalls. With all those amazing things to do, if you're not going to the Philippines this year, you're mad.
Check out our Philippines East here
Check out our Philippines West here
Check out our Philippines Island Hopper here
You can use this nifty chart to see where we're open and operating in right now as well as places that have given us some sweet good news, so that we will be operating in very soon: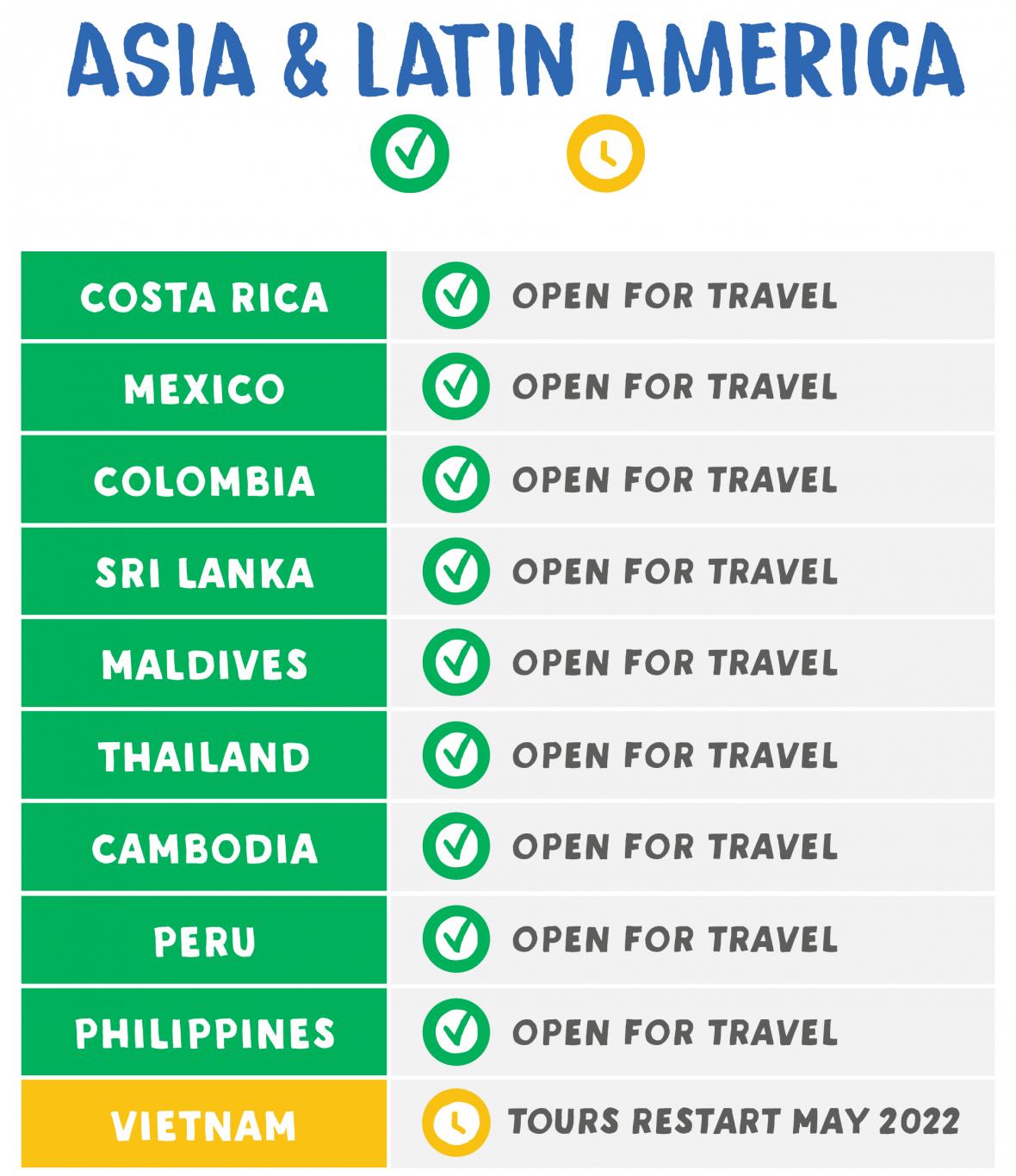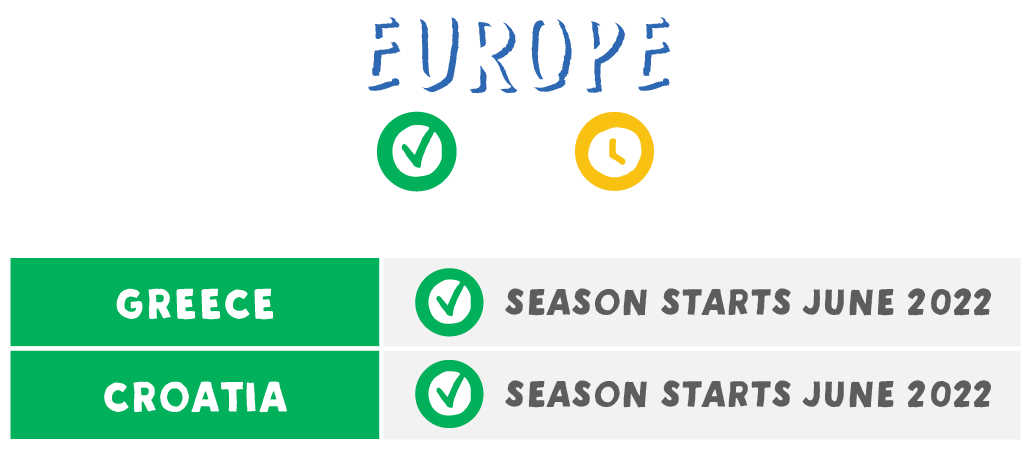 9. Greece is OPEN!
Get ready for a summer of gyros, ouzo and stunning Greek islands... as soon as the summer season opens in Greece, you can bet your bottom dollar that we'll be there. Whether you wanna hit all the Greek hotspots via land or sea, we have the tour for you! On our Greece Island Hopper, we travel from the culture-rich Athens, where we explore the acropolis, to Mykonos, where we hit up all the best beach clubs and party until the sun comes up, to Santorini, where we relax on stunning beaches, watch the famous Oia sunset and go wine tasting (drinking can be sophisticated too, ya know?!) While on our Greece Sailing Adventure, you'll spend your days swimming in the crystal clear waters of Paxos, snorkelling into hidden caves in Vrika beach and visiting the Instagram hotspot of the Blue Lagoon in Syvota, only accessible by boat! The Ionian Sea is the perfect place to spend the summer of a lifetime and create unforgettable memories.
Check out our Greece Sailing Adventure here
Check out our Greece Island Hopper here
10. Croatia is OPEN!
Croatia is open and waiting for our arrival... and we can't think of a better country to welcome us with open arms! We start and end our Croatia Sailing Adventure in Split, a vibrant port city that's famous for its ancient centre, beautiful architecture, and unbelievable food. The yacht will then take travellers to Hvar, where you can enjoy impressive panoramic views of the Adriatic sea, to Mijet National Park, where you can enjoy the green, lush side of Croatia and kayak the tranquil lakes, to Dubrovnik, famous of course for being the set of Game of Thrones (but it's SO much more than that, trust us). We continue our trip to Korcula, Croatia's little hidden secret, where we go to hidden clubs and edgy sunset bars and have one last beach day on gorgeous Brac Island. We know where we'll be this summer... will we see you there?
Check out our Croatia Sailing Adventure here
These are the places that you could be right now! Whether you pick somewhere with maxin relaxin' like The Maldives, somewhere filled with adrenaline junkie activities like Costa Rica or somewhere which has a mix of everything like Mexico, we can tell you need to get away, like ASAP. Wherever you go, whatever you do. We're here!